| LifeTakes |
Rock Solid | May 26, 2020
There it was, a faded sign, a pitch-dark eatery. We were the only patrons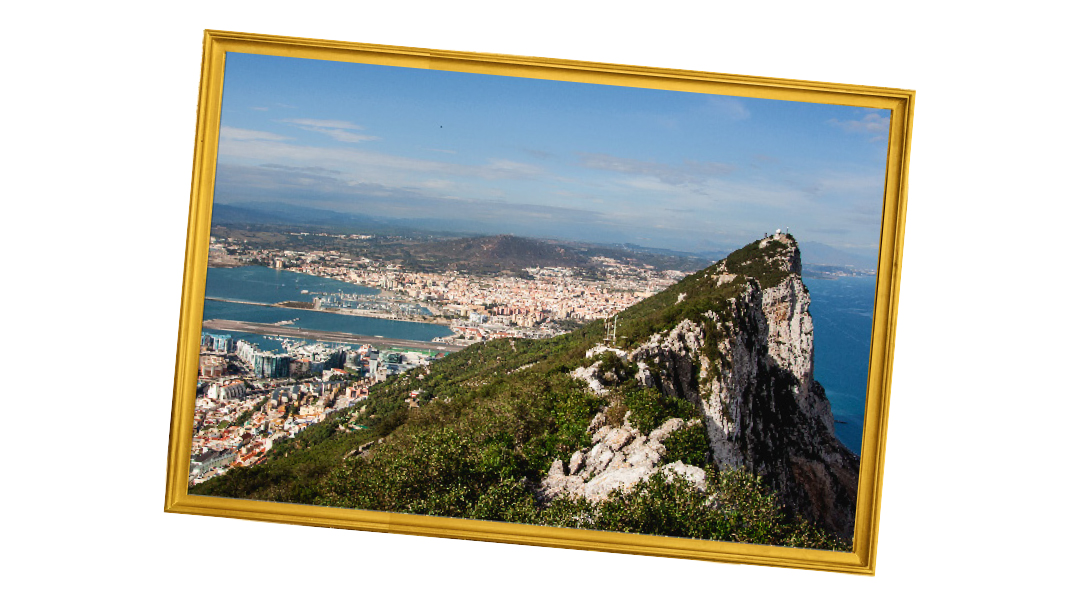 White crag and monkeys and two oceans meeting in a thousand shades of blue. That rock at the foot of Europe: Gibraltar. We were there, in the tiny Jewish community, part British, part Mediterranean, for the weekend.
After a day on the rock, we followed a path of steps hewn into the mountain, down into the Jewish quarter, hoping for supper. Tall houses shadowed each other. There it was, a faded sign, a pitch-dark eatery. We were the only patrons.
We put in our orders and waited. Something else was on the menu. The brother's story. While the proprietor was mixing and serving behind wooden doors, his brother walked in and fell on a seat.
"I come here because there's a shiur nearby, and if I go home," he pointed outside, "I'm going to get comfortable on the couch, and I know myself, I won't come back for the shiur. This is how I make it work." Honesty and soup.
He's a policeman, he told us, manning the fronts of Gibraltar. It's a duty-free zone, a slip between continents where people try this and that, a huge gambling industry. Lots to keep a cop busy.
"You're looking for an Ashkenazi minyan, right?" He turned to my husband.

"Whatever, just a minyan," my husband said.
"We have a Carlebach minyan, too. It's fun. We do lecha dodi at the beit avot. We attract a young crowd, and we all dance."
"I'm in," said my husband.
The man's face fell. "Not this week. An old member died recently. How can we be joyous in the face of this sadness?"
Our food came and we were thoughtful as we ate.
Do we care like that after an older person passes on? And more than that; are we so uplifted when we sing and dance as to feel it's a joy we shouldn't experience in mourning?
There's a secret here on the rock.
On Shabbos, davening in a big, old shul, with endless gold filigree on the ceiling, I saw a sign: Kiddush being held in honour of so-and-so's sixty-second birthday. In the courtyard, there was schnapps and even cholent, and the Gibraltarians toasted each other to life.
The 62-year-old gentleman was wreathed in smiles.
I thought of the average Shabbos in our shul back home, two bar-mitzvahs, several kiddushim. Birthdays?
We looked for our meal hosts, a friend of an uncle. Leibowitz. They davened in another shul.
"What's his name?" helpful people asked.
When we finally found Mr. Leibowitz, he said, "You should've asked for David. They know me by my name. I'm David."
When we left the sweet peninsula, we wondered if we could ever learn, relearn the secret, or if our community had grown so big, so sprawling, so fractioned, we were living in different proportions.
The fallouts of growth. Victims of our own success…
***
A year later and we're shuttled out of our large, crowded shuls and into our homes.
Back to basics. Out to the porch to cobble together a minyan. Eight, nine, the jubilant tenth.
Pesach passes, the laws tighten, then relax, the minyan grows.
In our porch-backyard minyan, almost everyone takes a turn at the "amud" — a Costco folding table. The davening is a mix of this one's nusach, that one's havarah, and someone's einfal of a tune.
A neighbor's daughter has a baby and the simchah is collective. A kiddush, a change of pace, a wonder. I remember a small sign on a notice-board in a 300-year-old shul. That smiling gentleman, now 63 and counting.
On Lag B'Omer they gather, men and kids, neighbors who've gotten to know each other. The hadlakah honor goes to a fervent neighbor, for no bidding at all. Bursts of song, the music we haven't listened to in weeks drawing us in.
"Amar Reb Akiva," feet remembering the dance, the joy. Even as the men are spaced apart, no hands grasped, it's still a circle, an open, amorphous circle around the fire. A young guy sings into a mike for all he's worth. He has more energy than tone, but he gets the crowd going. He's getting the chance to be himself.
I'm David…
****
Shavuos looms and we wonder how we'll do it.
We've made it through a Pesach, shocked and alone. Who thought of Lag B'Omer, but when it came, we found our spirit, sang and danced and blazed, each of us, like flames.
But Shavuos, when we're not in shul to hear the akdamos, for nightlong learning sessions, to adorn the sanctuary with flowers, how?
But, as neighbors get busy with details, zmanin and chairs, the guy who's davening Shacharis swallowing an egg-yolk, maybe we already know. We long for normal, for what we've lost. But we've found something, too. Those little things that make us greater, the sweetness I thought could only be found on a faraway rock.
(Originally featured in Family First, Issue 694)
Oops! We could not locate your form.
>