| Whats Cooking |
Ripe and Ready
| January 31, 2023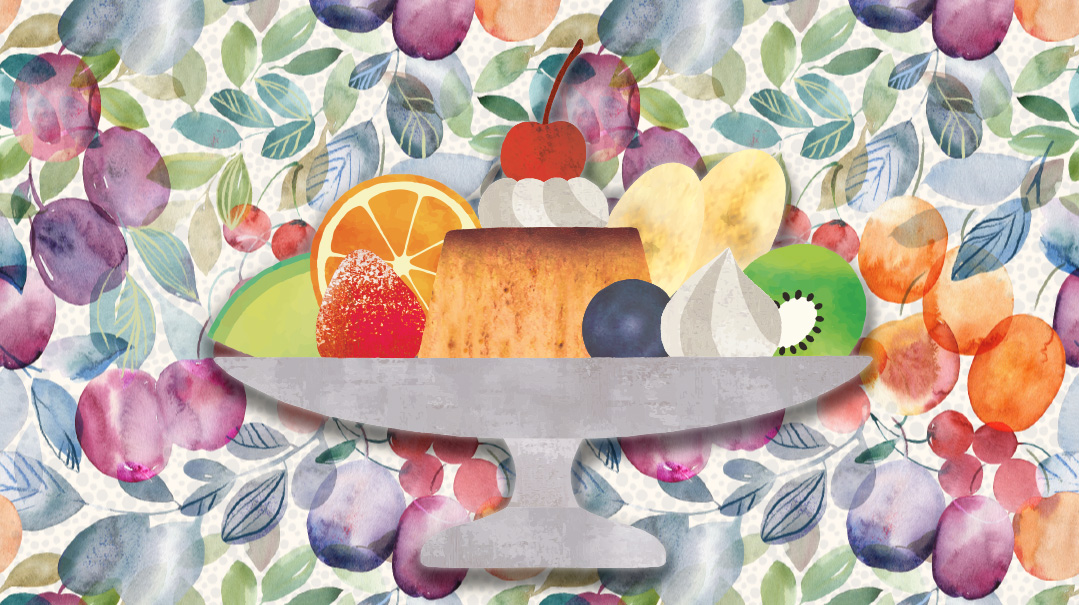 Tu B'Shevat cheerfully pops up just when we least expect it, when the cold wind sends visions of ripe fruit far from our minds. Maybe that's why it's so excitedly celebrated by so many, albeit on different levels. Some are up for making elaborate Shivas Haminim seudos, while others are satisfied with a beautiful fruit platter to snack on during the day.
Here are our staff's favorite list of produce-heavy recipes to help you celebrate this day in whichever fashion you choose. Happy picking!
Spinach and Barley Salad with Pomegranate Vinaigrette
I love this salad because it's so vibrant and delicious. It's perfect for Tu B'Shevat because it contains three of the seven minim! Barley is usually pretty boring, but I love its nutty, chewy texture and I think it's a great grain to add to any salad! Hope you enjoy!!!
Salad
1 cup barley
1 tsp salt
1 tsp black pepper
2½ cups water
6 cups fresh spinach leaves
1 red onion, halved and thinly sliced
¼ cup pomegranate arils
Dressing
3 Tbsp pomegranate molasses
3 Tbsp rice wine vinegar
1 tsp toasted sesame oil
1 clove garlic, minced
½ tsp black pepper
¾ tsp salt
4 Tbsp extra-virgin olive oil
Place all the dressing ingredients into a bowl or jar and mix or shake vigorously. Refrigerate until serving.
For the barley: Rinse barley under cold water for 2 minutes. Add barley, salt, pepper, and water to a medium-sized pot. Bring to a boil, and then reduce heat to low. Cover and simmer for 20 minutes.
Barley should be tender at this point. If not, just recover and simmer a bit longer. Strain out any excess water and allow barley to cool. This can be made up to two days in advance.
For the salad: Combine spinach, barley, and onion in a bowl. Drizzle dressing over the top and garnish with pomegranate arils. Serve right away!
The dressing will last in the refrigerator for up to a week.
Note: For a complete meal, I like to grill some chicken cutlets seasoned with olive oil, salt, pepper, and fresh garlic and add them to the salad… Yummmmm!
—Danielle Renov, recipe contributor
Jeweled Fruit Bake
I make this recipe by Rivky Kleiman all the time using whatever fruit I have on hand. It's very forgiving of bruised fruit! My favorite is apples and fresh cranberries, I love the extra tartness the cranberries give.
4 Granny Smith apples, peeled and diced
1 8-oz (225-g) can jellied cranberry sauce
1 12-oz (340-g) bag frozen strawberries, semi-defrosted
Cake Topping
3 eggs
1 cup sugar
1 cup flour
¾ cup oil
1 tsp vanilla extract
1 tsp baking powder
dash of cinnamon
Preheat oven to 350°F (175°C).
In a large bowl, mash strawberries with a fork. Add jellied cranberry sauce, mash, and combine. Add diced apples and toss until well coated.
Pour mixture into a greased oven-to-tableware dish.
In a medium-sized bowl combine all cake topping ingredients. Mix well by hand and pour evenly over the apple mixture. Bake for 1 hour.
—Chanie Nayman, food editor
Fruity Mixer
I can't say I've done this on Tu B'Shevat before, but I just put together this delicious drink that's definitely fruity and really yummy!
3 cups cranberry juice cocktail
2 cups orange juice
2 cups flavored seltzer (I used white grape flavor)
½ cup water
⅓ of a water enhancer (I used the Coolmate peach-mango flavor)
2 mini fruit-flavored vodkas (optional; I used a peach flavor and a strawberry flavor)
Mix all together and place in freezer. Shake every half hour for two hours so it gets slushy. Serve in martini cups with a frozen strawberry floating in each cup.
—Faigy Grossman, recipe columnist
Apple-Cherry Crisp
This is one of those recipes that could be a dessert, but I prefer to use it as a sweet side. It's a great way to sneak some dessert into the main course. Thanks to my sister-in-law Shana Frankel for the recipe, a fun upgrade on the typical apple crisp.
Crumbs
4 cups flour
1 cup oil
2 eggs
1½ cups sugar
3 tsp baking powder
2 tsp vanilla sugar
dash cinnamon
Filling
1 can cherry pie filling
2 apples, grated
Preheat oven to 350°F (175°C).
Mix crumbs and filling in two separate bowls. Place two-thirds of the crumbs in an oven-proof dish or foil pan. (Alternatively, divide them between ramekins for individual servings.) Spread filling on top.
Crumble the remaining crumbs over the filling and bake in preheated oven until crumbs are browning. Serve warm.
—Rachel Samet, writer
Frozen Grapes
My favorite candy is actually frozen grapes. Just wash, remove from the stem, and store them in a ziplock in the freezer. Then pull out a handful for an after dinner snack or midafternoon boost. There's nothing more sweet, satisfying, and refreshing. I have to fight with my six-year-old daughter over them. I've been told that they're delicious dipped into chocolate and frozen, too. Definitely something I need to try!
—Sima Kazarnovsky, recipe contributor
Apple Trifle
This apple trifle is a winner from my old neighbor Mrs. Fried. It looks really pretty and is always finished to the last drop!
Fruit Salad
3 red apples
1 green apple
1 yellow apple
1 small can mandarin oranges, drained
1 11-oz (310-g) can pineapple tidbits, juice reserved
Sauce
½ cup orange juice
1 12-oz (340-g) bag frozen strawberries
1 12-oz (340-g) bag frozen raspberries
2 Tbsp confectioners' sugar
drop of liqueur (optional)
Crunch
8 oz (225 g) roasted filberts or pecans, chopped
¼ cup (½ stick) Mehadrin Margarine
½ cup brown sugar
1 cup crisp rice
Blend all sauce ingredients until syrupy. Refrigerate until chilled.
Combine crunch ingredients in a baking pan. Bake at 350°F (175°C) for 5–10 minutes, until margarine is melted and mixture appears roasted. Set aside to cool.
Quarter all the apples, leaving the skin on, and slice thinly. Pour the juice from the pineapple tidbits over apples to prevent discoloring.
Place a tall or footed glass in the center of a trifle bowl and fill it with the sauce. Layer the fruit in the trifle bowl around the sauce. Sprinkle the crunch generously over the fruit.
—Esti Vago, production
Shivas Haminim Salad
Reprinted from Perfect Flavors, with permission of the copyright holders, ArtScroll/Mesorah Publications
I love this salad because it's such a nice tie-in to Tu B'Shevat.
⅔ cup barley
oil, for deep frying
1 Tbsp flour
5 cups arugula or spinach
1 cup green grapes, halved
½ cup pomegranate seeds
8 dried figs, quartered
Dressing
¼ cup olive oil
2 Tbsp silan
juice of 2 limes
½ tsp whole-grain mustard
1 tsp kosher salt
¼ tsp freshly ground black pepper
Cook barley according to package directions. Set aside to cool.
Heat oil in a small pot over medium heat.
Toss 1⁄2 cup cooked barley with flour. Add to hot oil; fry for a few minutes, until golden and crispy. Set aside.
Prepare the dressing: Place all dressing ingredients into a small bowl. Whisk until combined.
Assemble salad: Place greens, grapes, pomegranate seeds, figs, and remaining cooked barley into a large bowl. Pour dressing over; toss to combine. Garnish with fried barley.
—Naomi Nachman, columnist
Custard-Filled Flan Pie
This looks beautiful garnished with fresh fruit. The coconut oil adds a velvety texture to the custard, but even without it, it's really good. Cake and custard — a winning combo!
Cake
6 eggs, separated
6 Tbsp sugar
6 Tbsp flour (I use whole wheat pastry flour)
Custard
1 cup water
½ cup sugar
2 egg yolks
4 tsp vanilla sugar
3 Tbsp flour (I use whole wheat pastry flour)
¼ cup coconut oil or trans-fat-free margarine
To make the cake: Preheat oven to 350°F (175°C).
Beat egg whites until stiff, gradually adding sugar. Lower mixer speed and add the yolks and the flour, mixing until everything is incorporated.
Spray a flan pan well. Pour mixture into pan and gently knock the pan on the counter to get rid of air bubbles. Bake in preheated oven for 20 minutes, until golden. (Don't worry – it looks like it's going to overflow, but it doesn't!) Cool for 20 minutes. Turn over onto a serving platter and gently bang the bottom of the pan. The cake will pop out.
To make the custard: Place all the ingredients, except for the oil or margarine, in a medium saucepan. Heat, stirring constantly, over medium heat until the mixture thickens. (I use a whisk for this.) Do not leave for a second!! Turn off heat. Add coconut oil or margarine and stir until melted. Cool slightly.
Pour into the cake's indentation. Decorate with assorted fruit. Enjoy!
—Brynie Greisman, recipe columnist
Peanut-Butter Stuffed Dates
These are a perfect after-dinner or anytime snack. Enjoy!
Cut all dates almost fully in half. Remove the pit.
Fill each date with 1⁄2 tsp peanut butter. You can add chopped nuts also, if desired. Place the dates on a plate and freeze for 15 minutes.
Meanwhile, melt dark chocolate. Dip the frozen dates into the chocolate (or just drizzle it on top) and add your preferred toppings. Return to the freezer for 45 minutes.
Store in the fridge until ready to eat!
—Mindy Schon, accounting
15 Varieties
A customer once told me that her family does 15 fruits on Tu B'Shevat keneged the 15 Shir Hamaalos. I loved that idea, so between the dried and fresh fruit and the nuts, we make sure there are 15 varieties of fruit on our Tu B'Shevat platters. Things that are out-of-the-box nutty we buy for our own meal that night. You're all invited because we always have too much of the weird stuff leftover!
—Chaia Frishman, columnist
(Originally featured in Family Table, Issue 829)
Oops! We could not locate your form.
>