| Family Room Feature |
Renovation Realness
| December 23, 2020
Foundational concepts when considering a bathroom refresh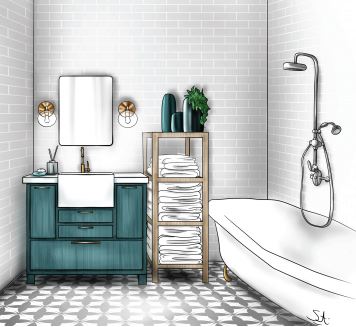 I
f you're a mother of young children, the bathroom might be the only room where you can actually get some alone time in your hectic day! And, if you're like most people, your bathroom takes lots of wear and tear and could really use a refresh.
A renovation might sound intimidating, but if you follow these basic steps, you'll see that a new bathroom can be quite accessible.
The Planning Stage
The best advice for a bathroom renovation — and really for any renovation — is this: Plan. Spend the time before you begin the project to plan it out so you can avoid mistakes and regrets.
Before you start, think about what is and isn't working in your current space. Here are some questions you should ask yourself:
* Who's using this bathroom?
* How much traffic does it get?
* What are my storage needs?
The Selections Stage
Once you have some goals in mind, you're ready to begin. Your next job is to pick everything. Choosing everything before you start will help you achieve the best results with fewer, or even no, surprises. Many tile and plumbing stores have in-house designers who can help you for no additional cost. That's a great service if you're doing a project on a budget.
Now let's get into specifics.
Tile
I recommend tiling the entire bathroom. You might save money by going only halfway up, but a main bathroom won't hold up to wear and tear without full tile.
For small bathrooms, choose a large tile in order to eliminate grout lines. Make sure the floor tile is honed; shiny tiles are more slippery.
Fixtures
In a small space, you might want to consider a wall-hung toilet, like the ME by Starck Toilet wall-mounted Duravit Rimless®, available at Home and Stone. This space saver makes cleaning much easier.
If it's a bathroom where you'll be bathing kids, choose a shallow tub so it's easier to wash them and easier for those who want to shower to step in and out.
Consider installing a handheld shower, which makes cleaning the tub much easier.
Vanity
The vanity is one area where I suggest spending. If going custom is an option for you, do it, because it will enable you to get the most storage you can.
Storage
If you can get towel storage into the bathroom, go for it, even if it means cutting out space from an adjacent room and adding it to the bathroom. For medicine cabinet storage, choose a cabinet that can be recessed, if possible.
Plumbing
Buy the best you can afford. If your plumbing fixtures are malfunctioning, it doesn't matter how fresh your bathroom is! Also, make sure to choose metal fixtures. Big-box plumbing stores often sell plastic-coated fixtures that don't last.
Lighting
In addition to overhead lighting, make sure you have task lighting over the vanity.
Accessories
Don't forget to choose a toilet paper holder, a towel rod, and other small fixtures, such as a hook for the door.
Layout
Once you've made your choices, come up with a complete layout before the renovation begins. If you can hire someone to do this, great, but if not, you can draw it out on graph paper. Make sure all the fixtures and lighting are incorporated. This will eliminate the possibility of mistakes and make the renovation go much more smoothly.
Keep an eye on the progress and make sure your drawing is being followed so that the rest of the process goes smoothly.
Finally, enjoy your new bathroom!
Yali Katz is an interior designer located in Lawrence, NY, who specializes in design for living and construction management. She is also the co-owner of Shop.Level, a destination boutique for all things design and décor. You can contact her at YaelKatzInteriors.
(Originally featured in Family Room, Issue 11)
Oops! We could not locate your form.
>