| Sidekick |
Reno Depot | March 21, 2023
Would our renovations be done in time for Pesach?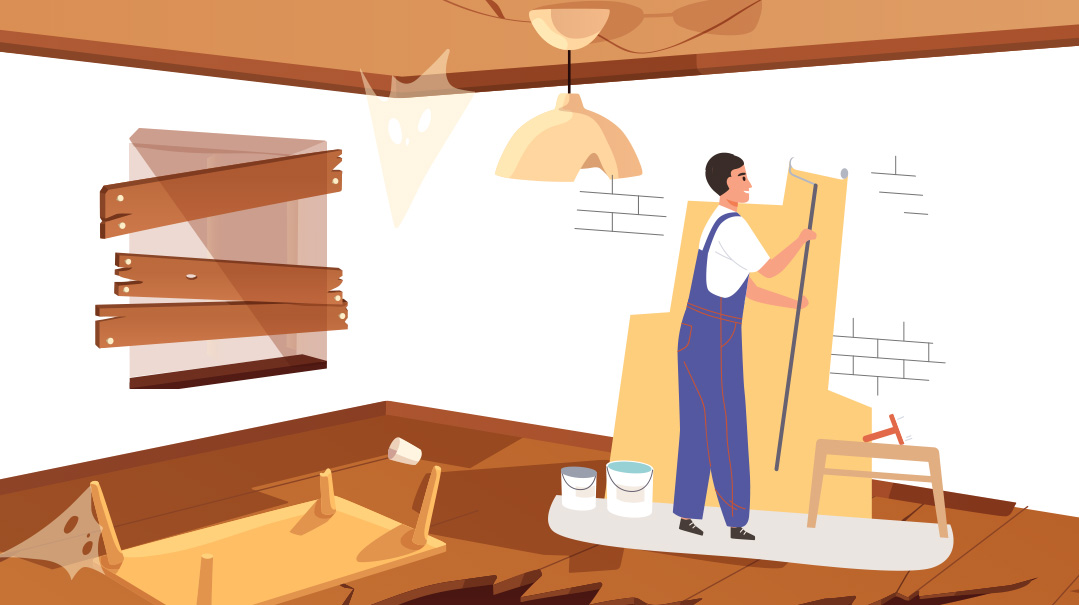 July '22
My husband and I have a lot in common — neither of us are given to quick and impulsive choices. By this I mean… we never make decisions. So, here we are, 12 months from our post-Tishah B'Av indoor mabul, and our basement still looks like an inadequate bomb shelter. The restoration company swooped in after the unfortunate flood 11 months ago, ripped out our pristine carpets, and cut away the bottom foot of our Early American Disaster Era wall paneling. The new look reveals scores of dead cave crickets (half frog, half spider, total nightmare material) as well as the skeleton of a small dinosaur. Or possibly a mouse.
August '22
I reach out to contractors. I call. I text. I call again. A few call back, explaining that they only accept jobs expensive enough to impoverish the homeowner. Silly me thinks, Well, that disqualifies us. Our job is a simple, cheap one. A few contractors come view the desolation and promise to call back with a quote, never to be heard from again. I file missing persons reports and promise money to Rabi Meir Baal Haneis. They still don't turn up. We're kind of getting used to the look: I call it Post-Modern Zecher L'Churban.
September '22
We have mold in our family room. It's in the ceiling and also on the paneling. Seems that if you have a leak in your house, even if it drips only once a year and only during a big storm, it's advisable to get it fixed. Hindsight is 20/20. Now we have a giant hole in our ceiling, a stretch of bare, unpaneled wall, and a hollowed-out beam across our kitchen supporting our upstairs bathroom. I step lightly when taking a shower upstairs. For obvious reasons.
October '22
I should start sorting through the junk in the basement; I just don't feel like it. Once we find a contractor, I'll start working on it. I know it'll take months for the renovations to actually begin, so I figure that once we sign with someone there will be plenty of time to start the painful process of throwing out gameboards bereft of their matching pieces, cartons of staples that fit a stapler I no longer own, and calendars from the years between Noach and Avraham Avinu. I can make a bag of giveaways and try to find them a new home. (Free! Rabbit jacket! Lovely! Smells strongly of carrots!) Whatever I decide to keep can be cleaned for Pesach and packed away in the garage. That way, when the renovations are done, we'll have a pristine, spanking new, chometz-free basement!!
November '22
I am definitely going to get rid of stuff in the basement starting … Sunday. Oh, wait. We told Dad we'd visit on Sunday. And then we might as well pop in on the grandkids who live nearby. Okay, so next Sun— oh, oops. Naftali's Chumash party. Just two bridges and hours of snarly traffic away. For sure the following Sunday, I can spend the whole day… um… actually, we have the Zeigelman wedding. In Lakewood. Well, it's not like we have a contractor yet anyway….
December 1, '22
Good News: We have a contractor!
Better News: He's a relative, but through marriage. Thus, he has not inherited the SVT (shev v'al taaseh) gene. He wants to start on Monday. He's quick and efficient, where I am slow and not even methodical.
More Good News: The crew will pack some of our stuff and work around the rest.
Bad-ish News: No time to sort through and give away or throw away stuff. But at least the basement itself will be new and clean and ready for Pesach! Part of me is upset. But another part is rejoicing! (For more info on "parts," consult your therapist.)
December 5, '22
The demolition has begun. Each morning I am greeted with banging, pounding, and buzzing — loud, but not loud enough to drown out the salsa music emanating from below.
Contractor texts me: When can you finalize the flooring and paint? Tomorrow?
Me: Please understand. I need time. For me, choosing decor is just about as challenging as solving world hunger. 
(Okay, I'm not being totally honest here. Obviously, choosing vinyl tile is way harder.)
December 15, '22
I've narrowed the flooring choices down to five. I've asked everyone's opinion — my husband, my daughter, my sheitelmacher, my son-in-law, my cleaning lady… and I still can't decide. Ultimately, I go with a muted gray tile with a slightly blue undertone. Next, the paint. I'm going to work through this challenge like a scientist — using concise logic. First swatches, then sample paint. No sweat.
Unfortunately, there are 64 shades of grayish blue to choose from, and the lighting in Home Depot is the equivalent of a weak flashlight trained on the interior of a cave. I bring home five swatches ranging from Icicles on My Tricycle to Blue Lagoon and hang them on the basement wall to see if they grow on me. They do. Like a fungus.
January 1, '23
The contractor is threatening to paint the walls navy blue if I don't choose fast. I offer to first resolve the political situation in the Middle East, but he declines. I finally narrow the choices down to two and order a quart of each. One of the workers paints a bit of each shade on the wall. I wisely beg the opinion of the crew members, never once questioning whether I wish to identify with their personal style. My husband weighs in quickly and decisively. I barely recognize his new fashion sense. We agree on Winter Storm and hope for the best.
February 1, '23
I had a dream last night. Babby Genendel appeared to me. She looked great — for 133 (she passed away 39 years ago). She looked up from her Tehillim and said, quite succinctly, "Use pitch." Pitch? Tar? Oooooh! She means peach! That adorable Latvian accent! I must have been thinking about painting the basement bedrooms before I went to sleep. Okay, peach it is. (Nobody messes with Babby Genendel).
Fifty-four shades of peach minus the ones that look too pink or too orange leave three possibilities. I hang the swatches on the wall and my husband, our newest Decorator in Residence, points decisively toward Palm Beach Peach. Done!
March 1, '23
Turns out, when blue-gray paint associates with gray flooring, the result = an entire room decked out in Crayola Powder Blue. What's more, peach juxtaposed to gray assumes the shades of pink and baby blue. Now the bedroom looks like a nursery. And nobody is to blame but me. Or possibly my husband, who now admits that his new fashion sense consists of always picking the lighter color when offered a choice.
That night, I toss and turn in a storm of cotton-candy pink and baby blue. As the night progresses, the colors shift, and I wake up sure that my basement is painted navy blue, with hot neon pink walls. I throw on my robe and snood and rush downstairs, prepared for the worst. Luckily, by now, the white molding has been installed and it all looks way better than I imagined. (Cue Joey Newcomb!) TYH!
March 15, '23
The job is done! None too soon — it's almost Pesach. Now I can finally start cleaning the games and books and assorted chazerai that's been packed away, and put them into the new closets. No time to give stuff away at this point. I can always do that after Pesach. (Yeah, right.)
I gaze around at my pristine basement with satisfaction. All clean and ready for P— Hey! What's that? Peeking out from beneath the baseboard heater is a balled-up paper bag and… a wrapper… from Burger King… with crumbs trailing out… and a half-empty bottle of beer. Now I know why the construction guys were always singing… Wait! That's ch-ch-chometz! Who knows where else they ate? Aaaaaaaaaaaaaaaaahhhhhhhhhh!!!! What should I do? Sweep it up and make believe nothing happened? Scour the entire basement? Sell the house?
In through the nose, out through the mouth. Soon I'll be calm enough to make a decision.
But first I'll tackle global warming.
(Originally featured in Family First, Issue 836)
Oops! We could not locate your form.
>