| On Site |
Refracted Light
| April 22, 2020
Two seeking Jews find a mission capturing the Holy Land's beauty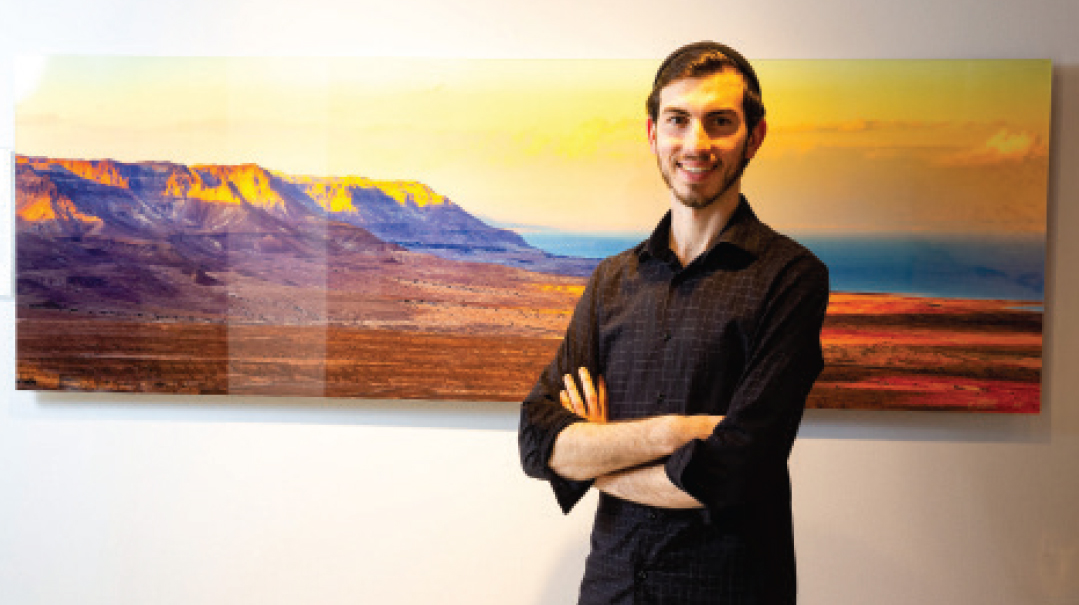 Photos: Elchanan Kotler
I'll admit it: What drew me to meet with Yehoshua Aryeh Stauber and his wife Jordyn at their new fine art photo gallery in Jerusalem wasn't the breathtaking photographs I saw on their website, nor even the interesting life story they outlined in their email and promised to share in more detail. It was the fact that they are so young. They were married in 2018, after his first year of college, and now they have their very own art gallery in a choice location right behind the Mamilla Hotel!
Yehoshua Aryeh and Jordyn greet me in their gallery, together with their nine-month-old baby daughter Eliana Ruth (although she is sleeping for most of the interview). The gallery, which opened this past Succos, is a beautifully designed room, with sleek, modern décor in shades of black and white. The space was completely empty when they took it over last summer and designed the gallery from scratch: the lighting, the room arrangement, including a floating wall, and the back office. Displayed along the walls, mounted on plexiglass, are large prints of landscape photography — it's a relatively new art form, and their gallery is unique in Israel.
All the photos show scenes of Eretz Yisrael, but they aren't your typical Israeli postcard scenes, nor is it your typical photography. These are portraits that are as much art as photography, and the choice of subject — nature scenes that don't necessarily have that instantly recognizable this-is-from-Israel feel — is quite intentional.
"Because of our location, we have people coming in here from all over the world, and from all nationalities — Jews and non-Jews, from Europe, South Asia, all over," says Yehoshua Aryeh. "Our goal is to show the world a different face of Israel."
"Even native Israelis tell me, 'Wow, I didn't realize our land is so beautiful!' " adds Jordyn.



Back to Basics
For Jordyn, who didn't grow up religious, her passion for the land is something she inherited from her ancestors.
"My great-grandparents, Joseph and Rebecca Meyerhoff, were big philanthropists and very involved in building the State of Israel, and although we weren't observant, I grew up with a lot of Jewish pride and pride in the State of Israel," she says as she takes out a book about them and points to pictures of her grandparents with some of modern-day Israel's most notable leaders, including prime ministers David Ben-Gurion and Golda Meir.
That Jewish pride led her to join a March of the Living tour at the end of her senior year of high school, in 2015, which was popular for the Jewish students in her high school in Davie, Florida. Not far away, in Hollywood, Florida, Yehoshua Aryeh, at the time known as Jordan ("Yes, we have the same English name," says Jordyn) was also nearing the end of his senior year in his Modern Orthodox high school, and also joined a March of the Living tour. Since the trips were organized by county, Yehoshua Aryeh and Jordyn ended up in the same group and kept in contact after they returned.
But come September, they parted ways: Yehoshua Aryeh was heading to Israel, to learn in Yeshivat Orayta for a year, while Jordyn was off to the University of Pennsylvania.
"He promised me he wouldn't change and become all religious," Jordyn says, "but four months later, he called me up and said, 'Listen, I really love this way of life.' "
Jordyn was terrified that he'd never talk to her again, but she decided she wasn't ready to give up so easily. So she called him back and said, "Tell me why you love it."
Thus began their religious journey — simultaneous but separate.
"At the beginning, I'd be asking him all these questions, and he'd share with me deep ideas he was learning," relates Jordyn. "I realized I'd never thought about things like G-d before."
But after a while, Yehoshua Aryeh's rosh yeshivah, Rabbi David Aaron, encouraged him to move away from his role of teacher and allow Jordyn to grow on her own.
"He told me, 'It's important that you don't become her rabbi.' He even advised her not to come learn in seminary in Israel at the same time that I was here. So instead she came that summer. And it turned out to be so much healthier for both of us this way."
So while Yehoshua Aryeh was growing into a ben Torah over the next two years at Orayta, Jordyn became involved in the Hillel and the Chabad at Penn, and started keeping kosher and Shabbos.
While her family initially thought Yehoshua Aryeh was brainwashing her, "over the next few years, we worked hard to show them that we were still normal and still prioritizing our family," he says. "By the time we got engaged, we knew how to navigate our family relationships."
The couple got engaged the year Yehoshua returned to the US to study at Yeshiva University and Jordyn was finishing her last year of college. The following summer, in 2018, they married and decided to move to Israel. The plan was for Yehoshua Aryeh to learn half a day in a halachah kollel and spend the rest of his time on his other passion — photography.

What My Soul Sees
"I got my first camera when I was five or six, and I quickly became the family photographer," says Yehoshua Aryeh, who adds that he grew up in a creative home where the arts were encouraged. "I grew up in a home where my mom's paintings lined the walls. Although my dad's a spine surgeon, in his free time I'd see him welding and making sculptures. My parents always encouraged me to develop my interest in photography and videos — even if I was doing that instead of my homework."
It was in high school that his interest in filmmaking was piqued. "My Navi teacher assigned us a project to make a video about what we were learning, and I went a bit over the top," he admits. "I taught myself video editing. I remember my friends were like, 'Whoa, what is this, Steven Spielberg?' Even though, looking back, it was terrible."
At that time, his dream was to become a Hollywood filmmaker. But in yeshivah, his dream shifted. Instead, he began asking himself how he could use his talents to do something meaningful. And, inspired by being in Israel, the answer was clear.
"The time in history that we're living in is the story of our people coming back to our Land. I wanted to not just be a part of that story, but to tell it."
As the newly married couple began traveling the land, camera in hand, the dream started to crystallize.
"I wanted to show the world just how beautiful and diverse Eretz Yisrael is. I photographed specific scenes around the country that were not just pretty but also held deep meaning for me. We decided to open a gallery to display them and give tourists a different glimpse of Israel to take home with them."
The photos lining the walls attest not just to his love of the Land, but also to his artistic eye. The color and depth of the pictures make it hard to believe that these are "just photographs."
"Most people don't think of photography as an art form," acknowledges Yehoshua Aryeh. "But I don't want to just replicate nature. I don't need a photo for that, I can see it with my own eyes. I try to find the inner beauty inside nature."
A self-taught photographer, he acquired his vast skill set by reading and researching the wide breadth of information available. Photography, he explains, involves an interesting balance — on the one hand, you are partnering with nature and capturing Hashem's world as it is, but on the other, you choose the setting, arrange the scene by choosing what to include and what to leave out, and select the angle you're shooting.
"It's really like our role in this world," he says. "Hashem is the chief artist, but He wants us to be partners. That's my photography — capturing Hashem's art, but adding my own creativity."
I can't help but wonder how much of his own creativity is used to enhance nature as I gaze at one particular picture — a lone olive tree on a hill, set against a sky of breathtaking blues and pinks. The pink, in particular, is so vivid and bright, it feels more like an artist's painted interpretation of a sunset than a realistic rendition of the setting sun. I'm sure the picture is touched up.
Yehoshua Aryeh smiles. "I often get asked about these colors. The answer is no and yes. I don't necessarily add color — because that would make the photo look unnatural. However, throughout the photographic process, I'll use different techniques to capture the scene the way I would like — adjusting the contrast and brightness, bringing out certain colors and muting others. I'm not trying to copy what my eyes see, I'm trying to capture what my soul sees."

Hidden Hues
He shoots his photos in fully manual mode in raw format, which means that nothing is pre-set or determined automatically by the camera; instead, everything is dialed in to reflect his unique perspective of the scene. The end photograph may be something entirely different, but that's exactly the point.
"I knew there was a hill with olive trees on the outskirts of Yerushalayim, right outside of Talpiyot," Yehoshua Aryeh relates. "It was Chanukah, and I wanted to do something Chanukah-related, so I headed out to this hill."
When he arrived at the hill, he searched through the olive trees but didn't find anything that spoke to him. Then, he walked around to the other side of the hill, and that's when he saw it — the single tree, rising alone against nature. He knew this was the one.
Once he finds the right scene, he sets up his equipment—he generally uses an ultra-high resolution Sony full-frame mirrorless camera, with Sony G-Master Lenses ranging from ultra-wide angle to telephoto. "I take a long time to set up, and I don't keep snapping. I'll usually take just one or two photos. I need to be completely calm and in the moment."
This can be hard, he acknowledges, when the timing is so essential. "Most of my photos are taken around either sunrise or sunset, and I don't want to miss that moment."
(As an aside, he mentions that these two times of day, the golden hours when the world is at its peak state of beauty, are also the prime times for davening.)
Looking at the photo, with its light sky of baby pinks and blues, it's surprising that this photo was shot after sunset, and that it was so dark out by the time he was finished that he needed to use a flashlight to walk back. He explains that he used a long exposure of 35 seconds to shoot this scene (a regular exposure is five seconds). During those 35 seconds, the camera is recording all of the light it sees.
"When the sun is so low in the sky, even past sunset, it's still giving off beautiful light, but we generally can't see it. The camera, though, is able to capture that light."
The long exposure also creates the photographic effect that anything moving will be blurred. Here, the tree, which is standing still, is set starkly against the blurry sky.
Every one of Yehoshua Aryeh's photographs has a name and a core message written next to it. "We wanted to not just capture the outer beauty of Eretz Yisrael, but also its inner beauty. So we write a meaningful reflection about each piece, either from Midrash, from chassidic writings, or from our own thoughts."
This particular photo is titled Or HaGanuz — Hidden Light. The name, he explains, was chosen to evoke both the light of Chanukah and the fact that he used his camera to bring out the hidden light in the scene.

Out of the Fog
The gallery holds a wide variety of photographic scenes, from water to blades of grass to a panoramic rooftop view of the Old City.
"We travel a lot, and we research places before we go," explains Jordyn, who says she almost always travels with Yehoshua Aryeh. "But with all our research, it's incredible to see Hashem's Hand guiding us to where we need to be. Sometimes we think we're going one place and end up finding something totally different."
"I try to find places that people might not even realize are there," says Yehoshua Aryeh. "We'll go to a place for two or three nights. I'll walk around and get a feel for the spot, and then decide what I want to showcase and at what time of day."
As an example, he points to a photograph of rocks on the Kinneret. The color and sheen of the rocks look like jewels shining in the water.
"I came here at first in the middle of the day," he says. He left his wife in the car and waded out into the water to photograph. "But the lighting wasn't right, so I left, and came back at sunset."
He describes the moment when the whole scene came together for him.
"There I was, standing in the water, my tripod set up next to me. The weather was gorgeous, and I could hear the water trickling around the rocks."
When photographing water, he uses a couple seconds of exposure to give the water a smooth look. He often uses a tripod and clicks his camera with a remote rather than by hand to prevent any slight shaking of the camera.
"At that moment, when I've clicked the remote and I'm waiting for those few seconds until the camera responds, I'm totally in the moment. I'm taking in the scene with all my senses. I hear the water. I feel its texture. I'll often say a tefillah at this time."
One of the most striking photos, the panoramic view of the rooftops of the Old City, with Har Habayis in the center, holds special meaning for Yehoshua Aryeh.
"I lived in the Old City for two years when I learned here in yeshivah, and I knew about this particular view, from on top of the Shuvu Banim yeshivah in the Muslim Quarter. I went there early in the morning before sunrise to be able to capture the sun peeking over the Temple Mount."
He then shows me a new photo on his computer screen, not yet displayed in the gallery. It's a view of the Hadera forest, with eucalyptus trees framing a running stream. The entire photo has the feel of an impressionistic painting.
"This forest is unique in Israel," he says. "It was all swamps 130 years ago. The Jewish settlers tried unsuccessfully to drain it, and so they reached out to Baron Edmond de Rothschild for help."
Rothschild responded by planting eucalyptus trees all around the area, because the trees are able to drain marshy areas.
"The Jews who worked so hard to plant this forest were doing it out of complete necessity, for their survival… and yet, 130 years later, they've left us something so beautiful to enjoy," he says.
Yehoshua Aryeh came to this spot with his father one morning at sunrise, taken by the fog engulfing the forest. He calls this photo Misty Morning, and discusses the significance of fog, arafel, and seeing Hashem's Presence through the darker times in our lives — much like this forest itself, and the way it grew out of the infested swampland to provide pleasure, generations down the line, to a nation returned and settled in its land.



Spreading the Splendor
Yehoshua Aryeh and Jordyn feel passionate about their mission to spread the beauty and specialness of Eretz Yisrael to the world, and they're proud to be providing their customers — mostly from chutz l'Aretz, and many of them non-Jews — a way to bring the kedushah of the Land into their homes.
One particularly memorable visitor was David Lega, Swedish representative to the European Parliament. He was staying in the nearby Mamilla Hotel and, having noticed the photos, he wandered into their gallery.
"Lega is one of the rare pro-Israel EU members who's been active in fighting anti-Semitism," explains Jordyn.
He was so taken with the stories behind their photographs that he offered to arrange for Yehoshua Aryeh to do an art exhibition in the European Parliament.
And in fact, the Staubers still can't believe that they're scheduled to go to Brussels in the late fall, where they hope to give the members of the EU, not known for their friendliness to Israel, a chance to view a different angle.
But it's an upcoming local speaking engagement that has the Staubers most excited.
"We hope to be hosting a Birthright group here, as soon as travel resumes, organized by the Chabad rabbi at Penn," says Jordyn. "He helped me become religious, so it's really coming full circle."
Unfortunately, in the short time that's passed since we met at their gallery, the world has changed. Their gallery is currently closed, and all planned meetings with tour groups have been canceled or postponed. Still, the Staubers are using this time to plan and expand — all the way to their former home turf in South Florida. Meanwhile, they're looking forward to reopening their Jerusalem gallery when the world crisis has passed, and continuing on with their mission of spreading the beauty of Hashem's land through their art.
Yehoshua Aryeh says he's filled with overwhelming gratitude for having the zechus to capture the Land's beauty. "Moshe wanted so badly to come to Eretz Yisrael and even though Hashem wouldn't allow him to enter it, He allowed him to see it. To me, that points to something so special about simply being able to look at the land. That's what I'm trying to do."
(Originally featured in Mishpacha, Issue 807)
Oops! We could not locate your form.
>