| Shul with a View |
Rav Bender and the Bris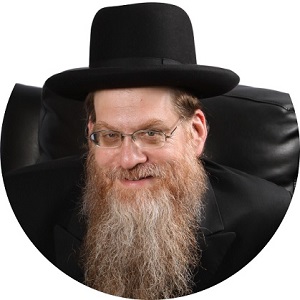 | January 3, 2023
While sitting quietly in the back, I learned more about what kavod haTorah means than I had gleaned the entire Shabbos
IT all began with a text message from Rabbi Zvi Lampel. His daughter and son-in-law were proud parents of a baby boy. I immediately contacted my good friend, Rav Yaakov Bender, the newborn's great-grandfather.
"Rebbi, I hear you'll be davening with us this Shabbos. I hope you can speak before Mussaf."
He agreed, and the excitement set in.
Having a major rosh yeshivah speak in shul is not a weekly occurrence. Men and women came from across the Passaic-Clifton community spectrum to hear him. There were men standing in the aisles and by the bookcases, cramming every available space. As soon as shul ended, Rav Bender was swamped by talmidim, and by those seeking eitzos and brachos. At the kiddush, there was a constant flow of men and women, each vying to get a brachah, ask a question, or submit a name. As amazed as I was at Rav Bender's perpetual smile and composure, I was blown away by his patience. Even after the kiddush was long over, Rav Bender remained, locked in conversation.
As I walked home after Maariv, I was content, pleased, and proud. Beginning with the shalom zachor on Friday night and climaxing with the crowd huddling around him after Shabbos, I had been privileged to see a master rosh yeshivah at his best. As one of the balabatim said, "Rabbi, this week the Ahavas [Passaic nickname for our shul, Ahavas Israel] reached a new level in kedushah."
Rav Bender's pristine public persona had impacted the entire shul. I felt so honored to have been at this special spiritually uplifting Shabbos.
The bris was the following Wednesday, Rosh Chodesh Cheshvan. Rabbi Lampel decided to make the bris in a smaller shul where they could make a private minyan. Concerned about having enough men for a minyan, Rabbi Lampel asked me to daven with them. Although I rarely daven away from my shul, I made an exception when I heard they might need help making a minyan.
I took a seat in the back and enjoyed a rare respite from sitting up front, allowing me to focus on my siddur and not on the tzibbur.
The heimish, mostly-family minyan ended, and the mohel proceeded with the bris. I noticed — to my surprise — that the baby's paternal grandfather, Rav Simcha Blaney, was being honored with sandek. I had been sure Rav Bender, the great-grandfather, would receive the coveted honor.
However, as I observed Rav Bender in his family's company, without the fanfare, I realized that I was now witnessing Rav Bender the zeidy. Rav Bender was not here as the rosh yeshivah of Darchei Torah, who deserves a seat in the mizrach. At the bris, he was the zeidy of the family who surrendered his kavod for his family. And as the zeidy, he no doubt realized how appreciative his mechutan would be to be the sandek for his first grandson.
Were these two different people? Rav Bender, the private family man who shied away from honor, and Rav Bender, the public rosh yeshivah who speaks before thousands?
Then clarity hit.
This was one and the same Rav Bender. A man who eschews honor is indeed the man truly worthy of recognition.
And there, while sitting quietly in the back, I learned more about what kavod haTorah means than I had gleaned the entire Shabbos.
It was there, at a family bris attended only by family members, without all the fanfare and crowds, that I experienced and witnessed true humility and genuine love of family.
It was then I realized that only a man sensitive to the needs of his own family can be truly caring about the tzibbur.
And it was there, as an anonymous observer, that I learned the true meaning of ahavas Yisrael and kavod habrios.
(Originally featured in Mishpacha, Issue 943)
Oops! We could not locate your form.
>