| Recipes |
Purple Cabbage Slaw | July 1, 2020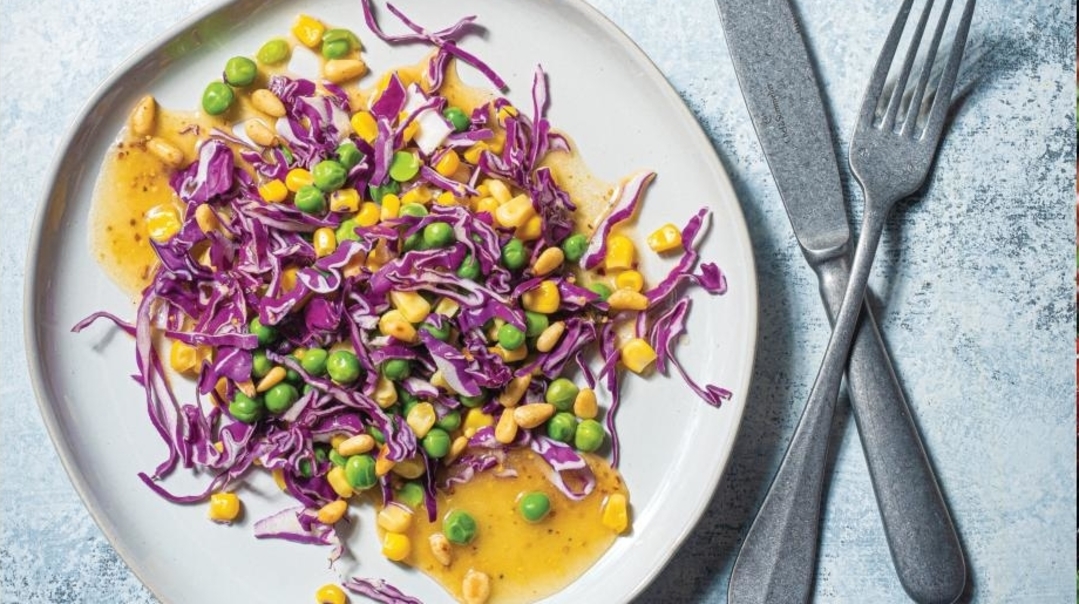 Purple Cabbage Slaw
This tangy slaw, with its subtle sweet undertone, is a refreshing and tasty alternative to the classic coleslaw. The week I finally perfected it, I served it on Shabbos. My daughter looked at it quizzically, and I didn't say a word as she took her first taste. A few minutes later, I saw that the new salad was gone, the bowl polished clean. When my daughter asked if the new salad could be passed her way, I offered to share my portion with her, an offer she gladly accepted. Are you getting the picture?
SERVES 6
8 oz (225 g) shredded purple cabbage
1 11-oz (310-g) can sweet corn, drained
11⁄2 cups frozen peas, defrosted or steamed (see note)
1⁄2 cup toasted pine nuts
DRESSING
1⁄4 cup rice vinegar
3 Tbsp olive oil
3 Tbsp silan or honey
2 Tbsp lime juice
1 Tbsp course ground mustard
1⁄4 tsp kosher salt
pinch black pepper
Place all salad ingredients in a medium bowl. Combine all dressing ingredients in a small cup or bowl. Mix well. Pour over salad and mix until well coated. This salad can be enjoyed crispy or wilted.
Note: To steam peas: Place peas in a small saucepan. Add ⅓ cup boiling water and a pinch of salt. Bring to a boil. Lower heat. Cover pot and steam for 5 minutes. Drain and cool before adding to the salad.
(Originally featured in Family Table, Issue 699)
Oops! We could not locate your form.
>