| Side-by-Side |
Pulled Beef
| February 22, 2022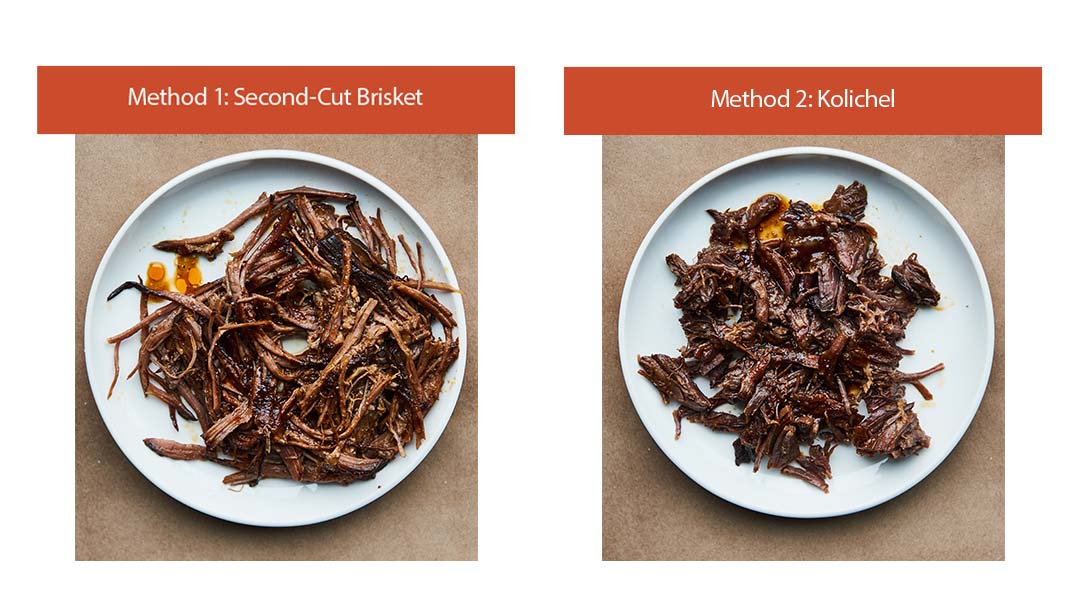 Photo Credit: Sina Mizrahi
There is little that can compete with meat that's been bathed in a luscious sauce and slow-cooked until it's impossibly tender. But there are a variety of cuts that can get us there. Let's explore how second-cut brisket (the default) does against kolichel. I cooked them both in a homemade barbecue sauce (you can use store bought if you prefer) until a fork slid right through and the meat slid right off.
Homemade Barbecue Sauce
2 cups ketchup
½ cup apple cider vinegar
⅓ cup soy sauce
¼ cup brown sugar
2 Tbsp honey
juice of ½ lemon
1 tsp granulated onion
1 tsp granulated garlic
1 tsp black pepper
½ tsp sea salt
½ tsp cayenne pepper (optional)
In a saucepan, combine ingredients. Bring to a gentle simmer over medium-low heat; cook until thickened, about 10 minutes.
Pulled Beef
1 3-lb (1.36-kg) second-cut brisket or kolichel
1 Tbsp oil
2 cups barbecue sauce
Rub
1 tsp onion powder
1 tsp granulated garlic
1 tsp smoked paprika
1 tsp sea salt
1 tsp black pepper
Preheat oven to 350°F (175°C).
Combine rub seasonings in a small bowl. Rub over meat on both sides.
Heat an ovenproof pot over medium heat. Add oil; sear meat until browned, about 5 minutes per side. Pour barbecue sauce on top, cover, and bake until the meat is tender and easily falls apart, at least 3 hours.
Remove pan from the oven. Use two forks to pull the beef. Serve over a bun, rice, or mashed potatoes.
Optional: Remove meat from the sauce and cook sauce on high for 5–8 minutes to thicken.
Other Cooking Methods
Slow cooker: Sear meat, transfer to a slow cooker, and cook for 8–10 hours on low.
Pressure cooker: Sear meat in the pressure cooker and cook at high pressure for 1.5 hours.
My Verdict
When I pulled the second-cut brisket, it turned into long, stringy pieces of meat, whereas the kolichel melted onto itself and broke apart into smaller strands. The textures looked different, which I thought would affect the results, but they both tasted delicious and tender. I could not detect an obvious difference between them.
(Originally featured in Family Table, Issue 782)
Oops! We could not locate your form.
>