| Side-by-Side |
Potato Kugel
| October 18, 2022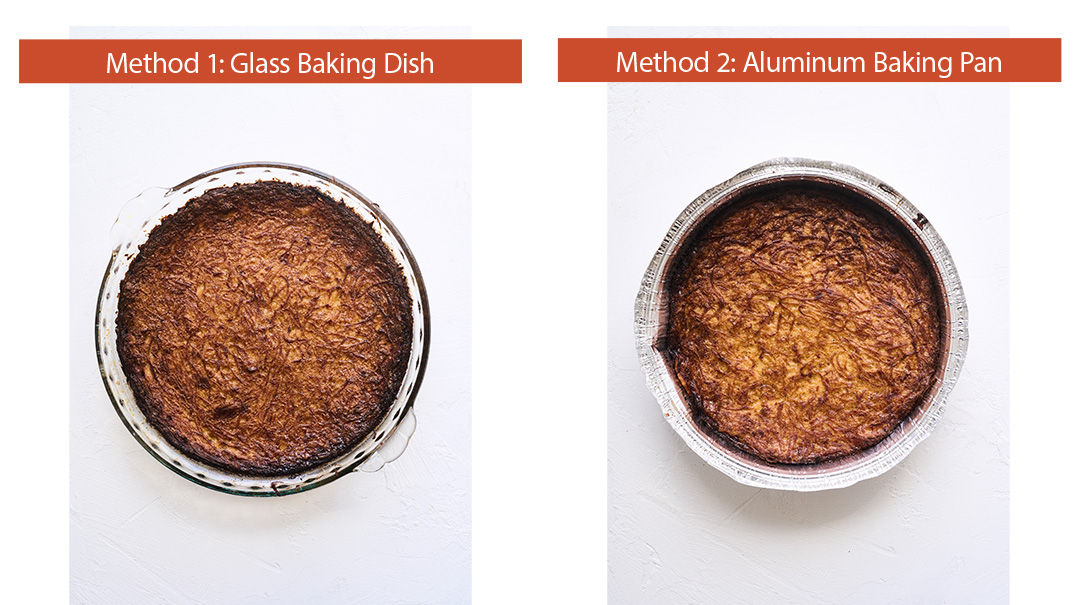 I don't usually make kugel, but a reader suggested this topic and I was on board. She wanted to know which method would yield the crispiest crust, baking in a glass dish or in disposable aluminum.
I set out to test both, but I had a bias. I'm not a fan of cooking or baking in disposable aluminum (I know, I know — the convenience!), so I thought glass would be the natural winner. Let's see how it went down.
I used a winning recipe from these pages from Adina Weiss.
Perfect Potato Kugel
YIELDS 1 9X13-INCH (23X33-CM) PAN OR 2 9-INCH (23-CM) ROUND PANS
4 large eggs
5 Tbsp oil
2 tsp salt
about ⅛ tsp black pepper
about ⅛ tsp cayenne pepper (paprikah charifah in Israel)
1–2 onions
6 largest size Idaho potatoes (or red potatoes — about 6 large ones and 6 small ones)
1 cup boiling water
Preheat oven to 350–360°F (180°C). Prepare and grease a 9x13-inch (23x33-cm) pan, or two round pans for faster baking.
Mix the eggs, oil, and seasonings in a large bowl so the grated potatoes can go right into the liquid when they're ready. (This is the secret to a beautiful, white, creamy inside and a brown, crusty outside.)
Peel and grate first the onions and then the potatoes. Transfer the grated onions and potatoes immediately to the bowl and incorporate into the wet ingredients. Once mixed, add boiling water and mix quickly (so as not to cook the eggs).
Pour the batter into the prepared pan(s). With a fork, lift some potato shreds out of the batter so they're sticking out and will get crispy. You can also sprinkle the top of the batter with a bit of oil. Bake until the top is dark brown, about 2 hours for a 9x13-inch pan, less time for the round pans. Serve hot!
My Verdict
The glass dish yielded a noticeably darker crust, which makes sense. Glass is heavier and takes longer to heat, but it retains heat for much longer so the crust got a nice sear that went deeper into the kugel. On the other hand, aluminum heats faster and cools faster so the edges got crisp but not as deeply. If you want to maximize those crispy edges, opt for glass.
(Originally featured in Family Table, Issue 814)
Oops! We could not locate your form.
>