| This Way That Way |
Pizza Dough
| June 15, 2021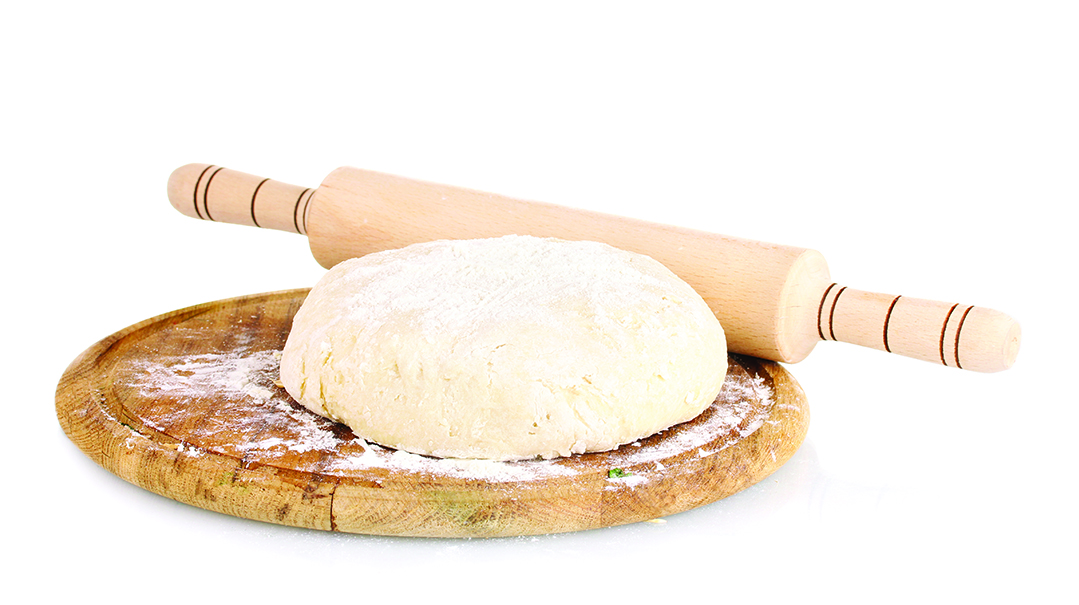 Pizza dough is not only the delicious foundation of one of the world's favorite foods — it's also a delicious bread-style base for many diverse foods. Here are some of our staff's top pizza dough picks.
Mamma Mia
First Licks
Gennaro Lombardi, who immigrated to the US from Naples, Italy, is credited with starting the first pizzeria in the US in 1905.
Outer Edges
Did you know there is a technical term for pizza dough crust? It's called the "cornicione," or end crust.
Can You Beat This?
At the World Pizza Championships, contestants compete for acrobatic dough tossing, fastest dough, largest stretch, and more.
Sticky Deli Pizza
Recipe by Miriam (Pascal) Cohen
Reprinted with permission from overtimecook.com
Wow your guests with this easy meat pizza recipe!
SERVES 6
2 Tbsp oil
1 large onion, sliced
½ tsp kosher salt
1 6-oz (170-g) pkg corned beef deli, diced
1 6-oz (170-g) pkg pastrami, diced
1 6-oz (170-g) pkg salami, diced
1 16-oz (450-g) bottle sweet chili or teriyaki sauce
1 large flatbread or pizza dough
Preheat oven to 350°F (175°C). Line a baking sheet with parchment paper and set aside.
Heat oil in a large frying pan over high heat. Add onion and salt. Cook for 2–3 minutes, until somewhat softened.
Reduce heat to low. Add deli and stir. Cook for 20–30 minutes, stirring occasionally, until mixture is reduced and fragrant. Add sauce and continue to cook for about 5 minutes, until sticky.
Spread deli mixture over flatbread or pizza dough. Place on prepared baking sheet and bake for 20 minutes.
Plan Ahead: This pizza freezes nicely.
Super-Simple Focaccia
Recipe by Faigy Grossmann
I'm not gonna lie, store-bought pizza dough is one of my most frequently used ready-made purchases. I use it weekly for homemade pizza night, but here's another favorite.
YIELDS 1 9X13-INCH (20X30-CM) PAN
1 store-bought pizza dough, defrosted
olive oil
sliced olives
crushed garlic, rosemary, and kosher salt, to taste
If you're using a ball of dough, roll it out to fit a 9×13-inch (20×30-cm) pan. Set dough aside to rise for about 30 minutes.
Preheat oven to 400°F (200°C).
Smear a generous layer of olive oil over the dough. Poke your finger all around the dough to make deep indentations. Top with sliced olives, crushed garlic, rosemary, kosher salt. (You can add more of your favorite veggies, such as cherry tomatoes, sliced peppers, sliced mushrooms, etc.)
Bake for about 25 minutes until baked through.
Beef Cheek Monkey Bread
Recipe by Michal Frischman
I developed this recipe for Purim (kids were jungle animals, and monkey bread was my half-hearted attempt at a theme), and my husband described it as "garlic knots meet pulled beef," aka: good. Not in the mood for the extra steps? Sub 6–8 ounces of diced pastrami for the beef cheek. No one will mind!
SERVES 8
Beef Cheek
1 tsp olive oil
1 carrot, diced
1 onion, diced
2 mushrooms, minced
1 tsp salt
¼ tsp black pepper
1 beef cheek (about ¾–1 lb/340–450 g)
a few leaves of dill or parsley
Monkey Bread
¾ cup dark brown sugar, packed
olive oil or cooking spray, for dipping
1 tsp cumin
2 Tbsp garlic powder
2 Tbsp paprika
2 lbs (910 g) pizza dough, room temperature
3 Tbsp porcini mushroom powder
1½ Tbsp salt
For the beef cheek: In a small saucepan, heat the olive oil over medium heat. Sauté onion, carrot, and mushrooms until softened. Season with salt and pepper. Add the cheek and herbs and cover three-quarters of the way with water. Cover the pan, leaving space for steam to escape. Bring to a simmer, then lower and cook on low for 3–4 hours or until very tender. Remove the cheek and shred with a fork. Save the leftover broth for soup, cholent, sauces, or rice.
To make the monkey bread: Preheat oven to 350°F (175°C).
Mix the spices in a shallow dish. Prepare a sheet of parchment paper. Cut the dough into 1-inch (2½-cm) balls and line them up on the paper. Spray the dough balls liberally with cooking spray or dip each ball in olive oil. Dip each ball in the spice mix, making sure it's well coated. Spray a tube pan with cooking spray and lay a layer of dough on the bottom of the pan. Add a layer of beef cheek. Add another layer of dough and more beef cheek until all the dough and meat are in the pan. Bake for 45 minutes. Allow to cool in the pan for 10 minutes, then flip onto a platter.
Best served warm and dipped into roasted garlic mayo.
(Originally featured in Family Table, Issue 747)
Oops! We could not locate your form.
>