| This Way That Way |
Pineapple
| April 14, 2021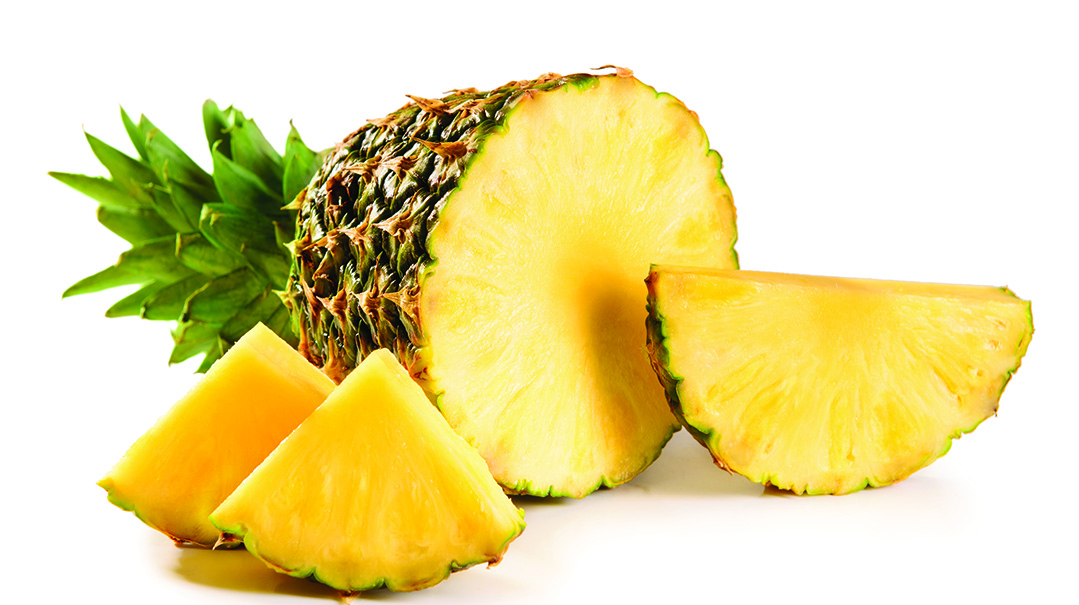 Cut them up for dessert, slice them into rounds, spears, or cubes: pineapples are that perfectly sweet, natural fruit we can't get enough of. But did you know the preparations are more diverse than simply slicing and serving? Here are some recipes that have caught our eye.
TROPICAL TONES
Soften It 
Pineapples contain the enzyme bromelain, which can break down proteins, so they can be used to tenderize meat.
From Leaf to Plant
Pineapples regenerate: you can plant pineapple leaves to grow a new plant.
Singleton
Only one pineapple is produced by a single plant in a single season.
Odd But True 
Pineapples ripen fastest upside down.
Pineapple Kugel
Recipe by Faigy Grossmann
This recipe is not your typical kugel. I prefer to serve it lightly warmed or room temperature, so it's my go-to Shabbos lunch side. Doesn't hurt that it's super simple to make and requires just a mixing bowl and spoon. Freezes well both raw or already baked.
YIELDS 2 9 -INCH (23-CM) ROUND PANS
1 cup sugar 

6 eggs 

1 cup oil 

2 tsp vanilla extract 

1 cup flour 

4 tsp baking powder 

2 20-oz (570-g) cans crushed pineapple, drained 

cinnamon, for sprinkling
Preheat oven to 350°F (175°C). Whisk sugar with eggs and oil. Add remaining ingredients. Pour into two 9-inch (23-cm) round pans and sprinkle with cinnamon. Bake for 1 hour.
Grilled Pineapple with Lime Accents
Recipe by Chaia Frishman
My family and friends often wonder about my eclectic food choices, especially at a barbecue or a restaurant with brick-oven pizza. Why? Because of the pineapple. Nothing adds more oomph to a burger than a grilled pineapple slice, and nothing, I mean, nothing, makes me happier than pizza with grilled pineapple (and artichokes, if you must know). Best part? No one asks me to share with them.
YIELDS 6–8 SLICES
1 ripe pineapple, cored and sliced into ½-inch (1-cm) circles 

1 lime, juiced 

1 tsp olive oil 

2 tsp brown sugar 

½ tsp cinnamon 

pinch salt
Mix everything besides the pineapple in a bowl. Heat grill to medium/high. Dip each pineapple slice into the marinade and grill for 3–4 minutes on each side. Watch that it doesn't burn. Remove from the grill and serve. 
Note: You'll obviously need a pareve or dairy grill pan to make pineapple for pizza. I like to fully drain and dice up the finished pineapple, then put it on the pizza and watch it get further caramelized as it bakes.
Tropical Milkshake
Recipe by Miriam (Pascal) Cohen
If you, like me, are dreaming of a tropical beach vacation, but you're stuck at home with no beach in sight, you can make this tropical milkshake, close your eyes, and imagine the sound of the waves crashing against the shore. Ignore the rest of it, and let this delicious drink take you to a peaceful place. You deserve it.
SERVES 1
½ cup frozen mango chunks 

½ cup frozen pineapple chunks 

½ cup vanilla ice cream 

½ cup milk

½ tsp vanilla extract
Place all ingredients in a blender. Blend until smooth and creamy; this may take a couple of minutes.
Note: For adults, you can add an ounce of rum to the mix as well.
(Originally featured in Family Table, Issue 738)
Oops! We could not locate your form.
>