| PlateArt |
Picture-Perfect Apple Pretzels | September 16, 2020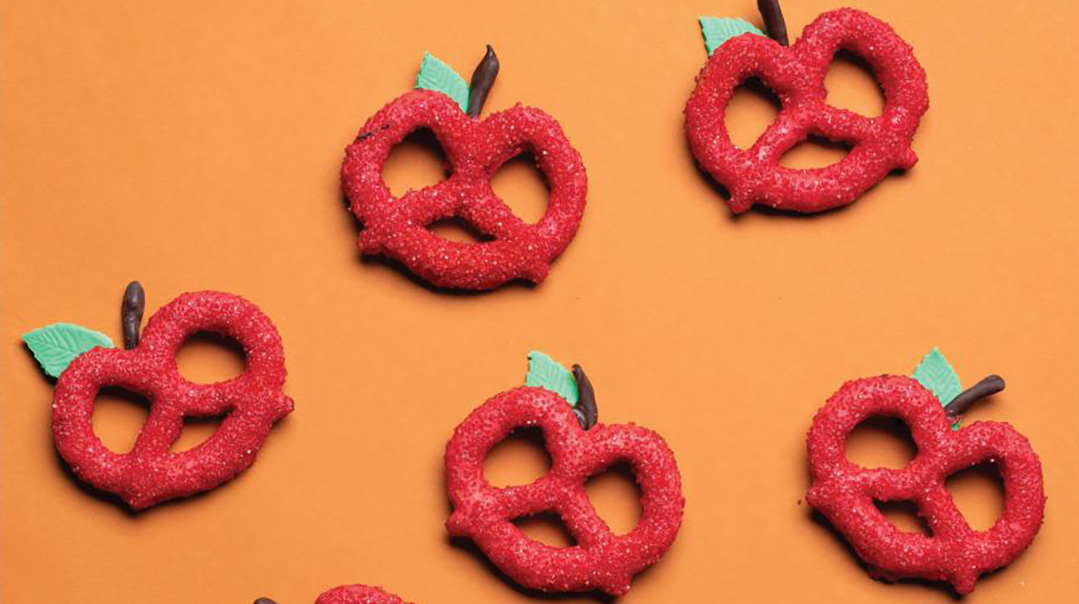 Picture-Perfect Apple Pretzels
I began admiring Ariella Katscher's talent when she started her first business, A Pretty Pretzel, in the Five Towns. Ariella has since moved back to Toronto, her hometown, and opened an online candy store called Thecandycatchers.com, featuring stunning custom candy platters, beautiful creative gifts, and, of course, her famous artisanal pretzels! Thank you, Ariella, for giving us a stepby-step guide on how to make these adorable apple pretzels for Rosh Hashanah.
YOU WILL NEED:
green fondant
leaf-shaped plunger cutter
red candy melts
pretzel twists
red sugar crystals
baking chocolate
double boiler
thin Chinese noodles
Roll out the fondant and cut out leaves using the plunger cutter. Leave out to dry overnight (do not cover).
Place the candy melts in the microwave for 30 seconds. Remove from microwave, stir, and return to the microwave for another 30 seconds or until completely melted.
Using a fork, dip pretzels into the melted red candy, making sure the pretzel is completely coated. Place on parchment paper and cover completely with red sugar crystals. Leave at room temperature to dry for about 15 minutes.
Meanwhile, melt chocolate in a double boiler. Dip the Chinese noodles carefully in the chocolate, coating halfway. Place on parchment paper to dry.
Once the pretzels are dry, remove from the sugar crystals and place on a clean tray so the back of the pretzel is face up. Lift each noodle by the coated end and dip the other side into the melted chocolate.
While it's still wet, attach it to the back upper-middle part of the pretzel to form a stem. Dip the leaf into the melted candy and attach to the back of the pretzel. Allow to dry and enjoy!
(Originally featured in Family Table, Issue 710)
Oops! We could not locate your form.
>