| This Way That Way |
Peaches
| June 14, 2022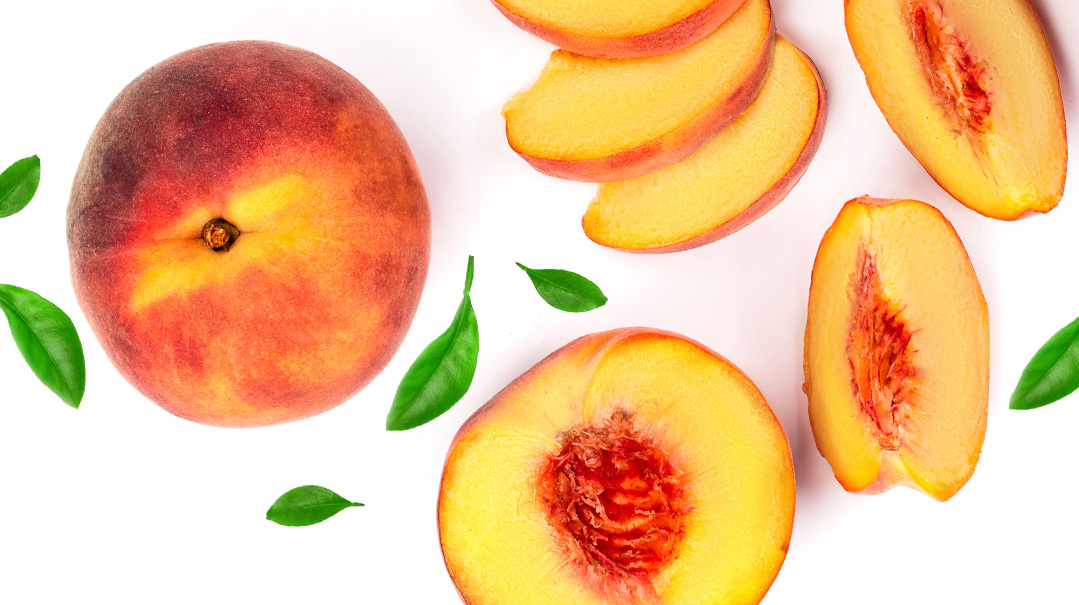 Summer is synonymous with peaches — try them grilled, sliced into salads, or just enjoy them fresh! Their juicy flesh and sweet, tart flavor make them a staple in our barbecue-focused summer meal planning. Here are the ways we've been using them recently.
Just Peachy
It's the Fuzz
Peaches and nectarines are twins — the only difference is the peach's fuzzy skin and the nectarine's smooth skin.
Clingy
The two main varieties of peaches are clingstone and freestone. It's harder to remove the flesh from the pit on a clingstone peach.
Cobbler for a Crowd
The world's largest peach cobbler is made every year in Georgia and measures 11 x 5 feet (132 x 60 cm).
Grilled Peaches with Maple-Cardamom Glaze
Recipe by Rivky Kleiman
A fabulous finale that will have you saying to yourself, "I don't want this to end!"
SERVES 6
4 firm, ripe peaches
2 granola bars
¼ cup chocolate chunks
vanilla ice cream, for serving
Maple-Cardamom Glaze
3 Tbsp margarine
3 Tbsp maple syrup
1 tsp vanilla extract
¼ tsp kosher salt
⅛ tsp cardamom (optional)
Preheat grill to high heat. Spray rack with cooking spray.
To prepare glaze: In a small saucepan over low heat, melt margarine with maple syrup. When melted, remove from heat and add vanilla, salt, and cardamom (if using). Whisk until smooth; set aside.
Slice each peach into 6 wedges. Place each wedge on the grill for 30 seconds on each side (or until grill marks appear but peach is still firm). Remove from grill, brush with glaze and set aside.
Place the granola bars into a small bag and pound until you have coarse crumbs. Add chocolate chunks.
To assemble: Place 3–4 grilled peach wedges on each dessert plate. Add a scoop of ice cream. Add a sprinkle of granola crunch and top with a drizzle of the glaze.
Peach Preserves
Recipe by Chaya Suri Leitner
Seasonal fruits make me so happy — upon spotting the first of the season, I tend to buy more than my family can consume before it goes bad! One year I found myself with an overload of peaches which I knew wouldn't last much longer, so I came up with this delicious compote idea. Ever since then, you can find a batch of this in my fridge throughout peach season because it's that good. Serve over yogurt, ice cream, chiffon cake, or even feta toast.
YIELDS 1 LB
8 peaches, chunked
¼ cup maple syrup
2 Tbsp bourbon (optional)
1 Tbsp chopped basil
pinch salt
Combine all ingredients in a saucepan and bring to a boil. Lower heat and simmer for 25–30 minutes.
Let cool and store in fridge for up to 2 weeks.
Peaches-and-Corn Salad
Recipe by Faigy Grossmann
Nothing speaks summer to me more than crisp corn on the cob and stone fruits. Here they're combined for a light and refreshing salad.
SERVES 6–8
baby spinach or mixed greens
2 ears of corn, cooked and kernels removed
1 cup sugar snap peas, thinly sliced
2 peaches, thinly sliced
Dressing
⅓ cup oil
⅓ cup lemon or lime juice
¼ cup maple syrup
1 tsp yellow mustard
salt and pepper, to taste
In a small bowl, mix dressing ingredients.
In a large serving bowl, toss together salad and dressing. Serve and enjoy.
(Originally featured in Family Table, Issue 797)
Oops! We could not locate your form.
>