| True Account |
Payback Time | December 20, 2022
He stole my money, I stole his dignity — and then it all fell apart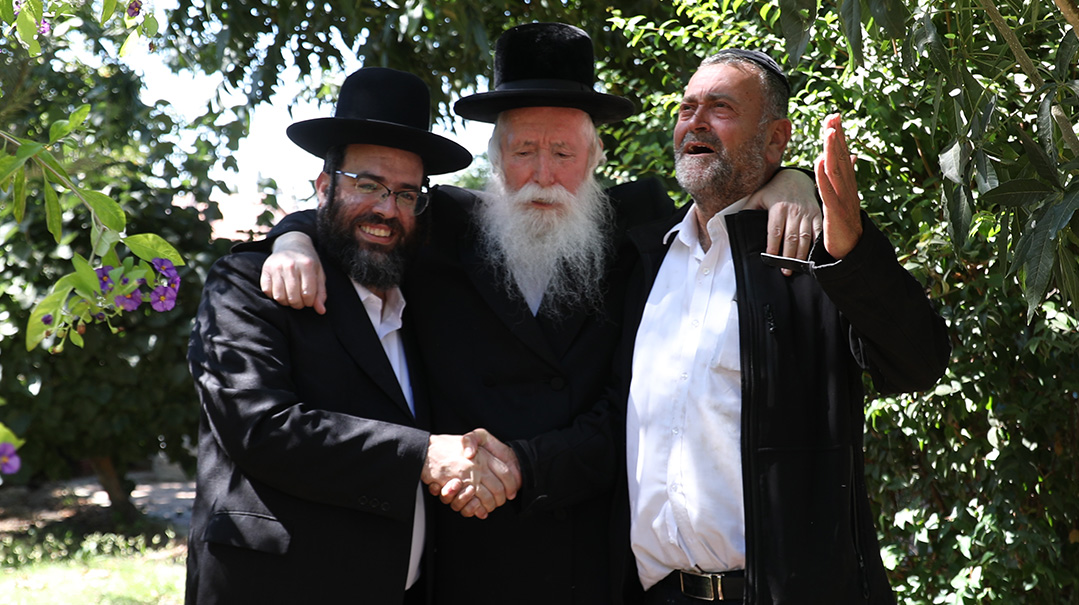 As told to Ruti Kepler by Aharon Kliger
Photos: Menachem Kalish, family archives
Chapter 1: 

Wedding Jitters
I
'm not one of those "sharing" people who tells his secrets to the person next to him on the bus, or whose work colleagues know everything about his personal life. In fact, I'm quite the private type. So the story I'm about to share isn't about my need to talk things through, or even to clear my conscience. It's about an obligation to pay back something I stole in the only way I know how — although I'm not sure what I took from another Yid is something that can ever be returned.
I was born 39 years ago in the Jerusalem neighborhood of Ramot Polin (the architectural award-winning hexagonal "egg carton" enclave on the hill that you can see from the Ramot Road and the northern neighborhoods), the oldest of ten closely spaced children, in a house well-acquainted with poverty. Abba was from the old-timers, the holy men of Jerusalem whose world contained nothing but Torah and avodas Hashem. Ima was a hard-working, resourceful homemaker who knew how to stretch whatever we got — the Bituach Leumi stipends that helped us scrape by through the month, the weekly Yad Eliezer food packages, the occasional tzedakah coupons we'd apply for — and that's just how it was, all through my childhood.
That's not to say we weren't happy. We'd slide down the angled, peeling walls of our "egg carton" apartment, root around for treats in the food packages we received, and read lots of books, borrowed from neighbors or from the library (but never actually spending money to buy them for ourselves).
Over the years, our neighbors started normalizing their apartments, straightening the angled walls, adding extensions. We had no money for renovations, but it didn't really bother us that our neighbor laid his steel reinforcement beams across our ceiling, or that chunks of plaster from our ceiling occasionally fell down on our heads because of the construction on top of us.
Ramot Polin was exposed to the winds, and on blustering Jerusalem winter days, it was freezing. The central heating was rarely turned on, as the building superintendent, an elderly, frugal Holocaust survivor, wouldn't waste a drop of fuel, and as long as it wasn't really cold, he sagaciously explained, there was no reason to turn on the heating. I remember freezing through the long winters, covering our broken window with blankets to keep out the cold. The cold got in anyway, but along with the cold, there was plenty of warm simchah in our house.
I went to a standard cheder and learned in chassidish yeshivos.
When I turned 21, Abba and Ima sat me down for a talk. They asked for my consent to hear shidduch offers for my sister, who was next in line. By our kehillah's standards, I was pretty much an older single. I was already working a bit as a newspaper writer, and my shidduch hadn't yet turned up. I gladly agreed to allow the next sibling in line to skip me. I didn't want to hold anyone back.
Not long after, my sister got engaged. We made a small, simple vort, just for close relatives. Everyone was smiling and showering the chassan and kallah and their parents with brachos, and of course the older brother as well, who had been willing to let his younger sister go ahead.
It was a happy night. But Abba was afraid.
This was the day he feared, the day he would start marrying off the children. Much as he'd hoped and davened for this moment, it filled him with anxiety. He couldn't even muster up a full smile. I saw his hand trembling when he signed on the shtar hatena'im. He looked like he was stepping into a minefield.
Abba, a masmid, a chassid, an oved Hashem who ran from gemach to gemach just to survive everyday life with ten children, had just made a financial commitment that was impossible for him to meet.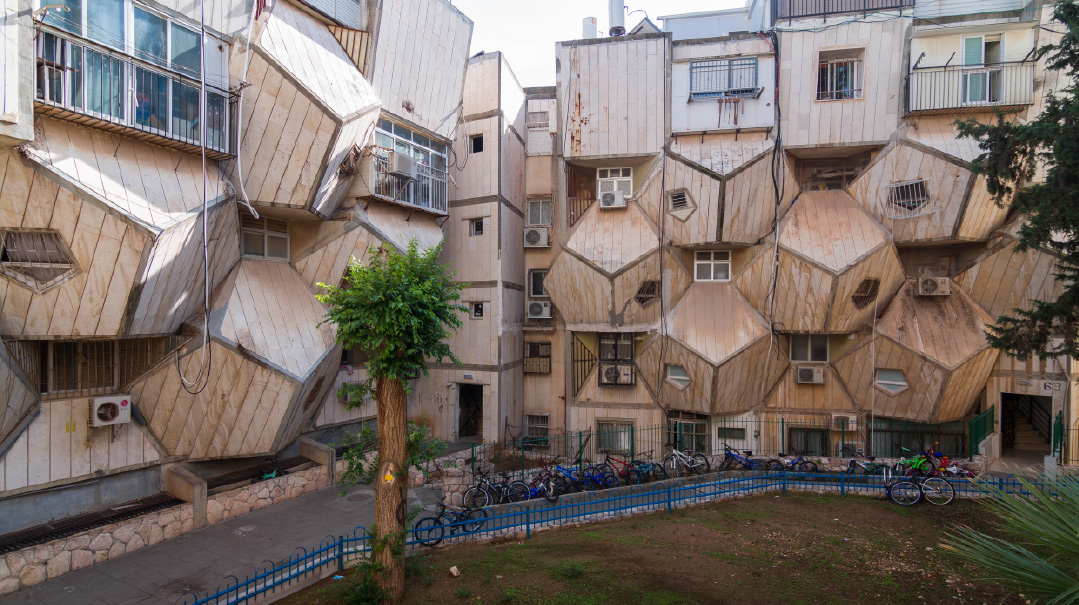 The mechutanim were a simple family with low expectations, just like us. They had no special demands. No one even spoke about buying an apartment. Each side committed to giving $7,000, and this combined sum was to cover a minimal trousseau, a modest wedding in the subsidized Gutnick hall, basic appliances for the young couple, only the most necessary purchases, and three months' rent.
Compared to what most people expected, Abba was getting off easy. But for him, even that was beyond his scope. For Abba, $7,000 was like half a million, and he didn't know where to begin to find it. I saw the shadow of fear and panic flit across his face.
I made a bold decision. I would take it upon myself to raise that money. I would go to London, I decided, and collect for hachanassas kallah. I didn't quite know what that entailed, I didn't know a word of English, and my Yiddish was barely passable. But it was clear to me that Abba had no other way of getting hold of $7,000 to marry off my sister.
Abba agreed to let me go, and I set off with his blessing. I didn't tell him how scared I was, that I had no idea what I was doing — where to go, how to travel, what to do. I consulted with a few experienced schnorrers and meshulachim who gave me preliminary guidance, but nothing prepared me for the reality on the ground.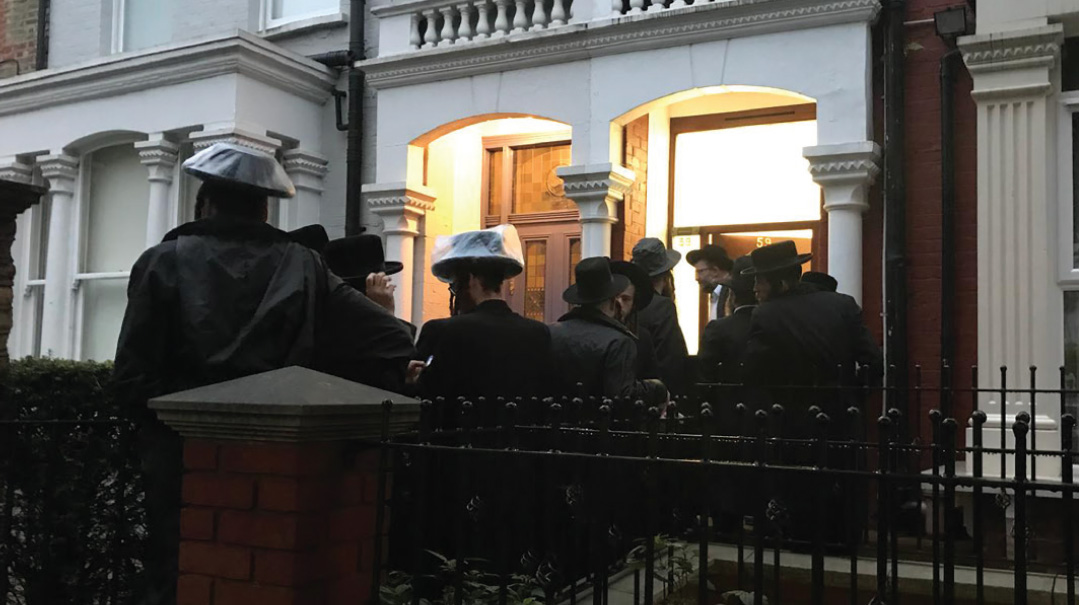 Chapter 2: Knives in My Heart
A
ll these years later, the sheer horror of those weeks is still branded on my soul. I land in London toward winter's end. A cold, alien city, without acquaintances, without a word of English. I go collecting, door to door, night after night — shame after shame, humiliation after humiliation. Sometimes I knock, say a few words, and the door is slammed in my face with a "Not available." I move on to another door. I ring the bell. I wait. Someone tells me apathetically that the head of the house "can't come to the door." I go on to the next door. I receive a few coins and put them in my pocket.
Like a beggar, like a pauper.
First there was the Vaad Hatzedakah, which had to screen me in order to give me a certificate of integrity, without which, I was told, some residents of Golders Green wouldn't give me a penny. To get that certificate, I had to go through an interrogation. You're a young bochur, why are you collecting money? For whom? For your sister? Why? For her wedding? And what does your father do?
I went around like that, each day overcoming my shame once again, my cheeks burning as I knocked on doors, asking for tzedakah. Hachnassas kallah, for my sister. Peered at through dozens of security cameras, exposed to a whole world of gvirim and roshei kahal and towering mansions and protektzias, repeating the same answers and explanations again and again, as my self-respect was getting trampled in the dust.
Those mansions in Golders Green took my breath away. The rich people I'd known up until then lived on Rechov Sorotzkin. But this was a different world altogether. Did chareidim actually live in palaces, with lush, manicured gardens, marble staircases, and fountains? Butlers, maids, regal furniture, living rooms that went on forever, showcase upon showcase filled with sparkling silver. Luxury cars. I couldn't believe that kind of wealth really existed.
In one mansion after another, I stood waiting in line, one kid among many schnorrers and meshulachim, until finally I came before the "king" of the palace.
He would look me up and down, hand me a ten-pound note and dismiss me.
Ribbono shel Olam, I would think on my way out to the street. Only ten pounds? You could set me up for life.
It was endless humiliation. Every day. From door to door, dying again inside each time I held my hand out, collecting money and shame. But I was consumed with my goal. I pictured my sister Devorah, glowing in her bridal gown. My father, so pure and innocent, with no way of paying Gutnick, and the wedding coming up soon. I imagined the look on his face when I came home with the full amount he needed.
And so, I knocked on the next door, and waited for more humiliation.
My feet were hurting from all that walking. I slept wherever I could find lodging, together with a ragtag assortment of wayfarers. I was hardly more than a child, suddenly thrown into the harsh, unforgiving life of a schnorrer. But the part that really broke me was collecting in the shuls.
I would go in during davening, asking for tzedakah. It felt like my neshamah was being burned alive, like there was no room in my young heart for a shameful thing of this magnitude. There were some who gave me money. There were some who covered themselves with their tallis, shutting me out as a non-person. And there were some who shoved 25 pence into my trembling hand.
But while still blushing with shame and misery, I closed my eyes. I pictured a beautiful, modest wedding. Abba, rejoicing. Ima. My sister.
And I went on to the next minyan.
I spent two weeks in London, including Purim. On Purim, all the doors are open. Wealthy Londoners throw huge parties, and it's very competitive — what liquors did you serve, which super-singer performed at your seudah?
On Purim, though, it's not only the rich. The local Jews extend their hands, too — to private individuals as well as the community chesed organizations. And I'm among them, a young bochur from a shabby apartment in Ramot Polin, going door to door. I tell them about our situation, about my father who sits and learns, with ten children and one of them a kallah. And I get donations — smaller ones here, bigger ones there. Four thousand dollars.
That was the figure I'd reached after two weeks of soul-crushing, Sisyphean toil.
Someone whispered in my ear that since the yahrtzeit of Rebbe Elimelech of Lizhensk was a week away on 21 Adar, a stopover at his tziyun would be worth my while. In those days, Lizhensk was still a well-kept secret, an out-of-the-way town visited only once a year by an elite group of well-off Americans and Europeans. They came only for the yahrtzeit and then flew straight back to their businesses, returning control to the gentile woman who held the key.
I could hit the jackpot the night of Kaf-Alef Adar, seasoned schnorrers told me. I decided to go to Lizhensk.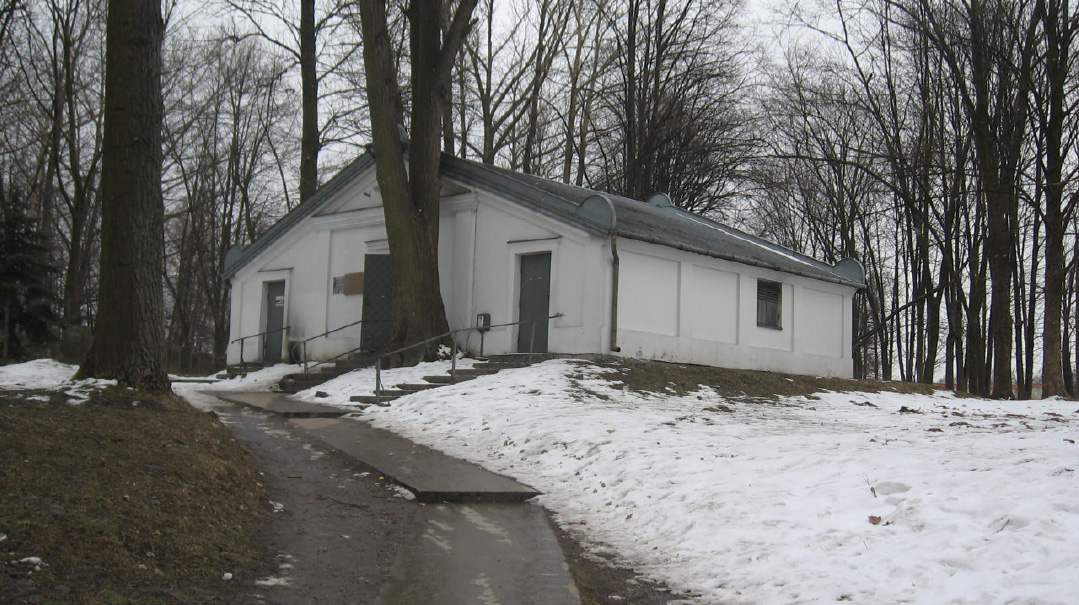 Chapter 3: Under a Tallis
I
traveled from London to Lizhensk, where I met a group of Breslover bochurim who'd discovered this opportunity long ago and came every year on the yahrtzeit to collect money to pay their airfare to Uman on Rosh Chodesh Nissan. They taught me the tricks of the trade.
There's a paved path leading from the cemetery's main entrance to the tziyun. The schnorrers stake out positions along both sides of this path. You hold out your hand toward anybody on their way to or from the Noam Elimelech and say your "password." I'm a chassan, my sister's a kallah, my grandmother's an almanah, or whatever the case may be.
In other words, give me some money.
The chutznikim going up to the tziyun come equipped with stacks of dollar bills, and they hand it out left and right until the bundle is all used up. You stand there, harvesting dollar after dollar. It adds up.
I thought I knew what it was to be cold, but this was something else. I'd never experienced sub-zero temperatures before, and I didn't really have the proper gear to keep out the cold. The cold felt like knives cutting into me, and came to the point where my fingers were so swollen and red and blue that I couldn't even bend them. But I couldn't give up. Every dollar was important. And when I was on the verge of collapse, I pictured the Gutnick hall in my mind. I pictured Devorah, a glowing kallah. The wedding, the dancing. Abba, happy. And I kept on collecting.
I stood there on the side of that path in Lizhensk for 24 hours. Frozen, lonely, ashamed… and collecting dollar upon dollar from the hands of flesh and blood.
When the yahrtzeit was over, they all went away, and even Reb Simchah Krakovsky, who runs the hachnassas orchim, closed up shop. Lizhensk went back to being another desolate Polish village, as if nobody had ever passed through.
The bochurim I'd met on the way — some of whom I knew from Yerushalayim, because we belong to the same chassidus — were urging me to travel with them to Uman for Rosh Chodesh Nissan, Rebbe Nachman's birthday and one of the four "zemanim" for visiting Rabbeinu.
We had a week until Rosh Chodesh, and I decided to join them. First, we went to Krakow where there's a cheap, subpar hostel for $5 a night, and every day we'd show up at the Ukrainian consulate trying to get a group visa, without which we wouldn't be granted entry to that country.
The languid Ukrainian bureaucrats turned out to be very productive when it came to making excuses. One day our application form was torn, the next day we hadn't filled it out correctly. The third day, it was one of their two hundred holidays and they weren't issuing visas. We tried a bit of bribery, and it turned out there was a hungry coalition of consulate workers who all wanted some of the largesse. And why give us a visa today, if they could schlep things out until tomorrow, and get another bribe?
In the end, we found a local Jewish businessman who spoke good English (we'd been talking to the clerks in pantomime, like a troupe of gypsies), and after shelling out a few more zlotys, we had our group visa.
Now we had to make a dash for the border. It was Thursday. We wanted to get over the border in time for Shabbos, and to get to Uman on Sunday, Rosh Chodesh Nissan.
And from there, home at last.
On the way, I stopped at a currency exchange and converted all my assorted dollars and pounds to euros. I received a packet of fresh, crisp bills — €5,000. Sacred money. Money I had earned with my blood. Five thousand euros to pay for a wedding hall, a stove, and a washing machine for my sister. I called Abba and told him he could stop worrying, and Ima could go out with Devorah to choose a gown, some new outfits, and appliances.
They could start smiling.
We took a train from Krakow to Przemyśl, the closest city to the border. We tried showing our group visa to get into Ukraine, but it seemed that the border guards needed to eat, too.
The tedious negotiation process began. We refused to pay. They refused to let us cross. They left us to stew in the waiting area with some truck drivers smoking unknown substances. It gradually dawned on us that if we didn't pay, we wouldn't cross the border.
We went back to the officer in charge. We finally negotiated a price, which we reluctantly paid, and  crossed into Ukraine at last. We piled into a van, and the driver set out on what was surely the worst road in that neglected country. It was all bumps and potholes. It was Friday now, and we wanted to get to Lvov in time for Shabbos. All the way we pressed the driver on with cries of "Bistra, bistra." I'd already learned one word in Ukrainian.
The driver swore at us in Ukrainian, the van jumped between the ditches and potholes, and we watched as the sun moved steadily toward the horizon. In desperation, we promised the driver a little more money if he would get us to the main shul in Lvov before sunset. He took the bait and stepped on the gas. He flew that van over the fragmented road, with us inside being hurled up and down and from side to side, wondering what we'd do if we didn't get there before shkiah.
Two minutes before shkiah, the van pulled up in front of Lvov's central shul, led by Rabbi Mordechai Shlomo Bald, a Karliner shaliach. We all scrambled for places to stow our muktzeh. I ran up to the ezras nashim. There were some shelves high up on the wall, and I saw a folded tallis up there. I took my precious bundle of €5,000, my sister's wedding money, and quickly pushed it between the folds of the tallis.
I went back downstairs to the main hall, where Rabbi Bald was singing Kabbalas Shabbos with a congregation of elderly Yiddish speakers. We spent a very special Shabbos there, as if we'd gone back a century in time.
Rabbi Bald didn't have much to offer us in the way of food, as 15 of us had descended on him without prior notice. Our Shabbos meals consisted mainly of bread and tahini, but there was a lot of simchah and ruach. We were all happy, because we would be in Uman for Rosh Chodesh Nissan. I was also happy because my mission was accomplished. From Uman, I would travel home. No more trudging around collecting donations. That chapter of my life was over.
We knew that we'd have no time to spare Motzaei Shabbos. The train to Vinnytsia, a 12-hour ride from Lvov, was leaving half an hour after tzeis hakochavim. We would have three minutes to make Havdalah and pack, 20 minutes to speed to the train station, and seven minutes to buy tickets in pantomime, get to the platform, and board the train. We arranged in advance with Rabbi Bald that we would make Havdalah at the first possible moment and be on our way. The non-Jewish security guard would order a taxi for us.
After Havdalah, while each one from our group ran to get his pekelach from wherever he stowed them, I dashed up to the ezras nashim. I reached up to the high shelf and grabbed the folded tallis.
There was nothing in it.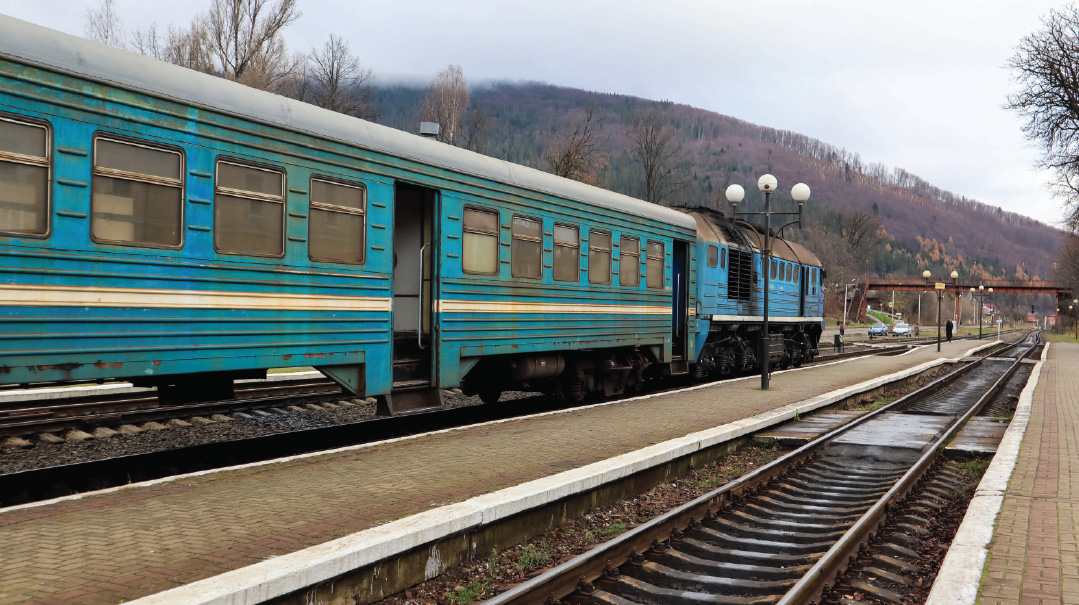 "Kliger!"
There was nothing in the tallis.
"Kliger! Where are you? The van is here! We have to go right now!"
My hands were shaking.
I shook the hapless tallis. I hit it. I shook it. It was just as empty as before.
"The van is leaving! We can't wait!"
I didn't have a cent.
"Kliiiiger!"
It looked as if they were using the ezras nashim as a de facto genizah. There were a lot of old seforim there. I started rummaging among the seforim. Maybe it's there? Under here? Did I forget where I hid it?
I felt dizzy. Like I was being swallowed up in a black hole.
"Are you coming?"
I wasn't coming. My head was spinning, and I had no money.
I'd been through a month of hellish humiliation and had nothing to show for it.
My memory of the next few moments is a blur. Someone came to get me. Somehow, on leaden legs, I got downstairs, shaking uncontrollably. All I remember is confusion and tension. Shock, horror, hopelessness. I must have been hustled into the van somehow, because the next thing I remember, I was on my way to the train station. With no money. I'd just lost €5,000, and I didn't even have time to take a breath and comprehend the loss. Then we were buying tickets and running like mad to the train. The conductor was already bellowing. We jumped on, and the train started chugging along.
And that's where the whole debacle began.
There were 15 of us, and everyone started making cheshbonos. Who was with us, who disappeared for a while, who went up to the ezras nashim. Who got up in the middle of the night. The train was ancient, with squeaking doors and a bad odor. Between the cars, the wind brought the chill in as we were busy trying to pinpoint the vile thief.
Ukrainian villagers boarded and disembarked, brushing past us and eyeing our suitcases appraisingly. I felt like I might be robbed again any minute. We found a sleeping car, with folding bunks on the walls. The conductor came and chased us out. We hadn't bought tickets for the sleeping car, he said. We pushed a few coins into his hand and he went away.
The train jerked and shuddered. Passengers continued to get on and off, with all sorts of animals in tow, crowing, mooing, and growling. And while the train continued its journey through all sorts of backwater hamlets, we were conducting a thorough investigation. Whoever stole my money was going to pay dearly.
He'd also have to pay for the fact that I didn't even have the $5 fare for this disgusting train. I had to borrow it.
My suspicions fell on Ofer. He was older than the rest of us, already over 30. He was a wandering paytan. That is, he went around to Jewish communities, like the Bucharian kehillah in Vienna or the Georgian kehillah in Antwerp, chanting piyyutim, singing and doing chazzanus for them, and collecting a fee for his services.
That lowdown thief.
I started putting together the pieces of the puzzle, and they fit perfectly. When Ofer was with us on Shabbos and when he wasn't, where he'd gone. Bottom line: He was the culprit. I shared this new information with all the others. It made sense to them. Now it was time to demand that he give back what he'd stolen.
I didn't confront him alone.
I had 15 young fellows with me, all of us a little too fired up.
I had weeks of ego-crushing, bloodsucking humiliation in me. I had the image of Devorah at her chuppah in me, and the cost of the hall that Abba couldn't possibly pay.
I had my pent-up rage, and all the frustration of the worst month in my life.
With all that, I went up to Ofer, demanding that he hand over what he'd stolen.
Of course, he denied it.
I'm ashamed to say what came next.
Yareisi biftzosi siach l'hashchil — to confess how I sinned against the G-d of Israel and against Ofer.
"Remove your clothing," we ordered him. "Right here, right now." There, in the filthiest train you ever saw.
"Remove your clothing," we told him, with such chutzpah, 15 against one.
Ofer pleaded with us to leave him alone. He told us, on his word of honor, that he'd never touched that money. We didn't believe him. He cried with humiliation when we started pulling off his clothes. And we found a fat bundle of cash.
It was more than €5,000, and Ofer swore by all that was dear to him that it was his own money, that he'd collected it himself. We weren't going to believe that so easily. He showed us proof that these weren't the same bills I had. I checked. He was right. They weren't the same ones.
But between you and me, how good is that sort of proof? Ofer was the thief, that was a fact as inescapable as the stench on that train. Probably he'd stashed my money away somewhere in Lvov, planning to pick it up on his way back from Uman.
Ofer categorically denied all guilt. But who believes a thief?
As the train rattled along over 430 kilometers of terrain, with chickens and goats and geese and old women with dirty baskets and drug addicts smoking unidentified, foul-smelling substances, my pockets were still empty. How could I go home emptyhanded after all these weeks, after I'd already phoned Abba and told him about my fabulous success?
How could I look my sister in the eye?
How could I look at my parents? At our shabby apartment in Ramot Polin?
And how would I even pay for a flight home?
It was awful on that train from Levov to Vinnytsia. Just awful.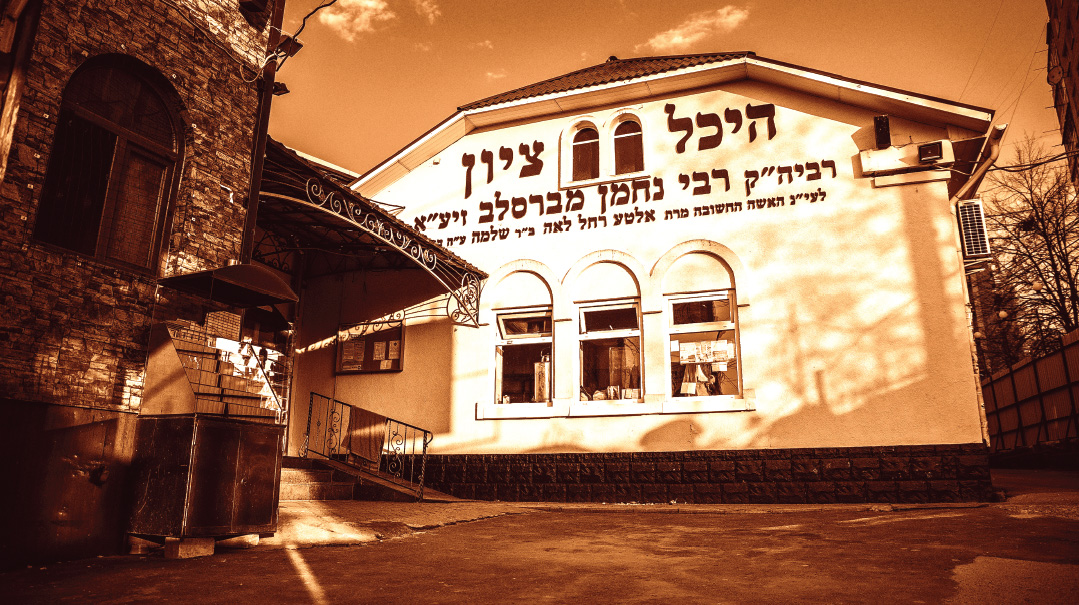 Chapter 4: All Lost Things
WE
finally arrived in Vinnytsia, and from there made our way to Uman. Everyone we met was informed that Aharon Kliger had been robbed. Actually, that he'd been robbed by Ofer, who took all this money, €5,000. It was supposed to be for his sister's wedding. Very quickly, hundreds of people coming to the tziyun heard the story. They felt bad for me. They looked at Ofer with disgust.
Among the crowd, a friend from Yerushalayim who tapped me on the shoulder and said, "Aharon, in Likutei Moharan, Rebbe Nachman says that 'all lost things are found when you go to the tzaddik.' Don't despair. Go to Rabbeinu's tziyun."
I stared at him. What do you mean, lost things, tzaddik, Rabbeinu? I'm stranded without a penny. I have no way of getting home.
But he just repeated, "Go to him."
I went into the tziyun, sat beside the kever, and broke down crying. I told the whole story, how I decided to make this trip, how I spent weeks schnorring, how I was put to shame day after day. How I couldn't face my father and my sister. I sat there for a long time, pouring it all out, crying it all out.
When I finally emerged from the tziyun, my phone rang. I'd been writing for a paper called Sha'ah Tovah, and Asher Zuckerman, the editor, wanted to know what I could give him for the Pesach issue.
"Pesach issue?!" I practically screamed, "I don't even know how I'm going to eat today, or how I'm going to get back home. Somebody stole all my money, some crook called Ofer."
While he was still on the line, I noticed a venerable-looking Jew there on Bielinski Street, wearing tallis and tefillin, heading in my direction. He looked familiar… I'd seen his picture in the papers. It was Rav Yitzchak David Grossman, the rav of Migdal HaEmek.
"I think I see Rav Grossman," I told Asher. I knew Asher and the Rav were good friends — both were Lelover chassidim.
Asher got all excited. "Let me talk to him!" And a moment later, he was deep in conversation with Rav Grossman about all sorts of Lelover-related matters. I stood there, tapping my foot on the pavement and thinking with dread about how much this incoming call would cost me, and meanwhile, Rav Grossman was slowly pacing further away with my phone.
After a few minutes, Rav Grossman came back and handed me my phone.
"Where are you going now?" he asked.
"To the hachnassas orchim, for breakfast," I said.
"Wait for me there, will you?" Rav Grossman said, and he went to daven.
I waited. And indeed, Rav Grossman came in and sat next to me.
"Who knows about this incident, about the theft?" he asked me.
I realized that Zuckerman must have told him.
"Everybody," I answered.
By now, everyone in the place had heard about it, either from me or from my friends. (In those days, the crowd at Uman on Rosh Chodesh Nissan numbered in the hundreds. Today, it's in the thousands.)
"Yisrael Meir Gabbai also knows?"
"Yes."
Rabbi Yisrael Meir Gabbai, owner of the hachnassas orchim, was called over to our table. He confirmed the story. Yes, it was all true. This bochur, Kliger, had collected money for his sister's wedding, and the whole sum was stolen. Five thousand euros.
Rav Grossman took out $250 and gave it to me for my return trip to Israel.
"When you get there," he instructed me, "get in touch with my daughter."
He wrote down her phone number and address. I didn't ask any questions. I was just glad I was able to get away at last from this land of chickens and bribery and theft. I caught the next flight home, and I called Mrs. Ganz, Rav Grossman's daughter.
"Right," she said in a businesslike way. "I have an envelope for you."
In the envelope that awaited me in Bnei Brak were €5,000. From the Rav. For me. Hachnassas kallah.
The Breslover maxim echoed in my mind: All lost things are found when you go to the tzaddik.
I couldn't find the words to express my happiness. I'd already broken the news to my family that the money was gone. I'd already seen my father's face go pale, my sister seized with anxiety. I'd already imagined the phone ringing in my parents' house, the mechutanim calling to ask for the money we didn't have.
Thanks to Rav Grossman, I went home smiling, with a fat envelope in my pocket. My sister's joy, my father's relief, was boundless.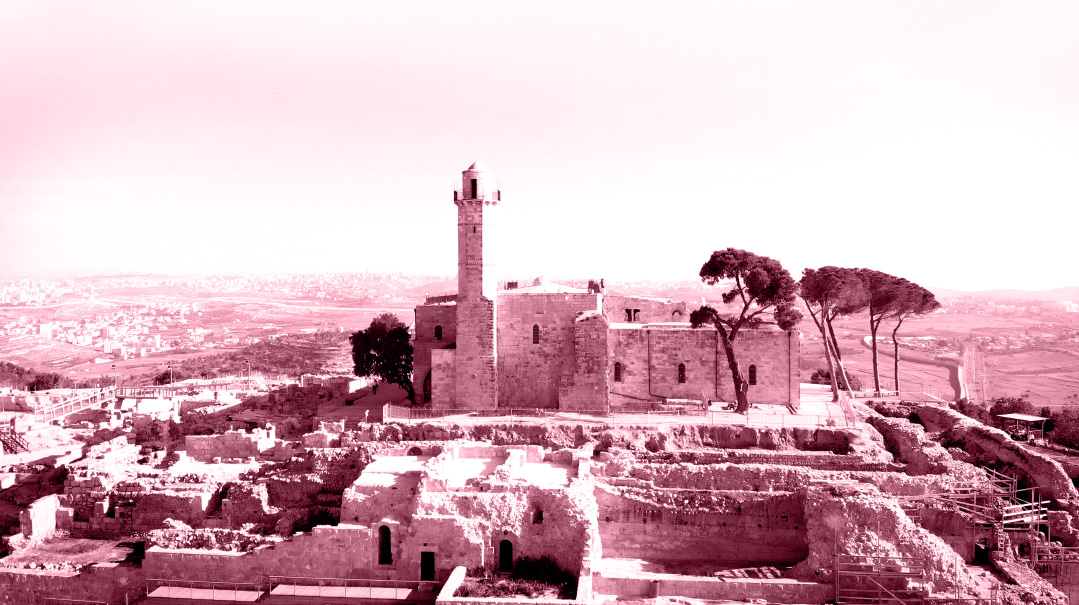 Chapter 5: The Reprieve
Y
ears passed.
I married. I bought a low-cost apartment in Givat Ze'ev, before the chareidi community discovered it. It was on Rechov Kiryat Ye'arim, overlooking Kiryat Karlin, and only two chareidi families were living there. We lived there for a few years, and then I rented it out, and we moved to a rented apartment in Beitar.
As the family grew, we wanted to settle permanently in Beitar, to buy a place of our own there. By that time, the whole Givat Ze'ev area was mostly chareidi. Real estate prices had shot up, and the street above Karlin was in high demand. Everyone who put their apartment up for sale found buyers right away.
Everyone but me.
All around me, the market was booming. Everyone was buying and selling. My apartment was a real metziah — spacious, with a huge living room, a yard, all the selling points. And nobody wanted it.
I tried everything. I got my tenants to move out and did some renovations. I put in new light fixtures. I put highlighted ads in the papers and circulars. I put in bigger ads, with more highlighting. Where are you, potential buyers, and why are you buying apartments left and right, passing me by? What was happening here?
Years passed, we continued to throw away money on rent in Beitar, and I started suspecting something was really wrong. Was the place haunted or cursed? People would come to see it, and then disappear and never get back to me — why?
I made more rounds hanging up notices all over Givat Ze'ev. Come on, people, buy my apartment already.
They came, they saw. They seemed interested. And then they left.
I lowered the price. And lowered it some more. Meanwhile, we were still renting in Beitar, and we couldn't buy a place of our own. I knocked 200,000 shekels off the market price, hoping that would tempt those shy buyers. It didn't help. No one wanted to buy my perfectly good apartment.
My wife started trying segulos, scattering aravah leaves and cloves by all the doors. I was desperate enough to let her try anything. But the cloves didn't persuade anyone to buy.
One day, a friend of mine sent me a video clip. No title, no explanation. Just a clip from the hillula of the Baba Sali. A table set with pastries and delicacies, wine and arak. I immediately recognized an old friend of mine, sitting there drinking. He'd clearly given the bottle a good workout, and red-eyed, he started talking in an undertone.
"You know Kliger?" he said. "I took €5,000 from him once, in Lvov. On Shabbos. A long time ago. I still haven't asked him for mechilah. I can't do it. Can't face him. I've seen him hundreds of times, and can't make myself say it. What can I do…"
Drunk and laid back, he sat there and talked.
By Hashgachah pratis, another friend also happened to be sitting there. He heard that drunken rambling, and it was clear to him that I needed to be informed of it. He asked for permission, and sent me the video.
I sat in my rented home in Beitar, watching it.
I watched and trembled. I watched, and I knew.
I knew why I was stuck like this, with an unsold apartment on my hands. I didn't need any proof, any mystical divination, any Baba with ruach hakodesh to tell me. It was because I'd deeply hurt a fellow Jew. I'd killed something in him.
Ofer. On the train. In Uman.
Ofer. Rav Grossman, with whom I remained in contact and who even helped me publish my books, urged me several times over the years to appease him.
"It's assur to suspect him," he'd said to me on various occasions. "It's assur to ruin a reputation, and assur to hurt a Jew. Go and ask Ofer for mechilah."
He'd told me, and I hadn't listened. Until now.
"Come and see this," I said to my wife.
She watched the video in shock. She couldn't fathom it. The guy in the video had even taken part in subjecting Ofer to a humiliating body search, while all along he himself was the thief!
But she knew, as I did, that this was where the dog lay buried. This was what was blocking the sale of our apartment. But how was I to bring the dog back to life? How do you ask forgiveness for such a sin?
I'd seen Ofer once in a while since the train incident. He lived in Nachlaot. I'd seen him once on Rechov Agrippas, one time by Kever Dovid Hamelech, one time in Uman on Rosh Hashanah. He was scared of me. He would cross the street to avoid me. To him, I was the devil incarnate, the man who ruined his life.
I tracked down his phone number. Full of trepidation and with a prayer on my lips, I dialed. He answered.
"Shalom, Ofer," I said. "This is Aharon Kliger."
Silence.
"Can you hear me?"
"What do you want from me?" he said dully. Still wounded.
"I'd like to meet with you. Please."
"What do you want from my life?"
It was clear that the pain was still raw, that he hadn't forgotten even for a moment. I took a deep breath. I summoned up all my communication talents. I promised him my intentions were good. I wasn't going to do him any harm. Please. He was suspicious, and he had a right to be. But finally, he gave in. We made up to meet in Yerushalayim, on Rechov Agrippas, just outside his neighborhood.
I brought my wife along to be on the safe side. I knew this was going to be hard, and I wanted some backup.
Before the meeting, my wife suggested that we drive to Kever Shmuel Hanavi.
"We should daven," she said, "that you'll say the right words and that he'll find it in his heart to forgive."
We went. And then I realized we'd stayed too long, and we were running late. I called Ofer to let him know, and to apologize for the delay.
"I'm at Kever Shmuel Hanavi," I explained. "I wanted to daven first…"
"I'm at Kever Shmuel, too!" he said in astonishment.
"What? You're here?"
I looked around. There was Ofer. Completely unplanned. He'd also felt the need to daven before our encounter. He'd brought his son Yaakov with him. I never even knew he had a son, or any children at all. In fact, I'd never thought of him as a person with a life of his own. (He has 15 grandchildren now.)
We went outside and found a place to sit. I lowered my eyes and launched into a monologue. All about my sister becoming a kallah, and our shabby apartment in Ramot Polin, and our poverty. About the month spent trudging around, degraded, a schnorrer. About losing the money. And how I'd injured him. About the years that had passed, and how I'd realized that it was time to ask for mechilah.
I talked, and my wife was in tears.
Yaakov, Ofer's son, was the next one to break down. Haltingly, gulping back sobs, he told us that all these years, he'd known there was a nasty story about his Abba. Something about money, something that happened in chutz l'Aretz, something about a theft… He'd heard the rumors, but he'd never dared to ask his father about it.
Now that he'd heard about the years of torment his father had been through because of me, he couldn't bear it anymore.
Ofer was the third one to start crying, as he told us the story of his life since that terrible day. He was divorced, and he couldn't find a shidduch. Every time it looked promising, some lashon hara would come up about dishonesty, about a theft. And sometimes he even lost bookings as a chazzan because of the rumors. At the last minute, they'd cancel on him with some vague, muttered excuse.
The story pursued him everywhere. Now and then he'd run into some of the bochurim — now men with families — who'd been on the train that day, and they'd toss an insult his way. And so, he wandered through life, never forgetting the awful humiliation he'd experienced.
I was last.
With a bowed head, I asked Ofer for mechilah. I looked into his eyes and said I didn't know how to make it up to him. I told him about the situation I was stuck in with my apartment, and that now I realized it was because of the kapeida hanging over me. Ofer knew exactly what kapeida I was talking about; he'd been harboring it for 15 years.
I pleaded with him to forgive me. With tears, with anguish, with true regret.
For several minutes, that spot with the panoramic view of the city — the burial place of the prophet Shmuel — was a catharsis of weeping, of hearts cleaved and gaping… and of tikkun.
Ofer forgave me.
I gave him a thousand dollars, a peace offering I'd prepared before our meeting. I parted from him and his son with a hug. Yes, we parted as friends. And when they left, I felt something that I don't know how to describe in words. Maybe it's not possible.
One thing I know — a huge stone rolled off our hearts that day.
"Let's go and do hisbodedus now," my wife suggested in the best Breslov tradition. "We've got plenty to meditate on."
We walked down to the archaeological park behind Kever Shmuel. Each of us found a private corner in that open field. Like Yitzchak and Rivkah. What I said there, I'll keep to myself. What is said in hisbodedus cannot be said in public.
After about an hour, we went back to our car and headed toward Beitar.
We were on our way home when my phone rang: Someone had seen our notice about an apartment in Givat Ze'ev. He wanted to see the place.
The truth was, I'd long ago stopped believing we would ever sell the apartment. I explained to him where the apartment was, and where the key was. He could go in and have a look. I knew nothing was going to come of it anyway. I was tired of answering people's questions on the phone about the size of the apartment and the yard and the rooms and the air flow, and whether the windows faced north, south, east or west. Let them go see for themselves and not make me go through a long, useless explanation.
The caller noted my brief instructions and went with his wife to see the apartment. They thought it was wonderful. Exactly what they'd been searching for, and at last they'd found it. They called me back, wanting to come and sign an agreement.
I quoted a price — not the bargain basement price I'd been willing to settle for in my desperation, but the real market price of an apartment like this on a chareidi street. The buyer sounded pleased with the figure I named. The next day, we signed.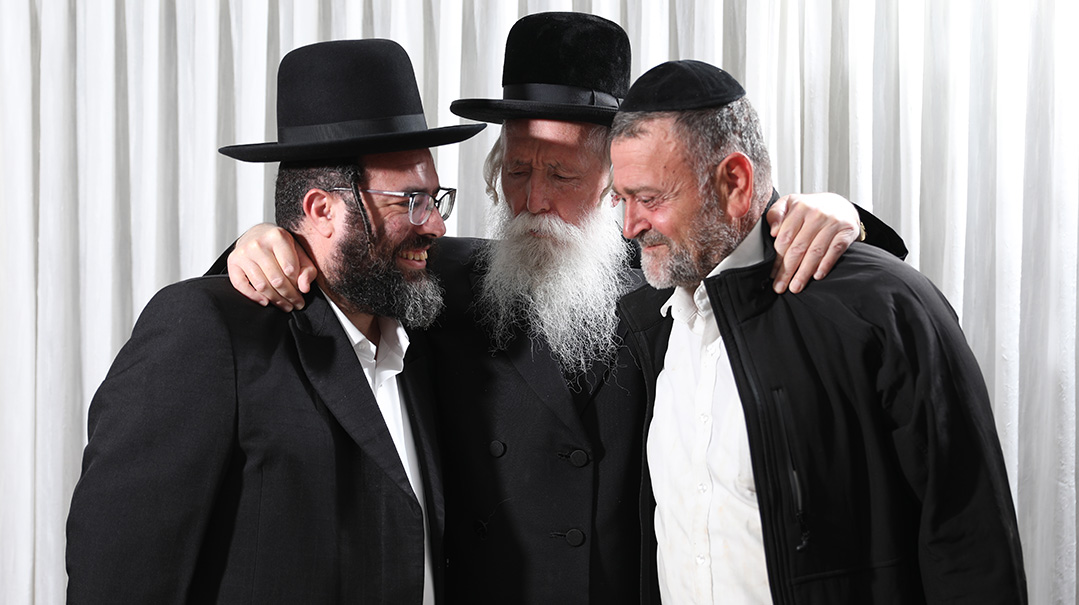 Chapter 6: The Confession
T
he day after our buyers suddenly materialized, I called Ofer to share the news. I told him I attributed the sale to his zechus, because he'd found it in his heart to forgive me.
He sounded slightly awkward when he said, "Aharon, I'd like to ask something of you. Would you come with me to Rav Grossman?"
Silence hung between us. I knew why it was important to him that I should come with him to Rav Grossman. Paradoxically, I wasn't the only one who'd become close with the Rav as a result of that encounter in Uman. Ofer had also formed a connection with him. He had gone to the Rav that same day in Uman to defend his good name. He'd told him he hadn't stolen anything, and he didn't know why everyone suspected him of such a terrible thing. And he'd told the Rav what I did to him on the train.
The story touched Rav Grossman's heart, and already then, in Uman, the Rav had told me that in his opinion, Ofer wasn't guilty, that he hadn't touched my money. But my ears, the ears of a young, impetuous bochur, weren't getting the message.
While Ofer's relationship with Rav Grossman had continued over the years, Ofer still had an underlying fear that perhaps the Rav, somewhere in his mind, did believe the rumors. And although Rav Grossman had stressed repeatedly that he believed him, Ofer still felt diminished and ashamed. Perhaps the Rav really suspected him after all.
So, now Ofer wanted us to go together to Migdal HaEmek, to clear his name unequivocally.
I got it. I could sense the burning need within him, that people should know he was innocent. I said yes, of course I'd go with him. After all, I was the cause of all his suffering. But catching Rav Grossman for a meeting can be complicated. His schedule is always packed, and he travels a lot.
We asked around a bit, and it turned out that the Rav actually happened to be home, resting. It turned out that he was suffering from cellulitis, an infection in his leg, and confined to the living room couch, he'd canceled all his trips and meetings for the near future. I picked Ofer up in my car, and we drove to Migdal HaEmek.
We arrived at Rav Grossman's house, and after some persistent knocking, we heard halting footsteps — and the Rav himself opened the door.
There we were. Me and Ofer. Together.
He looked at us for a few seconds in shocked silence and then cried out, "Ofer! Aharon!"
And he hugged us both with such incredulous joy, because we didn't have to explain to him how this visit had come about. With his arms around the two of us, he led us into his living room and started to dance.
"Hatov, hatov, hatov, ki lo chalu rachameicha…" Rav Grossman danced and danced with us. "Vehameracheim, ki lo samu chasadeicha." He was overjoyed to see that we'd made peace, because he knew there is no greater Divine chesed and mercy than this, from the One Who creates peace.
The Rav danced, and I cried, and Ofer cried, and long years of anguish seemed to evaporate in that room.
But the Rebbetzin, who came in to find out what the singing was all about, didn't know any of this, and she was stunned to see the Rav dancing on his ailing leg, stamping on the floor with it, jumping into the air with it, and she shouted in protest, "Aval HaRav! Haregel!"
And the Rav nodded at her happily in reply, pointed toward us, kept on dancing and said, "Aval HaRabbanit! Halev!"
Ofer caught the Rav's eye and said, "I told you."
And the Rav said, "I knew, I knew all along."
T
he story could have ended here — a tale of forgiveness with a happy ending. This Yid had tzaros, he went and asked the other Yid for mechilah, and he saw a yeshuah.
But the story isn't over yet.
We bought an apartment of our own in Beitar, and life was going well — parnassah, children, baruch Hashem.
But there was one Jew who wouldn't put the story behind him. Rav Yitzchak Dovid Grossman wanted more from me.
"Aharon," he said to me. "True, you made peace with Ofer. But you did it in private, behind the scenes… and the injury you did him was in public… and the hotzaas shem ra spread so far…"
It took a few moments to get over the shock once I realized what Rav Grossman was asking — instructing — me to do. The wrong, he said, has to be righted publicly.
Impossible. It was beyond my capacity.
First of all, from a purely technical standpoint, how could I do that? How do you assemble all those hundreds of people who were in Uman that day, and all the thousands of people who heard the story from them and their friends — firsthand, secondhand, thirdhand and on — and explain to all of them that the rumors about Ofer were totally false? That I had made a terrible mistake, I was sorry, and Ofer had forgiven me?
But more than that, how could I bring myself to make such a public confession? I, Aharon Kliger, a fine, well-respected Yid. A family man in a highly-regarded profession. A man with widespread business and social connections. How could I lower myself like that, rehash that whole embarrassing episode in front of the whole world? The mere thought made me break out in a sweat.
But Rav Grossman said the wrong must be righted publicly. He insisted. There was a Jewish heart that had been broken, a Yid who'd been hurt and degraded in public, whose shame had followed him for years.
All of a sudden, I reframed. I realized that the years-long delay in selling the apartment wasn't a punishment. It was a gift. It was a tremendous privilege I'd received, a chance to correct what I'd done in This World, and not to leave an injured Jew behind when it would be time for me to leave.
And so, it's time to share. And may my own shame and discomfort be a reprieve for forgiveness, and serve as a catalyst for bringing a measure of peace and comfort to my new friend, Ofer.
(Originally featured in Mishpacha, Issue 941)
Oops! We could not locate your form.
>