| True Account |
Path to Freedom
| March 28, 2018
As told to Abby Delouya
Sophomore year, I walked into a bookstore in the Jewish neighborhood. What was probably a typical seforim store felt, at the time, like a suffocating closet of truth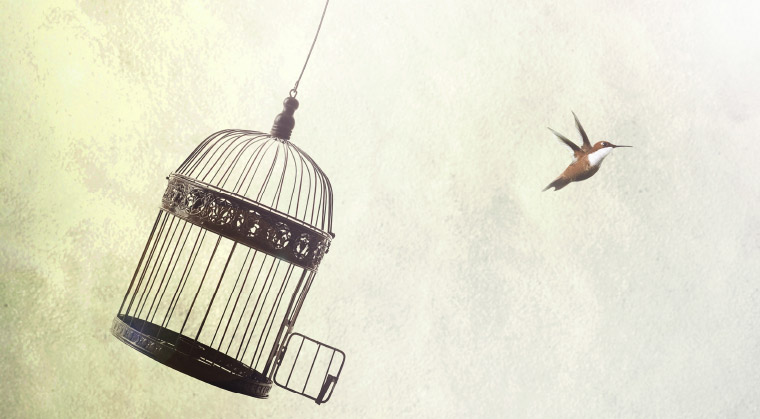 I
always loved that first bite of matzah.
I loved the crunch and way it dissolved into a dense crumb, stuck to the roof of my mouth. My father, at the head of the Seder table, would announce the "first matzah bite" grandly, and ask for silence to contemplate slavery. We chewed thoughtfully.
One year, in the throes of teenage rebellion, I felt especially sympathetic toward the Jewish slaves, as I had had my car keys confiscated and my curfew reinforced.
As a college student, having declared my double literature and history majors, I'd sometimes take the reins. "Okay, people!" I'd announce, "As we chew this matzah, let's take a moment to also think about the plight of the African Americans in our country. Let's think of racism, bigotry, and segregation. The Seder is a time to appreciate our freedom as Jews, but also to take responsibility as American citizens and think of others who have suffered." Heads nodded, and the noise of chewing filled the room.
Our Pesach Seder was an event that brought some of the most intellectual and interesting people to our table. Heated discussions would ensue, and someone would have to watch the clock, to remind us to hastily eat our strawberry meringues and a bite of afikomen by midnight.
As our guests drove back home, we'd contentedly vacuum matzah crumbs from the floor and schmooze about the highlights of the evening. The rest of the week we took matzah and cream cheese sandwiches to school, and an exciting chometz feast would happen on the eighth night (like it's done in Israel) at whatever restaurant boasted the best carbs.
Growing up as a Conservative Jew in New York, I felt proud and inherently Jewish. Even though I attended an elite, non-Jewish private school, I was surrounded by others like me, committed cultural Jews. My parents, both esteemed professionals, volunteered for many Jewish causes and organizations and took great pride in their commitment to tikkun olam.
We had Shabbat dinner each week and celebrated the holidays: Pesach was a hallowed yearly event, closely followed by Purim, Chanukah, Rosh Hashanah, and Yom Kippur. (There were a few years with a succah as well, but Shavuot was only for the people who davened in the other shul, and who had ever heard of Tishah B'Av? We were all at camp by then, after all.) I was one of the more religious in my peer group — smugly ordering the vegetarian option at restaurants and openly judging their seafood preferences.
I was accepted to a prestigious university in Boston, and as I entered my freshman year in college, I looked forward to connecting with the Jewish student body and the campus Hillel. I was also very swept up in the university culture, joining clubs and a sorority. I made friends with people from diverse backgrounds, and I loved my two roommates — a Serbian girl with a flair for drama and a witty Canadian whose great-grandparents had founded the Catholic church in her hometown.
I declared my Jewish studies minor and joined a class on modern liberal Jewish thought. The class showcased the different streams of thought and practice of Judaism, from Conservadox through to Reconstructionist Judaism. Sitting in a classroom with 150 other people — Jews and non-Jews alike — discussing my cherished religion in a cultural and sociological context, felt so stimulating and my heart surged with Jewish pride; I thought all of the different ways Jews made Judaism work for them was so inventive and dynamic. Like, for example, when Jews gentrified and moved out to the suburbs, the larger expanse of space meant that driving to shul was necessary and therefore accepted.
(Excerpted from Family First, Issue 586)
>