| This Way That Way |
Parsnip
| October 26, 2021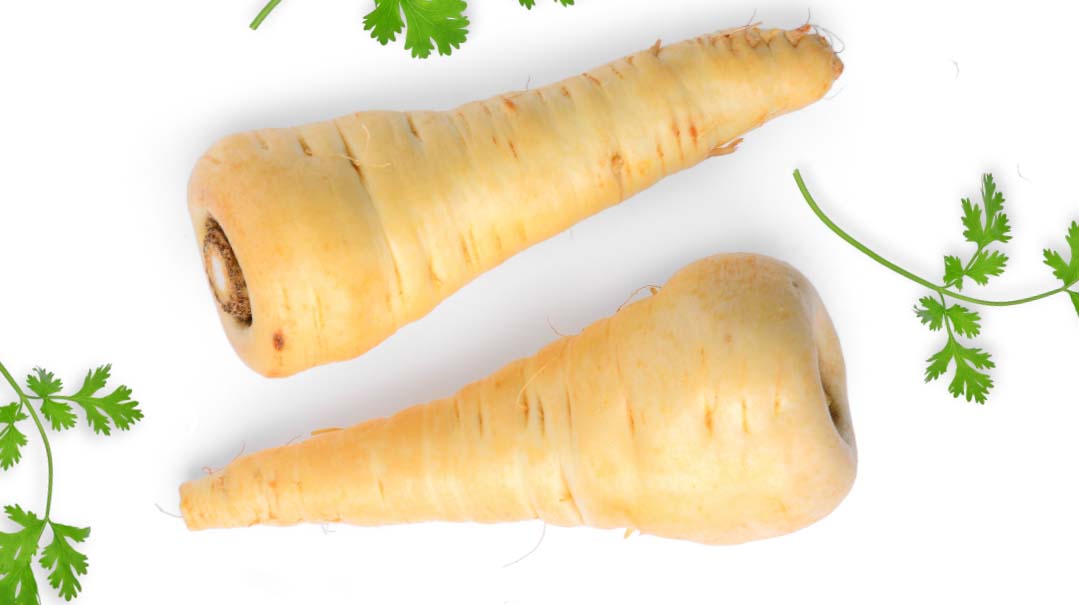 The sweet, earthy flavor of parsnip gives it staple status in many people's produce shopping. From the purees that are now ubiquitous in recipe planning to delicious soups and roasted vegetables, parsnips are more than just supporting characters. Here are some recipes that give parsnip the place it deserves — a starring role!
On Par Snippets
Origin
Parsnips are native to Europe and Asia and were introduced to North America in the 17th century.
Family Matters
The parsnip is a root vegetable closely related to carrot and parsley, all belonging to the flowering plant family Apiaceae.
Sugar Source
In Europe, the vegetable was used as a source of sugar before cane and beet sugars were available.
Parsnip and Arugula Salad
Recipe by Rivki Rabinowitz
I love unexpected usages of basic ingredients like this. Parsnip feels fresh and bright when paired with peppery arugula and crisp apple. I drizzle it with a classic maple-mustard dressing for a wholesome salad.
SERVES 4–6
3 large parsnips, peeled and cut into matchsticks
4 handfuls arugula
1 green apple, cut into matchsticks
2 stalks celery, cut on a bias
⅓ cup sliced almonds
½ cup feta cheese, crumbled (optional)
1 Tbsp oil
Maple-Mustard Dressing
¼ cup olive oil
2 Tbsp maple syrup
2 tsp fresh lemon juice
½ tsp Dijon mustard
½ tsp salt
½ tsp pepper
Preheat oven to 400°F (200°C).
Spread parsnip on a parchment-lined baking sheet and roast until golden brown and fork tender, about 30–40 minutes. Once cooled, add to salad ingredients and combine. Combine dressing ingredients in a separate bowl and drizzle over salad.
Parsnip Mash
Recipe by Rorie Weisberg
This is a delicious variation on mashed potatoes. It's creamy, slightly sweet, and super filling. My personal favorite way to serve it is as a side with a perfectly grilled steak and steamed broccolini, or topped with meatballs or breaded salmon with mango salsa.
SERVES 4–5
1 lb (450 g) parsnips, peeled and cut into chunks
½ cup bone broth
½ cup coconut milk
1 bay leaf
3 Tbsp olive oil
salt, to taste
fresh chives or parsley, for garnish
Place parsnip chunks, broth, coconut milk, and bay leaf in a medium-to-large saucepan.
Cover and bring to a simmer over medium heat. Cook until very tender (about 20–25 minutes). Remove bay leaf and add olive oil.
Puree using an immersion blender, a food processor, or a standing blender. Taste and add salt if necessary. Garnish with chopped herbs before serving.
Roasted Fall Vegetables
Recipe by Naomi Nachman
I love using seasonal root vegetables, and roasting them up this time of year gives the perfect flavors of the season!
SERVES 6
6 medium shallots
1 turnip, peeled and cut into 1-inch (2½-cm) cubes
1 lb (450 g) carrots, peeled and cut into 1-inch (2½-cm) lengths
2 parsnips, peeled and cut into 1-inch (2½-cm) lengths
2 medium Yukon gold potatoes, quartered
6 sprigs fresh rosemary
olive oil, to coat
kosher salt and pepper, to taste
Preheat oven to 425°F (220°C).
Peel shallots, leaving root intact; cut each one into 2–4 wedges, depending on size.
Combine all vegetables, toss with rosemary and enough olive oil to coat, and place in a single layer in a roasting pan (you may need two pans). Cover with aluminum foil.
Roast for 50 minutes, or until vegetables are cooked, shaking the pan or turning the vegetables 2–3 times during cooking. Sprinkle with salt and pepper to taste, drizzle with additional olive oil if needed, and serve.
(Originally featured in Family Table, Issue 765)
Oops! We could not locate your form.
>