| This Way That Way |
Parmesan Cheese
| May 4, 2021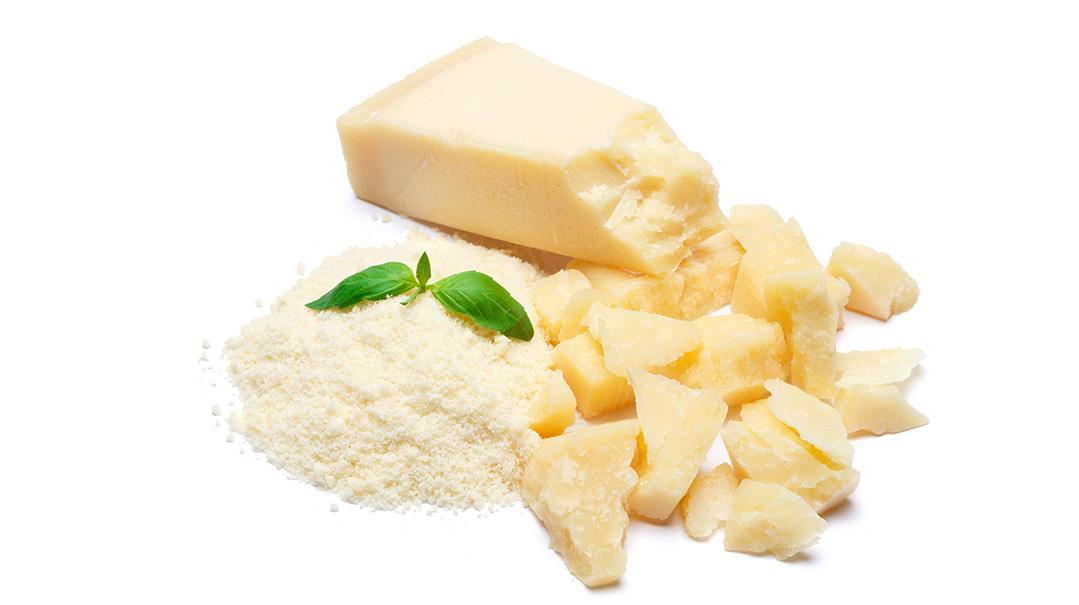 Parmesan cheese has the perfect fresh cheese flavor that acts as a salty, creamy topping or even as the bind in pasta. Sprinkle it on Caesar salad or shave on top of pasta; the combinations are diverse and supremely palatable. Here are some of our favorite versions.
What's in a Name
Only cheese from the Parma or Reggio area in Italy can be legally called Parmesan cheese.
Like Fine Wine
Parmesan gets better with age. After three years, it has a strong flavor and the best texture.
Wheel of Fortune
The wheel of Parmesan is imprinted with dots that spell out "Parmigiano-Reggiano." The dots are removed if the cheese doesn't pass inspection.
Cheesy Risotto
Recipe by Michal Frischman
Risotto has a bad name for being finicky and complicated, but the truth is, if you can stir a pot, you can make this recipe. Shh! It can be our little secret.
SERVES 2-3
4 cups vegetable stock
2 Tbsp butter, divided
1 shallot, diced
salt and pepper, to taste
1 cup arborio or sushi rice
⅓ cup dry white wine
2–3 oz (55–85 g) grated Parmesan, plus Parmesan rind, if you have it, plus extra for garnish
½ cup sautéed vegetables of your choice (mushrooms, thinly sliced snap peas, broccoli, etc.)
2 Tbsp chopped chives (optional)
Bring stock to a simmer and add in the Parmesan rind for flavor, if you have it.
Meanwhile, in a medium skillet, melt 1 Tbsp butter over low heat and add the shallot. Cook until translucent but not browned. Season with salt and pepper to taste. Add the rice and stir until every grain is coated with butter. Add in white wine, stir, and cook until mostly evaporated. Add in ½ cup of stock at a time, stirring continuously, not adding the next ladleful until the previous one is almost completely incorporated.
Once all the stock is incorporated and the rice is fully cooked (about 40 minutes in total), stir in the final Tbsp of butter, grated Parmesan, and sautéed veggies of your choice. Remove from heat and stir in chives. Serve immediately with extra grated Parmesan.
Perfect Penne
Recipe by Rivky Kleiman
Try this once and you'll see how easy it can be to turn out perfect penne every time!
SERVES 4-6
1 lb (450 g) penne pasta
2 Tbsp butter
2 Tbsp flour
2 cups (1 pint) heavy cream
2 cloves garlic, crushed
1 28-oz (790-g) jar penne à la vodka sauce or marinara sauce
½ cup grated Parmesan cheese, plus more for topping
Prepare penne according to package directions. Drain and set aside.
In a medium saucepan over low heat, melt the butter. Whisk in the flour to form a roux. Add the heavy cream. Stir until the mixture begins to thicken. Pour in the penne/marinara sauce and add in crushed garlic and Parmesan. Bring mixture to a boil, then lower heat to a simmer.
Add the prepared pasta and stir until well mixed. Top with additional Parmesan, if desired.
Fettuccini Alfredo
Recipe by Danielle Renov
I looooove Parmesan. When they bring it to the table, I'm unclear why they put it in a bowl first instead of bringing the entire wheel. This is my favorite way to eat it because it's truly all about the Parmesan!
SERVES 4-6
2 tsp kosher salt
1 lb (450 g) fettuccini
6 Tbsp butter, cut into chunks
2 cups grated Parmesan cheese, divided (fresh is best)
1 tsp–1 Tbsp freshly cracked black pepper
Bring a large pot of water to a boil. Add salt and fettuccini. Cook until just, just al dente. Before draining, reserve 1 cup of the starchy pasta water.
Immediately place drained pasta (and please do not rinse it with cold water after boiling) in a large pan. Add butter, pepper, and 1½ cups of the Parmesan. Using tongs, continuously mix pasta until the butter is melted. Slowly add in ⅓ cup of the pasta water and keep stirring. The addition of the starch water will help to create a light but creamy sauce. If it seems a little dry, you can add a little more water, but go slow.
Once you're happy with the level of sauciness, you're good to go! Top with remaining Parmesan and enjoy!
(Originally featured in Family Table, Issue 741)
Oops! We could not locate your form.
>