| Recipes |
Pan-fried Ramen with Beef
| November 23, 2021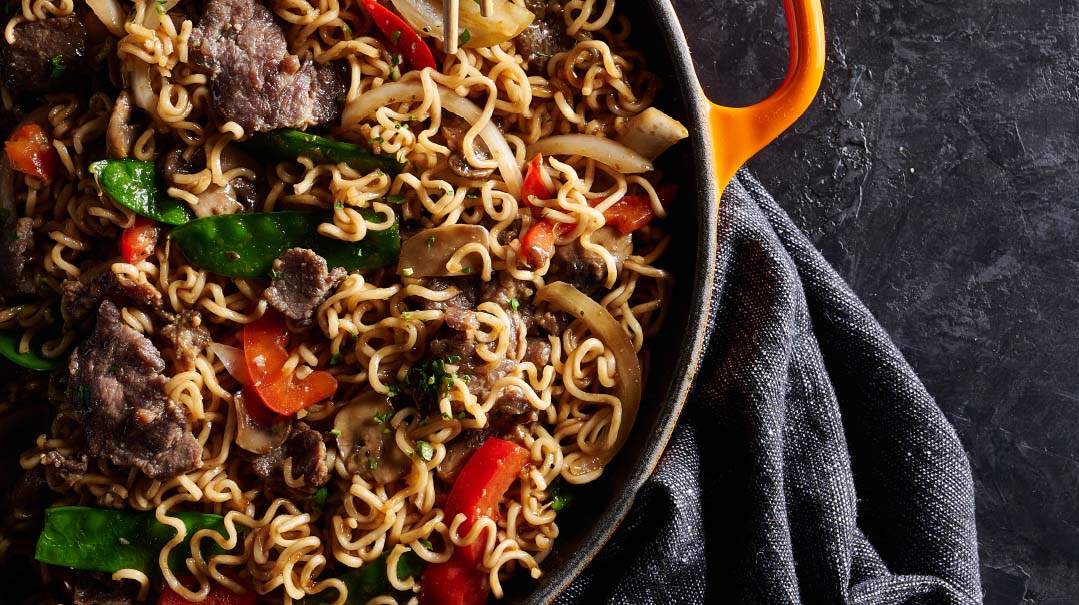 Props and Styling by Mindy Rubin
Photography by Hudi Greenberger
I almost took this dish off our menu at Snaps because it's so easy to prepare, but my customers keep on ordering it… Prepare it for your Chanukah party, and you'll watch the smiles on everyone's face.
SERVES 4–5
1½ lbs (680 g) pepper steak, or any cut of thinly sliced beef you like
4 packs ramen noodles
½ Spanish onion, sliced
½ red pepper, sliced
2 portobello mushrooms, thinly sliced
handful snap peas
4 Tbsp oil, for frying
3 cloves garlic, crushed
1–2 cups hoisin sauce
parsley, for garnish
Boil the ramen noodles together with the onion, pepper, mushrooms, and snap peas for 2–3 minutes. Drain.
Preheat oil in a large frying pan (or a wok, if you have one). Add the garlic and sauté for 2 minutes. Add the beef and cook for 1–2 minutes on each side. Add the vegetables and ramen noodles to the pan with hoisin sauce to taste (depending on how saucy you like it).
Raise heat. Close your eyes for a second and think of how the chef at your local Chinese restaurant mixes, shakes, and hocks his wok, and that's what I want you to do too! Enjoy.
(Originally featured in Family Table, Issue 769)
Oops! We could not locate your form.
>