| Profiles |
Pages on Fire | June 12, 2019
A Boro Park rabbi, a deathbed pledge, and a manuscript snatched from the Russian Bear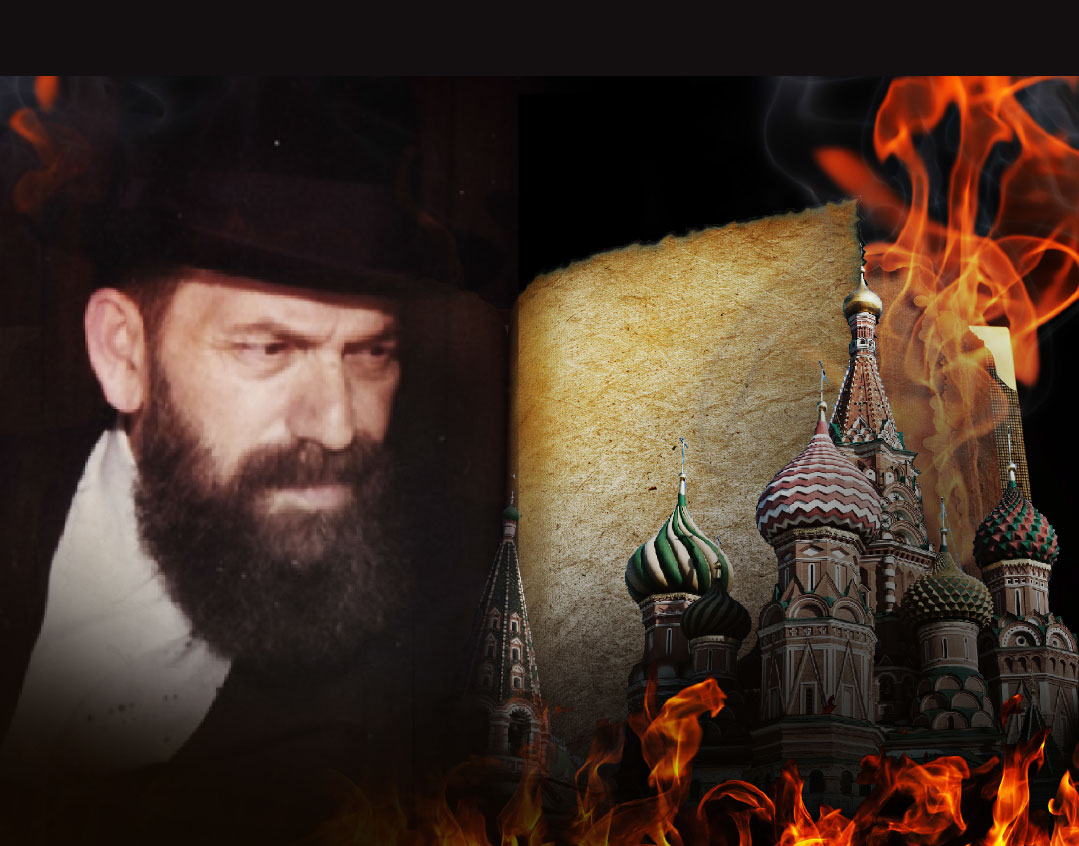 S
tories of the Jews of Silence, those who clandestinely continued to observe Torah and mitzvos under the iron fist of the Soviet regime, still evoke feelings of both horror and inspiration. Some of those stories are known; others were buried with the heroes themselves. From the time of the Communist takeover in the 1920s, any action related to Jewish observance meant prison or exile — both recipes for near-certain death (Joseph Stalin killed up to nine million people for such and similar acts of "treason"). But the little-known story of Rav Yitzchak Eizik Krasilschikov, known as the Poltava Gaon, and the rescue of his 20-volume groundbreaking commentary on Yerushalmi — written under extreme duress and threat of death — reverberates until today.
Few people know that the Poltava Gaon's thousands of handwritten pages were nearly buried together with him when he passed away in 1965. In a tension-filled drama that spanned close to two decades, the invaluable manuscript was in fact rescued through the untiring efforts of Rabbi Tzvi Bronstein a"h of the Al Tidom organization — another unsung hero who spent years strengthening the Jews of Soviet Russia, performing secret brissim, smuggling in milah equipment and seforim, and teaching Judaism in cellars and other hideouts.
But what even fewer people know is that Rabbi Bronstein had a faithful shaliach — it was Rabbi Yaakov Pollak, longtime beloved rav of Boro Park's Shomrei Emunah congregation, who passed away last month at the age of 90.
Rabbi Pollak, whose shloshim is this week, led Shomrei Emunah for 35 years, and before that he was the rabbi of the Young Israel of Jackson Heights. "The legacy he left was of devoted rabbanus in America," says his son Reb Daniel Pollak. "But what people don't know — because he always shunned the publicity and rarely spoke about it — was that he was a dynamic behind-the-scenes Soviet Jewry activist, and was in fact the hands-on person responsible for rescuing the Gaon's precious manuscripts and ensuring that Jews everywhere would have this smooth portal of access to learning Yerushalmi, even as the Gaon himself wasn't sure those folios would ever see the light of day."

In his lifetime, Rabbi Pollak never publicly told the story — his own children say they don't know too many details of his many adventures behind the Iron Curtain — until 2010, when Russian-Israeli researcher and educator Rabbi Tzvi Patlas produced a documentary in Russian on the Poltava Gaon and interviewed Rabbi Pollak at length.
For the first time, the story of Rav Yitzchak Eizik Krasilschikov emerged. His face remains unknown, but his writings, thanks to Rabbi Pollak, have become an integral aid in batei medrash all over.
R
av Yitzchak Eizik Krasilschikov was born in 1888 in the Belarus town of Krischev. Before the Communist revolution, he served as rav in the town of Haditch, and in 1920 was invited to serve as the rav in Poltava, one of the largest centers of Jewish life in the Ukraine. The Gaon's reputation preceded him; his first published work was volume one of the sefer Tevunah, which elucidated some of the very complex sugyos in the Rambam. Printed in 1926, it was the last Torah work printed in the Soviet Union until Communism fell at the beginning of the 1990s.
Following the rise of Joseph Stalin, the Gaon, who soon realized that rabbis were prime targets of the regime, left his rabbinic position and moved to Moscow where he found work as an accountant, making sure to work extra hours during the week so he could avoid working on Shabbos. He lived with his wife in a small apartment, but only ate dry foods, as theirs was a communal kitchen shared by a non-Jewish woman. In Moscow, he attended the main shul on Archipova Street, one of the only shuls in the Soviet Union that continued minimal religious activity. And at night, the last remaining rabbis would secretly meet in his home to hear pearls of Torah and words of inspiration.
But the Great Purge under Stalin in the late 1930s, when millions of suspected "enemies of the regime" were sent to their deaths, put an end to that as well. There were no more minyanim, no more gatherings.
And in this darkness, Rav Yitzchak Eizik Krasilschikov decided to cast a beam of light. The Jews of Moscow began whispering among themselves about a lone Jew, a tremendous gaon in Torah, who worked as an accountant by day and sat at his little table by night, secretly writing Torah compilations. In the frozen Moscow nights, with great mesirus nefesh and risk to his own life, the Gaon wrote page after page of commentary on the Talmud Yerushalmi, working doggedly against the Soviet clock to finish his commentary on the masechtos of Zeraim and Moed in the Yerushalmi. He worked mainly from memory — he had a small library and only a few volumes of Shas.
During World War II, in order to stay under the Soviet radar, the Gaon moved to Krasnoyarsk, in Siberia, and after the war returned to Moscow. But life in Moscow was even more oppressive than before the war, and the Gaon lived in utter fear. He knew about the midnight arrests, the exiles, the murders in the prison dungeons of the NKVD. And he knew that if his writings would be discovered, it would spell catastrophe for his entire family. Hiding the manuscripts was unrealistic — everyone was being watched, and no one was to be trusted.
If it were only his own life at stake, it wouldn't have mattered — he was willing to take the risk for the sake of Torah. But it was the fear for the fate of his wife and two daughters that made him take the most drastic step of all: One winter night in the late 1940s, he went over to the oven and tossed his thousands of pages into the fire.
For several years afterward, he wouldn't take pen to paper, but instead put all his energies into his learning — much of it from memory. Still, his soul had no peace. Over and over, he thought about his writings, his chiddushim on the masechtos, about his corrections and annotations. Could he redo it? Could he bring those burnt folios back to life? He knew his work would never see a printing press, but he also knew what he had to do: With internal fortitude he didn't know he possessed, he started over from the beginning — he began to recreate what he had written in the past, adding, correcting, and enhancing it.
Without a library. Without a Shas.
And the fear, which had driven him to burn his writings years earlier, no longer held him in its chokehold.
"The great hope of the Poltava Gaon was that somehow Jews in the outside world would be able to learn his seforim," says Rabbi Patlas, the Gaon's primary researcher. "He simplified the Yerushalmi and made it accessible to every Jew who wanted to learn."
In the brave introduction to his sefer on Maseches Sheviis in Yerushalmi, the Gaon wrote: "We are now in the year 5712 [1951–52]. Today I began to write a commentary on Maseches Sheviis on the Talmud Yerushalmi. This year in Eretz Yisrael is shemittah, a year when we must not work the land and sell its fruits."
He wrote of how he realized that he would not merit to see Eretz Yisrael, and hoped that this work on the sanctity of the Holy Land would assuage his acute disappointment at not being able to see it in his lifetime. He continues, "For me, the gates of hope were locked. I decided to write specifically about Maseches Sheviis in order to be connected to the holiness of Erez Yisrael, and I daven to Hashem that my work and my seforim will find favor in the eyes of Torah scholars."
The Gaon wanted to believe that if the writings somehow survived, every Jew would be able to learn the Yerushalmi with relative ease. But the chances of the Gaon's writings enduring and being taken out of the Soviet Union looked like they were dashed forever when he fell ill in 1965. He refused to go to the hospital without taking at least one of his many compilations. And so, under the pillow of the rickety hospital bed, he hid a manuscript with one of his works — the second volume of Tevunah on the Rambam — and waited for a miracle.
The Promise
It was May 12, 1965, and Rabbi Tzvi Bronstein was in Russia on one of his many secret chizuk trips, when Rabbi Yehuda Leib Levin, the rav of Moscow, asked him to come with him to visit the Poltava Gaon in the hospital — his health was declining, said Rabbi Levin, and he didn't have much time left. Rabbi Bronstein sat by the Gaon's bed, but both he and the Gaon were afraid of undercover agents listening to them. Still, the Gaon managed to confide to Rabbi Bronstein that under his pillow was the second volume of the sefer Tevunah, a continuation of the first volume of Tevunah printed in Poltava nearly 40 years before. The Gaon was afraid that some of the nurses were also KGB agents, so he whispered to Rabbi Bronstein that beneath the pillow was also a thermometer, and when he removed the notebook, it should look like he was just taking out the thermometer. Rabbi Bronstein waited until there were no nurses around, then with one hand reached beneath the pillow for the thermometer and with the other hand removed the manuscript, which he swiftly placed in his sock around his leg.
The Gaon also confided that he'd written an entire commentary on Talmud Yerushalmi, 20 volumes consisting of thousands of handwritten pages which were hidden in his daughters' houses. "Promise me," the dying Gaon told the American rav, "that you'll take them out of Russia and bring them to print."
Back at the hotel, when Rabbi Bronstein opened the package with the manuscript on the Rambam, he was stunned, realizing the scope of the Gaon's brilliance — his lomdus, precision, and erudition despite his dearth of seforim under the Communist boot. At that moment, Rabbi Bronstein made a commitment: He would find the Yerushalmi manuscripts and get them out of Russia.
The following day, the Poltava Gaon passed away.
T
aking Jewish writings out of the country was absolutely forbidden, and the danger to Rabbi Bronstein was significant. Still, it became an overarching goal. Except that it looked like it wasn't going to happen.
A while after that fateful deathbed encounter, Rabbi Bronstein was arrested by the KGB. They'd been tracking him for a while — they knew he'd been performing undercover bris milah for Jewish families, and they wanted to extract an admission from him that he was an American spy. They put him in a meter-by-meter dungeon, where there wasn't enough room to lie or stand. And due to the torture, Rabbi Bronstein, who was in his fifties at the time, suffered a heart attack. The Russians certainly didn't want to have a dead American rabbi on their hands, so they put him on a flight to Prague and from there, flew him to a hospital in London. Two months later, he returned to the US — but was barred from ever entering the Soviet Union again.
With a permanent ban on entering Russia, Rabbi Bronstein realized he wouldn't be able to fulfill his pledge to the Poltava Gaon on his own, and began to seek out emissaries who could enter the Soviet Union and try to locate the manuscripts. Over the next few years, Rabbi Bronstein sponsored a total of 16 emissaries to Russia from his own pocket, but none of those missions were successful.
Finally, he found a trusted shaliach who would make sure it happened: Messenger number 17 was Rabbi Yaakov Pollak, the rav of Boro Park's Shomrei Emunah congregation.
"It wasn't something a lot of people knew about, but my father began traveling to Russia in the early 1970s," Reb Daniel Pollak remembers. "He had a very special relationship with Rabbi Bronstein, who he held was a real baal mesirus nefesh, even before Rabbi Bronstein sent him on the mission to rescue the Gaon's writings."
Daniel Pollak, who was a teenager at the time, says those many trips — his mother and father would often travel together — were just part of how he and his siblings grew up.
"My parents were consumed by those trips," he says. "My mother a"h kept diaries that we only recently discovered — details of everything they did, records of each person they met, how they had to be careful who they talked to, how they'd meet someone on a corner, follow him for 20 blocks, duck into an alley, then descend into a boarded-up basement. They would go every summer — my father had a special thing about being there on Tishah B'Av and giving chizuk there — and he would make additional trips throughout the year. He became very close with some of the refuseniks — and in fact was a mentor to Rabbi Eliyahu Essas, the refusenik leader of Moscow's underground Torah community." Indeed it was Rabbi Pollak and Rabbi Moshe Sherer who facilitated Rabbi Essas' release and subsequent aliyah in 1986 — but Rabbi Pollak never took public credit for that either.
"We kids just took all those trips in stride," says Reb Daniel. "I don't remember ever panicking, except maybe for the time my father got thrown out of Russia and I had to zoom off to the airport to meet him at the gate for security purposes. Back then, getting booted out of Russia by the KGB was pretty scary."
Rabbi Yaakov Pollak was born in McKeesport, Pennsylvania, where his father was the rav of the predominantly Hungarian ?migr? community. Rabbi Pollak was just four when his father passed away, and then the family moved to Williamsburg, where he developed close relationships with Rav Shraga Feivel Mendlowitz, Rav Shlomo Heiman (who was childless and became like a surrogate father), and Rav Yaakov Kamenetsky.
Rav Kamenetsky, who was Rabbi Pollak's lifelong rebbi, had a sister trapped behind the Iron Curtain, and when Rabbi Pollak started making his clandestine trips, Rav Kamenetsky begged him to visit her. Another gadol who enlisted Rabbi Pollak's help was Ponevezh Rosh Yeshivah Rav Shmuel Rozovsky.
"I was learning in Eretz Yisrael at the time," Reb Daniel remembers, "and when my father was here for a visit, Rav Shmuel met him through a talmid, Rabbi Ephraim Kirshenbaum, who was also my cousin. Rav Shmuel told my father that he, too, had a sister trapped in Russia. Could my father do anything for her? Well, he couldn't get her out, but he was able to make contact with her and gave her some Jewish connection."
But nothing drove Rabbi Pollak like those trips he took to rescue the Gaon's works, knowing the future of the manuscripts was at stake.
The Poltava Gaon had two daughters in the Soviet Union. One lived in Moscow and the other in St. Petersburg (Leningrad). "Each of them had ten volumes of manuscripts," Rabbi Pollak related to Tzvi Patlas on the documentary. "I traveled to St. Petersburg, and although it wasn't easy, I obtained the address of the daughter. She was married to Reb Zalman Belkin, and I was happy that I was finally able to meet them. The Gaon's daughter wasn't very happy to see this emissary from America, though, and basically put me off. 'I have nothing and I don't know what you want from me. There's nothing to discuss,' she told me unequivocally."
In Moscow, Rabbi Pollak wasn't even even able to meet the Gaon's second daughter, because everyone was afraid. If the manuscript would reach America and be published, the KGB would surely interrogate the daughters on how that came about and then imprison them.
And so, Rabbi Pollak returned to America empty-handed.
"I came back to Rabbi Bronstein and reported what happened," he told Rabbi Patlas on the documentary. "His response was unequivocal: We simply had to try again and again. So I went back. The next time I made contact, Mrs. Belkin actually seemed pleased to meet with me, but there was nothing to talk about with regard to the manuscript."
Don't Talk
Rabbi Pollak traveled back year after year, sometimes several times in a year, and each time, he tried to persuade Mrs. Belkin to give him the manuscript so he could fulfill her father's wishes — but the paralyzing fear of the KGB stopped her every time.
"The Gaon's son-in-law, Reb Zalman Belkin, was an ehrliche, G-d-fearing Yid who really wanted to help me influence his wife to give over the manuscript," Rabbi Pollak related. "But he wasn't successful either."
Still, Rabbi Bronstein and Rabbi Pollak didn't give up. "It was a few years after our first meeting and my tenth trip to visit Mrs. Belkin," Rabbi Pollak said. "I told her that if she refused to give me the manuscript, at least she should let me photograph it. Finally, she relented and agreed to let me photograph it and to take the film out."
Rabbi Pollak waited for Zalman Belkin at a public park and then followed him to the underground rail station. But instead of boarding the train, he went back up the escalator, and only then did he go down again and board a train. Rabbi Pollak continued to follow him. After they changed trains and buses a few times, they finally reached an apartment on the outskirts of the city — with black curtains covering the windows.
To Rabbi Pollak's great joy, Zalman Belkin brought with him, in addition to the manuscript that his wife had, part of a manuscript that was being held by his wife's sister in Moscow. Rabbi Pollak began to photograph one page after another, but the apartment owners were getting nervous and insisted Rabbi Pollak work faster. Before they threw him out, he was only able to photograph about half the contents, but he was happy that he was finally beginning to see some success.
Rabbi Pollak had arranged that the microfilm be brought to the American embassy, and once he had it safely delivered, he was extremely grateful. With Hashem's help, he thought, next time I'll manage to copy the other half and that will be the end of my chelek in this.
But again, the seemingly secure plan was thwarted. Somehow, a mysterious fire had broken out on the ninth floor of the embassy where the microfilm was stored, and it was all incinerated.
Still, Rabbi Pollak didn't give up. This time, his eleventh visit, he came together with his wife, Rebbetzin Zlata Pollak — and there was another breakthrough.
"Woman to woman, my mother convinced Mrs. Belkin to give them one notebook of the actual manuscript," says Reb Daniel. "In order to get it out of Russia, my mother tied it to her body, and although she was given a pat-down at the airport, it remained undetected."
After the first notebook arrived in America, Rabbi Bronstein and Rabbi Pollak again realized the great treasure that was waiting behind the Iron Curtain. But they also realized that smuggling the additional 19 volumes of the manuscript out of the country was never going to work.
They decided that their best option was to try the possibility of transferring the entire manuscript to the US via the American Embassy. Toward this end, they enlisted the help of gedolei Yisrael — led by Rav Moshe Feinstein — who had ties to the American government. American government officials then actually conveyed a directive to the embassy in Moscow to cooperate with the rescue of the manuscript. But the main problem was yet to be solved: how to persuade the Gaon's daughters to release the folios.
"I visited the Belkin family again and spoke at length with the Gaon's daughter, but she still wasn't on board," Rabbi Pollak related. "But then, as we were sitting, Reb Zalman stood up and told his wife, 'Your father, the Gaon of Poltava, wanted with every fiber in his being to get this manuscript out of Russia, and I, as a loyal son-in-law, want to help these people do it.' What could she say after that, except for 'Fine, give it to them.' "
According to Daniel Pollak, his father also promised the Belkins that in recognition of their mesirus nefesh, he would use his contacts to get both families out of Russia under emigration quota agreements, and once in the US, he would set them up with housing, schools, and parnassah — which he did. He was also instrumental in bringing the Balkins' son back to mitzvah observance. "For years," says Reb Daniel, "the Belkins lived near us and became part of our extended family." [Years later, although safely ensconced in the US, the daughters never stopped fearing the long arm of the Soviet secret police and refused to speak publicly about their venerated father.]
In turn, Reb Zalman promised Rabbi Pollak that he would bring the nine remaining volumes in his wife's possession to Moscow — they would meet in the central Archipova shul on an agreed-upon day and time. That day though, the agreed-upon time was long past, and Rabbi Pollak feared the transfer would again not take place. While Rabbi Pollak was in the middle of saying Tehillim, praying for success, he heard someone behind him ask, "Reb Zalman, what do you have in your bag?" And Reb Zalman answered, "I was able to get fish."
Zalman Belkin gave Rabbi Pollak the package — and to his surprise, all 19 volumes, from both daughters, were there, wrapped in old newspapers. Reb Zalman had brought the remaining nine volumes from his wife in St. Petersburg, plus the volumes from her sister in Moscow. Now Rabbi Pollak understood why Reb Zalman had been delayed.
"The following morning," Rabbi Pollak told Rabbi Patlas in the documentary, "I went to the embassy. I'd already been warned not to talk inside the building, because the Russians had the whole place bugged. We could only convey messages in writing. When I reached the building, I greeted the Russian policemen standing at the entrance, offering him a pleasant, 'Good morning.' His reply was direct: 'Go in and don't talk a lot.' "
When Rabbi Pollak returned to America, a large group of rabbanim arranged a meeting with President Ronald Reagan to explain to him the importance of the package that had been delivered to the embassy in Moscow. As per President Reagan's explicit instructions, the manuscript arrived in America through diplomatic post and was delivered to the Library of Congress in Washington.
The rabbanim involved agreed to leave the original manuscript in the Library, on condition that the pages could be copied in order for the sefer to be published.
R
abbi Bronstein, however, knew that the job was far from over. The writings needed to be studied and edited — and the one who took the task upon himself was none other than Rav Chaim Kanievsky, known as one of the foremost experts on Yerushalmi. Rav Chaim asked his lifelong friend, neighbor, and study partner, Rav Dov (Berel) Weintraub a"h, to work with him to prepare the manuscript for print. The two of them worked on the document for the next 27 years. Rav Weintraub passed away in 2012.
Rabbi Bronstein was able to see several volumes in print before his passing in 1993. (As a side note, in 1976, Rabbi Bronstein was finally able to publish that first manuscript he took from under the Gaon's hospital pillow — the second volume of Tevunah on the Rambam.)
"When the first volume on Maseches Brachos on the Yerushalmi was published," related Rabbi Yaakov Yarmish, Rabbi Bronstein's grandson, "my grandfather brought the sefer to Rav Moshe Feinstein. Rav Moshe was so excited about it — he knew the history and the mesirus nefesh that was inherent in every page."
Before his passing, Rabbi Bronstein asked that the seforim escort him on his final journey. Indeed, his sons and grandsons held those seforim close as they walked at the levayah.
As more volumes are published, the Poltava Gaon's commentary is being recognized as the best, clearest, and most straightforward explanation of the Yerushalmi, and has already become a main reference source for all those, throughout the world, who study Yerushalmi.
As for Rabbi Pollak, this monumental work surely escorted him on his final journey as well. "Rabbi Pollak had a lot of zechusim," says Tzvi Patlas, "but this might have been his greatest — although it was the one no one knew about."
—Shlomi Gil contributed to this report
(Originally featured in Mishpacha, Issue 764)
>