| Side-by-Side |
Oven-fried Chicken
| July 5, 2022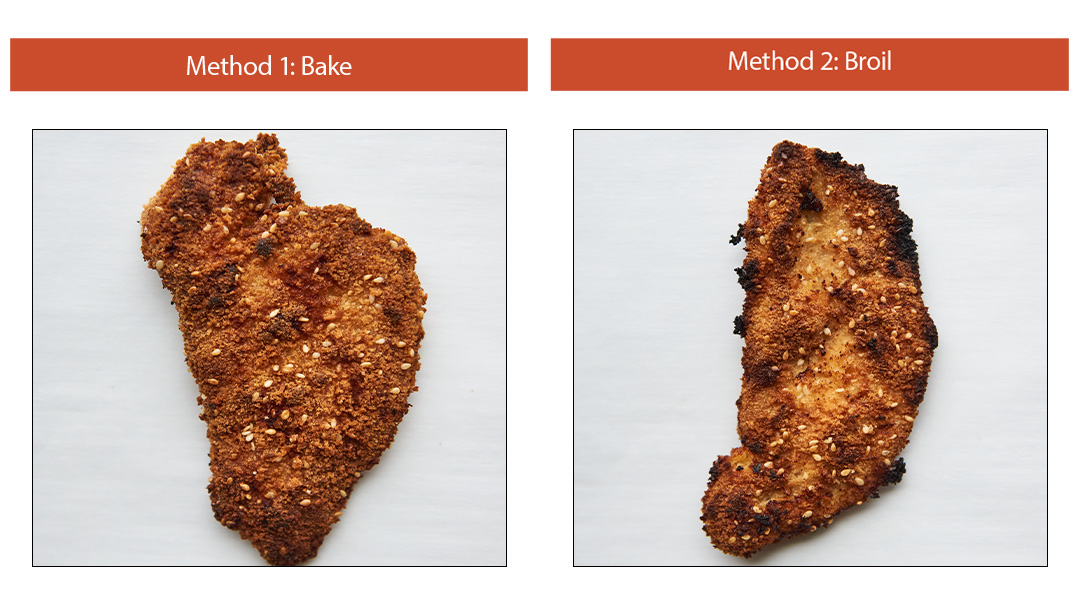 Photo Credit: Sina Mizrahi
Obviously, deeply golden fried schnitzel eaten hot three minutes post-oil bath is the ultimate treat — but there are days when baking schnitzel is more practical and sensible. I usually like using the oven's broil option for the cutlets, mimicking the high heat from a deep fry and aiming for ultimate crispiness. However, I wondered if using regular high heat would result in a better result. So I prepared my schnitzel as I always do (yes, I skip dredging in flour; I find it unnecessary) and baked one batch at 450°F (230°C), and the other under the broiler.
2 lb (1 kg) thin chicken cutlets
2 extra-large eggs
1 Tbsp Dijon mustard (optional)
5 cloves garlic, minced, or 1 tsp granulated garlic
1 tsp sea salt
1½ cups bread crumbs
Generously spray a baking sheet with cooking spray.
In a large bowl, combine eggs, mustard, garlic, and salt; add cutlets and mix to coat.
Pour bread crumbs into a shallow dish. Dredge each chicken cutlet into bread crumbs, pressing firmly to adhere.
Arrange on prepared baking sheet and spray generously with more cooking spray.
Method 1:
Heat oven to 450°F (230°C). Bake cutlets on middle rack for 10 minutes, flip, and bake another 10 minutes or until browned and crisp.
Method 2:
Heat oven to broil. Broil cutlets on middle rack for 5 minutes, flip, and broil another 5 minutes or until browned and crisp.
My Verdict
Both batches had a good texture despite the faux-fry, but the batch that was cooked at 450°F (230°C) was more evenly browned, whereas the broiled cutlets had burnt edges and a more uneven color. I recommend baking them since it's more reliable and requires less supervision, plus it comes out delicious.
(Originally featured in Family Table, Issue 800)
Oops! We could not locate your form.
>