| Out of Step |
Out of Step: Chapter 45 | July 29, 2020
I think my jaw drops around six inches. "Figure skating?!"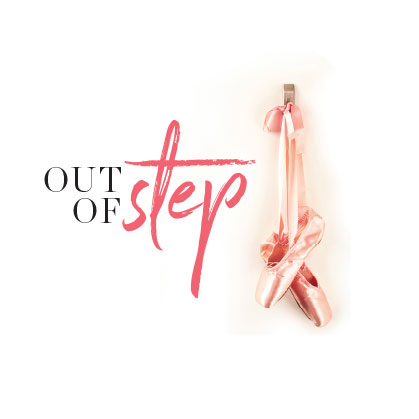 I watch the palm trees swaying in the Florida breeze and sigh happily. "Are palm trees actually pretty, or do we just associate them with vacation and good times?" I ask dreamily.
Ma elbows me, Goldie pats my head in mock condescension, and Babby nods and says, "That is a thinking question, Bella."
Which makes me feel bad, for like the two millionth time, that I had complained about her coming.
Here's the thing: Florida Babby is fun. Since we'd arrived yesterday, Babby has come to the beach with us, treated us all to lunch, and shopped with us in Aventura for a full hour before pleading senior citizenship and settling onto a bench with a book while we finished up. Now, as we sip tea after supper, staring out at the postcard view, Babby is the only one taking my prattling seriously.
Goldie bids us all a goodnight and heads off to put Effie to sleep and to call Benny. Ma takes a stack of papers and her red "grading pen" and heads to the apartment balcony for some ocean air and Chumash test corrections. And that leaves just Babby and me, nestled comfortably on the huge wraparound couch, both of us in need of the pull-out leg rests.
"How you doing, partner in surgery recuperation?" Babby asks, winking.

I think about this. How am I doing…
"Physically, great, baruch Hashem," I say. "A few lingering aches and pains but totally fine."
It's a bit awkward, honestly. I feel like I should have a funny story or something interesting to share with her, but all I can seem to think of are the lyrics to Yaakov Sheweky's "We Are a Miracle."
I rub my leg subconsciously. "And how are you, Babby?"
"I'm alright, baruch Hashem, thank you for asking."
It grows uncomfortably quiet.
"Do you want to see something cute?" Babby says suddenly.
Phew, a lifeline. "Always," I quip.
Babby rummages in her giant purse and pulls out a small maroon leather photo album.
"Ooooh, old pictures!" I cheer.
I lean in closer as Babby cracks the cover open. "You know who that is?"
I look at the smiling blonde girl, embracing a giant bouquet of roses.
"Is that you, Babby?" She was beautiful.
"You got it. That was me on the evening of my last figure skating performance."
I think my jaw drops around six inches. "Figure skating?!"
Babby laughs lightly. "Well, where did you think you got the dancing talent from?"
I shrug, shocked. "Never really thought about it."
Babby nods. "Well, yes, I was a marvelous skater. But I stopped when I reached Bas Mitzvah. We didn't know much, living in the Bronx, but we knew enough to realize that a Jewish girl shouldn't be skating around on the ice like that."
I sit back against the couch, completely stunned. "So, you know the feeling," I say quietly.
"Hmmm?"
"The feeling. Of having a talent and being unable to utilize it."
Babby looks thoughtful. "I suppose I do. For a while I walked around feeling like something was missing, like any second I would slide onto the ice and then life would be normal again. But eventually, I got used to the idea, and that's why I chose to join the Bais Yaakov afterschool program, and that led to my embracing a deeper Torah lifestyle. So, I ended up exactly where I was supposed to be."
I look at her, and I know my eyes are asking everything that I can't.
She pats my hand gently. "Yes, Bella Rena, sweetheart. You will too."
And she turns to the next photo as I blink back tears.
****
The next morning, Babby and I keep giggling like we're besties in fifth grade. We all meander our way down to a secluded area of the beach and daven Shacharis there. I push Effie's stroller back and forth as I recite the Ani Maamins, crooning softly to him. I just feel so relaxed, so at peace. I believe Babby. I'm going to end up exactly where I need to be. That doesn't mean I'll love the road I need to travel to get there.
Whoa, that was way deep.
"Your aunt is thinking way too much," I whisper to Effie. Then I scoop him out to build sandcastles until everyone else is ready for breakfast.
We eat amazing pancakes in the cutest cafe — no restrictions on vacation! — and sip our iced coffees in companionable silence. There's nowhere we have to be, no one rushing us, no schedule. I sigh happily.
Ma and Babby begin arguing over the bill, each one trying to pay, and Goldie turns to me suddenly.
My shields go up immediately, I've kind of been avoiding Goldie since the Chol Hamoed barbecue.
"Bell. Why are you avoiding me?"
Oh. So much for my stealth skills.
"Whaaaaat," I protest lamely.
She raises her eyebrows. Oh, fine.
"You know." I shred a straw wrapper with my fingers. "You sort of told me I'm a brat and um, that's all."
Goldie sighs and flicks me. Okay, ow.
I flick her back.
She giggles. "Bella Rena, I know you're new at this whole sisters thing, but that's what sisters do. We be real, and then we move on. So can we? Move on?"
I roll my eyes and blush but I also nod.
I also flick her one more time, just for good measure.
We blink in the bright sunlight as we step out of the restaurant and automatically head toward the beach. My tan is going to be awesome.
We walk for a few minutes and then Ma pats Babby on the elbow. "Thank you for brunch, Ma," she says in a resigned voice.
I guess she lost the bill-fight.
Babby stops short. "I didn't pay!"
Ma almost trips. "You what?! But you said you insisted!"
Babby is turning red. "And you said you insisted."
Ma's lip is trembling. "I didn't pay either."
And then we all burst out laughing as we head back toward the restaurant.
Because, apparently, we just stole brunch.
(Originally featured in Teen Pages, Issue 821)
Oops! We could not locate your form.
>