| Windows |
On Eagles' Wings | May 17, 2017
Those two days — May 24–25, 1991 — when in total secrecy and silence, 14,500 Ethiopian Jews were rescued and brought to Israel.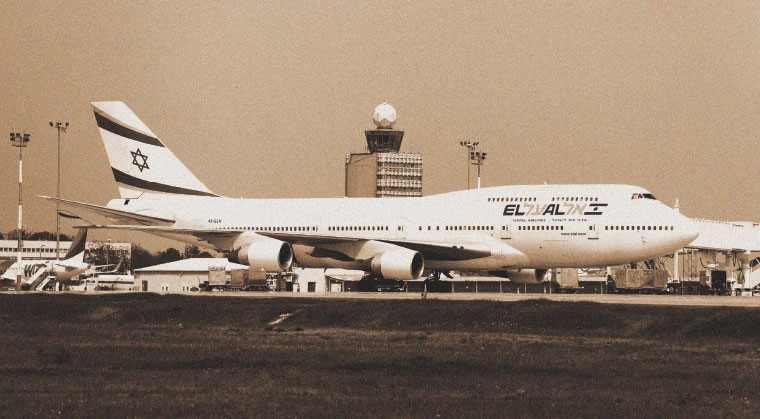 "W hy do you have tears in your eyes?" my student asked in Hebrew.
"Because I remember that day, that day you came on aliyah."
"I don't remember it," she laughed, "because I was only a few months old. But my parents do, of course. It was the first time they had ever been on an airplane. It was the first time they had ever seen an airplane."
I was too emotional to remind her to speak not in Hebrew, but in English, as I usually do in the course I give on English for Professional Purposes to Dental Hygiene students.
I've been giving this course at the Faculty of Dental Medicine of the Hebrew University at Ein Kerem in Jerusalem for more than 15 years. Each group of students is an interesting cultural mix of several different nationalities and religions. As part of the "getting to know you" lesson, and also to see their level of understanding a request for basic information about themselves, the first homework assignment is a form each student fills in with their name, address, date, and place of birth, and also date of aliyah, where appropriate. In each group, there are students born in Ethiopia, and I generally look over their forms, see which year they arrived, and make a mental note of how long they've been in Israel.
Azmera was the first student who had filled in the exact date of her aliyah: May 24, 1991. I was instantly transported back to those two days — May 24–25, 1991 — when in total secrecy and silence, 14,500 Ethiopian Jews were rescued and brought to Israel.
Less than a week earlier, the Ethiopian president Mengistu Haile Mariam fled the country after the rebels' military success, and worries were being voiced in Israel about the fate of the many thousands of Jews trapped there. Then, literally overnight, as if in a dream, we woke to find that nearly all of those thousands of Jews had been transported to Israel, on eagles' wings, as the headline in Yedioth Ahronoth termed it.
We wondered, that Shabbos, why there was so much aircraft noise, and thought the worst: that with Syria taking over Lebanon, Israel was on "red alert." Little did we think of the real, miraculous reason: 14,500 Jews entering Israel in 33 hours. As a colleague put it when we looked at the photo supplements in the newspapers the next day, "Just think, probably not since the crossing of the Jordan by Joshua leading the Israelites into the Promised Land, have so many Jews come into Eretz Yisrael in one day." Quite a thought.
It was only later that we learned how the whole complex project of Mivtza Shlomo (Operation Solomon) had been organized and how families such as Azmera's had gotten themselves to the airport. Most of the Jews had left their villages in the northwestern province of Gondar because of civil war in the region. They made their way to the capital, Addis Ababa, itself under siege, with rebels advancing to within eight miles of Addis the day before the airlift. Thousands gathered outside the Israel Embassy in the capital, waiting their turn to leave. Hundreds more packed the grounds inside, as the Associated Press reported.
Apparently, plans for Operation Solomon had been under way for "quite some time," Israeli sources said, and President George H. W. Bush's letter to the new Ethiopian leader, and his almost immediate approval, was crucial for the mission's success. Total secrecy and military censorship in Israel was imposed for fear of endangering the immigrants before they completed their flights over rebel-held territory.
Azmera had heard all about her family's journey from her parents; like all the others who crowded onto the 40 flights of Boeing 747s and 757s, they brought nothing with them, not even a change of clothes or toys for the children. But they were thrilled to be on the way to Israel; the urgency to get the Jews out of Ethiopia was so great that armrests were raised between the airplanes' seats so that the number of Ethiopian Jews seated could double the usual number of passengers in a row.
The 1,500-mile journey took three and a half hours. Each flight was accompanied by doctors and paramedics, and any sick passengers were taken by ambulance straight to the hospital from the airfield. There were many pregnant women on board, and, in fact, five babies were born on the flights! On arrival at the military airport, the newborns were placed in portable incubators.
In Israel, the atmosphere was euphoric. People were glowing, thrilled, calling out "mazel tov" to strangers on the street, tears and smiles mixed. Help poured in to absorption centers and hotels; clothes, toys, pots and pans, all kinds of housewares and baby essentials generously donated. There was a surge of enthusiasm for this reaffirmation of one of the most compelling reasons for the State of Israel's existence  — helping Jews in danger anywhere in the world — that would-be volunteers were turned away, saying they'd be called if more personnel was needed.
It's 26 years since Mivtza Shlomo. I'm looking forward to seeing Azmera, accompanied by her mother and grandmother smiling with pride, at the graduation ceremony of the Dental Hygiene students in two months' time. Her grandmother will be wearing the traditional dress that Jewish women wore in Ethiopia — white, with a white scarf — on Shabbos and Yom Tov, and for celebrations; her mother, the dress of a modern, religious woman; and Azmera herself will be dressed just like any ordinary 26-year-old Israeli girl starting out in her new career.
(Originally featured in Family First Issue 542)
Oops! We could not locate your form.
>