| Deep Dive |
OLAMI INFLUENCING FUTURE JEWISH LEADERS WORLDWIDE 
| December 18, 2019
A real Jewish leader allows everyone to feel accepted and welcomed.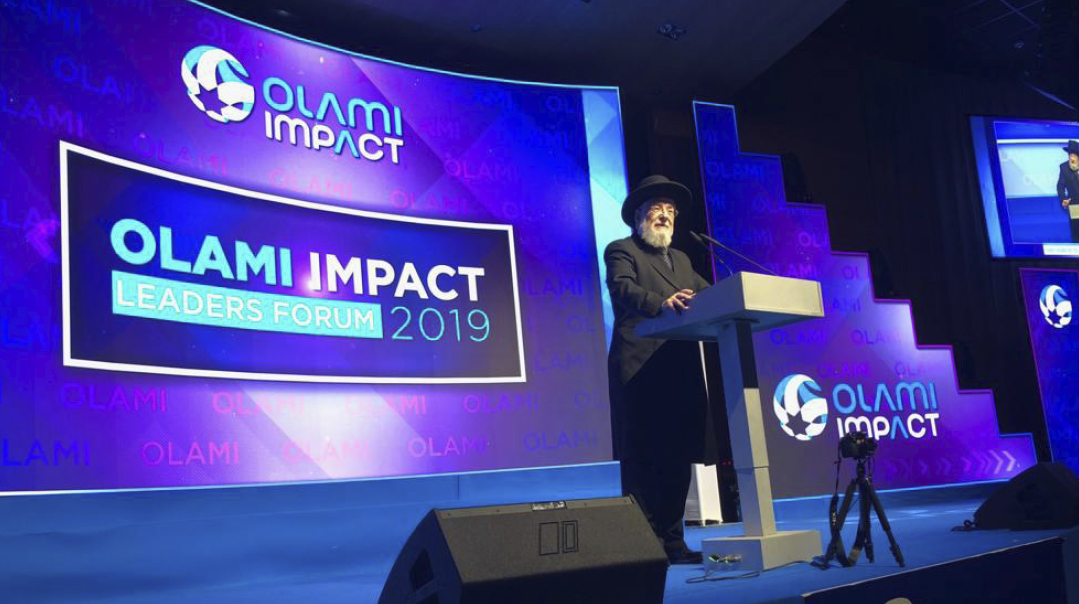 P
icture a room with hundreds of young Jews all united in one mission — getting closer to Judaism, reconnecting to its meaning, and bringing that excitement back home with them to share with others. That's exactly what the Olami Impact Accelerator conference creates. Every year, through powerful workshops, speakers, and personal connections, with both peers and role models, a new group of leaders from around the world is chosen to meet and then return home to countries across the globe to implement what they've learned — and to continue their own personal journeys of Jewish growth. The most recent Impact Accelerator conference was held from May 26 to June 2, in Spain.
Olami was created 18 years ago by Zev Wolfson and Elie Horn, two esteemed Jewish philanthropists, with a goal of educating young secular Jews about the significance of including Jewish principles and awareness in their daily lives. Although Wolfson passed away in 2012, his family has continued to be heavily involved in his initiatives and projects. The Wolfsons and Horn were driven by the desire to make a difference and perpetuate Jewish identity and continuity, especially in secular communities. They've been funding various organizations for decades, but about three and a half years ago, they realized they'd have more impact if they fused into one branded entity, which led to the creation of Olami.
Olami now funds a whopping 320 organizations, all focusing on unaffiliated Jews, in order to propel their exploration of Jewish learning, and culture. A key aspect of their work is focused on the yearlong Impact Accelerator program where they promote and inspire the leadership component. Jackie Engel, Olami's director of leadership development, explains that the goal of their programs is to give Jews clarity and direction about the things they care about. "Torah can impact you in a very positive way, whether it's through your career, friendships, dating, or overall happiness," she says. "We try to show people how Jewish wisdom is relevant to their lives now."
The launch of Olami was monumental for Jewish leadership globally, as it initiated a strong link with hundreds of organizations, all united with the common goal of strengthening and educating secular Jewry. Engel says that Olami works on "galvanizing young leaders to help make an impact and form connections among Jews." Olami's branding tactic touts the leadership of young Jewish adults and students, rather than that of rabbinical or counseling figures. She explains that involving young adult ambassadors is a crucial aspect of their programming. "The next generation is being inspired and empowered by their peers, rather than by rabbis, in order to show the living proof of the benefits of Jewish education and affiliation," she says. "The ambassadors themselves are evidence of the improvements that Olami will bring to your life." Olami chooses its most valued ambassadors to partake in a yearlong Impact Accelerator program. Each year, the program culminates in a big conference. It's an event that further instills Jewish pride and leadership within them. "It moves them to a place of unwavering certainty in their roles as Jewish leaders," Engel says. "They emerge from the conference with a newfound sense of understanding of the potential of their impact. We want them to have the courage to stand up for what they believe in. We provide them with peer support, inspiration, and clarity of vision for what they're doing." Michal Nordmann, the director of marketing at Olami, echoes the sentiment. "The conference offers the students Jewish leadership training, a sense of family, belonging, and community," she says. "We have a huge network so we can connect them with business, career, and mentorship opportunities. The conference is all about building personal connections with people, and we infuse that into everything."
THE ITINERARY 
Engel and Charlie Harary, a renowned inspirational Jewish speaker, planned the curriculum for the conference. Impact Accelerator summits have been put together by Olami for the past three years, providing Jews all around the world with the opportunity to meet and make a difference. There's a small but dedicated logistics team that arranges the touring, scheduling, and nittygritty details of the trip. This year's whirlwind, jampacked program commenced with an invigorating opening ceremony, and then participants toured Segovia and Madrid, partook in a leadership conference in Toledo, and networked with a diverse range of successful VIPs, who offered personal and business mentorship. Rabbi Yisrael Meir Lau, former chief rabbi of Israel, and Rabbi Akiva Tatz were just two out of many high-profile educators who took part in the conference. Howard Jonas, founder of the IDT Corporation, and Ralph Herzka, CEO of Meridian Capital Group, also participated, among others. David Yarus, the creator of JSwipe, a Jewish dating app, came to give media, practical, and interpersonal skill training. Every year's itinerary is unique, Engel says, explaining that "educational themes of responsibility and courage" were woven into discussions while participants learned about the Spanish Inquisition.
An all-day leadership conference in the hotel consisted of "breakouts, think tanks, lectures, and discussions," which were useful before their Erev Shabbos tour of Toledo. Rabbi Lau's participation on Shabbos was incredibly uplifting. And then Sunday was spent brainstorming ways to get involved and make a difference back home. "There are prestigious Jewish philanthropists who want to partner with Olami and see the work that we do," Engel says. "We match these VIPs as mentors to the ambassadors." The programmers put a clever twist on the networking aspect by creating a "Genius Bar," with a concept similar tothe help desk at Apple that goes by the same name. Conference attendees can meet one-on-one with a "genius" VIP of their choice and use that opportunity to bounce off any idea or question about life, business, and Judaism. Engel confides that the "Genius Bar" was a highlight of the whole trip, explaining that it helped intensify the swell of Jewish identity, connection, and pride that was built up throughout the conference. Some of the people who served as mentors at the Genius Bar included Rabbi Lau (mentioned above), Ralph Herzka (also mentioned above), and Sol Werdiger, the president and CEO of Outerstuff LLC. Marcus Mendleson, one of the young professionals involved in Olami, praised this unique aspect of the conference as an opportunity to gain insight into a certain area of leadership, to get advice on what they're doing in their communities, and essentially to "pick their brains on anything."
THE APPLICATION PROCESS 
The process for choosing ambassadors to attend the conference is highly selective and exclusive. Local organizations that participate in Olami around the world nominate their best students, and Olami students can also refer other students. The candidates are then required to submit an extensive application and, finally, are interviewed. The students need to have prior leadership experiences under their belt before applying to the conference. Even an experience that seems as simple as participating on a school leadership committee is beneficial. "Olami's Impact Accelerator receives countless applications," Engel says. "We sift through them and look for the stand-outs. We want to see leaders with passion, leaders who are articulate and well informed.
We want to hear their deep, sincere, and thought-out reasons for why they are interested in the program… It's important that they have that sense of accomplishment and duty. If they are going to be leaders on Olami's Impact Accelerator, they need to know what it means to step up and take responsibility." Although the more than 500 ambassadors left the conference feeling spiritually and emotionally enriched, the goal of the few days together revolved around empowering them to make an impact on the world at large. "Stepping up to help others and taking action shapes your own personal growth," Engel says. "They're not just talking the talk. They're internalizing the Jewish education and personal inspiration, and using that to make a difference." The conference's attendees leave the trip feeling motivated and ready to work. Olami has heard back from countless organizations across the globe, all of whom laud the conference for its ability to unite and motivate young Jewish professionals.
Rabbi Menachem Lehrfield, from Denver Young Professionals, reported back that "the leaders have excelled in many areas. Firstly, in their commitment to our board and to taking responsibility for all of our JewPro programming. Secondly, in their active desire to bring in new people to our program who previously were not involved. To date, there have been 15–20 new people, which in Denver is a huge number." Rabbi Aaron Katz, from Meor at Temple University, explained that their student leaders helped engage over 200 new participants to their programming, and they brought in over 70 young professionals to join their committed learning program. This Meor rabbi says that they all "really stepped it up, stepped out of their comfort zone, and worked extremely hard. They are dedicated to not only reaching the Olami goals, but to really building relationships with the newly engaged Jews, which has shown, and will hopefully continue to show, real growth from the new students." He adds that these student leaders "were also an unbelievable team; as opposed to competing with each other, they really worked together, covering for one another at times when some were unable to give it their full attention. We would meet as a group at least twice a week, which also really helped bring them together, and we had an ambassador Shabbos. Each one has
THE STUDENT PERSPECTIVE 
Mendleson, the young Jewish professional mentioned above, is an Olami ambassador from Essex in Northeast London. He says his involvement in Olami has changed his Jewish identity. "I am proud to stand up and share my Jewish experience, thoughts, feelings, and connection," he says. Mendleson grew up mostly secular, with elements of traditional Judaism woven in throughout his life. "I partook in a lot of Jewish extracurricular activities when I was growing up," he says. "I worked at my local JCC in various leadership roles, and my family always focused on celebrating the holidays together." When asked about having any Jewish mentors, Mendleson was quick to point to a rabbi from his neighborhood's Chabad. "His name was Rabbi Moshe Muller, and he was a friend and a role model to me, rather than just a rabbi," he explains. "He taught me that Judaism is all about connecting to one another in a warm way." Mendleson explains that he was hesitant to get involved in Orthodox programs, such as Aish's Olami, because he was not religious and did not think he would belong there.
However, after Rabbi Muller passed away, Mendleson felt an unmistakable void in his life, and he knew that he had to reconnect. He started attending Shabbat meals at the home of Rabbi Mendy Brukier, an Olami educator originally from New York, which led him to further his involvement in the organization. He became close to Rabbi Mendy, who advised him to get involved in Olami's Impact Accelerator program and attend their conference in Spain. "It's impossible to grasp the impact of the program until you're on it yourself," Mendleson shares. "I was able to meet hundreds of other young Jews just like me from 28 other countries. Hearing about what they do in their communities to engage their peers lit something inside of me. It made me realize that I wanted to do more and make a difference. "Yes, I had been going to barbecues, attending dinners, and socializing, but I realized that I needed to take an active role. I came up with different ideas and initiatives that we've put into practice now, and it's shown me the power of both the individual and the community as a whole." One of those initiatives Mendleson was passionate about was Shabbos. In his small community in Essex, he says, there are mostly nonobservant Jews. "They want to be involved and do things, but they don't want to have to go out and search for it," he says. "Together, we worked hard to recruit 70 people in Essex who pledged to keep Shabbos one week, in an imitation of the Shabbos project. "This was a really big deal for us, as the majority of the community is barely affiliated. It was really powerful to see my neighbors, friends, and peers join together, and it made me understand the power of a communal effort. If we can get 70 nonreligious Jews in Essex to keep Shabbos for one week, think of what we can accomplish through hundreds of Olami organizations around the world… It's as though I have this fire lit within me, now that I've come to understand that I can truly make a difference."
A REVITALIZED JEWISH IDENTITY 
Mendleson explains his mindset shift — on the surface, Orthodox Judaism can seem radical or unapproachable and almost frightening to Jews with little to no religious affiliation. It's a stigma Olami works hard to eradicate. "The conference shows us how fun Jewish life can be for a person in their 20s," Mendleson notes. "In Jewish school, things are being thrown at you, so it's easy to learn and hold onto our religion, but once you're out of school, you need to search for Jewish inspiration and wisdom on your own. "We learn about how Havdalah can be done, how Kabbalas Shabbos can be done. People are shocked when they come — they had no idea Jewish customs could be like this, with singing, dancing, music, socializing. It helps us grow and retain our Jewish identity in an exciting yet powerful way." Nordmann explains how important the strategic development of the organization is. "We need to make sure our messaging is consistent and correct," she says. "When crafting a marketing strategy, it is essential that you know your audience. You need to recognize where the students are coming from and what they're looking to gain." She explains that Olami tries to put themselves in the mindset of a student and a young professional.
They strengthen their understanding through testing various messages and programs, and they collaborate regularly with students and educators in the organization in order to do so. Engel says that a potent way of promoting Jewish leadership is to "empower the students and their peers on a grassroots level, showing that Judaism is cool, valuable, and necessary." She says it's imperative that the Orthodox community gets involved in kiruv. "The observant world may perceive it as giving, but they are truly benefiting and giving back to themselves at the end of the day," she explains. "When they realize that they are mentors and role models, they gain passion and clarity by showcasing their own skills and knowledge." The frum Jews will become deeply inspired when they watch and understand the power of kiruv, and it helps their own Judaism thrive when they get to be part of that exciting process. It creates an electric cycle of inspiration within both the frum and secular worlds. Mendleson says that Jewish leadership and education is imperative for secular Jews, as it strengthens their affiliation and helps keep the fire alive. However, he stresses that it is important to have leaders who are approachable and relatable for irreligious Jews. Marcus says, "To us, a real Jewish leader is someone who is patient and explains everything. A real Jewish leader allows everyone to feel accepted and welcomed. Everyone wants to feel part of something that, as Jews, is our birthright. It's who we are, and it's who we will always be. A real Jewish leader wants to open the doors for everyone to understand, realize, and enjoy that privilege."
(Originally featured in 2.0, Issue 7)
Oops! We could not locate your form.
>