| Deep Dive |
Leading With A Purpose | May 22, 2019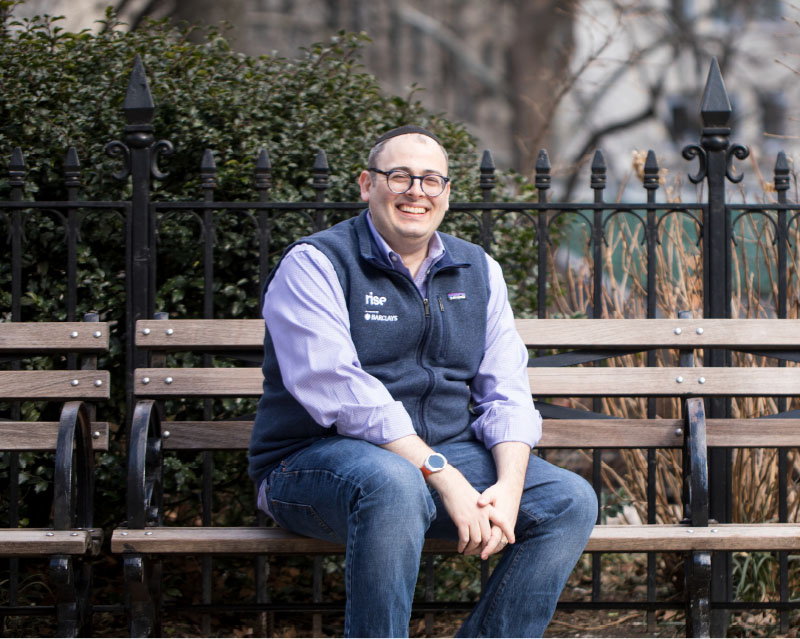 A
zriel Chelst started his business training before he even hit first grade.
At five years old, he stood outside a local Barnes & Noble with his older brother to sell bookmarks to customers. "It was my first taste of being an entrepreneur," he says. This childhood stint shaped him in persistence, and may have been an experience that prepared him for a life of continually dreaming up businesses and ideas, and for his corporate roles at American Express, Anheuser-Busch, Mastercard, and, most recently, Barclays Bank, where he has worked since October 2018.
In his role as vice president of innovation partnerships at Barclays, he works on strategy, which is ultimately about how to better engage various audiences — whether they are employees, clients, investors, or startups — to drive innovation. "My love for the role centers around my ability to work on large-scale, complex problems while supporting a multinational corporation," Chelst says.
He explains that there are three stages to a good partnership — figuring out what you want to do, negotiating with someone to do it, and finally, delivering the product and/or service. "My day is divided between those three core activities," he shares.
After spending time speaking with Chelst, it's apparent that his humble demeanor, willingness to learn, and ability to be forward-thinking have made him a valuable player within the tech space; he's one who understands that there is often more out there than meets the eye. He carefully considers every detail and takes the initiative to make things happen.

Quiet Maneuvers
The skills he's honed over his years in the corporate world, Chelst says, were originally cultivated by his parents. His father, Rabbi Dr. Ken Chelst, a musmach of Yeshiva University, is a professor of applied mathematics, and his mother, Dr. Tamy Chelst, is an audiologist who works with the elderly. Chelst was impacted by his mother's kindness and guidance, and his father's creativity and problem-solving abilities.
As a child, he traveled around the world with his parents. "Whenever my father was on sabbatical or had a business conference, he took us with him," Chelst explains. When his father taught at Yale, MIT, and Jerusalem's Hebrew University, the family moved with him, giving them the opportunity to explore different communities and lifestyles.
"He let us tag along on trips to Greece, Scotland, South Korea, and Japan, and sent my brother and me on a backpacking trip through Switzerland when I was just 13 years old," Chelst says. Hearing about these childhood experiences, it's easy to see how he developed his aptitude to facilitate complex solutions across the world.
Chelst remembers the deep impact left on him when his mother told him the story of Moshe Rabbeinu seeing an Egyptian assaulting a Jewish slave. "Moshe looked everywhere but didn't see anyone stepping in to protect the slave. I learned from that that I should look for opportunities to help where other people aren't."
This is a practice Chelst has been applying since his early days studying at Yeshiva University. Back in 2003, building an eiruv was a sensitive topic in the Washington Heights area. Chelst was determined to take on the challenge and include the entire neighborhood across Amsterdam Avenue. He worked with YU's rosh yeshivah and other members of the YU team, as well as departments in New York City to rectify the problem. "Through creating the YU eiruv" — which follows the halachic guidance of Rav Hershel Schachter — "I learned how to maneuver within an organization quietly to get things done," he shares. "Sometimes people like to make a big splash, yet the hard things often need fewer people and less noise."
OutDash and Halachic Zemanim
While building the eiruv may have showcased his aptitude for orchestrating change behind the scenes, Chelst acknowledges that great change often comes from seemingly subtle, small moments. For him, one of those moments occurred even before his time at YU. In 12th grade, he dropped out of high school and attended Wayne University instead. There, his computer science professor introduced him to HTML for the first time. By the time the two-hour session ended, Chelst was planning his first web-development business.
After high school, he studied in Yeshivat Kerem B'Yavneh (KBY) in Israel for a year and then started Yeshiva University in the fall of 1997. After graduating in January 2000 and beginning the YU semichah program, Chelst partnered with his friends from KBY to create the web business OutDash (formerly QuIC Solutions), which worked to provide solutions for businesses and nonprofits looking to advertise and commercialize their organizations on the Internet.
Eventually, OutDash partnered with the Orthodox Union to build the first halachic zemanim website. "I still remember writing the code with my friends and fighting through the bugs associated with the days when we change the clock," he says. Then they landed a $250,000 project to redesign the YU website. While working on the redesign, Chelst says, "I managed to convince YU President Dr. Richard Joel to fund YU Torah, which is still my proudest accomplishment to date."
YU Torah is a site with now nearly 150,000 shiurim that are shared via webcast in audio, video, and text formats by the YU community. For Chelst, this is how he utilizes his gift for technology for a higher purpose. "I started off my career obsessed with bringing tech to the Jewish world," he shares.
(Excerpted from 2.0 Issue 3)
Oops! We could not locate your form.
>