| Side-by-Side |
Oil vs. Margarine
| December 21, 2021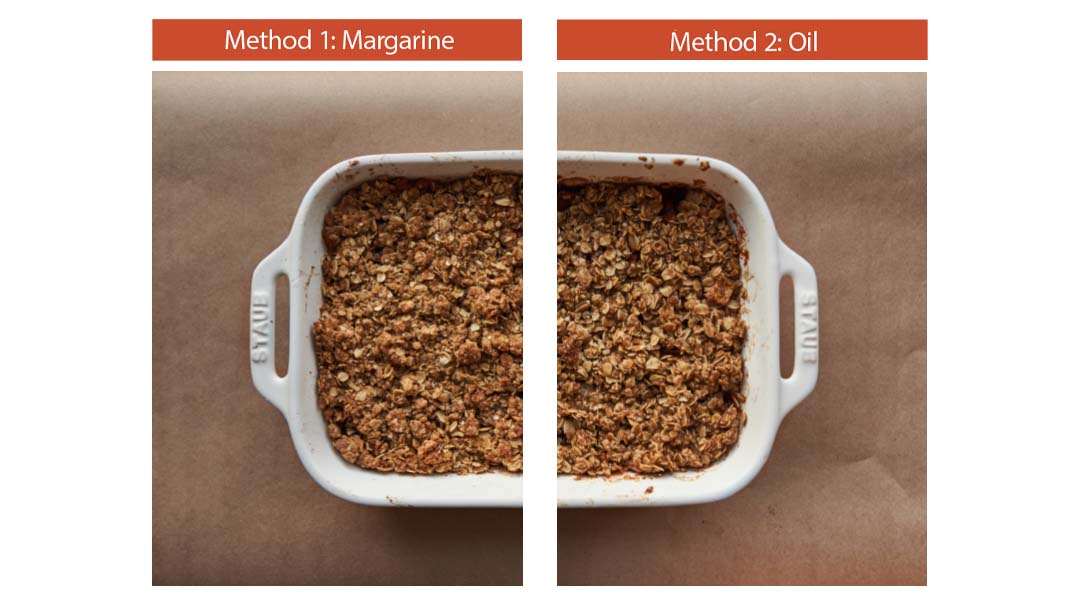 Swapping margarine for oil seems like an easy enough move. They're often interchanged in baking, but is it actually the best course of action? And what are we sacrificing in the name of health?
I am all for optimal nutrition, but sometimes we want the best version of dessert because that's what it was meant to be and we shouldn't get in the way. Let's make an apple crisp and see which fat wins, and by how much.
Apple Crisp
SERVES 6–8
Filling
6 large apples, such as Granny Smith or Honeycrisp, cut into chunks
½ cup brown sugar
2 Tbsp all-purpose flour
1 tsp cinnamon
pinch salt
Topping
1 cup old-fashioned oats
½ cup quick-cooking oats
½ cup all-purpose flour
¼ cup brown sugar
1 tsp cinnamon
pinch salt
1 cup softened margarine or 1 cup neutral oil
Preheat oven to 350°F (175°C). Grease an 8x10-inch (20x26-cm) baking dish.
Place filling ingredients in the baking dish and toss to coat.
In a medium bowl, combine oats, flour, sugar, cinnamon, and salt. Add margarine and work it into the mixture or add oil and mix until the mixture is wet. Spread over the apples.
Bake for 40–50 minutes or until the fruit is bubbly and the top is crisp. Cool slightly. Serve warm with ice cream or take it up a notch and drizzle with caramel.
My Verdict
The oil-based topping came out flatter but still good. The margarine version had clumps of oats dispersed throughout, and that made it so much crispier. The difference and preference was clear — a solid fat (margarine or butter) makes the crispiest crisp. I use margarine sparingly, but I think it warrants an appearance if you're looking for a satisfying texture.
(Originally featured in Family Table, Issue 773)
Oops! We could not locate your form.
>