| On Site |
Off the Map
| October 21, 2020
Traces of Jewish life in the verdant hills and valleys of South Wales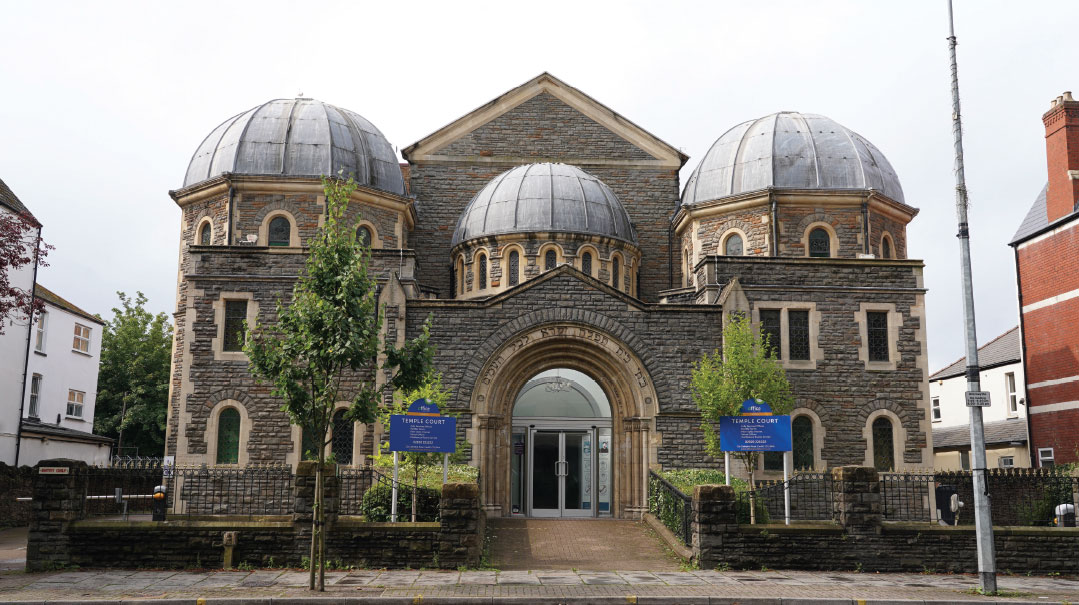 Photos: Mendel photography
Drive across the Prince of Wales Bridge, read the signs marked with a red Welsh dragon, and you know you've moved from England to Wales, another small country in the British Isles known for both its beautiful coastline and its industrial muscle in supplying coal, steel, and slate to the world. The green valleys of South Wales once had another defining feature: They hosted scores of Jewish communities, which today have virtually disappeared.
In the capital city of Cardiff, we're standing in front of an old cathedral-style building, where we spot the familiar pasuk above the doorway ,"Ki beisi beis tefillah… For My House is a house of prayer..." This is the Cathedral Road synagogue, founded in 1896 and a mainstay of the Jewish community that once thrived here in small independent kehillos dotting the verdant valleys of this land. And as we stand here, we wonder: Why did their ancestors come here, and why did their progeny leave?
We hope our guide, fifth-generation Jewish Welshman Adrian Jacobs, will solve the mystery.

No Arguments
While the date traditionally given for the first Jewish settlement in Cardiff is 1787, this glorious shul was built once the community became affluent enough for an ornate building of their own. In its heyday, Cardiff was home to around 5,000 Jewish people, says Mr. Adrian Jacobs, who grew up in the city. The rav, Rabbi (Mordechai Dov) Ber Rogosnitzky, a Leipzig-born talmid of the great Telshe yeshivah, lived right around the corner, on Hamilton Road.
"The greatest Jewish influence on my life was Rabbi Rogosnitzky," says Mr. Jacobs of the distinguished European rav who led Jewish life and education in the town from 1945, when his father, the previous rav, passed away, until his own petirah in 1985. As a teenager, Mr. Jacobs — one of hundreds of kids in the kehillah's youth group — would help the rabbi to don his formal minister's attire in the shul's "robing room." The Rav learned with him several times a week, and once asked Adrian to drive him to carry out a surprise visit to check up on the town's shochtim.
Mrs. Gigi Hollander of London, Rav Rogosnitzky's daughter, shares memories of her own childhood in the Welsh capital. "My father was the mara d'asra of Cardiff and the de facto rav of all the Welsh kehillos. Everyone was very respectful of him — Welsh gentiles were still exceptionally religious at that time, and the Jews of his community accepted his psak as law."
Rabbi Rogosnitzky was responsible for everything, from Jewish education to shechitah and kashrus, mikvaos, marriages, and gittin, and also represented the community to the government and at all state occasions. "He was invited to the investiture of His Royal Highness Prince Charles as Prince of Wales and I remember coming home from Gateshead Sem to attend a Royal Garden Party where my father was presented to the Queen. She would always bow her head to him in respect. Of the rabbis scattered in communities throughout the United Kingdom, my father was the only one whom Dayan Yechezkel Abramsky, av beis din of London, allowed to issue his own gittin."
Despite the acceptance of Rav Rogosnitzky's authority, for him and his family, adjusting to life in out-of-the-way Wales — where many in the community were unlearned laymen — had its own challenges. Mrs. Hollander relates how her father used to stay up late at night learning. At one point toward the beginning of his tenure, the hiring committee met to decide whether or not they should give the rabbi a raise of one pound a week. One member of the board said, "I've seen the lights on in the house half the night. They're obviously wasting electricity and should not be given an increase in salary."
The entire kehillah followed him, though, even though Rabbi Rogosnitzky was famed for his uncompromising stance against the Reform elements in Wales. No one associated with Reform could receive an aliyah in Cardiff's Orthodox shuls, and he refused to attend joint events with Reform clergy. Mrs. Hollander says she can't recall anyone ever calling her father's bluff on this.
"He was the rabbi of Wales," she says, "and the other elements would always stand down."
Cardiff was known as a balabatish community, with several wealthy and generous families. Rabbanim from near and far came to the town to collect money, and they usually stayed at the rav's house.
"I remember the Ponevezher Rav giving me a brachah," says Mrs. Hollander, "and all the roshei yeshivah from Gateshead and Sunderland staying in our home. It was a challenge for my mother as there were limited kosher products available, and she had to cook from scratch for all the guests."
Rabbi Rogosnitzky created a system that allowed only one institution to collect in Cardiff each month. He knew everyone would benefit from it — the balabatim would not grow tired of the solicitors and would donate willingly to each cause. When a meshulach arrived, the rav would accompany him to each of the Jewish businesses and homes, so that people would donate nicely. The most well-known donors were the Sherman brothers, famed Jewish philanthropists who dedicated the Ponevezh yeshivah's otzar seforim, and owners of the third-biggest football pools (soccer betting) business in the UK (which they sold in the 1960s for £11.5 million).
On to Suburbia
While the facade of the Cathedral Road shul is intact, the back of the shul has been replaced with offices. As Mr. Jacobs is showing us where the cheder classrooms once stood, an elderly white-haired man approaches, making his way to his office. He recognizes our guide ("You're David Jacobs's son!") and tells us how both this edifice and a newer shul used to be full. "But now we're even struggling for a minyan in the new shul. The youth have left Cardiff, my boys too. I sent them to university and they never came back here."
During the second part of the 20th century, the Jewish community began to move to the Penylan suburb, where they founded another shul with its own cheder. There were three shochtim, two kosher butchers, three bakeries and a delicatessen, Jewish sports clubs, and the city was also home to the kosher Skreks factory, makers of what later became Hebrew National products (remember their baked beans? Not to be confused with American hot dogs of the same name). Today the neighborhood has a modern shul and mikveh and is led by Chabad-affiliated Rabbi Michael Rose. The shul is still active, with regular, although small, minyanim.
The Cathedral Road shul declined as the Jews moved to suburbia. In December 1979, the final blow came when the nearby River Taff flooded its banks and this neighborhood was under water.
"I can remember my parents and others rushing over here on a Sunday to rescue the sifrei Torah, which were safely removed," says Adrian. "The shul had been flooded over Shabbos, some seforim ruined, and there was a watermark high on Rabbi Rogosnitzky's shtender."
The community was Anglo-Jewish in its style and traditions. Like all British United Synagogues back in the day, it featured a "robing room" next to the main sanctuary. This was where the rabbi, chazzan, and shamash donned their black gowns for services.
"Rabbi Rogosnitzky always wore his high litvishe yarmulke, but changed into the traditional gown before each tefillah in shul," says Adrian. "And in the really formal days long gone by, well before my time, all the ministers wore 'dog collars' for shul too."
Beyond the Gate
Our next stop is the old Cardiff cemetery. (When space was no longer available in this cemetery, the community consecrated another beis olam.) Adrian fits a key into the locked gate and turns, but nothing moves. It takes a couple of kicks, a combined heave from all the men in our party, and a crowbar for the gate, which has grown stiff and expanded due to the summer heat, for it to finally give way.
Just inside the gate lie the kevarim of Rabbi Asher Grunis, who served as rav of Cardiff until his passing in 1937, and his wife. In front, a small stone serves as memorial to their son, Avraham, drafted into the British army and drowned in the Pacific after being captured as a Japanese prisoner of war. (Justice Asher Grunis, president of the Israeli Supreme Court from 2012 to 2015, was a grandson of this rabbinic leader.)
Deeper into the beis olam we find the matzeivos of Rabbi Rogosnitzky's parents, Rabbi Moshe Eliyahu and Rebbetzin Rogosnitzky. Rabbi Moshe Rogosnitzky served as a dayan in Leipzig, Germany, until the Nazi violence of Kristallnacht spurred him to flee; he then became the rabbi of Cardiff until his petirah in 1945.
Adrian says some Tehillim at the graves of his paternal grandparents, who came to New Tredegar, Wales, from Russia, and eventually moved to Cardiff. We then move on to the newer, well-maintained Cardiff Jewish cemetery to daven at the graves of Adrian's parents and my own great-uncle and aunt.
Want to Learn? Just Knock
Cardiff had a Jewish kindergarten and afternoon Talmud Torah, or "cheder," but there was no Jewish school anywhere in Wales, a fact that was instrumental in the decline of the community, once Jewish day school education was available in other UK cities.
The community had several reverends and teachers, one of whom was known as Reverend Gray.
"This man was actually a Yerushalmi Yid named Reb Gershon Greyovski. He was a devoted, traditional melamed, who somehow came from Yerushalayim and lived in Wales for the rest of his life," relates Rabbi Yisroel Fine, a retired rabbi in London who grew up in Cardiff, a son of one of the community's other ministers. "He told us, 'Any time you want to learn, just knock on the door.' He really had a great religious impact on me and many others, and at eighteen I went on to the Gateshead yeshivah."
Once the minyan in Cathedral Road had waned and long-time baal korei Mr. Shabsie (Shoppy) Cohen couldn't make it (he had already moved to Penylan but usually came to the old area for Shabbos to lein and serve as gabbai), the teenage boys would walk over to lein, and they would lunch with the widowed Mrs. Grey.
Rabbi Fine lived a few doors away from the kosher bakery.
"We had an arrangement where I could come in between 7 and 7:10 a.m. and buy anything I wanted, hot and fresh out of the oven," he says. "I used to take orders from the Jewish boys in my class and I would walk to school with the warmth and fragrance seeping through the satchel on my back."
Rabbi Fine has positive memories of his school days in general. "My teachers and schoolmates were G-d-fearing and decent people, and being raised among them gave me a foundation of trust in human decency."
Valley Settlers
We leave the city and drive out toward the "Valleys," the small towns and villages scattered in the lush valleys between the Welsh mountains.
When Jewish immigrants from Russia arrived in these parts, they had to scramble for a livelihood. Conditions in the coal, steel, and slate mining industries were unattractive and often unsafe. Many Jewish immigrants established themselves as peddlers, traveling from village to village in the Valleys, selling cloth, stockings, or household items. Since their main clients were impoverished miners, they often extended credit and were paid in installments. Friday was payday for these laborers, and so it became the main business day, which necessitated the Jews staying in the villages over Shabbos, and settling in dozens of surrounding small, rural locations of South Wales.
On the slopes beneath the road as we arrive in the town of Merthyr Tydfil, we see two cemeteries, one Christian and on Jewish, while sheep are nibbling at the grass and reaching over graves to nibble at low-hanging branches. This rural Jewish beis olam is locked with an iron gate set into a stone wall at the side of the road, but inside is the familiar sight of rows of Jewish matzeivos.
"We have to keep the gate locked here so the sheep don't damage the cemetery," says Adrian.
On his mother's side, Adrian's family were frum Jews in Wales for five generations. He explains that his mother, Dorene Jacobs, is buried in Cardiff, but her father, Ben Hamilton, is buried here, next to his father, Harris Hamilton, and his in-laws, the Broders, who lived in nearby Tredegar. Nearby is the matzeivah of Harris's father, Meir Himmelstein from Salant, Lithuania, who moved to Wales.
The Ponevezher Rav once came to this beis olam to attend the funeral of the yeshivah's benefactor, Mr. Abe Sherman, who was president of the Merthyr kehillah and lived in a mansion in town. While the cemetery hasn't really been in use for decades, there was a burial in 2016 — the widow of a local barber who was considered the last Jew in Merthyr.
Before Rabbi Fine's family moved to Cardiff, his father was the spiritual leader in Merthyr, but the Jewish community was then already in decline.
"My father was the reverend of this shul, chazzan, mohel, and shochet," he says. "We lived here in the late 1950s, for around six years. My parents were both very communally active and taught in the cheder, and on Shabbos afternoon, around 20 children would gather in our home, where my father told stories and my mother sang Jewish songs with them. It was a very traditional, sincere community. There was a part-time reverend, in addition to my father, and of the 50 Jewish families remaining at that time, only two didn't buy kosher meat."
A few years ago, when Rabbi Fine came back with his wife to visit his old hometown, he found that the shul had been converted into a gym. "The ground floor was a ladies' gym, the main floor a men's gym, and the women's gallery upstairs had been turned into a boxing ring. We went in, and the boxing instructor asked if he could help me. I told him that my father had been the minister of this synagogue. Then, he suddenly recognized me. 'Oh, you must be Fine!' He was an old classmate of mine."
Locked Out
Another nearby town, Brynmawr, had a sizable Jewish population in its heyday. Judge Anthony Morris and his wife Patricia, now of London, both hail from there.
"My grandfather was a Jewish watchmaker and jeweler from Ukraine who settled in South Wales as a young man, during the 1890s," Judge Morris relates. "He went to London to purchase watches and peddled them around the Welsh villages, soon settling in Brynmawr, which was a coal mining town. His Jewish co-worker, who came with him, settled in nearby Ebbw Vale, as both places had Jewish communities."
Brynmawr's Jewish cemetery has its own interesting piece of history. There was a Jew from Brynmawr who refused to pay dues to the regional burial society, When he passed away, the horse-drawn hearse was called to drive the coffin to the nearest Jewish cemetery, which was in Merthyr.
"My grandfather borrowed some money and got someone to drive him there so that he should arrive before the hearse," Judge Morris relates. "When he came to the beis olam, the shamash was standing outside a locked gate, and refused to allow the burial unless a fee of £100 was paid. My grandfather paid him the money and the levayah was held — but at that point, the Brynmawr community decided that they must have their own cemetery, never wanting to be put into that situation again, and raised money to buy a field of their own. The family of the deceased matched the funds raised. It was an enormous field, so they consecrated just a small corner for burial and rented the rest to local farmers for grazing, and to the RAF (Royal Air Force) as a lookout point during World War II."
Years later, when it became clear that the community was in terminal decline, the local council asked to purchase the extra land. With chilling foresight, Judge Morris's father saw an opportunity to secure the maintenance of his parents' graves, and offered to gift the land to the council in exchange for a covenant that the town would service, clean, and maintain the Jewish cemetery in perpetuity.
"I don't know of any Jews left in Brynmawr today, but my son and grandchildren, vacationing in Wales, recently went there to pray at the kevarim, and all is well-kept," says Judge Morris. "My grandchildren, distinctly Jewish with their peyos, were davening at the kever of their great,great,great, grandparents."
When Brynmawr's Hebrew congregation closed, it amalgamated with the shul in nearby Newport. When Newport closed, in turn, Judge Morris laid claim to the sefer Torah from which his father and uncle had leined their bar mitzvah parshah. "I had it, on condition that if a Jewish congregation is ever revived in Brynmawr or Newport, I'd have to give it back. After I paid for its repair, they gave it to me, and I lent it to Chabad of Golders Green."
Time to Move On
Just over 40 miles to the west of Cardiff, along the beautiful Gower coast of Wales, lies the unassuming town of Swansea — home of the first Jewish community in Wales. Official records show the community purchased a cemetery in 1768. In 1780, they built their first shul.
Mrs Barbara Bernstein, today of Manchester, remembers that "Swansea had a cheder, a youth club, and WIZO. It was a wonderful place to grow up, with no anti-Semitism, beautiful beaches, and a very relaxed lifestyle."
Mrs. Bernstein originally came from a small mining town called Ammanford, in West Wales, where her grandfather had settled and set up a business when he came over from Russia. "We were the only Jews in Ammanford when I grew up, but when my father was a boy, there was a minyan in his home. We got our kosher meat on the bus from Swansea, and we always spent Yamim Noraim in Swansea. Then, when I was a teenager, we moved there."
Most of the youngsters left to university or jobs in their late teens. So did Mrs. Bernstein. "When I was 19, I moved to London, but when I met my husband, it turns out he was a Jewish Welshman from Merthyr, so we moved back to Swansea, although most of my friends had already moved away. The cheder was small when we brought up our boys there. It was a lovely life, but not enough Yiddishkeit, and in 1984, we could see things were dwindling, and we moved to Manchester."
Mr. Aharon Factor of Stamford Hill has a similar story. He was born in the Welsh town of Port Talbot, not far from Swansea. "My brother had his bar mitzvah in Port Talbot, but by the time it was my turn, the shul had closed because there weren't enough Yidden," he says.
Both of Mr. Factor's parents were born in Wales, although one elter zeide was from Kovno, the other from Brod. "As a child," he remembers, "it seemed to me that the Swansea shul drew a huge crowd, and even more so during the war years, when refugees arrived, and there was a beis medrash too. It had its own mikveh and its own shechitah in its heyday. When I was a child, the kehillah had a shochet, and they kashered one counter in a local butcher shop to serve as a kosher section."
By the time Mr. Factor was married and raising his children in Swansea, in the 1970s, there was no more local shechitah. "When we first married, we went shopping in London once a month. Otherwise, everything was homemade, or we just did without," he recalls.
The Factors remained in Swansea for eight years, until 1982, where Mr. Factor had a management position in a factory some miles further up the Valleys and taught in the community cheder, which still had around 30 Jewish children when they left for London's Stamford Hill.
"My brother still lives in Swansea," says Mr. Factor. "The shul was sold, but they held on to one room, where they still hold a minyan on Erev Rosh Chodesh. There are only 12 people who could possibly come, and my brother, at 80, is the second-youngest member."
Riot Act
Tredegar is perhaps the most famous of Jewish communities in Wales — for the worst of reasons. In 1911, it was the site of a rampage considered by some historians to be the only anti-Semitic riot in modern British history.
In the aftermath of an economic depression for the local miners, many mining families were turned out by their landlords. Eager for a scapegoat, and since a few of these landlords were Jewish, the Welsh villagers gathered with rocks and clubs and went after the local Jews — families who'd fled the pogroms in Russia and were now huddled terrified in their cellars. No lives were lost, but several Jewish shops were vandalized or torched.
"My father remembered the Tredegar riots," says Judge Morris. "In nearby Brynmawr, the Jewish children were sent to stay with gentile maids overnight for protection. Soldiers arrived in the market square, and the chief constable of the Brynmawr region stopped the rioters on the border, with dire threats if they entered his territory. My mother's father owned a shop in Tredegar, and was so affected by the riots that he suffered a stroke at a young age and was partially paralyzed."
The Jewish community in Tredegar never really recovered. The kehillah dwindled and closed as many Jews left town, their livelihoods destroyed.
Early Drop-off
"My father came from Russia, and his plan was to sail to America," says Mrs. Freda Aloof , today a care-home resident in London. "But when the boat came into port in Wales, the captain ordered his passengers to get off there."
This was a fairly common story among the Jews who fled persecution in Russia around the turn of the 20th century and landed in Wales. Some unscrupulous boat captains informed would-be immigrants that they had reached the United States, while others simply refused to take them any further, so that they were left stranded at Welsh ports. Still other desperate Jews simply paid all the money they had, hoping it would take them as far as possible from the Pale of Settlement.
"My father arrived in Llanelli [pronounced Chlanechly], which was a lovely community, very frum," continues Mrs. Aloof. "My father established himself there and served as the shamash of the shul. We had to speak Welsh in school, but I remember that in my class there were more Jewish girls than Welsh girls."
The families of Llanelli battled harsh economic realities to establish themselves, and laid great emphasis on their children's education.
"My brother was sent to the Manchester yeshivah at age 13, although I went to work in a shop after school," she says.
Sons of many of Llanelli's immigrant Jewish families went on to become doctors, lawyers and accountants, with more than a handful winning scholarships to Oxford and Cambridge. Others, particularly from the Berman and Solomon families, went on to become rabbis instead.
According to Mrs. Channah Hirsch in her evocative memoir My Llanelli, this across-the-board success is what led to the demise of the community:
"Because the children were so successful, once they had qualified as solicitors, accountants, rabbis, and pharmacists, they realized that Llanelli would never be able to support them… most of them favoured London, so they spread their wings and left the nest. For a while, it was very nice for the parents to proudly say, 'Oh, yes, my son Shmueli has now got his practice or position up in London'… but later there was nothing left but an empty house, with a little parlour whose walls were plastered with certificates of exams passed with honors by children… With every departure of a son, a part of the heart and soul of Llanelli was torn out."
The sounds of Lecha Dodi may no longer be heard over the Welsh hills and valleys on Friday nights, but the children of those loyal Jews of Tredegar, Llanelli, Brynmawr, and so many other towns and villages are still living the ideals they brought over from Russia and preserved under Welsh freedom. Adrian Jacobs, who, like his parents, is extremely active within the Jewish community, assures us that every year when he travels to Israel to run in the Jerusalem Marathon , he always displays the Welsh flag.
(Originally featured in Mishpacha, Issue 832)
Oops! We could not locate your form.
>