| Profiles |
Of Life and Death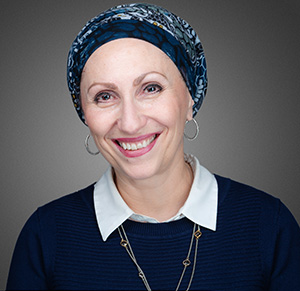 | August 29, 2018
Jason Weiner never dreamed he'd be a hospital chaplain. But the nationally recognized expert on medical halachah and pastoral counseling helps Jewish patients make the most important decisions of their life Photos Yossi Percia
W
ith close to 1,000 patient beds, Cedars Sinai Hospital on Beverly Boulevard in Los Angeles is a small village. It includes multiple buildings and four parking lots. The hospitals' interiors are modern and sleek, with spacious rooms and high-ceilinged lobbies adorned with framed modern art work. To make its affiliation clear, a white Magen David hangs atop the main building.
It takes some asking around to find Chaplain Jason Weiner's office, which turns out to be a small, windowless space in a corridor of similar offices off the central lobby of the hospital. But Rabbi Weiner seems unperturbed as he ushers me in and moves some books off a chair. He doesn't spend much of his time here, anyway. As the head chaplain of a large hospital, he's more likely to be out with patients than sitting at his desk with a sefer. And when he's not at the hospital, he's busy serving as the rabbi of Knesset Israel Synagogue of Beverlywood and as the president of the Southern California Board of Rabbis.
Tall and spare, with a trimmed beard and glasses, Rabbi Weiner looks younger than a man just hitting 40. He is at once warm and circumspect, a person as happy to listen as to talk; he emanates a quiet, sincere empathy just right for a chaplain. Yet still waters run deep: Rabbi Weiner is a widely recognized expert on medical halachah and pastoral counseling.
Rabbi Weiner regularly fields questions about artificial hearts, assisted suicide (now legal in California), fetal surrogacy, brain death, anorexia, and more. The pressure to respond to so many previously unheard-of sh'eilos led him to pen the Jewish Guide to Practical Medical Decision Making (Urim, 2017), a copiously documented review of these issues that provides up-to-date medical information and rabbinic rulings.
Dealing with all stripes of Jews, it helps that Weiner comes from a centrist background. A native Angeleno, he grew up in a traditional home, though his parents attended a local Chabad shul. He went to public school, and since his mother was a professor in a California state university, he got a free ride to any state college. He chose an intriguing, innovative campus at Monterey Bay.
The downside was that it was a true midbar in terms of Yiddishkeit. Jason, however, took the initiative to change the situation, organizing learning and kosher food on campus. Every Erev Shabbos, he'd drive an hour to San Jose, the regional hub, to spend Shabbos with friends. "The students made me the informal 'rabbi' of the college," he says. "By starting the community, I was mechazek myself."
He was committed, if not quite a yeshivah boy. One summer he traveled with his family to New York for a family bar mitzvah, then took the train alone to Manhattan to explore. In Times Square, a group of Black Hebrews were addressing the crowds. A few of them fixed on Jason and began screaming, "You're Jewish? You wish you were Jewish!"
They upbraided him so vehemently that Jason was traumatized. He returned to his family and spoke to his grandfather, the most Jewishly-educated, unofficial "rabbi" of the family, who reassured him that he was perfectly Jewish and the Black Hebrews were just a fringe group who knew nothing about real Judaism.
The experience sparked a need to know more about being Jewish, however. "I went to Barnes and Noble, and read a zillion books about Judaism," he relates. One thing led to another, and he took time off to learn in Ohr Somayach in Eretz Yisrael.
After finishing his undergraduate degree, he spent six years at Ohr Somayach in Monsey (where he met his wife, Lauren) and other local yeshivos, then learned in Eretz Yisrael. He also earned a master's degree in Jewish history at Yeshiva University. In 2006, he was offered a position in Los Angeles as the assistant rabbi of Young Israel of Century City, where Rabbi Elazar Muskin served as the head rabbi.
Rabbi Weiner was more than happy working under Rabbi Muskin. But Hashem had different plans for him. One of the shul's distinguished mispallelim, Rabbi Levi Meier, had served as the chaplain of Cedars Sinai for 30 years. But when he found out that he had cancer, he confessed to Rabbi Muskin that he doubted he could continue his work. "Don't worry," Rabbi Muskin reassured him, "My assistant will fill in for you."
Rabbi Weiner suddenly found himself dumped into a huge hospital, expected to fill the shoes of an experienced chaplain. "I thought it would be ten hours a week," he says. "Ten was never enough. It was overwhelming."
The responsibilities weren't just about seeing patients. "For many unaffiliated Jews in Los Angeles, Cedars Sinai is their shul," he explains. "People come to the hospital on Jewish holidays to pray and donate money," he explains. "The staff of the hospital is huge — over 15,000 people — and that includes a lot of Jews. After a while I was making their weddings and bar mitzvahs."
Over the next two years, Rabbi Meier battled his disease. When he was feeling better, he'd come in to help out, and Weiner could ask him questions. But eventually the disease claimed Rabbi Meier's life, and the new, young chaplain was chosen to succeed him.
Along the way, he had to qualify as a chaplain by taking four semesters' worth of CPE, or Clinical and Pastoral Education, at Children's Hospital Los Angeles. He has also continued his education in clinical bioethics, earning a master's degree through Loyola University and currently working on a PhD. At the beginning, he says, his staff resembled the setup for the old joke about "the priest, the minister, and the rabbi." They were expected to serve 1,000 patients and 350 referrals a month. Rabbi Weiner did a little research and discovered that most hospitals hire one chaplain per 75 beds; at Cedars, the ratio was one chaplain per over 300 beds.
Since Cedars is a Jewish hospital, he automatically became the head of the chaplains. He put his position to good use. He hired more staff, for a total of 12 chaplains. He launched an outreach initiative to make the public aware of the chaplains' services, and soon enough the requests for aid tripled.
(Excerpted from Mishpacha, Issue 725)
Oops! We could not locate your form.
>