| Metro & Beyond |
NYC Chooses: Election Countdown Primer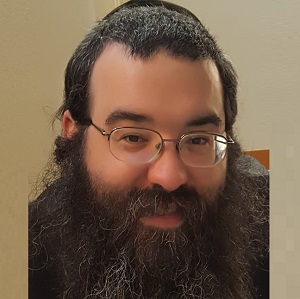 | June 8, 2021
  With less than two weeks left, Dem candidates jostle for mayoral nod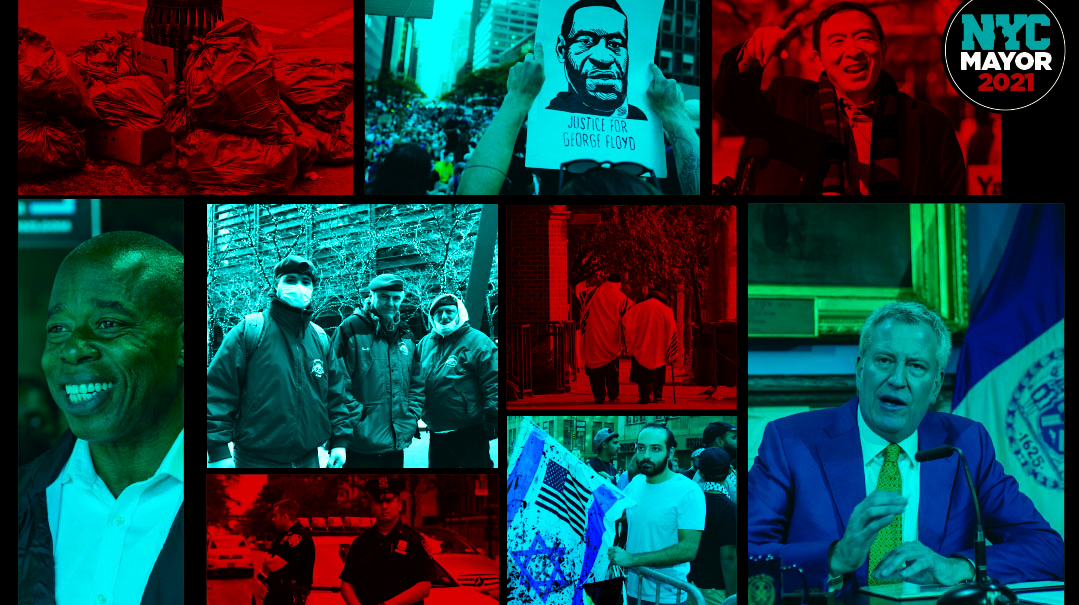 NYC Chooses: Two Weeks Left
Some form of the spiel "this election is the most important one in our lifetime" plays itself out in every campaign. This time, though, community activists are strongly advising frum Jewish voters in New York City that there is a party primary for mayor coming up in two weeks, and it really is important to cast a ballot.
Here's one big reason why: This past year, Governor Andrew Cuomo took a look at our community's voting patterns and felt comfortable calling Covid an "ultra-Orthodox Jewish problem," joking derisively that if he dangled state funding before us, we would fall in line.
Community leaders view this race as a generational battle to secure our existence in the state. Internal adversaries seek to upend our educational system, while external enemies regularly assault members of the tribe. The city and state legislatures are either slowly choking off every attempt to get criminals off the street or allowing people to thrive in certain unseemly professions.
Over the next three weeks, Mishpacha will examine different aspects of this year's municipal elections in the Big Apple. This week we look at what makes this campaign stand out from previous ones and focus on the races for city comptroller and Brooklyn borough president.
Wait, I Vote Republican
The Orthodox community has been trending red the past two decades. And the hard left turn taken by the current crop of Democratic mayoral candidates has done nothing to stop that trend. This has led many Jews to ignore the Democratic primary campaign and wait for the general election in November.
But here's the deal, as President Biden would say — double deal, in fact. There's no Republican electorate anymore. The coalition that elected Rudy Giuliani twice in the '90s and Mike Bloomberg thrice in the aughts is no more. They've moved out.
Furthermore, there is not a viable candidate for frum voters on the GOP side. Guardian Angels founder Curtis Sliwa has a dark side that will turn Jews off once they become aware of it, and businessman Fernando Mateo is 50 points behind him, according to the only poll taken.
Sliwa may be popular for his smooth radio talk-show shtick and his defense of Jewish victims of attacks, but he employed divisive rhetoric against the community during his short-lived leadership of the Reform Party five years ago. He once appeared on a cable TV channel with a black hat and, sprinkling his words with Yiddish, boasted about buying off politicians. In a Rockland County campaign speech several years ago, he accused "the rabbis" of buying off corrupt pols to protect bris milah and yeshivah education.
So, folks, for better or for worse, the November general election will be the first in city history without a credible Republican on the ballot. The whole show is with the Dems.
That means frum voters must choose the Democrat who will best serve the needs of the Jewish community, and cast ballots for that candidate on June 22 — because whoever wins that primary is all but assured of becoming mayor.
Vote Early and Often
Chicago mayor Richard Daley's adage "vote early and often" will take on a new connotation this year in New York. The city will be offering early voting for the first time, starting on June 12 — ten days before Election Day — and Ranked Choice Voting will allow every voter to cast not one but five ballots.
The new system, in which voters rank their preferred candidates, is ostensibly intended to ensure that no vote goes to waste, and to produce a more civil campaign. Candidates will be nicer to each other if they don't feel like they're competing, went the logic. A more cynical view was that progressives were looking for a way to ensure that their votes were not divided among multiple candidates, which has paved the way to victory for many a moderate candidate.
As is turns out, this year the main race is on the moderate stage, while every one of the leftists has imploded. Scott Stringer was smothered by two personal allegations against him, Dianne Morales's staff is on strike, and Maya Wiley just never took off.
And civility? The last I checked, Eric Adams termed Andrew Yang a "hypocrite" for not rejecting potential endorsements from Mayor Bill de Blasio and Governor Andrew Cuomo — just two weeks after Adams told me himself in an interview that he would do the same thing. Adams slammed Kathryn Garcia, who was widely praised for her tenure as the city's sanitation commissioner, saying, "You couldn't get the garbage off the streets."
Yang, in turn, criticized Adams as an "unprincipled" man who would be making "political decisions all day long."
Oh, well, maybe next time.
Longest Lame Duck
Another first — the days are gone when you voted and then tuned in to find out who won. Expect to wait at least a month until a winner is declared. Here's why.
Board of Election officials will release voters' first choices on primary election night. If anyone gets 50 percent — congratulations, Mr. Mayor. If not, as expected, the second choices will be tabulated a week later, along with absentee ballots. This will be repeated each week until one candidate reaches 50 percent.
Okay, we're finally at the winner stage. Now what? We're looking at one of the longest periods in history in which a mayor is considered a lame duck. Another first.
Presidents who are not reelected serve as lame ducks for three months before the inauguration of their successors. Most mayors and governors have lame duck status for less than two months. But due to the lopsided voter registration advantage held by Democrats, the winner of their primary will basically be considered the mayor-elect all the way until the January inauguration —a period of five or six months.
There will be lots of talk during that time of mandates and "one mayor at a time," particularly if de Blasio tries something controversial. Will the winner weigh in on policy moves during this time? Imagine the tensions that went on during the longest lame duck presidency on record — the 146-day transition period that began when Herbert Hoover lost reelection on November 8, 1932, and lasted until Franklin D. Roosevelt took office on March 4, 1933. This lame duck mayoralty will be even longer.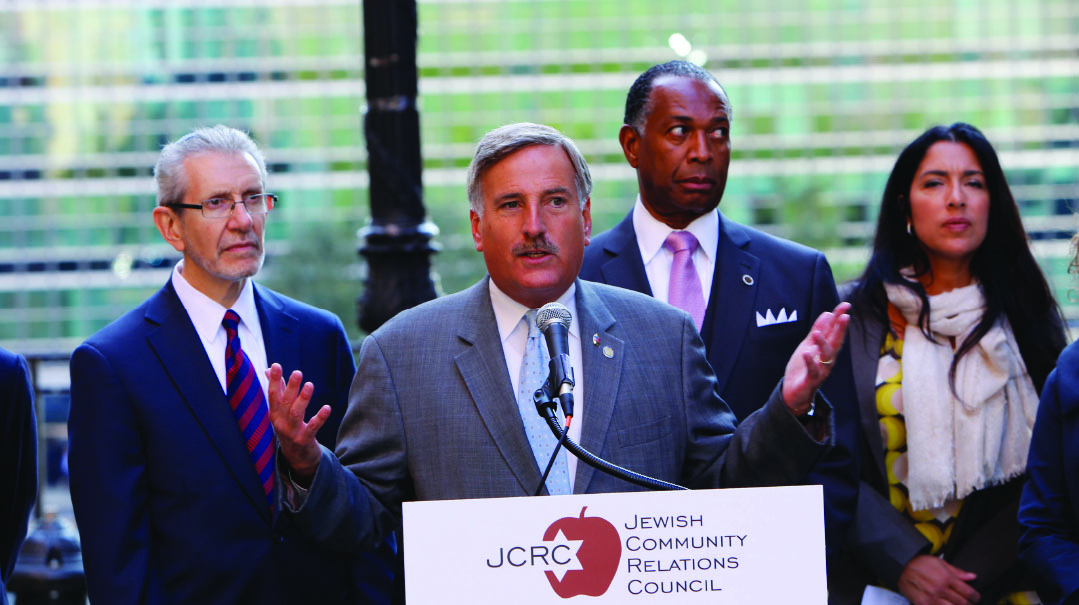 Race for NYC's Fiscal Mashgiach
The least scintillating race taking place in the city — excluding the race for public advocate, which is a no-name, no-authority position of municipal busybody — is for comptroller, a financial watchdog position, the candidates for which strain, usually ineffectively, to make it relevant.
Officially, the comptroller acts as the auditor for all city agencies and the sole overseer of the city's five pension funds. (The pension funds, worth about $250 billion, provide for police officers, firefighters, teachers, and sanitation workers after their retirement.) Most importantly, the office of comptroller is a springboard for hopefuls seeking someday to run for a higher office.
Since Bill de Blasio became mayor seven years ago, the city's budget has jumped from $72 billion to $92 billion today, so there's plenty for a comptroller to do. The main candidates are City Council Speaker Corey Johnson, State Assemblyman David Weprin, Councilman Brad Lander, Michelle Caruso-Cabrera, and state senators Brian Benjamin and Kevin Parker.
Corey Johnson angered the Orthodox community a month ago when he unilaterally removed Chaim Deutsch from the City Council after he pleaded guilty to tax evasion that preceded his years in politics. He hasn't campaigned in Jewish areas, having apparently given up on their votes. Lander, too, despite his representing a chunk of Boro Park, has taken increasingly liberal positions, culminating in his appearing with anti-Israel personality Linda Sarsour and refusing to state that he supports continued investing in Israel.
The presumed two top vote-getters in the Orthodox community are Weprin, a state assemblyman from Queens who is shomer Shabbos, and Caruso-Cabrera, a longtime CNBC anchor who touts herself as the most pro-Israel candidate in the race. They made their cases for Mishpacha readers.
Weprin is a yeshivah graduate, and all five of his children and six of his grandchildren are following in that path, he says. He has been a reliable vote for Democrats throughout the years. He has a deep knowledge of finance, going back to his quarter-century career on Wall Street, his years serving in Governor Mario Cuomo's financial services department, and through his chairmanship of the City Council's Finance Committee.
"I wouldn't ask you to vote for me because I am a frum Yid," said Weprin, 65, "but because I am the most qualified candidate for comptroller, by far."
Caruso-Cabrera, 54, was the chief international correspondent for CNBC for two decades, entering politics last year to mount an unsuccessful run against Alexandria Ocasio-Cortez, the Bronx congresswoman who has become an inspiration for socialists around the country.
After decades of asking the hard questions, she says she is ready to provide the answers herself. She wants to harness the skills learned as a journalist to explain government to the people.
"I am a storyteller, it's what I've been doing for 30 years," she said. "I will be able to tell the story of New York City finances in a way that nobody has been able to tell, I think, ever. I've spent decades following the money, asking presidents, prime ministers and CEOs how the money is being spent. And we need to ask the hard questions here in New York City."
Caruso-Cabrera says she is consistently bunched in the top of the pack, with the latest poll showing her just four points — within the margin of error — of front-runner Corey Johnson.
Both Weprin and Caruso-Cabrera say they will not allow politics to drive decisions where to invest or divest. The last few comptrollers have invested in Israeli bonds and divested from Iran and an array of companies that are anathema to leftists, such as private prisons, fossil fuels, and gun retailers.
"My primary goal would be to get the best return on the assets," Weprin said.
Both vowed to add to the city's Israel investments and plow capital into New York City housing. Caruso-Cabrera answered with a simple "no" when asked if she will use her audit powers to pressure the city into interfering with yeshivos. She said she would divest from companies who do not pay workers a "living wage," calling it a form of "indentured servitude."
Weprin and Caruso-Cabrera warned that the outcome of this election could affect city finances for generations.
"Almost all my opponents are talking about reforming the police and social justice," Weprin said. "A vote for me is a message for public safety. I'm the guy with endorsements from all law enforcement unions."
"The population of New York in 1990," Caruso-Cabrera noted, "was smaller than it was in 1940. And that's because of the [economic crisis of the] 1970s. If we don't get this election right, we could go back there again."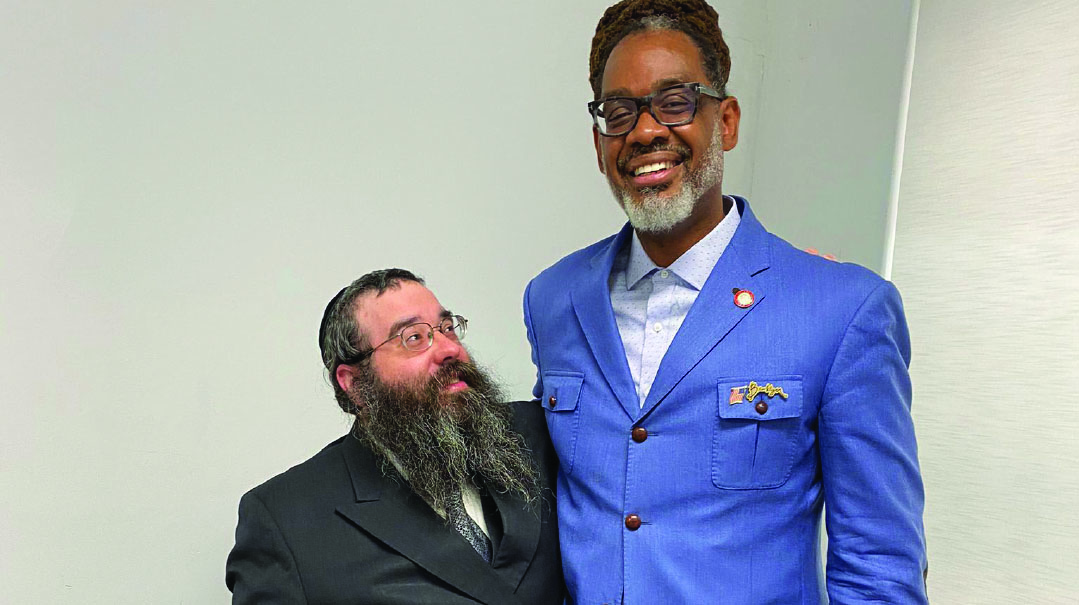 Taking Brooklyn to New Heights
When Robert Cornegy Jr. was recognized by the Guinness World Records as the world's tallest politician two years ago, it was a towering moment for Brooklyn. The Bedford-Stuyvesant city councilman, six-ten, was roasted by New York's other tall pol — Mayor Bill de Blasio, himself a cool six feet, five inches.
"Even at my size," the mayor declared, "I look up to Robert Cornegy."
Cornegy is running for borough president, a job whose previous occupants were known for wacky sign suggestions and perfect Brooklynese accents. (Say "offer" — if you hear the R, then you failed. Or pronounce "forget about it" in one mouthful.) But while the job is mostly ceremonial, with little ability to improve the business environment, it is a bully pulpit when it comes to zoning and schooling, due to its power to appoint half the members of the community and school boards.
And for Brooklyn, Cornegy would need every square inch of height he can get. The most populous borough, with the biggest district attorney's office and largest public school system, if Brooklyn were a city of its own, its 2.5 million residents would make it the fourth largest in the country.
There are over a dozen candidates in the race to be the borough's chief cheerleader, with the Orthodox vote divided between Cornegy and Antonio Reynoso, the city councilman who represents Williamsburg. Boro Park and Flatbush askanim have almost completely thrown their support to Cornegy, while both Satmar kehillos in Williamsburg are supporting Reynoso. Boro Park's two Simchas — State Senator Simcha Felder and Assemblyman Simcha Eichenstein — campaigned with Cornegy down 13th Avenue on Friday.
Brooklyn is about 33 percent black and 23 percent Jewish, with the former concentrated in Cornegy's district of Bed-Stuy and Crown Heights. He says that the two communities, which have often had a cold coexistence, have more in common than one might believe.
"We gotta talk," he says. "Because the fact that we're not talking about this gives people in other communities the chance to say, 'Oh, we want the security that the Jewish community has.'"
So let's talk. How would he unite the disparate communities of Brooklyn into one mosaic?
"By sewing them into a common thread," he says.
Everyone cares about public safety, jobs, and education, he says. It's a myth — propagated by white progressives from outside Brooklyn, Cornegy says — that blacks want less policing. What they want is an end to policing techniques like stop-and-frisk that gave their youth a constant fright.
"My community has never asked to abolish or to defund the police," he said. "Since I was a child, what we've asked for is police in our community that don't violate our civil rights. There is no self-respecting black person who is a taxpayer, who goes to work every day, who goes to church, mosque, or synagogue, who doesn't want to go safely. Normal, sane people are saying, 'We need the police.' "
With Brooklyn hosting the largest Jewish population in the country, the most Holocaust survivors, and the most yeshivos, Cornegy promised to be a fierce backer of yeshivah education, regardless of where life takes him.
"I stand with yeshivos and I stand with religious education," he said. "Unfortunately for me, I am a loyalist. It hasn't shot me to the top of the charts, but I stick to what I believe in. You don't have to worry about me changing my opinion on religious education."
As a former professional basketball player, Cornegy lived in Israel for two years as a player for Maccabi Petach Tikvah, though he rues not trying to pick up any Hebrew during his time there.
"Youth is wasted on the young," he lamented.
Cornegy wants to be a globetrotter, marketing Brooklyn to the world and bringing back emerging businesses. He wants to better utilize Brooklyn's waterways for business. Within ten days of taking office, he wants to set up a $10 million fund, paid for by getting ten banks to pony up $1 million each, that will give out grants to small businesses, as well as offer free bookkeeping and back-office infrastructure.
As for the Brooklyn test, Cornegy gave a passable rendition of fuggedaboutit — the spelling certified by former Borough President Marty Markowitz's best editors — though he had less luck spelling it.
"F-u-g-e-h — wow, I don't even know," he said, laughing. "Clearly it is the worst butchering of the English language that there is. But for us Brooklynites, when we see it, we just smile and roll our eyes. But sure, I would spread these signs around if elected."
(Originally featured in Mishpacha, Issue 864)
Oops! We could not locate your form.
>