| Metro & Beyond |
A Seat at the Table
| November 14, 2023
Avi Schnall won, but the ultimate victor was the Ihr HaTorah's obedience to daas Torah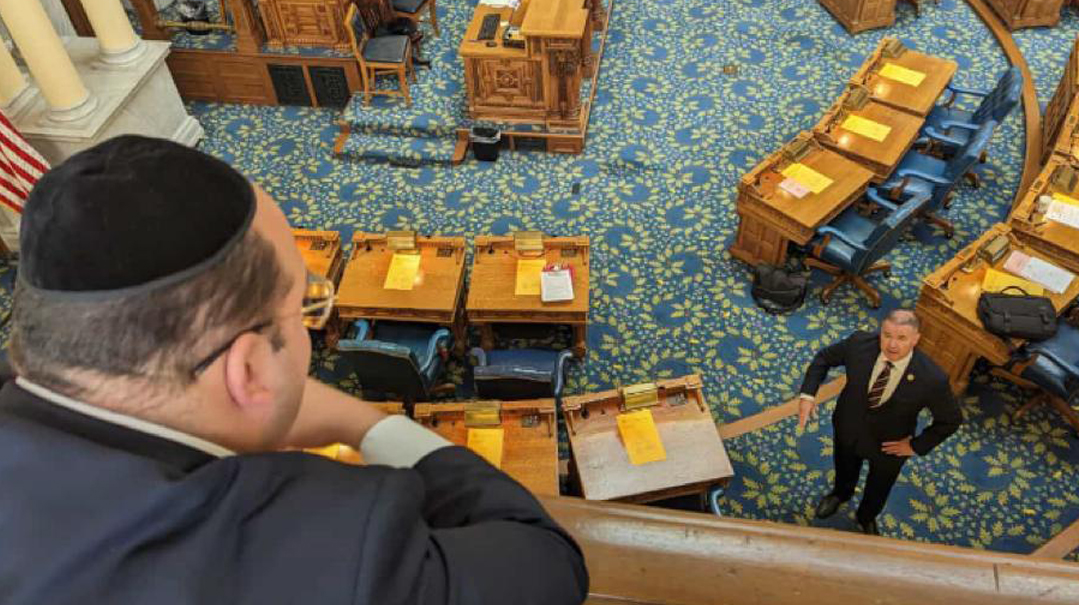 A political tremor struck New Jersey on Election Night, when the 30th Legislative District, which includes Lakewood, elected its first-ever Democrat to the General Assembly — Rabbi Avi Schnall. Now pipe dreams like tuition relief and special ed funding stand a chance at becoming policy.
W
hen Rabbi Avi Schnall, director of Agudath Israel's New Jersey office, announced his unlikely candidacy for the statehouse as a Democrat just a few short weeks before Election Day, he faced a daunting task.
Political pundits and analysists laid out what they saw as his single plausible path to victory in a district that had sent only Republicans to Trenton since its formation some 30 years ago. First, they posited, he would have to unite the Orthodox vote. Second, he'd have to actually get them to the polls. Finally, voter turnout from Republicans in surrounding areas would have to be seriously suppressed. If he managed to pull off that trifecta, they estimated, then the unthinkable might happen: a Democrat would represent the deep-red district.
As the results were tallied last Tuesday evening, it became clear that the Schnall campaign had managed to do more than just triumph. His resounding victory trumped many forecasts, and his campaign's success sent shockwaves through Trenton.
State political junkies are beginning to unpack the ramifications of the results. One salient point is that Lakewood voters sent a message to lawmakers that their needs can no longer be ignored, their issues and concerns no longer treated as state budget leftovers. The New Jersey Globe, a respected political website, called the Lakewood race "the most unusual election result of the year," and Joey Fox, a political analyst with the site, wrote that "this year was a massive demonstration of the Lakewood Orthodox community's political power."
Indeed, at the very first caucus meeting in which five new Democratic assemblymen-elect took part, Speaker Craig Coughlin singled out just one for attention.
"Avi," said the Speaker, looking at Assemblyman-elect Schnall, "it's been too long that District 30 hasn't had the representation it deserved here in Trenton, and we're thrilled that you're here."
Lakewood on the Map
That the 30th Legislative District hasn't received due consideration from lawmakers was a point hammered home by the Schnall campaign. It circulated a blizzard of slick, eye-catching ads throughout Lakewood over the last month of election season. The ads highlighted that state legislators have yet to greenlight the widening of Lakewood's traffic-congested Route 9, and have also failed to address the township's school busing shortfall.
The ads went heavy on statistics, pointing out that despite Lakewood being New Jersey's fourth-largest city, it ranks 50th in the amount of state funding it receives, out of 52 municipalities. State funding for special education services in non-public schools is already woefully inadequate, and budget projections for the coming fiscal year showed that the meager services Lakewood students receive were at risk of being reduced even further. This, despite an exploding nonpublic school population, driven by Orthodox community growth. Lakewood public schools owe the state a hopeless debt of some $230 million, with no relief in sight. Newark, by contrast, a city with 10,000 fewer students than Lakewood, receives more than $1 billion in state special ed funding.
After highlighting these stark inequities, the Schnall campaign shifted focus to its second selling point: A New Jersey politician can only be effective as a member of the majority party. With Democrats controlling the governor's mansion as well as both chambers of the legislature, sending a Republican in Trenton is tantamount to having no representation at all, as evidenced by Lakewood's lackluster results of the past two decades.
"Our campaign went from focusing on what we were missing to highlighting what could actually get done if one of us is inside the room where the sausage is being made," said Tzvi Herman, campaign manager for Avi for Assembly.
The prospect of a frum representative serving as a Democrat gave hope that ideas never previously discussed, such as tuition relief, could become reality. In fact, alongside the Avi Schnall campaign signs were other signs proclaiming, "Tuition relief is possible," in bold letters against a backdrop of black hats. The signs were sponsored by United for Education New Jersey (UENJ), a political action committee started by askanim affiliated with the Adirei HaTorah movement, with the express goal of bringing tuition relief to the Garden State.
With Avi Schnall's win, issues such as Lakewood's dilapidated infrastructure, its underfunded special education needs in nonpublic schools, and some sort of tuition relief program will gain a hearing previously denied to them in Trenton.
Heeding the Call
The Schnall victory was part of a Democratic wave. The party extended its legislative majority to a commanding 12 seats. Republicans were hoping that voter antipathy toward Joe Biden and a new criminal allegation against Senator Bob Menendez would boost their chances. In the end, they suffered an embarrassing string of losses. Democrats were quick to claim a new mandate going forward, while Republicans could only point fingers. State GOP chair Bob Hugin called the low voter turnout, an all-time low at just 30 percent, "unacceptable."
But for the more than 20,000 members of the frum community who went to the polls to cast ballots for "Alexander 'Avi' Schnall," the victory meant much more than partisan politics or even making sure that Lakewood has a seat at the table in Trenton. The success of Schnall's campaign reaffirmed that Lakewood's Orthodox will heed the call of rabbanim.
Only three years ago, many were questioning the effectiveness of an official, rabbinic-led community endorsement in a Lakewood that had grown more diverse and opinionated. Naysayers pointed to Election Day 2021, when Orthodox voters balked at the Vaad's endorsement of incumbent Democrat governor Phil Murphy and instead opted for Republican challenger Jack Ciattarelli, who made numerous visits to the Orthodox stronghold to win votes. In that election, Ciattarelli won Lakewood by 61% to Murphy's 38%.
But this year, rabbanim from Lakewood and beyond endorsed Avi for Assembly, and the community turned out en masse to vote for him. Aside from Lakewood, Legislative District 30 includes smaller townships such as Avon-by-the-Sea, Belmar, Farmingdale, Howell Township, Lake Como, and Wall Township, but the numbers from the predominantly frum districts showed an absolute blow-out: Avi took 21,000 votes compared to just 300 for his opponent. No political factor can explain the stunning turnout other than the level of involvement from the rabbanim.
"This campaign didn't just have the stamp of approval from the gedolim," said Tzvi Herman, Avi's campaign manager, "they were actively encouraging it from the very beginning."
Indeed, Avi's candidacy was announced only after the Moetzes Gedolei HaTorah gave strong support for the idea of a frum politician advocating for Lakewood from within the majority party. From the campaign's get-go, letters of support went out from several gedolim, many of them from Lakewood, but just as many from out of state. Among the signatories were the Lakewood Roshei Yeshivah, Rav Elya Ber Wachtfogel, and members of the Moetzes: Rav Yitzchok Sorotzkin, Rosh Yeshivah of Mesivta of Lakewood; Rav Shlomo Miller; Rav Shmuel Kamenetsky, the Philadelphia Rosh Yeshivah; Rav Elya Brudny, the Mirrer Rosh Yeshivah; and Rav Aharon Feldman, Rosh Yeshivah of Ner Yisroel in Baltimore.
Just two days before the election, the BMG Roshei Yeshivah signed a letter reaffirming their support for the election of Avi Schnall. Rav Yitzchok Sorotzkin recorded a 15-minute video in which he explained why the members of the Moetzes Gedolei HaTorah urged Avi Schnall to run for the statehouse as a Democrat. On Election Day, a video circulated of Rav Yeruchem Olshin himself, Rosh Yeshivah of Beis Medrash Govoha, standing on line at a polling station, happily explaining that he was being mekayem the mitzvah of "sha'al avicha v'yagedcha, zekeinecha v'yomru lach."
When the results were tallied, it became clear that Avi Schnall had won, but the ultimate victor was the Ihr HaTorah's obedience to daas Torah.
(Originally featured in Mishpacha, Issue 986)
Oops! We could not locate your form.
>