| Magazine Feature |
Not Giving Up on Uman 
| September 2, 2020
Can thousands of Breslovers fuse spirituality with safety in the heart of Ukraine?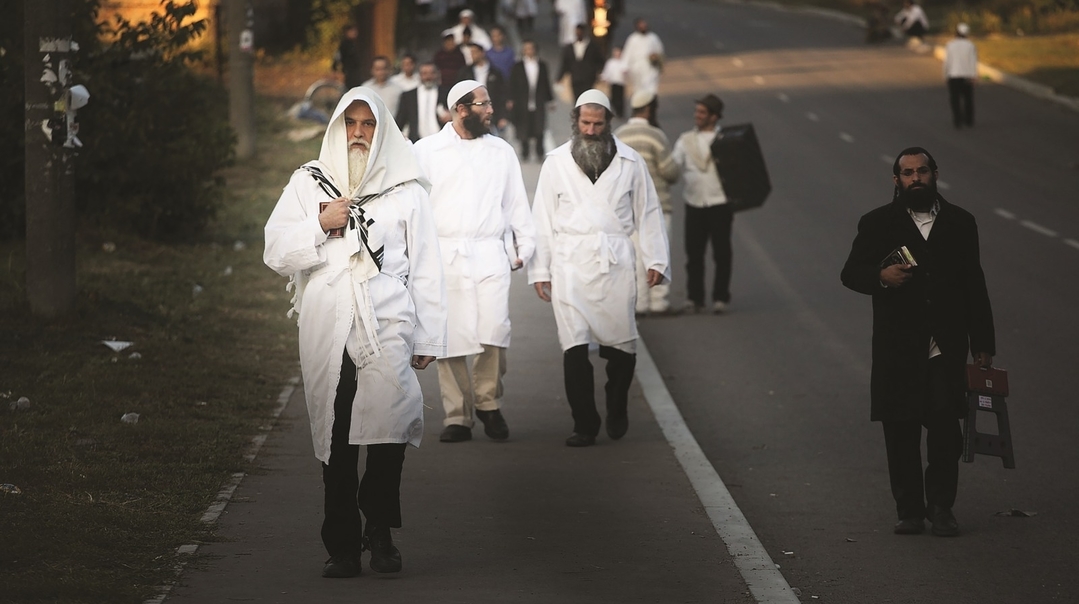 Photos: Flash 90, personal archives
When Breslover chassidim learned that the Ukranian government had declared a lockout on the annual pilgrimage to Rebbe Nachman's kever in Uman for Rosh Hashanah, banning foreigners from entry to the country starting last Motzaei Shabbos, they didn't waste any time. Hundreds of chassidim flocked to Ben Gurion airport and scrambled for remaining available tickets at inflated prices, in both direct and roundabout routes, in order to make it to Uman before the gates shut. Ukraine International Airlines added additional flights to Kiev and Odessa to fly the many anxious Breslovers into Ukraine before the ban was to take effect.
But making it to Ukraine didn't mean they were home safe in Uman. Chassidim who arrived Thursday morning were held for hours (many of them ordered to purchase return tickets to Israel) until the Israeli ambassador intervened and secured permission for them to continue on to Uman. But hundreds of chassidim who arrived on later Thursday flights, also before the deadline, were detained in the airport until an hour before Shabbos while Ukrainian authorities were insisting on sending them back on return flights on Shabbos. Following frantic diplomatic efforts and a bypassing maneuver by Interior Minister Aryeh Deri, the Israelis were released and allowed to spend Shabbos in Kiev, not knowing if they'd be deported Motzaei Shabbos. By Sunday, they'd all reached Uman.
Many veteran Uman travelers who didn't want to spend the next three weeks in Ukraine but who would like to make the trip before Rosh Hashanah are still hoping things will change until the holiday. Will the Ukrainian authorities decide to welcome the chassidim who have become regular visitors — and who give their economy a major boost — or will they keep the gates locked?
Anyone whose associations with Breslov are limited to images of white-yarmulke and jean-clad young men dancing in the streets probably can't help but wonder what the fuss is all about. Why are these chassidim working so hard, pulling all possible strings and pulling out all the stops to travel en masse to Ukraine when the world is still plagued by a pandemic? Why risk catching or transmitting a potentially fatal disease just for two days of prayer?
For Breslover chassidim, traveling to Rebbe Nachman's grave for Rosh Hashanah is a cornerstone of the entire year's avodah. The pilgrimage has traditionally included an element of hardship and sacrifice as well. Reb Nosson, Rebbe Nachman's prime disciple, once said, "Even if the road to Uman were paved with knives, I would crawl there — just so I could be with my Rebbe on Rosh Hashanah!" In fact, in Breslov, the obstacles (known as "meniyot") are an important part of any spiritual quest — they are the all-important tests of one's sincerity and dedication.
But this year, the pandemic has made all Jews question those very principles that used to seem so clear and basic, and terms like mesirus nefesh have taken on a new dimension. In a year when it was suddenly halachically preferable not to say Kaddish for a parent; in a year when visiting elderly relatives meant endangering their health; and when the very definitions of chesed, davening, and serving Hashem took on whole new proportions; the imperative for the Breslov pilgrimage to Uman has become murky as well. When the virus is still racking up casualties in Eretz Yisrael, when medical experts are cautioning about the risks, what's the right course of action?
For Israel's coronavirus commissioner Professor Roni Gamzu, the course is clear: Gamzu has been vocally opposed to this year's pilgrimage, announcing that worshippers would have to forgo the "party," predicting that it could prompt a major spike in coronavirus infections. "The hard way is not always popular. It is complex, it is complicated, and it takes time," Gamzu said.
Last Wednesday, Gamzu went so far as to ask Ukrainian President Volodymyr Zelensky to ban chassidim from entering Ukraine, raising the ire of several Orthodox MKs. Prime Minister Binyamin Netanyahu's office swiftly denied that the request came from Bibi, although Gamzu claims he didn't act independently.
Ukraine is one of the few countries that are currently allowing in Israeli nationals, despite the high coronavirus infection rate in the Jewish state. Still, in deference to the Israeli request, Ukraine Prime Minister Denys Shmyhal said last week's ban was partly in response to a plea from Israel to prevent an influx of chassidim traveling to Uman, fearing it may become a virus hot spot. "We must protect our citizens and show responsibility to our foreign partners," Shmyhal said.
While Gamzu called the decision — which is supported by Health Minister Yuli Edelstein — "responsible and correct" and "in the spirit of the time," which would "preserve the health of thousands of people in Israel and Ukraine," the next day, United Torah Judaism head and Housing Minister Yaakov Litzman called for Gamzu's ouster, claiming the coronavirus czar told Ukraine's president that "Jews will dirty his city and bring diseases."
Likud MK Miki Zohar lashed out at Gamzu, warning him during a news interview that the flights to Uman would happen anyway, and that he should prepare for that scenario "instead of sending letters to Ukraine in opposition to the prime minister's point of view."
A day later, Zohar's prediction came true: "After swallowing all this criticism over the issue of Uman, I have been proven right by the facts on the ground," he wrote on social media. "Instead of organizing closely supervised trips for around 6,000 chassidim [which Breslov rabbanim had been negotiating for] instead of the usual 25,000, with careful adherence to guidelines and so forth, what we have happening now is thousands of people traveling out there already without any supervision whatsoever."
In fact, flying direct or roundabout through other countries, about 3,000 chassidim have already arrived in Uman since the beginning of Elul, much to the consternation of Professor Gamzu. Is there a better way to face the reality of Uman during the year of the pandemic?
Make It Work
While many longtime Rosh Hashanah travelers have decided to forgo Uman this year due to health concerns, there are prominent Breslov chassidim who feel there's a way to make the trip responsibly. They point out that everything in Israel is open; there's no lockdown, and the beaches, theaters, and pools are all in use. Why not bring the same thinking to Uman? Instead of health ministry officials giving a blanket "no" to Uman, say these chassidim, they could have asked, "how can we make it work safely?"
That's the approach of Rabbi Nachman Benshaya, chairman of the National Secretariat of Breslov Chassidim. He's spent the last few weeks running from meeting to meeting with Prime Minister Netanyahu, coronavirus czar Professor Gamzu, chareidi MKs, and MKs from the coalition in order to figure out a safe way to travel to Ukraine, compliant with strict regulations.
"The issue of COVID-19 has become highly politicized," he said. "You see it in the US, with masks having become a partisan issue, and you see it in Israel. Obviously, it's a terrible disease that necessitates taking the most stringent precautions — and we plan to do that uncompromisingly. But blanket statements by Gamzu that Breslovers will not be allowed to fly to Uman for Rosh Hashanah fails to take into account the needs of a sector no less important than those who demanded reinstating air travel for other reasons."
Benshaya noted that since the coronavirus outbreak last March, chareidim have been no strangers to stigmatization. Fingers are still being pointed at the chareidi community as being mass-spreaders of the virus and for refusing to adhere to rules, conveniently ignoring maskless participants at mass protests, partyers, and beach-goers who have repeatedly defied corona regulations far more blatantly.
"The skies are open and people are traveling," said Benshaya. "In the last week, Israelis have found ways to fly overseas without having to go into quarantine upon their return, whereas when we drafted our guidelines for Uman, we made it clear that we would fulfill the full 14-day quarantine upon return.
"For weeks, we've been asking to meet with Health Ministry officials so that we could prepare a comprehensive plan with guidelines for every stage of the trip, but until last week, they refused to even sit with us."
Benshaya explained that to date, Gamzu's threats have succeeded only in exacerbating the problem. "Huge numbers of Breslovers have already traveled to Uman since the beginning of Elul to avoid being stuck, in the event that flights are canceled." The result, he says, is counterproductive. "If the government would listen to what we're saying and help us formulate a plan with clear guidelines, we'd have a process that we could control."
At the beginning of last week, before the announcement of the Ukraine lockout, Benshaya and a delegation of Breslov leaders including Rav Shalom Arush, Tzfas Breslov kehillah head Rav Ephraim Kenig, and Tzfas Agudah chairman Reb Nachman Gelbach, met with Netanyahu, Gamzu, Health Minister Yuli Edelstein, National Security Advisor Meir Ben Shabbat, and others. At the meeting they presented their plan which they'd already shared with the Ukrainian authorities, including coronavirus testing being administered both before leaving Israel and upon arrival in Ukraine, requiring every traveler to install a special app on their phones for immediate tracing, putting the entire area in and around the tziyun where the Breslovers will be staying under lockdown with no interaction between them and locals, bringing in a police quad to enforce all rules, and setting up quarantine facilities.
Rules and regulations, however, are meant for those who will follow them. Will they be enforceable among the groups of revelers who dance in the streets?
"This year's kibbutz, or Rosh Hashanah gathering, is going to be very different from all previous years," Nachman Gelbach emphasizes. No crowding will be tolerated anywhere on the premises. "What people need to understand is that the kibbutz in Uman not a festival, but an opportunity for prayer — and we intend for the prayers to take place according to the guidelines."
Gelbach points out that in any case, the crowds of past years won't be there since many are reluctant to go, leaving only the "hard-core chassidim" for whom traveling to Rebbe Nachman's grave for Rosh Hashanah has always been a matter of mesirus nefesh.
Moreover, Benshaya added, the risk posed by the gathering in Uman is highly exaggerated. "The people who arrive in Uman will have already been tested twice. There will be regulations that are stricter than even those implemented in Israel. Non-compliance will be met with sanctions, and everyone will self-quarantine upon their return."
What will happen in two weeks' time remains to be seen, but considering that many Breslover chassidim have proved themselves unstoppable with their undercover trips in the past, those in the know suggest it may be more realistic to set guidelines rather than an outright ban.
The Promise
Since the early 1990s when the Iron Curtain fell and Breslovers could again make the pilgrimage to Uman, Rabbi Moshe Binenstock has served as one of the baalei tefillah for the Rosh Hashanah davening. "People ask me why I schlep to Uman for Rosh Hashanah. Aren't there enough kivrei tzaddikim and holy places in Eretz Yisrael?
"The real answer is that when we travel to Uman, we're not going to a grave — we're going to Rebbe Nachman. We're fulfilling his explicit wishes that we come to him on Rosh Hashanah. Rebbe Nachman gave a promise, in the presence of two witnesses, that he would work to effect a tikkun for anyone who comes to his grave, says the ten chapters of Tikun Haklali, and gives a coin to tzedakah — at any time, but all the more so on Erev Rosh Hashanah. 'No matter how serious his sins may be,' said Rebbe Nachman, 'I will do everything in my power — spanning the length and breadth of Creation — to cleanse and protect him. By his very peiyos I will pull him out of Gehinnom!' "
But it's one thing to leave family, friends, and the comforts of home for two days of intense prayer – and quite another to camp out in a Ukrainian village for three weeks prior. What motivated the thousands of chassidim who have already arrived in Uman one way or another, knowing that they'd be spending close to a full month away from home?
For Rabbi Yosef M., a mashgiach at a yeshivah ketanah who descends from a family of longtime Breslover chassidim, the answer is simple. He says he's spent every Rosh Hashanah in Uman since he was seven and wasn't prepared to lose out this year. "The concern that this year I might not be able to travel to Uman led me and my wife to decide that the trip was important enough to sacrifice for, despite all the difficulties of being away from home for almost an entire month. You have to understand, Rosh Hashanah in Uman has long ago stopped being just for Breslovers. Each year, more and more people come on this holy journey and gain chizuk that's hard to describe. I assume there will be fewer people at the kibbutz this year, but even so, from what I've seen in the last few days here in Uman, people are trying to be careful with hygiene and masks."
Mrs. M. had mixed feelings at first. "When he started talking about traveling at the beginning of Elul," she admits, "I couldn't imagine being alone for so long. But when I saw how important it was to him, and how worried he was that he'd miss the kibbutz in Uman, I sent him with my blessings."
In Breslov there is a certain importance attributed to bringing boys to Rebbe Nachman's tziyun before they turn seven, and among the crowd already there are a lot of little boys, who've joined the existing local cheder for the next few weeks. And as far as food goes, the massive kitchens are already up and running.
Reb Nachum Karlinsky is one of the main organizers of the hachnassas orchim, and has close ties with the various philanthropists and organizers who work hard all year to ensure that all who come to the tziyun will have plenty of food. He works together with Reb Leizer Scheiner and Reb Zvi Bogomilsky, who contribute huge sums every year to provide quality meals not only for Yom Tov, but for the preceding days as well. This year, that means close to a month's worth of meals.
"It's important to the donors that we provide high-quality food that's also served aesthetically," says Karlinsky, who lives in Uman all year round, and is tending to the myriad details involved in feeding the thousands of Breslovers who've been arriving since the beginning of Elul. Several years ago, when he was still in the early stages of setting up the huge kitchens, Karlinsky reached out to the Ukrainian health authorities to arrange all the necessary food-safety protocols. Since then, he has been in regular contact with them, especially now, in the era of COVID-19.
"We're prepared for any scenario," Karlinsky says, indicating the huge dining rooms, which are spread out over an expanse of 20,000 square meters. Equipped to seat 15,000 for every meal, they've been altered to accommodate social distancing.
"The Ukrainian health authorities have divided the country into zones, in accordance with the infection rate, and we're gratified that Uman is considered a green zone. Based on that status, we were told that we can seat four at a table where we usually seat 12. In addition, we're closing up areas that will serve as 'capsules' and have set up hand-sanitizing stations at every entry and exit, about 100 in all. After every meal, we'll sterilize the entire area. We've also purchased extra packaging so that even if there is a lockdown, we'll be able to provide take-away meals."
Reb Leizer Carlebach, the manager of the hachnassas orchim, describes the mammoth operation that necessitates preparation over the course of the entire year. "Here we have to do everything ourselves. We needed challah, so we built a bakery. We needed meat, so we organized a team for shechitah and koshering. Vegetables we have locally, but we have to import bug-free greens from Israel." Ten shipping containers full of foodstuffs and disposable tableware come each year from the US.
Carlebach says they have no way of knowing how many people will come in the end, but they're nevertheless going ahead with their usual preparations. "What we did do is change the menu slightly — this year we're basing ourselves on non-perishable ingredients, such as canned goods that can be stored for next year, in the event that they won't be used," Carlebach says.
Carlebach and Karlinsky are part of a local Jewish community established in Uman six years ago, with 50 young families living here all year-round, and more coming during the summer months. Rabbi Yaakov Djan, a talmid of Rav Ovadiah Yosef, serves as the kehillah's rav as well as the shochet and mohel. There's a talmud Torah, headed by Rabbi Peretz Crown, as well as a girls' school. The kehillah also serves as a liaison with the Ukrainian authorities to help visitors to Uman.
According to Rabbi Crown, there are currently no cases of COVID-19 in the Uman community. "When the coronavirus crisis first erupted before Pesach, many of us became sick. Baruch Hashem, we received the proper care and medications, and since then there we're over it." The pediatrician who treats the local Jewish community, Dr. Olga Tereshko, also works as an infectious-disease specialist in the Uman hospital.
Carlebach added that the atmosphere in Ukraine regarding COVID is not as high pressured as in Israel. "Not everyone wears a mask in the street, although they do have to put on a mask before entering a store or even the open-air market," he says.
Plan in Place
While askanim continue to lobby the authorities in Israel on behalf of the Breslovers traveling to Ukraine, Nachman Klein of Hatzolah Tzfas, along with activists Yisrael Klein and Avigdor Landesman are getting the Uman Urgent Care Center up and running, which includes having a plan in place for COVID-19.
From its humble beginnings 15 years ago, when the clinic was established with the encouragement of then-Rav of the Tzefas Breslov community, Rav Elazar Mordechai Kenig ztz"l, the staff of doctors, nurses, and medics in this mini ER have been administering to most of the medical needs of the visitors to Uman on Rosh Hashanah, as well as at other times of the year. Treatment ranges from minor medical procedures, such as suturing small wounds, setting broken bones, and providing medication, to more serious issues requiring hospitalization, such as minor surgery, treating heart problems and infections, and more. Each year they expand and upgrade; last year they installed a computer program to manage the clinic's inventory of medications, devices and other items; this year, they received a donation of three ventilators.
The clinic employs six doctors and two nurses, all Hebrew-speaking non-Jews. "We fly in all our staff from Israel," explains Nachman Klein, the clinic's founder, who is also a medic and an ambulance driver. "One year, we used local Ukrainian doctors, but they have a very different approach to medicine, and the language barrier is a problem. When it comes to the types of medication and dosages, even a small error or misunderstanding can be catastrophic."
Given Uman's underdeveloped medical system, the clinic plays a crucial role in ensuring the health and safety of the Rosh Hashanah pilgrims. "Here in Uman, even purchasing a simple drug such as Tylenol can be complicated," explains Yisrael Klein, logistical director of the clinic. "The local pharmacists don't speak English, there's an issue of kashrus, and the drugs in Ukraine lack FDA or EU regulation."
While the clinic's staff have ties to the local hospital in Uman, patients with more serious issues are usually sent to the more developed medical center in Kiev, either by ambulance or helicopter, says Klein. "We're in regular contact with the medical centers in Ukraine as well as with local askanim who have been living in Ukraine for many years."
This year, the clinic is preparing for the challenges presented by COVID-19, still waiting to receive a plan of action from the Israeli government. But despite their preparedness and willingness to work with government guidance, none has been forthcoming.
"We will definitely set up a segregated corona unit, similar to what exists in Israel, with facilities for remote care and full protective gear for staff," says Reb Yisrael. "Those who test positive but who are asymptomatic will be placed in a quarantine hotel."
The team is optimistic. "We've dealt with difficult, complex scenarios in the past, and we've had the zechus to save lives, baruch Hashem."
Among the chassidim who come to the Uman gathering each year are doctors who agree to be on call in case of emergency. One of them is Dr. Binyamin Nemon, a Brooklyn family physician who, in addition to treating patients at the Urgent Care Center, runs the Chabad minyan in a tent provided by Reb Leizer Scheiner. "I see it as my shelichus," says Dr. Nemon, a Lubavitcher chassid, who says part of that shelichus is to stay on in Ukraine through Yom Kippur, shechting kapparos for the Jews throughout the region in six cities, and coming home in time for Succos.
But the question still remains: When so many of our previous assumptions about spiritual striving, communal davening, and personal priorities have been challenged and turned upside down by the coronavirus, should Breslover chassidim really be expending every possible effort and courting possible danger, disease, and disaster for two days of davening —no matter how transformative those days may be?
Rabbi Chaim Kramer, founder of the Breslov Research Institute and author of several books based on Breslov teachings, including Anatomy of the Soul, which have been translated into many languages, owns a charming, small-scale guest house in Uman with an attached mikveh he opened some 15 years ago for people who found it difficult to navigate the large hachnassas orchim setup. Many who now come to the Breslov kibbutz every year received their first taste of Uman in the uplifting atmosphere of Rabbi Kramer's accommodations.
Despite having recently recovered from a bout of coronavirus, Rabbi Kramer has no doubts about personally traveling to Uman for Rosh Hashanah. When asked whether he'd advise others to go, however, this fount of wisdom shakes his head. "Thank G-d, I don't have to choose for them. We have no idea what is going to be this year. They keep changing the rules every day. Im yirtzeh Hashem, we should just be able to get there and be safe."
Meanwhile, after last weekend's fiasco, Netanyahu has announced the appointment of Minister Zeev Elkin to head a team — which will include Health Minister Yuli Edelstein, Professor Gamzu, Foreign Minister Gabi Ashkenazi, and Interior Minister Aryeh Deri — to explore the possibility of creating guidelines for travel, in conjunction with the Ukranian Health Ministry. Breslov askanim say they hope a new agreement will be hammered out by the end of the week.
As for the dilemma itself, he says, "When someone asks me what I think they should do, I say to them, 'To tell you to go, I can't. Rebbe Nachman says in Sichos Haran 214, if someone asks you if they should risk their life, you cannot tell him to do it. On the other hand, I won't tell you not to go. That's the story. I can't tell you to go, and I will not tell you not to go.' "
My Rosh Hashanah
Why do a growing number of Breslov chassidim around the world feel such a deep yearning to daven their Rosh Hashana tefillos in a backward Ukrainian village?
The answer stems from a long-ago promise.
In September 1810, on what was to be the last Rosh Hashanah of his life, Rebbe Nachman was extremely ill with tuberculosis (and passed away several days later, on Chol Hamoed Succos), yet he repeatedly emphasized the greatness and importance of his followers' gathering around him on Rosh Hashanah. He said, "Hashem Himself gave me the gift of knowing what Rosh Hashanah is…. No one should be missing. Rosh Hashanah is my whole mission."
The following year, his disciple Reb Nosson went to Uman for Rosh Hashanah together with about 60 of the Rebbe's followers, thus instituting the annual Rosh Hashanah kibbutz of Breslover chassidim.
In the ensuing years, chassidim continued coming to Uman annually from Russia, Poland and even Eretz Yisrael, despite the months-long journey to reach Ukraine. During World War I and the ensuing Bolshevik Revolution, the border between Poland and Ukraine was sealed. The Polish Breslovers continued to gather for the kibbutz at Yeshivas Chachmei Lublin where they were hosted by the rosh yeshivah, Rav Meir Shapiro ztz"l, who also led the davening for one of the Rosh Hashanah tefillos. He would tell them, "You are chassidim without a rebbe and I'm a rebbe without chassidim…."
Rebbetzin Sara Gelbach, a direct descendant of Rebbe Nachman, was born in Uman and is one of the oldest surviving remnants of the era between the two world wars. She clearly recalls the elevated atmosphere in Uman when the Breslovers would arrive on Erev Rosh Hashanah from across Russia and Poland, on carriages, by train and on foot.
"The streets of the Jewish section of the city were teeming with Breslover chassidim. We were all very poor, but everyone took in guests, placing some straw on the floor to give them a place to sleep. Reb Moshe Yaroslavsky would come from Moscow by train, carrying sacks of flour to feed the many pilgrims. It was very dangerous, because thieves wouldn't hesitate to kill someone for a bag of flour."
From the mid-30s, communist repression made it impossible to continue with minyanim in public, and the authorities closed the kloiz, turning it into a metalworking factory. "One night my father took me to the kloiz, and we broke in through the back," Rebbetzin Gelbach recalls. "I helped him to remove all basins and other equipment and we took it all to our basement, where my father built a secret mikveh."
One year, the Soviets granted permission for the chassidim to gather in Uman on Rosh Hashanah, but this was only a ploy to discover their identity. Twenty-eight chassidim were caught; 16 were murdered and 12 were exiled to Siberia.
During World War II, most of the Jews in Uman were taken to a huge pit and shot; others were taken to the river and drowned.
After World War II, Breslov leader Rav Michel Dorfman organized a clandestine gathering in Uman for the few remaining Breslover chassidim scattered across Russia, whose members risked their lives during the tyrannical communist regime. One of the participants was Reb Yoel Shtraks Shuchmacher of Kharkov. Around this time, the Uman municipality started parceling out the land to residents to build homes, and Reb Yoel learned that there were plans to build a house on top of Rebbe Nachman's gravesite, which had been razed. Thanks to his connections in the municipality, Reb Yoel was able to ensure that a house would be built adjacent to, but not right on, the kever. He also arranged that the windows of the house would be overlooking the yard, so that there would be less chance of further construction there. Many pictures from this time show Rebbe Nachman's grave in the courtyard of a yellow house.
In the 1960s and '70s, Breslovers from Eretz Yisrael persevered in trying to reach Uman in various creative ways, sometimes even succeeding. Then, in 1988, with the advent of perestroika and the fall of the Iron Curtain, the Soviets allowed 250 people into Uman. The following year the crowd grew to over a thousand and doubled the year afterward. The numbers continued to increase exponentially to the point where last year, close to 50,000 people arrived in Uman from Israel, Europe, the US, and other parts of the world to take part in Rabbi Nachman's Rosh Hashanah.
For All the Nations
Dr. Magdi Qdah of Haifa, a non-Jewish resident of Israel, has been treating patients at the Uman clinic for the last six years. An internist at the Carmel Medical Center, he is now a senior ER doctor, and intends to specialize in respiratory diseases. Dr. Qdah has a special way with the many children who come to Uman with their fathers and sometimes need to be treated at the clinic. Last year, a patient asked him how many children he had, and he replied that he had been married for several years but was still childless. Moreover, his wife had a medical condition that made the prospect of children unlikely.
"Someone suggested that Magdi go to the tziyun to pray, but we weren't sure if that would appropriate," relates clinic director Yisrael Klein. "But when we asked Rav Ephraim Kenig, the rav of the Breslov community in Tzefas, he said, 'Of course. It states at the end of the davening: My House is called a House of Prayer for all the nations.' "
The doctor had never actually been to the tziyun before. "I didn't know what to expect," he said. "Suddenly, I felt overcome with the emotion of all my pent-up sorrow and yearning — I started to cry and couldn't stop for a long time. I still get goosebumps when I think about it."
Exactly 11 months later, Magdi and his wife became parents of twins, a boy and a girl. "I don't know how to explain it. It was a completely unexpected gift when there was no hope."
MUSINGS OF AN ANONYMOUS RABBI
I hope the chassidim make it to Uman this year. I really do.
I hope they have their minyanim, as usual, with convenient accommodations and pleasant flights.
But if not, then perhaps it's a time for a long-overdue conversation and it starts with looking inward, at our shuls and schedules.
I'm a rabbi at a fairly large, fairly relevant congregation, one with a busy office, active website, and many member families.
And over the years, we've "lost" many of our core members to Rosh Hashanah in Uman. Other colleagues in the rabbinate have experienced the same phenomenon, and it begs a question. And the question is on us.
The veteran Breslover chassidim, those who fathers and grandfathers went or dreamed of going to Uman — of course that's where they belong.
Those who've become close to Breslov through the seforim, who maintain a serious learning seder in Likutei Moharan and try to live with Breslover minhagim all year long — in tefillah, in simchah, in emunah — that's where they belong as well.
But let's be honest. So many of the tens of thousands who make the pilgrimage are Breslov only in regard to the Uman experience: That's where it starts and ends. No doubt, the inspiration is real; and no doubt, the tzaddik's zechus opens up gates of prayer for them. I understand why they go back. My question is why they had to go in the first place, if they really have no connection to Breslov during the three hundred and sixty-two days a year?
I know the answer. The answer is it's our fault.
They wanted connection and we gave them sound bites about politics. They wanted chizuk and we gave them lectures. They wanted someone to talk up to them and we talked down. They wanted to sing and we told them to listen to the chazzan.
Now, we have another chance.
Even if Uman happens, many of the ones who were going simply to "rebel" against the standard, same-old, unemotional davening will stay home. It's not yet certain what we'll be able to provide this year, if our shuls will be open — and if yes, indoors or outdoors? In small groups or together?
But whatever the case, we will have learned our lesson and try to bring in some of the fire of Uman. More talk about Hashem and less about politics. More honesty and genuineness. We will sing and sing again, stripping away the embarrassment until every child in shul is singing out loud. Rather than hiring pedigreed chazzanim, we will make sure that every person who stands by the amud is worthy, and when they cry, the tzibbur will cry along, because it's for real.
Whatever happens this Rosh Hashanah, give us a chance to try again.
It's what Rebbe Nachman taught, right? There's always another chance.
(Originally featured in Mishpacha, Issue 826)
Oops! We could not locate your form.
>