| True Account |
Night of Murder and Mercy | September 9, 2020
An uplifting Shabbos, a terrorist attack, devastating loss, and unspeakable pain laced with Divine mercy brought two men together in an unlikely, heartrending reunion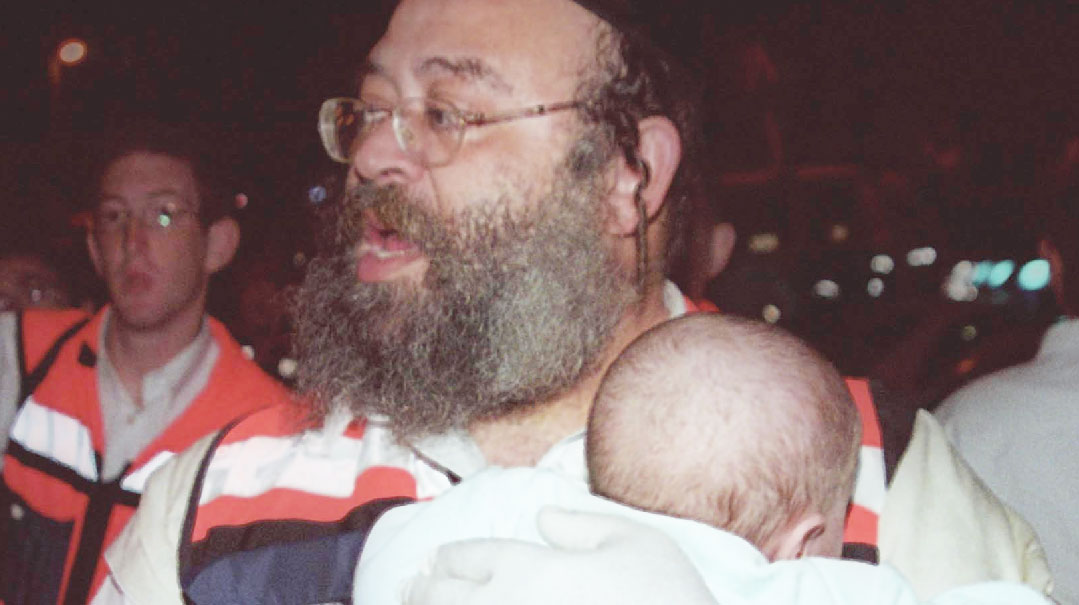 On a winter Motzaei Shabbos in 2002, the fate of Reb Oren Levy, a counselor at a yeshivah that was hosting families for a bar mitzvah, became forever linked to a begrudging guest whom Oren convinced to stay for Shabbos, despite the "too chareidi" look of the neighborhood. Twenty-six hours later, their lives joined in pain and devastation as a terrorist detonated a bomb and blew himself up, causing death and destruction as celebrants were taking leave of the holy day. Today, close to two decades later, Oren is still on site at the Machaneh Yisrael yeshivah in Jerusalem's Beis Yisrael neighborhood, a place that witnessed unimaginable pain together with heart-stopping miracles, and which has become a magnet for Selichos during these days of mercy.
Friday, March 1/17 Adar, 2002.
Oren Levy, a young married man and father of a six-month-old son, was a kiruv activist, counselor for at-risk youth, and an avreich at the Machaneh Yisrael yeshivah on the outskirts of Meah Shearim. The primarily baal teshuvah yeshivah also operated a guesthouse, hosting families who wanted to experience a genuine Shabbos in the heart of the chareidi neighborhood, and Reb Oren was in charge of organizing these weekends. He was on hand to give each guest family the keys to their room, took care of providing abundant meals, and even took them on tours of the neighborhood.
That Shabbos was a packed double affair, as two families — the Chazans and the Habajis — would be celebrating bar mitzvahs for their children. Both families were becoming more observant, and they wanted their relatives to be introduced to the type of Judaism they'd discovered.

The guests arrived one after the other, some not observant, some more traditional, but they came with a willingness to respect their relatives and participate in their celebration. For some, it was the first Shabbos they would be fully observing.
Reb Oren understood firsthand the substantial challenge this Shabbos posed. Twenty families were expected for Shabbos — twelve for one event and eight for the other. He himself had experienced the teshuvah process, from serving in the IDF's elite naval unit to joining a yeshivah and finding his way back to a life of Torah and mitzvos.
Reb Oren flashes back to the beginning of that Shabbos, to a conversation that would change his life. "About 15 minutes before candle-lighting, one of the families that was supposed to stay with us arrived. They knew they were coming to a religious neighborhood, but this was a bit too much for them. They felt like they'd been kidnapped and dropped in Meah Shearim — so many shuls, so many chassidim and shtreimels! Not exactly what they'd had in mind. This is not where Shimon Ilan wanted to spend Shabbos. He decided to turn around and leave."
Oren was watching this unfold. He glanced at his watch and saw that the Shabbat siren would sound in just a few moments (in Jerusalem candle-lighting is 40 minutes before shkiah, so he had a bit of extra time). Shimon had already gotten into the driver's seat of his car, and without too much deliberation, Oren opened the door of the passenger seat and sat down too.
"I'm going with you," he announced.
"But I'm going home," Shimon explained.
"I understand," Oren replied, as he clicked his seatbelt. "Listen, do you know what kind of wonderful, uplifting Shabbos we have planned for you? Your sister-in-law worked so hard for this Shabbos. What's the matter? Won't you respect her and dedicate 24 hours to your Creator, whether or not you've decided if you really believe in Him?"
Shimon had just about reached the Bar Ilan intersection, when he raised his arms in resignation. He turned around, drove back to the yeshivah and cut the engine.
"All right, you convinced me," he told Reb Oren as they got out of the car and went inside to greet the Shabbat Queen.
"When I realized that this Yid was going to desecrate Shabbat, and perhaps even lose the opportunity of his life to see what a pure and holy Shabbat looks like, I was very distraught," Oren explains years later. "I davened to Hashem to put the right words into my mouth that would make it possible for this Jew to experience a Shabbat that could change his life, and could influence his wife and children as well."
The Shabbos was indeed uplifting. For Kabbalas Shabbos, Oren walked with the families to the Kosel, and after the seudah, they went to a tish, visited Rav Kadouri, and got a brachah from the Slonimer Rebbe.
But the dreamlike atmosphere turned into a nightmare just as Shabbos ended. A little after 7 p.m., as the streets around the yeshivah were crowded with people coming out of shul after Maariv, a terrorist detonated a 20-kilogram bomb right next to a group of women waiting with their baby carriages and little kids in tow for their husbands to emerge, blowing himself up just as the family and bar mitzvah guests at Machaneh Yisrael were beginning to leave. Ten people — eight of them relatives of the celebrants, including infants and siblings — were killed, and over 50 were injured, many severely.
At the end of the first Shabbos he had ever experienced , Shimon Ilan's two children, 12-year-old Lidor and his baby sister Oriah, 18 months, lost their lives.
I Gave Eight
Eighteen years have passed since that devastating Motzaei Shabbos, but for Oren Levy, nothing has faded.
"I wish I could forget," he says.
But he doesn't forget. Images of blood and fire flood his mind; the smells, the screaming, the horrific sights, the little children who were playing just moments before on the sidewalk, the bar mitzvah boys whose day of joy became one of grief, the dead, the wounded, the families that shattered apart…
But like so many others who came out alive, Oren experienced his own miracle.
"The explosion happened a second after one of the guests gave me the key to his room, as we were standing outside the building," he relates. "I bent down to mark a check on my list, and that's when everything blew to pieces. I felt the shrapnel flying over my head. The terrorist was standing very close to me, so it was really unfathomable that I was spared. My wife was injured by the shrapnel and our baby son was thrown from her arms and flew 50 meters away, landing under a car."
(This baby was reported rescued by ZAKA's Bentzy Oiring, minutes before the car went up in flames, and was taken to the hospital while the whereabouts of the parents were yet unknown.)
"It all happened in a fraction of a second," he adds. "A moment earlier I was talking to the man next to me, and a second later, he collapsed and fell onto me. His two sons, aged nine and seven, didn't understand what happened to him and they grabbed me by the arms and legs."
During those difficult moments, amid the chaos, the excruciating pain, and the wailing shrieks, Oren somehow herded the group of children that remained on the sidewalk into the building so that they should see as little as possible, and to get them away from the danger zone.
"I was operating on automatic pilot," he recalls. "I didn't really understand what I was doing, but I sensed that this was the right thing to do."
A few minutes later, his legs buckled and he felt the searing pain that prevented him from taking even one more step. He was taken to the hospital, but he was frantic with worry, not knowing what had happened to his wife and son.
"There were a few babies who were blown out of their mothers' arms, and two of them were killed," he says. "At first, no one knew who the babies belonged to. So each of us searched a different hospital, and it took many hours until I learned that my wife and baby were alive."
While in the hospital, he witnessed something unforgettable.
"Hospitalized in the same ward was Savta Chana — the grandmother of eight of the victims of the attack. I had met her over Shabbos — a special, refined woman who had come to celebrate the bar mitzvah of her grandson and to rejoice with her family, and suddenly finding herself dealing with an unspeakable tragedy. I remember journalists and interviewers approaching her and asking her to comment.
"One of them asked her, 'And what do you have to say to G-d about what happened?' Everyone fell silent, wanting to hear what a woman who had lost eight of her progeny had to say.
"She made a tremendous Kiddush Hashem by replying, 'I want to tell HaKadosh Baruch Hu that Chanah the tzaddeiket gave Him seven mizbechot, and I, Chana from Rishon L'Tzion, gave Him eight.' "
Nothing to Say
Three days after the attack, while his wife and baby were still hospitalized in serious condition, Oren made a decision: He would go and be menachem avel Shimon, the man he convinced to stay, now sitting shivah for his two children.
"I was on my way, the sounds of that night still ringing in my ears, a sound I still can't get out of my head. I was thinking about what I could possible say to this person who probably feels like I destroyed his life. I remember davening to Hashem to give me the wisdom and the words. I also steeled myself for a possible harsh welcome, and told myself I would accept it all with love."
With trembling knees and a broken heart, Oren arrived at the shivah house. For the first few minutes, the bereaved parents didn't notice him — they were being comforted by Rav Benayahu Shmueli, head of the Kabbalah yeshivah Nahar Shalom.
Shimon was sitting next to his wife on the floor, hugging his murdered son's pillow murmuring in anguish: "This is all I have left from him…" Then his heartrending sobs sliced the room. No one could bear the pain. And then he turned to Rav Shmueli and cried, "Why did this have to happen to me? We kept Shabbat and we tried, so why did G-d do this to us?"
"I stood in the corner of the room," Reb Oren remembers, "and wished the floor would swallow me up. But it didn't, so I could hear Rav Shmueli explaining to him, unequivocally, that if chalilah it is decreed upon a person on Rosh Hashanah to depart from this world, and that decree is signed on Yom Kippur, then Hashem will make it happen. It has no connection to what we do and what will happen to us. Moreover, the Rav emphasized that it was a tremendous zechut for the children that before departing this world, they merited to keep Shabbat."
As soon as Rav Shmueli finished speaking, someone leaned over and whispered to Shimon, "There's someone here from Jerusalem, from the place where you stayed, who came to be menachem."
Reb Oren stepped forward, and his gaze met the swollen eyes of the bereaved father.
What's there to say at such an encounter?
"I was trembling from head to toe. Finally I whispered, 'I have nothing to say to you.'
"And then," Reb Oren's voice cracks, "the unbelievable happened. Shimon stood up, hugged me and kissed me, and made me sit down right across from him.
" 'Sit,' he said. There was absolute silence in the room.
"Everyone looked at me, expecting me to say something, but I just repeated the words I had said before: 'I have nothing to say.'
"In response he said, 'You don't have to say anything, I'm beginning to understand.' "
And then, as if no one else was around, Shimon — who was in a wheelchair himself at his children's funeral due to a shrapnel wound — asked how Reb Oren was doing, and how his wife and son were. Reb Oren replied that they were in the hospital and needed Heavenly mercy.
"They're in the hospital and you came to me?" Shimon chided. "You should go back to them right now."
"As our conversation continued, Shimon became my teacher," Oren says. "Three days after losing two of his children, he accessed his core of emunah. We spoke about the fact that amid the pain and the grief, it's impossible to ignore the fact that we experienced miracles — we remained alive, although we were inches from death. Ten people standing next to us were murdered, and we survived.
"He told me how his son had insisted on sitting in the car because he didn't want to play with the children on the sidewalk. And yet, one of the pieces of shrapnel hit him and mortally wounded him. He also related that his wife was with their baby on the fourth floor of the building, and had just begun to descend the outdoor stairs. One of the pieces of shrapnel hit the baby's head and she died on the spot. The two children were separated by a building and a street, but their fate was one and the same. We, in contrast, were right next to the terrorist and we emerged with a bit of shrapnel. It's as if Hashem picks each person out with a tweezer and seals his fate."
Oren returned to his yeshivah and asked the bochurim and avreichim to daven for the couple, who were left only with an eight-year-old daughter. He also went to gedolei Yisrael and pleaded with them to daven for these people. Eleven months later, Shimon and his wife had a baby boy, and a year after that, another girl.
"The day of the baby's brit was the same day the family held a hachnassat sefer Torah in memory of the children," Oren relates. "The brit was in the morning and the hachnassat sefer Torah was in the evening. They invited me to both events, and since then, we've remained in closed contact — almost like family."
Waiting for the Redeemer
Nearly two decades have passed, but in contrast to people who try to escape the past and their painful experiences, Reb Oren still finds himself in the neighborhood every day, never forgetting the blood-splattered sidewalks.
"Today, there is no more guesthouse there and the place has changed," he says. "And I admit that even as the years have passed, I still find myself wincing in pain. Ten Jews were murdered, Hashem yikom damam. Families were destroyed, parents remain bereaved, and children, now adults, will still always be orphans. But I personally feel consoled knowing we're in Hashem's Hands and that we're closer than ever to geulah sheleimah."
Still, it's these very streets that draw people back to something beyond their everyday existence. These weeks, Oren is spending his nights taking curious worshippers on guided "Selichos tours" of the neighborhood (the Sephardi minhag is to say Selichos every day from Rosh Chodesh Elul).
"It never ceases to inspire me how Klal Yisrael wants to come closer," he says. "Even those who seem the most distant come and ask to visit these shuls, to hear the tefillot, to join the chazzan and the piyutim… To me it seems that, specifically in these times of strife and division in Israel, when people are feeling so uncertain, they come willingly, in order to encounter Judaism face to face."
(Originally featured in Mishpacha, Issue 827)
Oops! We could not locate your form.
>