| For the Record |
Mourning Their Master
| July 13, 2021
"With the sudden, tragic death of Rabbi Yosef Adler, American Jewry lost one of its talented and productive personalities"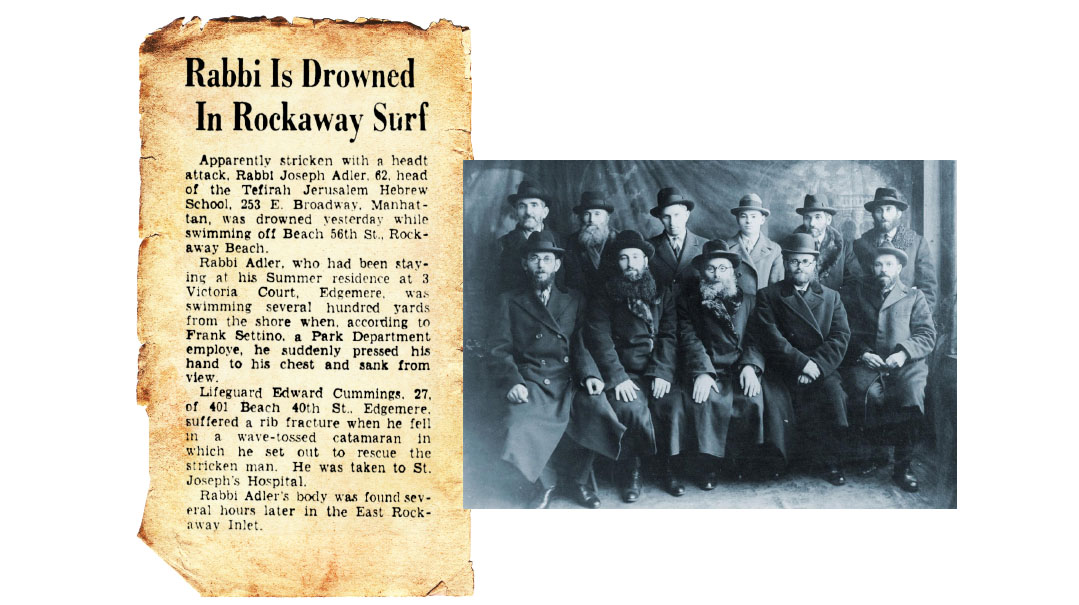 Title: Mourning Their Master
Location: The Rockaways
Document: Brooklyn Daily Eagle
Time: 1938
Not long after the 1929 founding of Mesivta Tifereth Jerusalem on the Lower East Side, Rav Yosef Adler was hired as the menahel. Born in Kletzk, he had studied in Volozhin and Eishyshok, where his vast Torah knowledge earned him the title "Kletzker Illui." He also studied at the Kovno Kollel before immigrating to the United States with his family in 1912.
Rav Yisroel Belsky related that his father, Rav Beryl, counted Rav Yosef Adler among the great gedolim of the time. Rav Adler was involved in the hiring of Rav Moshe Feinstein — his cousin — at MTJ. One of Rav Moshe's early students recounted how Rav Adler introduced him in 1938: "Whenever we needed a rosh yeshivah, I brought a great talmid chacham from Europe. After a while, you grew in Torah and needed a bigger rosh yeshivah. I'm not getting younger, so I decided to bring you a rosh yeshivah who would know enough no matter how much you grow in learning."
He couldn't have been more correct.
Rav Adler spent his summers in the Rockaways, where he'd rise for an early ocean swim before beachgoers arrived. One Friday a freak storm hit while he was swimming. Struggling amid the heavy winds and torrential rain, he suffered a heart attack and perished. His talmidim penned a moving eulogy:
With the sudden, tragic death of Rabbi Yosef Adler, rav of the Slonimer shul and rosh yeshivah of Mesivta Tifereth Jerusalem, American Jewry lost one of its talented and productive personalities. His educational philosophy was that not only must students be taught the information, they must also be given the tools to go ahead and study on their own. Indeed, many of his students have become leading rabbis and lay leaders, a tribute to Yiddishkeit in America….
His relationship with the students was an informal one; he was not only a rebbi, he was also an older friend.… On the most frigid nights, one could see Rabbi Adler making his way down East Broadway… to walk up to the fifth-floor dormitory rooms to make sure that his charges were sleeping and had adequate heat. No wonder, then, that they adored him... and that several of them joined the family in tearing kriah at the funeral for their beloved rebbi...
He lived his life quietly and unassumingly, undisturbed by the tumult so often associated with Jewish life in America. What he did find difficult was the pretentiousness and bombast that is so prevalent, unfortunately, in our communal life.
We mourn those who have passed on and cannot be replaced.
Makeshift Mesivta
In 1923 Rav Adler was hired as eighth-grade rebbi at Torah Vodaath, and for the next three years "advanced" with his class. These boys wished to continue studying in Torah Vodaath, despite the fact that the mesivta had not yet officially opened. Rav Adler taught them in the morning, and at 2:30 p.m. they would attend general studies classes at RIETS. With the opening of the mesivta, those original eighth-graders were the senior class, with Rav Yosef as their maggid shiur.
Tragedies Abound
In 1966, Rav Adler's son Rabbi Morris Adler was shot while delivering a Shabbos sermon in front of hundreds of worshippers at Temple Shaarey Zedek in Southfield, Michigan, by a congregant who had suffered a mental breakdown. A month later, he died of his wounds and was buried with 15,000 in attendance.
(Originally featured in Mishpacha, Issue 869)
Oops! We could not locate your form.
>