| For the Record |
A Philadelphia Revolution
| August 10, 2021
The visit of Rav Moshe (among other gedolim) was the brainchild of Dr. Shimon Askovitz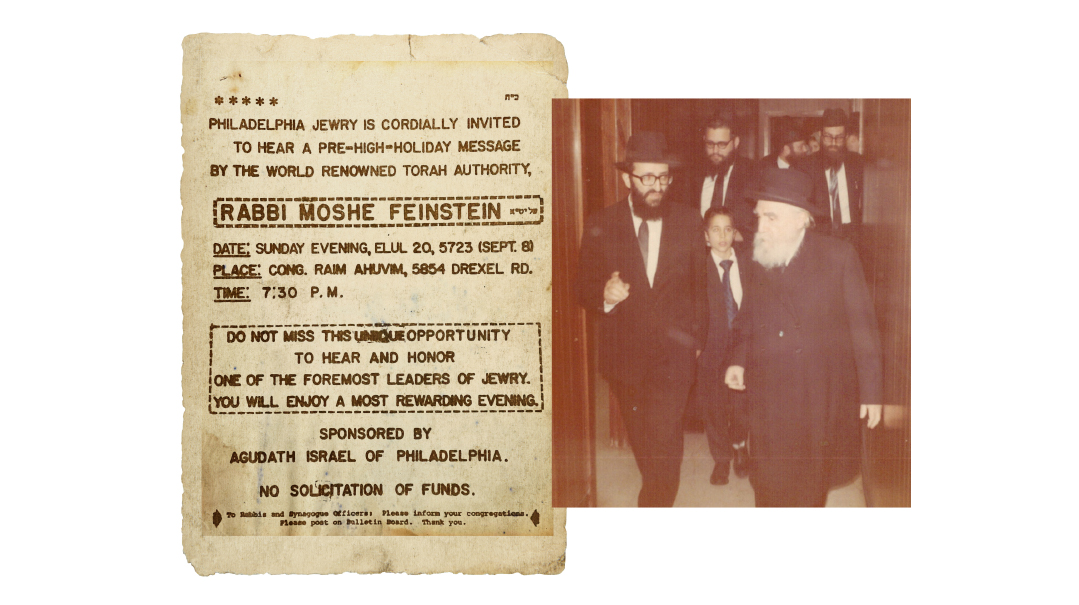 Title: A Philadelphia Revolution
Location: Philadelphia
Document: Circular
Time: 1963
After Rav Aharon Kotler's passing at the end of 1962, the torch of Torah leadership of US Jewry passed to Rav Moshe Feinstein and Rav Yaakov Kamenetsky. Soon afterward, Rav Moshe visited Philadelphia, where he toured the local mikveh, delivered an in-depth shiur at the nascent Talmudical Yeshivah of Philadelphia, and gave a pre-Yamim Noraim drashah at Congregation Raim Ahuvim. The visit was arranged by the Philadelphia chapter of Agudas Yisrael, led by Dr. Shimon Askovitz and assisted by other local Agudists Isaac Friedman, Erwin Weinberg, and Dr. Joseph Brown.
While the Agudah apparatus in Philadelphia was small, its tireless efforts to raise the standards of Yiddishkeit in town saw much success. Interwar Philadelphia was teeming with recent immigrants, struggling to make ends meet in the crowded South Street Jewish quarter. Pushcarts, the wholesale food market, the garment trade, and even a Yiddish theatre all became components of the Jewish immigrant experience. Within this milieu, religious practice often fell by the wayside.
Chaim Uri Lipschitz, son of the "Philadelphia Rebbe," Rav Moshele Lipschitz, inaugurated a chapter of Zeirei Agudas Yisrael in the late 1930s. One of the group's successful endeavors was a shemiras Shabbos campaign conducted along with the Young Israel in 1942. The youth conducted weekly marches, encouraging Jewish storekeepers to close their businesses on Shabbos. Canvassing the city throughout the week, they prevailed upon local housewives to sign a petition not to shop on Shabbos. The campaign's success prompted local non-Orthodox clergy to write an op-ed criticizing the efforts of the "Jewish pranksters." This Agudah chapter also joined the efforts to raise funds for the Vaad Hatzalah during the war, and maintained an annual ma'os chitim campaign for the community's needy.
Doctor, Activist, Hidden Tzaddik
The visit of Rav Moshe (among other gedolim) was the brainchild of Dr. Shimon Askovitz. A Philadelphia native, he achieved local renown winning chess competitions as a young child. He breezed through medical school and had articles published in prestigious journals. At 19 he was on the math faculty at the University of Pennsylvania. While he was an ophthalmologist by profession, his home and office were strategically located near the Philadelphia Yeshivah, where he spent much time engrossed in Torah study.
As a specialist in his field, he could have used his wealth for himself, but when he bought a new house, he converted an entire floor into guest rooms. Patients arriving from across the country seeking his advice would be offered a place to eat and sleep. He'd treat them as honored guests and personally serve the poorest and downtrodden. Following his untimely passing in 1980, it became known that he gave as much as 80 percent of his earnings to tzedakah.
While he never attended yeshivah as a child, he learned enough Torah himself such that his close friend Rav Yitzchok Ruderman stated, "He knows every halachah in the Mishnah Berurah by heart." Rav Mordechai Gifter, whom Dr. Askovitz once brought to Philadelphia, later related that the entire trip was worthwhile merely "to stay at Dr. Askovitz's house long enough to hear him recite Bircas Hamazon."
Kennedy's Commemoration
Dr. Askovitz was among those honored at the Philadelphia Yeshivah's tenth anniversary banquet in November 1963, an event heralded by the local media due to a tribute that JFK had written to the event's organizers just a week before his November 22 assassination: "I am deeply mindful," President Kennedy wrote on November 15, "of the substantial contribution made to the strength and vitality of the spiritual forces of our nation through the adherence of persons of Jewish faith to the high principles and teachings of ancient Israel."
Harbinger of History
In 1914, nearly a half century prior to Rav Moshe Feinstein's Philadelphia visit, Rav Aharon Walkin of Pinsk and Rabbi Meir Hildesheimer of Berlin visited America on behalf of Agudas Yisrael, with Philadelphia a key stop on their itinerary. Speaking to a local reporter, Rabbi Hildesheimer extolled the ability of the Agudah to empower traditional communities in the struggle against the inroads being made by modernizers.
(Originally featured in Mishpacha, Issue 873)
Oops! We could not locate your form.
>