| Recipes |
Moroccan Meat Soup
| September 26, 2023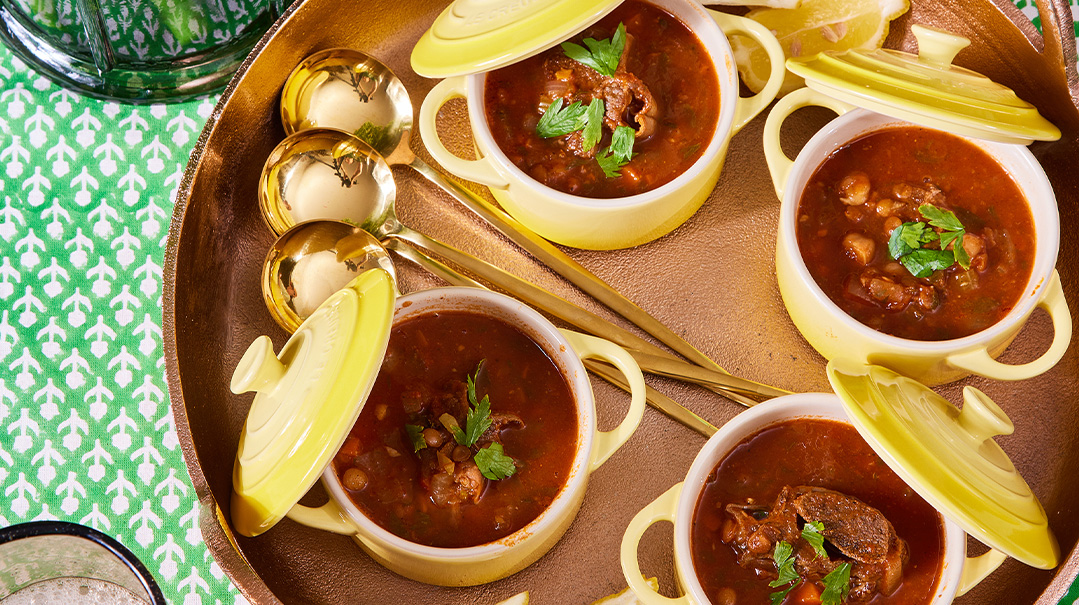 Food and Prop Styling by Shiri Feldman
Food Prep by Chef Suzie Gornish
Photography by Felicia Perretti
With thanks to Elegant Linen for the beautiful tablecloth used in these photos.
There's nothing that satisfies as much as a warm bowl of soup on a cold Succos night. The addition of flanken to this Moroccan delight will appeal to every palate.
SERVES 8
3 Tbsp olive oil
1 lb (450 g) flanken, sliced between the bones
1 Tbsp kosher salt, plus more for seasoning
1½ tsp pepper, plus more for seasoning
1 large onion, diced
3 stalks celery, finely diced
1 carrot, finely diced
4 cloves garlic, crushed
1 15-oz (425-g) can chickpeas, drained and rinsed
½ cup chopped fresh parsley, leaves only
1 Tbsp ginger
½ tsp coriander
¼ tsp cayenne pepper
1 tsp cinnamon
½ tsp turmeric
⅓ cup lentils
1 15-oz (425-g) can tomato puree
2 Tbsp lemon juice
9 cups water, divided
¼ cup tomato paste, mixed with 1 cup water
In a 6–8-quart pot set over medium-high heat, heat olive oil. Lightly season meat with kosher salt and pepper. Add meat to heated oil and brown for 2–3 minutes per side. Add onion, celery, carrot, garlic, chickpeas, parsley, ginger, coriander, cayenne, cinnamon, turmeric, lentils, 1 Tbsp kosher salt, and 11⁄2 tsp pepper. Brown for 3–5 minutes.
Stir and add tomato puree, lemon juice, and 3 cups water. Cover pot and bring to a boil. Reduce heat (keep pot covered) and keep on a low boil for 1 hour.
Add tomato paste mixture and remaining 6 cups water. Cover pot and bring to a boil. Reduce heat to medium-low and cook an additional 1 hour. Season with additional salt and pepper to taste.
(Originally featured in Family Table, Issue 862)
Oops! We could not locate your form.
>