Everyone can relate to a powerful song of inspiration at a kumzitz or during tefillah, but it's often fleeting unless it's put into something tachlis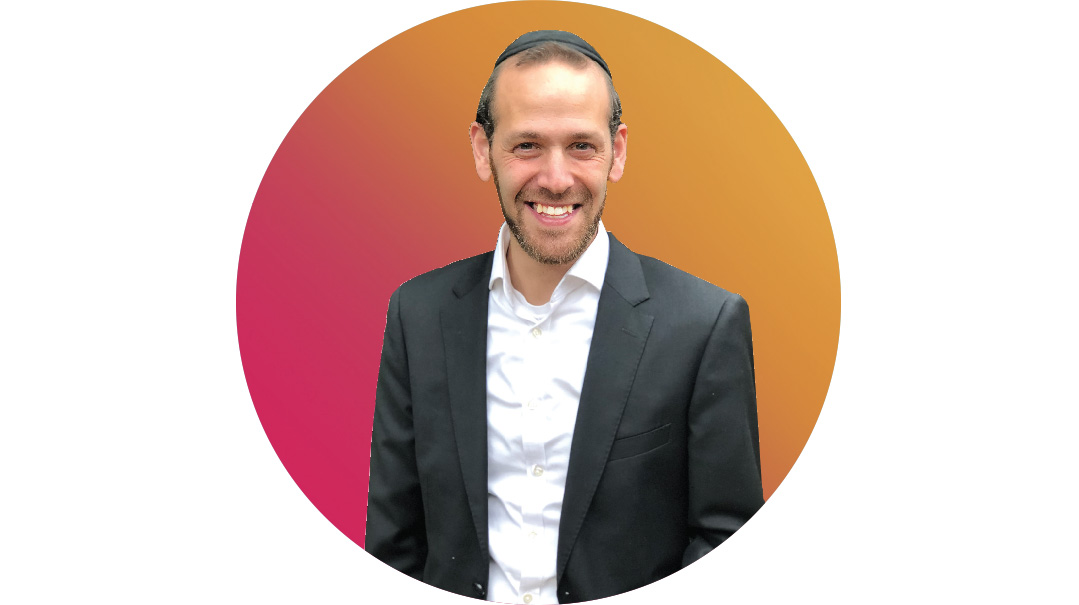 He's a founding member of Kehillas Bais Yisroel in Far Rockaway, New York, and the director of this summer's debuting Camp Maaminim in Swan Lake, yet many still remember YOSEF WARTELSKY as the child's voice of Shalsheles's kumzitz classic "Esa Einai." While Yosef's klal work is his oxygen (he helped raise close to $1 million for families of the victims of the Har Nof attack and ran a sefer Torah campaign in memory of the victims of the Mercaz HaRav slaughter), his voice grew up with him too — he's a requested baal tefillah and a popular wedding badchan, and even released a hartzige single of his own composition, "Kah Keili."
MY ALL-TIME FAVORITE ALBUM
Go pick between Abie's Journeys 3 and MBD's Tamid B'Simchah. That's like asking someone smack in the middle of winter what their favorite Yom Tov is. Each one is treasured, and does exactly what it needs to do in its time. I love albums that sound authentically Yiddish and make you feel that way. Although I consider myself a Jewish music traditionalist and I prefer the oldies, a lot of the newer songs are so pure too. They strike a chord that resonates with our generation because the messages tap into our struggles, challenges, and triumphs.
MY FIRST RECORDING EXPERIENCE
As a member of the Tzlil V'zemer choir in the late 1990s, I sang on Hear Us Now and Hooked on Chanukah, which can still be heard on store loudspeakers around Chanukah time. My kids always get a kick out of hearing me singing on it. At around the same time, I had the privilege of going to the studio with Rav Shmuel Brazil and singing on his Shuvu el Hashem album. Reb Shmuel was makpid on each kneich and kvetch, and showed me that it isn't enough to sing a song, you have to feel a song — because the listener can sense it. But the most famous solo I recorded was "Esa Einai" on the first Shalsheles album in 1999. The song really took off, and even as a young kid, I recognized what a privilege it was to inspire so many.
A SONG THAT ALWAYS MOVES ME
MBD's Yiddish song "Modim" on the Kulam Ahuvim album. It's the story about the Chofetz Chaim explaining to a mispallel who inquired about the length of his Shemoneh Esreh. The Chofetz Chaim said it's because he always gets stuck at the brachah of Modim and simply can't move on when contemplating Hashem's kindness.
WHERE MY PASSION FOR JEWISH MUSIC COMES FROM
My parents. My father always loved music and brought us to the early HASC concerts, and he was never shy about the nachas he shepped each time I davened from the amud. He pushed me to sing at every simchah, which was unquestionably a major factor in my early music development. My mother a"h was the one who drove me back and forth to choir practice, which wasn't very close to our home. She recognized the healthy outlet it provided and did whatever she could to provide me that opportunity.
MY EARLY START
The first chuppah I sang at was for a couple who was supposed to get married the night of the blizzard of '96 . The wedding was pushed off for two nights but the singer still couldn't make it, so even though I was just a little kid, I was called on to fill in.
A COMPOSER I HAVE A SPECIAL RELATIONSHIP WITH
I would never have the chutzpah to call my rebbi a composer, because he is a gadol, posek, and breathtaking talmid chacham. But Rav Dovid Cohen has composed some exquisite niggunim. His "Oim Ani Choimah," which was recorded on the Yeshiva Chaim Berlin record in 1960, is very famous, but some of his lesser-known compositions, like "Shuvi Nafshi" and "B'ni Avshalom" are potent masterpieces too.
A SONG I HOPE MY KIDS WILL APPRECIATE
Songs like Avraham Frieds's "Yachid V'rabbim" or "Tanya." My kids don't enjoy when I sing them, to say the least. But they'll appreciate the songs one day, I hope.
AN INSTRUMENT I WISH I PLAYED
Violin. Aside from loving the sound, it just feels like such a Jewish instrument.
MY MOST MEMORABLE PERFORMANCE
I'm privileged to have a connection with the Modzhitzer Rebbe from Bnei Brak. A few years ago I davened from the amud when the Rebbe was visiting New York and came to daven in Kehillas Bais Yisroel in Far Rockaway. Afterward, the gabbai called me over to the Rebbe. I was asked if I would come to Eretz Yisrael for the chasunah of his first einekel, which of course I did, and ended up singing at the Friday night and Shabbos day aufruf tish. After Shabbos I had the zechus of recording one of the Rebbe's songs.
THE SONG PLAYING IN MY HEAD RIGHT NOW
Considering all that has been going on in Eretz Yisrael recently, "A Yid," composed by Chayala Neuhaus and sung by Benny Friedman. If you need a song to lift you through something, this is it.
MY MOST SIGNIFICANT MUSICAL MEMORY
My zeidy, Yitzchok Yaakov (Itzu) Grunberger, was an incredible baal tefillah, not only because of his beautiful voice and nusach, but because of his hartz. The sound of his tefillos and niggunim was interwoven with tears of pain for what he had lost during the war, yet filled with joyful thanks for what he was able to rebuild. Those memories of Zeidy make me feel that he probably still sheps nachas when I have the zechus of being the baal tefillah.
WHAT A SONG CAN DO
Everyone can relate to a powerful song of inspiration at a kumzitz or during tefillah, but it's often fleeting unless it's put into something tachlis. That said, there's nothing like the right song at the right time to help refocus an adult's frame of mind, to soften a teenager's tough edge, or to open a child's heart. I sometimes sit down at the piano if I'm grappling with a challenge, or when I'm feeling overwhelming gratitude. When music becomes a tool on the path of avodas Hashem, it can do wonders.
THE PLACE MY TALENT DEVELOPED MOST
That's an easy one: Camp. I spent my entire childhood camp life, and many adult years as well, in Camp Munk. Camp should be a place where every person is learning about and developing potential they may never have known they had. Camp Munk is famous for its Camp Munk Circus, which I was a part of from my first year in camp, and produced for a number of years when I was there as married staff. It's an incredibly powerful tool, enabling boys of every age to develop a multitude of talents — acting and singing and acrobats, of course, but more importantly, confidence and self-esteem that lasts a lifetime.
This year, I embarked on a dream of opening my own camp, but before I could pull the trigger on my decision to move forward with opening Camp Maaminim, there was one conversation I knew I had to have — with Reb Pinchos and Shuly Munk. Firstly, I wanted their brachah, and secondly, I wanted them to know that I owe anything I have to offer the frum camp world to Camp Munk.
(Originally featured in Mishpacha, Issue 861)