| Whats Cooking |
Meal In One | October 26, 2021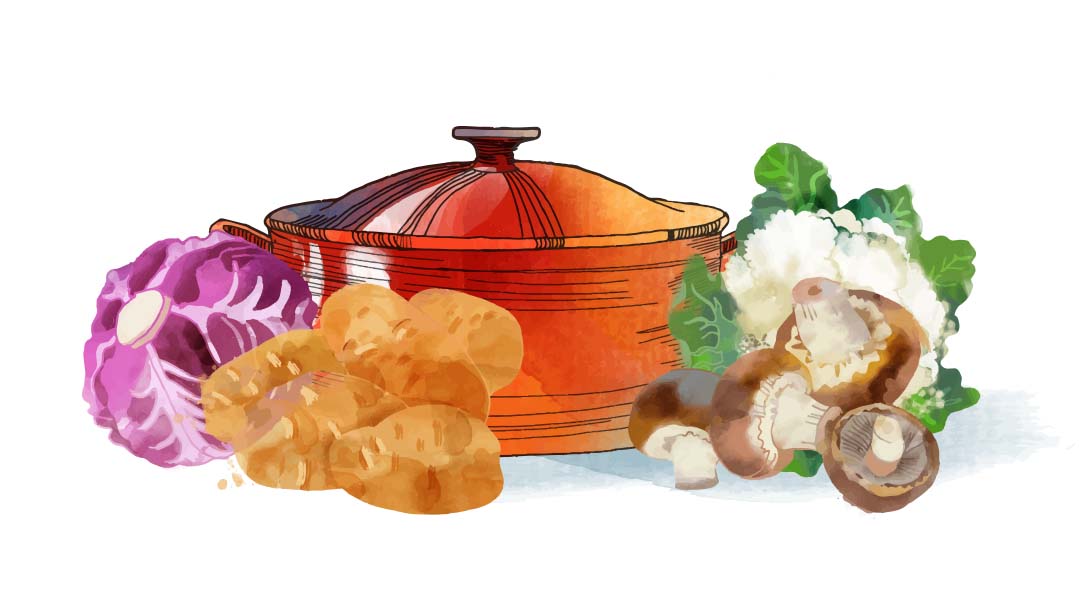 As the temperatures drop and we're looking for comforting, nourishing, and easy meals, soups that pack a protein punch and can satisfy the hungriest of them all are on steady rotation. Here are some of our favorite recipes!
Cabbage Lentil Soup
This is a great quick soup. Even my daughter who doesn't like tomatoes enjoys it!
1 Tbsp canola oil
1 large onion, chopped
3 cloves garlic, minced
3 carrots, diced
1 bag shredded white cabbage
1 zucchini, diced (optional)
1 cup lentils
1 14.5-oz (410-g) can stewed tomatoes (I use Hunt's)
1 bay leaf
salt and pepper, to taste
½ tsp onion powder
1 Tbsp chicken soup mix (optional)
7–8 cups water
In a large pot, sauté the onion in oil. Once the onion is translucent, add the garlic and sauté for another minute. Add the carrots, cabbage, zucchini, and lentils. Then add the stewed tomatoes (don't substitute them for something else; it really makes a difference), seasonings, chicken soup mix, and water. Bring to a boil and then simmer over low heat for 1 hour.
—Sarina Laghaei, ad design
Really Good Onion Soup
This soup is compliments of my friend Sarah Kleiner. It's delicious with a chunky piece of bread.
5 medium onions, sliced
3 Tbsp butter (or margarine to keep it pareve)
1 Tbsp oil
¼ cup sugar
1 tsp salt
3 Tbsp flour
8 cups water
2 Tbsp onion soup mix
½ cup dry white wine
1½ cups grated cheese
crusty French bread, cut in slices
In a large pot, sauté the onions in the butter and oil for 15 minutes. Add salt and sugar. Lower heat and cook for another 30 minutes, until golden brown. Add flour and stir.
Add onion soup mix to the water and mix, then add to the pot. Add wine and bring to a boil, then lower heat and cook for another ½ hour.
When serving, place a slice of bread and then grated cheese into each bowl of soup.
—Nina Feiner, sales manager
Meaty Mushroom-Barley Soup
Here's an old recipe of mine from Dining In that's always so hearty and delicious!
3 large onions, diced
2 Tbsp oil
12 oz (340 g) fresh mushrooms, sliced
3 large carrots, diced
3 stalks celery, diced
1¼ cups barley
2 large pieces bone-in flanken
salt, to taste
freshly ground pepper, to taste
12 cups water
In an 8-quart pot, sauté onions in oil until translucent. Add mushrooms, carrots, and celery to the pot. Sauté 5–10 minutes. Add remaining ingredients. Cook for 1½–2 hours, stirring occasionally. Add water if too thick. Adjust seasoning.
When the soup is cooked, remove the bones. Shred the meat off the bones and mix it back into the soup.
—Chavi Feldman, recipe columnist
Creamy Zucchini Soup
Why do you need another zucchini soup? I'll tell you why: this one has a few secret ingredients that make all the difference. Potatoes and potato flakes give it a creamy thickness, and the herbs and seasoning create a flavor fest. Best part? It's quick and easy!
2 Tbsp canola oil
3 onions, diced
4 cloves garlic, minced
8 zucchini, scrubbed and cut in chunks
4 potatoes, peeled and cubed
1 tsp basil
1 tsp thyme
1 tsp parsley
1 tsp dill
½ tsp black pepper
1 Tbsp non-MSG chicken soup mix
4 cups water
1 cup milk or pareve milk
⅓ cup dry potato flakes
1 Tbsp soy sauce
Heat oil in a large pot. Add onions and garlic and sauté until lightly golden. Add potatoes, zucchini, and spices, and cook for 5 minutes.
Dissolve chicken soup mix in water. Add to the pot and bring to a boil. Lower heat and simmer for 45 minutes.
Puree with an immersion blender. Stir in milk, potato flakes, and soy sauce. Cook for 5 minutes.
My kids love this with grated cheese — it makes the soup even creamier.
—Bassi Gruen, managing editor
Harira
This is a soup that Moroccan Jews learned to make from their Arab neighbors, who eat it when breaking the fasts of Ramadan. It's a great stick-to-your-ribs winter soup that needs only a hunk of bread and maybe a salad to make it a meal.
1 onion
1 leek
1 stalk celery
1 small carrot
3 Tbsp oil
1 lb (450 g) beef stew or
flanken pieces
1 potato, chopped finely
1 28-oz (790-g) can crushed tomatoes
2 Tbsp tomato paste
1 tsp turmeric
salt and pepper, to taste
water, to cover
1 15-oz (425-g) can chickpeas
⅓ cup lentils
¼ cup flour, dissolved in ½ cup water
½ cup vermicelli, broken into smaller pieces
½ cup each chopped parsley and cilantro
Chop the first four ingredients (I use a food processor) and sauté in oil for a few minutes. Add the beef and brown it, then add the potato, crushed tomatoes, tomato paste, turmeric, salt and pepper, and enough water to generously cover everything. Simmer for half an hour. Add the chickpeas and lentils, and let simmer another half hour. Add the flour mixture, let it thicken the soup for a few minutes, and add the vermicelli and cook till they soften.
Add the parsley and cilantro and cook another few minutes. This is a soup you can cook a long time and it will only improve; add water if it seems to be getting too thick.
—Barbara Bensoussan, columnist
Chestnut Red-Wine Beef Soup
My warmest food memory involves watching my father, a"h, score raw chestnuts with a paring knife to roast in the oven on fall evenings. Luckily, we can get them all prepped in a bag and use them to add depth to this hearty meat soup that, in a pinch, can pass as a stew.
2 Tbsp oil
1–2 extra-large onions, chopped (about 5 cups)
6 stalks celery, chopped (2 cups)
6 carrots, peeled and chopped (2 cups)
4 frozen cubes parsley
2 cups beef broth
1 cup Cabernet or Merlot wine
2 tsp salt
1 lb (½ kg) boneless flanken (see tip)
2 5-oz (140-g) pkgs peeled chestnuts
Heat oil in a pot and add vegetables. Sauté for 5 minutes. Add parsley cubes and mix until soft. Add broth, wine, salt, and flanken. Bring to a boil, then simmer for 2 hours or until veggies and meat are soft and meat is falling apart. Crumble chestnuts and stir in. Cook for 10 more minutes.
Tip: My butcher, Simchi, was really helpful in choosing kolichel as a budget-friendly flanken alternative. Be sure to cut it up into smaller pieces so it will cook faster.
—Chaia Frishman, columnist
Mushroom Beef Barley Soup
I was looking for an alternative to cholent (don't judge) and found and tweaked this recipe. It makes a great meal in a bowl during the week and a change from regular cholent.
1½ lbs (680 g) beef, cut in cubes (use any beef that works in cholent)
1 Tbsp oil
2 cups finely chopped onions
1 cup diced carrots
½ cup sliced celery
1 lb (450 g) fresh mushrooms, sliced
2 cloves garlic, chopped
½ tsp dried thyme
6 cups chicken broth
¾ cup pearl barley
1 tsp salt (optional)
½ tsp pepper
Sear the meat cubes in oil in a frying pan. Transfer to a Crock-Pot. In the same pan, sauté the onions, carrots, and celery over medium heat until tender, about 5 minutes. Add the mushrooms, garlic, and thyme and cook for an additional 3 minutes. Place all vegetables in the Crock-Pot along with the chicken broth, barley, and salt and pepper.
Cook on high for 2 hours, then turn down to low for 8 hours or more (overnight on Shabbos).
—Lori Friedman, administration
"Mexican" Minestrone
Adding the vegetables to the boiling water as you go along makes the cooking process much faster. The flavor from the spices and crushed tomatoes compensates for not sautéing the vegetables first.
1 onion, diced
2 carrots, diced
2 potatoes, diced
2 sweet potatoes, diced
2 zucchini, diced
2 cloves garlic, minced
1 cup cooked or canned chickpeas
1 cup cooked or canned red kidney beans
1 28-oz (790-g) can crushed tomatoes
1 tsp ground coriander
1 tsp cumin
1 tsp dried oregano
1 Tbsp kosher salt
½ tsp garlic powder
¼ tsp black pepper
¼ tsp red pepper flakes
1 cup frozen corn
1 cup frozen green beans
2 cups raw pasta
Fill a large pot halfway with water and bring to a boil. Dice vegetables in the order listed, adding each vegetable to the pot as you finish dicing it. Add the rest of the ingredients, bring soup to the boil, and simmer for 30 minutes, or until the carrots are soft.
Note: This is a budget-friendly soup, but feel free to add fresh herbs and spinach and/or frozen broccoli and cauliflower to enhance it.
—Sara Bonchek, associate editor
Best Onion Soup
Who doesn't love a good onion soup?
2 Tbsp olive oil
8 large onions, sliced into half-moon rings
1 tsp kosher salt
¼ cup flour
¼ cup miso
1 cup red wine
6 cups vegetable broth or water
salt and pepper, to taste
grated cheese, for garnish
Heat oil; add onions and kosher salt and sauté very slowly for 1 hour in a large saucepan.
Add flour and mix to coat the onions. Add the miso and mix well. Add broth or water and wine. Simmer for 2 hours. Season with salt and pepper to taste.
Once you've poured the soup into a bowl, garnish it with some grated cheese.
—Naomi Nachman, columnist
Easy and Yummy Lentil Soup
Anyone who asks me for a recipe knows it will be fast and easy. (Full disclosure: I used to be a pretty good cook, but I've gotten tired in my old age and have little cheishek for complicated recipes anymore.) Here's a go-to soup that meets my two requirements, and also tastes incredibly good, with just a few simple ingredients.
Chop an onion and sauté in a little oil. Once it's turned golden, add a few thinly sliced cloves of garlic and continue sautéing for another minute or two (the garlic burns quickly, so be careful). Add water, a 500-g (a little under 18 oz) bag of pre-checked green lentils, and a few carrots, chopped into small pieces. Add a little salt (I only cook with coarse salt). This cooks in about an hour, but the longer the better. Check that it's not too thick and add water along the way as necessary.
This is the base, and is delicious as is (lentils have their own peppery flavor, so you really don't have to add any additional spices). You can also toss in some cooked chickpeas (arbis leftovers from Shabbos), barley, celery, turkey necks, or whatever else you feel like if you want to take it up a notch.
—Rachel Ginsberg, associate editor
Fleishig Vegetable Barley Soup
This soup is so comforting and satisfying, yet really easy to make. It's become my family's favorite fleishig soup. It freezes beautifully too.
3 large sweet potatoes, cubed
5 large carrots, sliced or cut in small pieces
1–2 pieces pumpkin, peeled and cubed (optional)
2 strips flanken (approx. 1 lb/500 g), cut into pieces
soup bones (optional)
1 cup barley
1 cup small lima beans
2–3 Tbsp chicken soup mix
salt and pepper, to taste
pinch nutmeg (optional)
1–2 handfuls thin noodles
In an 8-quart pot, place sweet potatoes, carrots, pumpkin (if using), meat, and bones. Cover with water and bring to a boil. Remove the gray scum that appears on top of the water, then add the barley, beans, and seasoning. Bring to a boil again, lower heat, and cook for approximately 2½ hours, or until beans are soft. You may want to add more water as the soup is cooking. Add the noodles and cook for 5–10 more minutes.
Note: The nutmeg makes the difference between ordinary and professional. I add it to many dishes. Also, I like using two different kinds of barley, ½ cup each, for a more diverse texture. I sometimes make the soup with a few pieces of flanken and a few turkey necks. The turkey necks make the soup very creamy, and add lean protein too.
Tip: When soup is refrigerated, the fat solidifies and rises to the surface. You can then skim off most of it without compromising the taste of the soup.
Note: When you warm up any leftover soup the next day, you'll probably have to add some water, as it thickens when it sits. Warm over low heat.
—Brynie Greisman, recipe columnist
Creamy Tuscan White Bean Soup
This isn't a meal in one, but it's definitely creamy and flavorful and filling — and different! My friend Sari Fishman got it from Kosher By Design: Short on Time. She made it for a get-together one year, and it got rave reviews all around.
Reproduced from Kosher By Design Short on Time by Susie Fishbein with permission of the copyright holders, ArtScroll / Mesorah Publications, Ltd.
1 large onion, diced
2 Tbsp olive oil
4 cloves garlic, minced
½ tsp dried thyme
1 tsp ground coriander
½ tsp cumin (can do less)
½ tsp cayenne pepper
4 14–15-oz (400–425-g) cans white or cannellini beans
6 cups water or chicken stock
2 tsp dry wine or cooking sherry
2 tsp fine sea salt
4 Tbsp margarine or butter
fresh parsley or chives, for garnish
In a pot, sauté onion in olive oil until translucent. Add garlic and thyme and let cook for 2 minutes. Add coriander, cumin, and cayenne pepper and cook for 1 minute until the spices begin to toast.
Add beans, water or chicken stock, sherry, and sea salt. Cook for 10 more minutes, then remove from heat and blend with an immersion blender. Whisk in margarine or butter. Serve with fresh parsley or chives as garnish.
—Rachel Bachrach, associate editor
Veggie Soup with Hidden Ingredients
I recently threw a small container of prepared chickpeas into a vegetable soup I had cooking on the stove. When I blended the whole thing together, no one was the wiser, and it added great flavor, along with health benefits!
I also regularly add red lentils to many soups, in the beginning of the cooking time. They totally disintegrate and add flavor, substance, and protein. (With my family, I need to use ingredients that aren't visible!)
—Faigy Grossman, recipe columnist
(Originally featured in Family Table, Issue 765)
Oops! We could not locate your form.
>