| Cooks Compete |
Matzah Balls
| March 22, 2022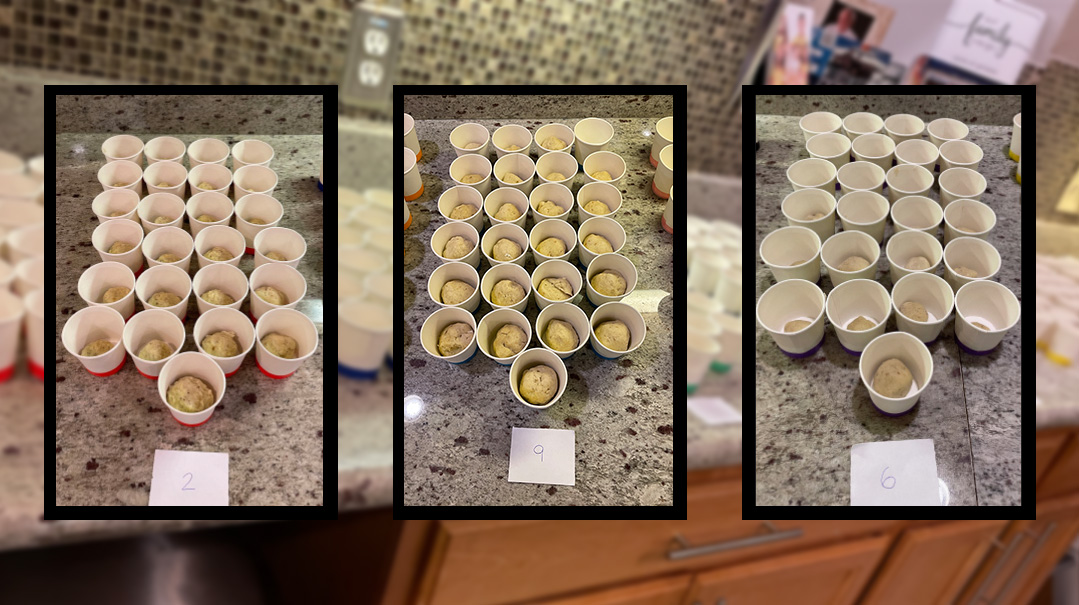 Matzah balls are fairly singular in their preparation, yet somehow every cook feels they've perfected the density, size, and texture of theirs. We put them to the test and selected the winning recipes, just in time for Pesach.
Fluffy Matzah Balls
Submitted by Yael Ofer,
Bayit Vegan, Jerusalem
I've been using this matzah ball recipe ever since I got married. My kids love them, and so does everybody else! Thank you, Chaya M., for sharing the best recipes with me always!
YIELDS 9–10 MEDIUM-SIZED BALLS
½ cup matzah meal
2 eggs
¼ cup seltzer or cold water
1⁄₆ cup (22/3 tsp) oil
⅔ tsp salt
Mix all the ingredients together and refrigerate for about 30 minutes, until the batter thickens. Wet your hands with water, form balls out of the mixture, and drop into boiling soup or water. Watch as they fluff up!
Foolproof Knaidlach
Submitted by Phyllis F. Broad,
Formerly of Tucson, Arizona, now of St. Louis, Missouri
I'm a 92-year-old mother, bubby, and alta-bubby who has been making this recipe for about 40 years. Since I've started using the "secret ingredient" of seltzer, I've never made rock-hard matzah balls again. I'm happy to share this recipe with all of you.
YIELDS 10–12 MATZAH BALLS
¼ cup seltzer
½ cup matzah meal
2 eggs
salt and pepper,
to taste
2 Tbsp oil
Mix all the ingredients together and let sit in the refrigerator for 30 minutes or more.
Wet your hands and form the mixture into balls. Drop into boiling salt water. Cook covered for approximately 30 minutes at moderate heat. Drain and serve in chicken soup.
Extra-Firm Matzah Balls
Submitted by M.B.,
Spring Valley, New York
This is my mother's recipe, tried and true. We use it for Pesach and all year round! We like them firm so I add more matzah meal, but you can play around with it to reach the consistency that you like.
YIELDS 20–24 MATZAH BALLS
4 eggs
½ cup water
½ cup oil
2 tsp salt
⅛ tsp pepper
1⅓ cups matzah meal, or more if desired
Whisk together eggs, water, oil, salt, and pepper with a fork. Add matzah meal and mix. Refrigerate for 20 minutes, then form into balls. (A mini cookie scoop works great.) Drop into soup or into boiling water with some oil and spices. Cook for 20 minutes. Enjoy!
Special thanks to the U. City Shul N'shei,for hosting this tasting party.
(Originally featured in Family Table, Issue 786)
Oops! We could not locate your form.
>