| Side-by-Side |
Marinating Chicken
| June 29, 2021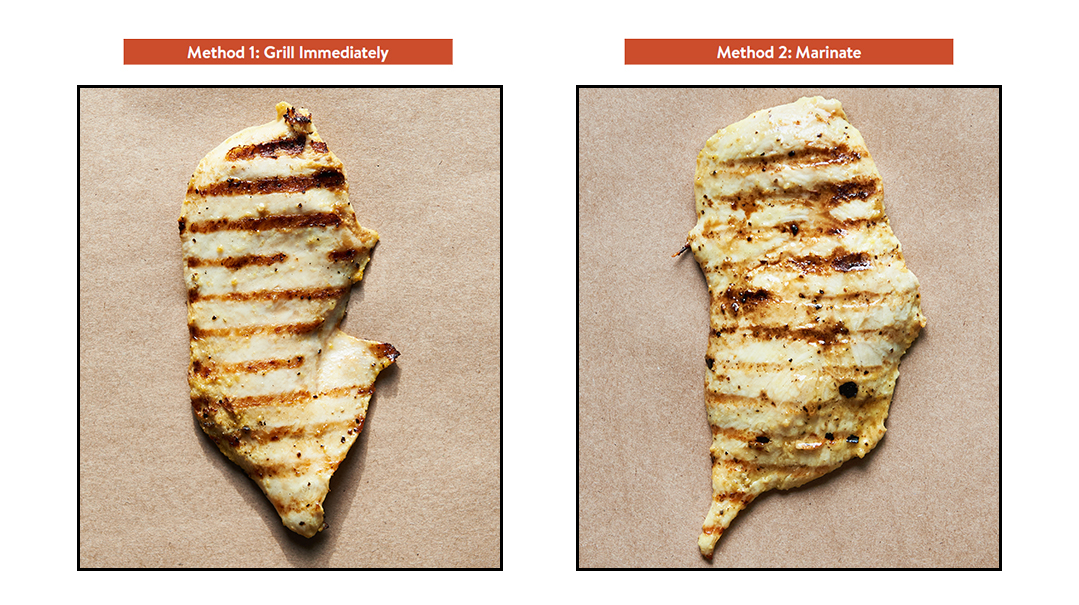 Photo Credit: Sina Mizrahi
I must confess that sometimes I instruct my readers to marinate chicken for a few hours even when I skip that step myself. I want to cover my bases and guarantee a flavorful outcome. But I decided to research the subject to understand the marinating practice and determine if it makes enough of a difference to rightfully warrant the step.
There are two reasons for marinating: texture and flavor. In general, acid-based marinades alter the texture of the chicken, since acids break down tissue. However, here we are focusing on the latter: flavor.
I experimented with chicken cutlets — simple, practical, and boneless — so I could gauge flavor most accurately.
Grilled Chicken Cutlets
1 lb (450 g) thinly sliced chicken cutlets
2 Tbsp extra-virgin olive oil
2 tsp lemon pepper seasoning
½ tsp sea salt
Combine olive oil and seasonings and add to the cutlets. Heat a grill pan for 3–4 minutes over medium heat. Grill chicken until mostly opaque; flip and grill the second side until just cooked through. Serve warm.
Method 1: Grill Immediately
I grilled the chicken immediately after mixing the oil and seasoning. The chicken tasted juicy and delicious.
Method 2: Marinate
I marinated for 30 minutes, 60 minutes, and 120+ minutes. Each time the chicken tasted juicy and delicious, but there was no noticeable improvement in flavor. They all tasted the same!
My Verdict
I felt cheated of the time spent marinating in promise of improved flavor, so I delved deeply into the subject and discovered that marinating chicken or meat is a futile endeavor. According to America's Test Kitchen, which is capable of running far more food science experiments than I would ever care to, spices, herbs, and seasonings are fat soluble and can't penetrate meat or fowl, no matter how long they marinate. The flavors stay at the surface or, at most, just below it. For thick glazes and sauces, they recommend adding them to the meat after it's cooked for maximum flavor.
Next time that recipe tells you to marinate, you now know to save the time and skip it.
(Originally featured in Family Table, Issue 749)
Oops! We could not locate your form.
>