| Namesakes |
Make Me a Corner
| April 5, 2020
"He made a neder that if he got out alive he would dedicate his life to avodas Hashem"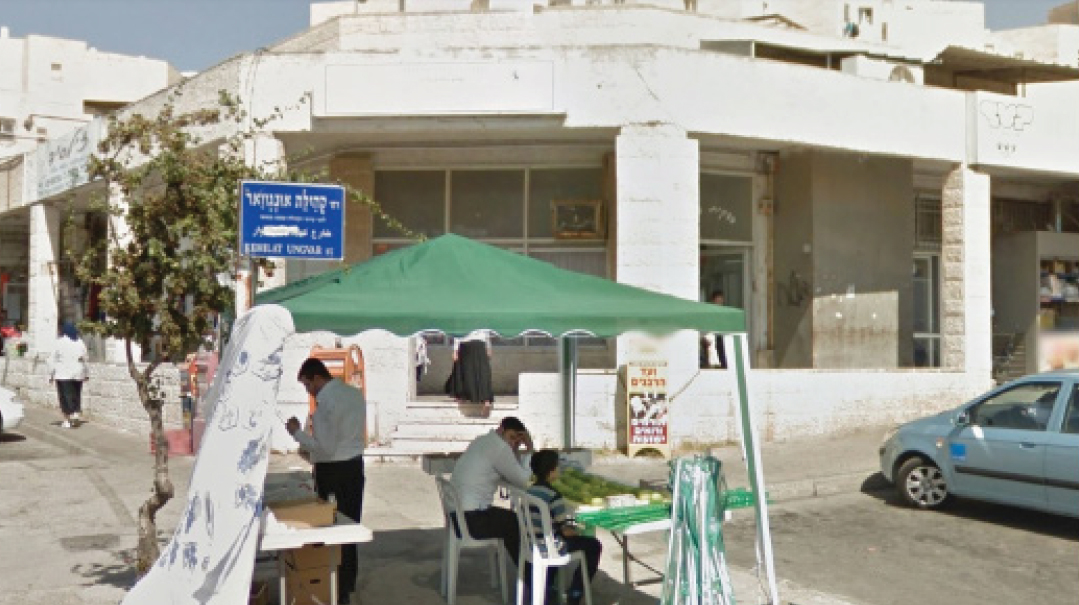 KIRYAT UNGVAR, Jerusalem
Dedicated in memory of the Rav (and town) of Ungvar Hy''d

WHO WAS THE UNGVARER RAV?
Actually, there were two. There was the Ungvarer Rav from the city of Ungvar, Czechoslovakia, Rav Yosef Elimelech Kahane Hy"d, who was murdered in Auschwitz. And there was his talmid and successor, Rav Menashe Klein ztz"l, who was the Ungvarer Rav in Brooklyn and later in Eretz Yisrael, where he was niftar in 2011. Rav Menashe Klein, preeminent posek, rosh yeshivah, mechaber of dozens of seforim, and considered as one of the gedolei hador, built the neighborhood of Kiryat Ungvar in Ramot, naming it after his rebbe and rosh yeshivah, Rav Kahane.
Rav Menashe Klein, born in 1925 in Orlova, a town near Ungvar, Czechoslovakia, was a young illui who studied in the yeshivah of Ungvar, where he became the talmid muvhak of its rav and rosh yeshivah, Rav Kahane.
Between Pesach and Shavuos of 1944, all the Yidden in and around Ungvar — which had been taken over by Hungary at the beginning of the war and was overrun by Germany in 1944 — were herded into a ghetto. Being young and strong, Menashe's parents urged him to flee to safety, but he would not abandon his family, especially since his sister's husband had been conscripted into the army, and she was fending for her children alone. After a time in the wretched and cramped conditions of the ghetto, Menashe heard a faint voice calling his name. He turned around to see a frail old man. Suddenly he recognized the gaunt face as his saintly rosh yeshivah, Rav Kahane, his beard ripped out. He was horrified to see the elderly 83-year-old enduring such torture.
"Di bizt mein talmid," pleaded the Rosh Yeshivah. "Mach mir a vinkele — Make me a corner." Reverently, the young talmid gathered some stones and formed a little cove, bringing his rebbe food and watching over him until, on Shavuos, the entire ghetto was transported to Auschwitz, and, along with Menashe's parents, Rav Kahane was herded straight into the gas chambers.
"My father-in-law told me that on arriving to Auschwitz he saw the smoke of the crematorium, and he knew exactly what it meant," relates Rav Klein's son-in-law Rav Tzvi (Hershel) Hager, rav of Munkatch in Golders Green, London. "He made a neder that if he got out alive he would dedicate his life to avodas Hashem."
From Auschwitz, Rav Klein was sent to Buchenwald, where he was liberated in 1945. He was then evacuated by train together with 427 other children and teenagers — among them the previous Kretchnifer Rebbe, Rav Yisrael Meir Lau, and his brother Naphtali Lau-Lavie, and longtime friend Elie Wiesel — to an orphanage on the outskirts of Paris under the Jewish organisation OSE. At 20 years old, Rav Klein had to fake his age, as 17 was the cutoff age for the child survivor transport. But being an adult among the orphaned refugees, he was able to be mekarev the broken youngsters. He taught Rav Lau and others how to say Kaddish for their parents, and he encouraged the boys to resume learning Gemara, just like they had in their youth, a world ago, instructing the officials at the orphanage to order seforim for the boys. Of the orphanage's 400-plus children, some 100 boys from Orthodox homes were moved to another home and cared for by a dedicated frum social worker named Judith Hemmendinger, to whom Rav Menashe Klein always remained indebted.
At the time, Rav Klein's best friend was prolific writer and Nobel Prize laureate Elie Wiesel, who was 15 when he met Reb Menashe in Auschwitz and clung to him as a mentor through that last horrifying year of the war. Wiesel, who came from a Vizhnitzer home, struggled with his Yiddishkeit (but still considered himself a Vizhnitzer chassid at heart), yet he maintained his close friendship with the Ungvarer Rav, often visiting him and seeking his advice. He was the main private donor of Kiryat Ungvar, dedicating the shul in memory of his parents Hy"d.
Rav Menashe Klein arrived in the US in 1947, initially assisting the Sanz-Klausenberger Rebbe in establishing Mosdos Sanz on American soil. He later opened the Ungvarer beis medrash and Yeshiva Beis Shearim in Boro Park. He was known as a master posek and a baki in all areas of Shas and poskim, authoring 17 volumes of Mishneh Halachos, a collection of sh'eilos and teshuvos in all areas of halachah. Additionally, he authored another 27 seforim and kuntreisim (one of those was a collection of his correspondences with his mechutan, the Pnei Menachem of Gur, whose son, Rav Aryeh Leib Alter, tragically predeceased both of them).
Although he'd lived for decades on safer shores in one of the most affluent Torah communities, he never forgot the promise he made in Auschwitz, the memories of which haunted him for life, and he maintained a lifestyle utterly devoid of pleasure and frivolity.
"In a way, he never left Auschwitz," says Rav Hager. "He never let himself partake of the pleasures of Olam Hazeh. His home was like stepping into a time capsule, and his diet was frugal — he would subsist on the Rebbetzin's Shabbos challah the entire week."
It is therefore not surprising that when Rav Hager bought his father-in-law a recliner in his old age so he could stretch his legs after a long day on his relentless schedule, the Ungvarer Rav refused to sit on it, and much like the ubiquitously misused treadmill, it was repurposed as extra storage space… for his seforim.
He was like a soldier on an endless march, recounts his son-in-law in awe. At 5:00 a.m. he would be up learning several blatt Gemara, and by 7:20 he was in shul for Shacharis. If he didn't show up by 7:21, his chassidim knew there must be some health issue. He could easily call his children's homes at 6:00 a.m., because for him that hour was midday.
His beis medrash in Boro Park was on the corner of 53rd Street and 16th Avenue. After having lost his entire family and kehillah, the Holocaust never really left him. In addition to writing a detailed account of his war experiences in his sefer Pirsumei Nisa, in 1998 he facilitated the renaming of his shul block to "Zichron Kedoshim Square" in memory of the six million kedoshim, a bill signed by Mayor Giuliani.
But Kiryat Ungvar in Jerusalem was a different story. His rebbe's plea, "Mach mir a vinkele," forever echoed as a tzava'ah of sorts — and he fulfilled it by building a shtetl that would commemorate his rebbe and the 17,000 Jews of Ungvar who were murdered in the Holocaust.
WHAT'S IN A NAME?
Building Kiryat Ungvar was the fulfilment of a lifelong dream for Rav Klein. He would live there for two months, in the winter and summer, enjoying the nachas of having paid his dues to his rosh yeshivah with the thriving Torah-based kehillah.
But going from concept to completion was no easy feat. It took about five years until the Israeli government gave the go-ahead to build on the then-barren Ramot section of Jerusalem. And there were other obstacles as well. The area was 80 percent secular then, and Mayor Teddy Kollek wanted to build a sports stadium there that would be open on Shabbos. Furthermore, there was no electricity or water infrastructure on the undeveloped land; for the first few years the shul dragged generators and projectors to be able to operate out of their temporary quarters.
Today, the 300 families who live there are a mix of chassidim, Litvaks, and Sephardim, and the ratio in the area has reversed to a population that is 80 percent frum.
Overlooking the neighborhood is Kever Shmuel Hanavi, which is why the groundbreaking in 1983 was held on Shmuel Hanavi's yahrtzeit, 27 Iyar. During the ceremony, Rav Shlomo Zalman Auerbach asked one of Rav Klein's sons, "Tell me about your father. In which yeshivah did he learn?" The son answered, "In Yeshivas Auschwitz." Rav Shlomo Zalman expressed his wonder at the great heights a lone orphaned bochur could reach.
(Originally featured in Mishpacha, Issue 806)
Oops! We could not locate your form.
>