| Recipes |
Low-and-Slow Scrumptious Rib Roast
| September 5, 2023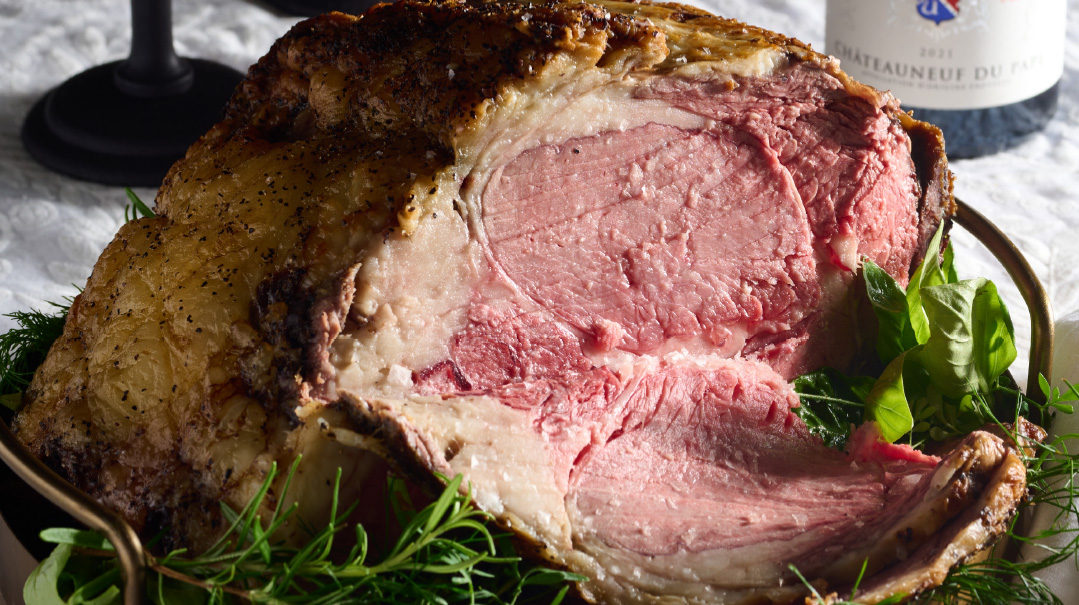 Food and Prop Styling Shiri Feldman
Photography Hudi Greenberger
The king of meat does not really need much introduction. Utilizing this low-and-slow, reverse-sear method of preparation will absolutely yield the best piece of meat you've ever tasted.
SERVES 8–12
1 3–6-lb (1.36–2.72-kg) standing rib roast
2–3 Tbsp kosher salt
1 tsp coarsely ground black pepper
Remove meat from packaging. Set in a baking pan, bone side down, uncovered. Pat the roast dry. Season generously with kosher salt and pepper.
If time permits, allow the roast to air-dry uncovered in the fridge overnight before roasting. Seasoning up to a day in advance will help the flavors penetrate the meat deeply and ramp up the flavor.
Preheat oven to 250°F (120°C) and set an oven rack in the center of the oven.
Remove meat from the refrigerator and allow to come to room temperature (at least 30 minutes). Bake uncovered, until internal temperature registers 105–130°F (40–55°C) with a meat thermometer. This will take approximately 3–4 hours.
Remove roast from oven and loosely cover with foil, leaving some height for air to circulate (this is called tenting). Allow meat to rest for 30 minutes.
Raise oven temperature to 500°F (260°C). Remove foil and roast until outer layer is browned and crispy, about 6–8 minutes. Remove pan from oven. Slice when ready to serve.
Red Wine and Beef Fry Sauce
1 4-oz (110-g) pkg beef fry, diced
¼ cup diced shallots (about 1 medium-sized shallot)
2 cloves garlic, crushed
½ Tbsp flour
1½ cups beef broth (or water mixed with 2 tsp beef soup mix)
⅓ cup dry red wine (cabernet sauvignon or pinot noir are good choices)
¼ tsp salt
¼ tsp pepper
1 bay leaf
½ Tbsp Tuscanini Tomato Paste
For the sauce: Place a medium frying pan over medium-high heat and heat through. Add beef fry and let it crisp and release its oils. Add shallots and stir occasionally as it begins to soften and turn golden (around 3 minutes). Add in the garlic and stir for 30 seconds until fragrant. Stir in the flour until completely mixed in; remove from heat.
In a small pot over medium-high heat, bring beef broth and wine to a boil. Add salt and pepper. Reduce heat and simmer for 20–25 minutes until it reduces to a third and you no longer smell the wine. Add bay leaf and tomato paste.
Add the shallot and beef fry mixture to the reduced wine and broth. Stir well. The mixture will thicken.
Serve warm alongside the roast.
(Originally featured in Family Table, Issue 859)
Oops! We could not locate your form.
>