| Magazine Feature |
Loads of Profit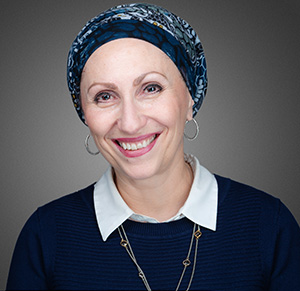 | January 25, 2022
How Nachshon Fertel spun his mother's laundry woes into a bubbling business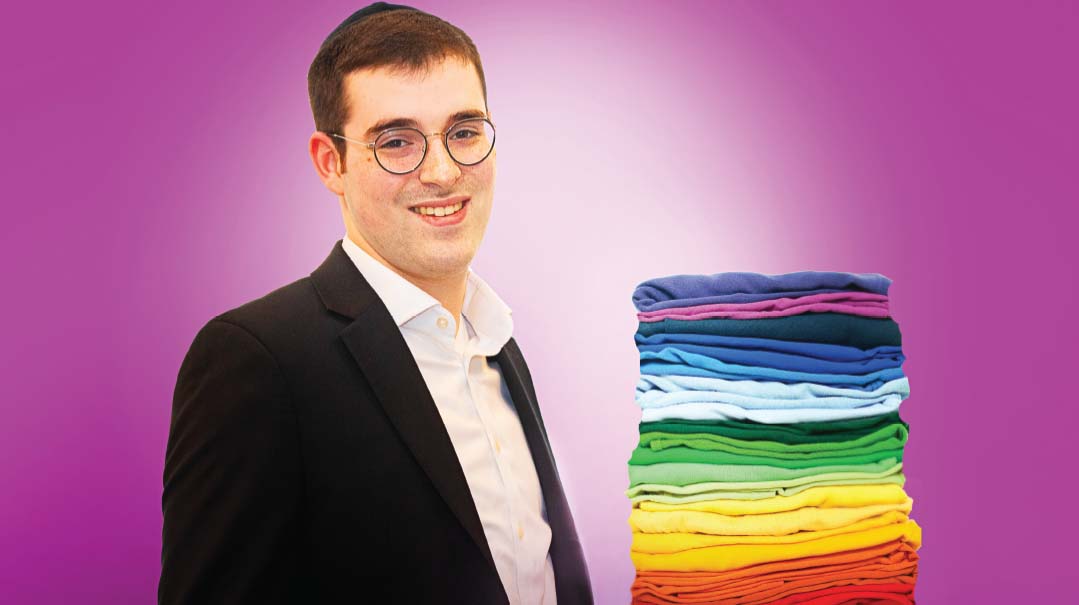 Photos: Leslie Parker, Family archives
There are a few phrases every mother dreads hearing in the morning rush, such as, "I'm Shabbos Mommy today and I'm supposed to bring nosh for my whole class," or "I forgot to tell you I need $16.75 in exact change for my school trip today."But perhaps the most common one goes something like this: "MAAAA! I don't have any clean socks! MAAAA! I don't have a white shirt! MAAAA! How come all my uniform skirts are in the wash?"
Laundry is as inevitable as death and taxes, especially for large families. And that's why about five years ago, Mrs. Ari Fertel, a mother of five from Baltimore, looked at her children in exasperation and said, "I don't get it. There's an app to get a taxi. There's an app to buy a plane ticket to go across the world. Why are we still doing laundry like we did when washing machines came on the scene in the 1950s? Can't someone make an app for that too?"
Her son Nachshon, then a 16-year-old computer whiz, did what few teenagers his age would have done: He actually paid attention. He said, "Ma, I think I can solve that."
"We thought he was kidding," says his father, Mort Fertel, a serial entrepreneur and relationship guru who years back created his internationally-acclaimed Marriage Fitness "boot camp." But Nachshon saw the potential to build an app for laundry like Uber did for the ride service business. There were two things propelling Nachshon's interest: First, he'd always been a bit of a techie. And second, he had started attending yeshivah out of town, and he didn't like doing laundry either.
True to his Biblical namesake, Nachshon Fertel rose to the challenge and plunged into the churning, soapy waters of America's laundry woes, prepared to lead people out of their servitude to spin cycles and dryer sheets, and on to the Promised Land of cheaply outsourced laundry service. And none too soon, with the collaboration of his father, the SudShare app launched. Just tap the app, and somebody will appear at your house, collect your dirty clothing, and return it within 24 hours washed and folded.
It seems Mrs. Fertel had her finger on the pulse of the nation when she wished aloud for a laundry app. The SudShare app lost no time starting to froth, and as of this writing, SudShare services hundreds of thousands of people in 400 cities, with a full-time executive team of 24 in addition to 70,000 part-time "Sudsters" (those who pick up and process laundry). Revenues are now reaching into the millions of dollars.
"I think Covid taught us that time is precious, and we'd rather spend it doing things that are meaningful than chores like laundry," Mort Fertel says. "We outsource mowing the lawn, we outsource scrubbing the bathroom — why not outsource laundry?"
It's a win-win all around, as many of the tens of thousands of Sudsters around the country are people who had been left out of the workforce until they too joined this work-from-home opportunity.
Part of what makes this business story special is that Nachshon is the third in a set of triplets, with his siblings now on board together with him. Moshe Fertel serves as the director of operations, and sister Shira helps with bookkeeping in addition to her job working with autistic children. (The other two siblings haven't gotten involved, at least not yet; Zachariah, the oldest, is married and working in real estate, and Nesya, at age 13, is a serious violinist devoted full-time to her calling.) Mort runs the business end of SudShare full-time, and mom Ari continues to contribute her ideas and consumer expertise. As her kids note, "She doesn't really do anything in the business, but on the other hand, everything happens because of her."
Wash and Wear
The SudShare app is sort of like having a good fairy come and wave a magic wand at your dirty laundry. It's almost that simple, too. You put your laundry in a bag (separated by your preference of wash-and-dry or drip-dry) and someone comes and picks it up, washes and folds it, and returns it within 24 hours. Unless otherwise specified, your laundry will be sorted into darks and lights and washed in cold water (preventing laundry disasters like shrinkage and bleeding colors). When finished, the laundry is weighed and the cost calculated by the pound. At a dollar a pound, the cost is about half of what most laundry services charge, and SudShare has training videos for the Sudsters to make sure their standards of quality are met.
Clients can rate their Sudsters and be in touch with them. Unlike Uber, where the app sends whichever driver is closest to the passenger's location, SudShare allows clients to continue using Sudsters whose services they like. Mort estimates that 90 percent of orders go to ten percent of their Sudsters, although most of their workers — a whopping 92 percent —receive five-star ratings from clients.
"This is the first manual-labor work-from-home job in the world," notes Mort Fertel, who built the business side of SudShare while his son built the technology. "There are many people working at jobs like Amazon warehouses or Uber, but they require you to be out of the house. Here people can take advantage of their underutilized washer and dryer."
The job is a practical option for people who need to be home for childcare, eldercare, or other reasons, and pays between 15 and 20 dollars an hour depending on output. "It's been easy to attract Sudsters through social media," Mort says, and YouTube is full of clips from Sudsters telling people how simple and convenient the job is. "We've hardly had to spend a dime on recruiting — we have four to five thousand people signing up every month. Now we're working on expanding our client base."
I've always been perplexed by the way large apps like Uber manage to cover such a large service area almost immediately after launching. How do start-ups do it? Mort admits it's not simple. "It's the cold-start problem — how to offer a service with enough supply side," he says. "We did our first launch in Baltimore in 2018, and my wife and I volunteered to be the Sudsters. It really wasn't scalable then. At one point I'd gone to visit my parents in Margate, New Jersey, about three hours from Baltimore, and I got a SudShare order after only 20 minutes into the visit. I had to zoom all the way back to Baltimore to take care of it."
He also found himself constantly calling his wife for advice, as he'd never actually done laundry before. "That was the idea — to get the experience of how it works. Since then we have algorithms in place to determine when the marketplace is imbalanced between supply and demand. If the equilibrium is off, it triggers customer or Sudster acquisition strategies."
Nachshon avows that writing the app required a tremendous amount of learning and coding on his part. He had to teach himself Javascript, CSS, and HTML. "I realize how complex the app is when I bring new engineers on board and start explaining it to them," he says.
"He's being humble," Mort says. "Apps like Uber have hundreds, even thousands of engineers. But Nachshon built this singlehandedly, without even a coach or mentor." Nachshon even designed the company website and its logo, a cheerfully colored striped square that is, upon closer inspection, a stack of folded shirts.
Granted, it's not your typical tech start-up. But then again, the Fertels aren't a typical family.
Seeing Triple
Mort Fertel has been a businessman since he tried his first venture at age 18; he attended the Wharton School of Business in Philadelphia and spent time briefly on Wall Street. He was a star high school athlete in the suburban Philadelphia Main Line, having played football and squash in college and once running marathons; he describes himself as "one of the most competitive people you'll meet — I like to win." His parents professed a Judaism so "lite" it was barely perceptible — his only memories of weekly Hebrew school are of recess, and he describes his coming-of-age ceremony as "more bar than mitzvah."
Ari and Mort met through her brother, who was Mort's friend in college. Her parents never bothered joining a synagogue though, deeming the Reform/Conservative movements ersatz. There was just one exception to their rejection of Judaism: They once spent a week in San Francisco hanging out at Shlomo Carlebach's House of Love and Prayer, and somewhere along the line, they befriended Carlebach, who would occasionally come to their home and play his guitar. "My in-laws didn't become more religious because of his visits," Mort says, "but they left an impression on my wife."
Typical spiritual seekers, Ari and Mort decided to tour the world in 1995, starting in Indonesia. When the monsoon season nixed their plans to continue to India, Ari suggested they try Israel. Mort wasn't enthralled. "With my background, the last place I would have thought to look for spirituality was in Israel," he says. But Ari prevailed, and before long they'd befriended Orthodox families who inspired them with their Torah homes. They returned to the US after three months, but were soon back again, trying out classes at Ohr Someyach, Aish HaTorah, Isralight, and Darchei Noam.
When they came back to the States, newly religious, they opted to live in Boca Raton, Florida, where their oldest, Zachariah (now 24), was born. His arrival, however, was followed by two tragedies one after the other: Ari gave birth to a premature baby who succumbed to infection after a week, and a year and a half later, they lost preemie twin girls.
Their marriage suffered in the aftermath of so much challenge. But when Mort and Ari sought counseling help, they were appalled by what they found. "The methodology for 'healing' a marriage was all about 'what's wrong' and 'let's fix problems.' " Mort says. "We found it just mired us in more negativity. We found it was more effective to focus on practical steps and patterns of behavior to help build goodwill and connection."
What had helped him would surely help others, he reasoned. He took himself off to the local library and began spending ten-hour days there. At the end of about nine months, he put his thoughts together into a book entitled Marriage Fitness: 4 Steps to Building & Maintaining Phenomenal Love. He originally thought he'd print a few copies and send it around, but before he knew it, he had endorsements from self-help experts John Gray, Stephen Covey, and the Library Journal. "That put me on the map," he says. He developed his content into an online marriage "boot camp" suitable for one or both partners to follow, and began offering one-on-one counseling sessions.
"Today, in 2022, stuff like this is available all over," Mort says. "But two decades ago, online programs like this were new, and it became the number-one marriage crisis program in the US." He spent quite a few years counseling and speaking, but more recently, since SudShare has taken off, he outsources the counseling to a few colleagues, but continues to market his books and training materials.
Their own blessings would soon come. Shira, Moshe, and Nachshon came into this world together in February of 2001, and their parents were immediately absorbed into a whirlwind of triple feedings, diapering, and even a few naps, thanks to a Puerto Rican helper who specialized in triplets.
As the Fertel children grew older, their parents opted to homeschool them.
"Homeschooling is an opportunity to develop children's talents and passions, to find out what they love," Ari says. "It also creates a certain independence and can-do mentality."
Ari herself got into the business of speech recognition technology. She developed a software called Reading Buddy for children to help them develop reading fluency. The program "listens" to the child read, recognizes errors, and prompts correct responses in the way a reading tutor would.
"Parents often don't have the time to sit and read with their children to help them, and some kids don't want to practice with parents over their shoulders," Ari says. The software allows kids to work through reading on their own, with points and prizes to encourage them to keep going.
The Fertels moved to Baltimore, a community they found congenial and which also happens to have a lot of support for homeschooling. Ari took responsibility for most of the kids' education, although the Fertels hired a rebbi to teach the boys Torah (they brought their own questions to Rabbi Moshe Hauer). When the children reached high school age, the boys went away to Yeshivas Aish Kodesh in Norfolk, and Shira attended a local high school. "We did need to be brought up to speed a little in the learning," Nachshon admits, "but it didn't take so long."
The two brothers were originally upset when the yeshivah placed them in different dorm rooms, as they'd never been separated before. But in the end, they found it suited them — Nachshon is more quiet and introverted and likes to stick to a schedule; Moshe has a more gregarious, freewheeling style.
Full Load
The kids never had a hard time adapting socially, since they had always hung out with neighbors who went to "regular" schools. In fact, Mort signed them up for a Little League baseball team and served as coach, using the experience to teach them leadership skills like getting to know their teammates and showing respect to everyone. "The point was to have fun, not to win," Mort insists. Nachshon bailed on baseball early, after a baseball hit him in the face, but Moshe continues to enjoy sports and ran a marathon last February.
Long before Covid made it common for families to stay home together, the Fertels enjoyed hanging out together in the nest. Ari and the kids schooled at home, and Mort's marriage support business with its six employees was based out of the house. Lunch was Mort's opportunity to participate in his children's homeschooling, and he did so by reviewing Stephen Covey's The 7 Habits of Highly Effective People with them every day.
"I think what stayed with us the most is the example our parents set," Nachshon says. "The real change agent is actually seeing people live out those principles."
It seems clear that Nachshon internalized the Covey principles for being effective, because when he first began programming SudShare at age 16, he was in yeshivah learning three full sedorim a day. In tenth-grade mesivta, he dropped out of secular studies in order to code the app. But in beis medrash, where there weren't any secular studies to drop, he had to make it work with just the breaks and mealtimes, gaining four or five hours a day without sacrificing any learning time. This went on for three years, until, with the guidance of his rebbeim, he dropped his second seder to pursue working on the app.
"At first, people just thought Nachshon was nerdy," Moshe says, "but now that the app is up and making money, he's become the coolest guy." Today Nachshon's in beis medrash at the Yeshiva of Minneapolis (a recommendation from his Norfolk rosh yeshivah Rabbi Moshe Weinreb, with whom he maintains a close connection), and there he learns one seder a day while working on SudShare.
Moshe came into SudShare about a year ago after spending a year in Israel at Aderes HaTorah ("Senter's yeshivah"); he moved to Minneapolis to be near his brother and now works on the app full time as well.
"Moshe's been ready and willing to help with whatever we need — finding new employees, influencer marketing, managing customer service, keeping operations smooth" Mort says.
"I saw the rocket launch, and I said, wow, sign me up," Moshe relates. He now manages the entire working team, his carefree style providing a nice counterpoint to his more intense, introverted father and brother, with their neat button-down shirts and jackets and conservative lace-up shoes. Moshe, on the other hand, wears a tee shirt under his jacket and colored socks peek out from casual loafers.
"Nachshon and I can sit and work all day without talking to anyone," Mort says. "But Moshe has this great energy people want to be a part of, and it motivates the workers to do a good job."
Colorfast
You can't get Nachshon out of yeshivah, and you can't get the yeshivah out of him either. And so, his business is as squeaky-clean as the clothing it delivers: His Jewish values infuse his business, and he doesn't allow his business to interfere with his Torah.
"We saw so much siyata d'Shmaya," he says. "We did our hishtadlus, but I never missed a seder because of SudShare. Most people who start a business would be spending 14 hours a day on it, and they lose sight of what's most important." Ironically, this young tech wizard can't even download the SudShare app on his own phone, because he carries a non-smart Punkt phone. (If necessary, he can text Sudsters or contact them online, although Moshe handles most of those interfaces.)
"Business is an opportunity to make an impact," Mort relates. "The nature of your product makes an impact, like my marriage book did, and so does the behavior of the people who run the company. I recently read a book about how Uber was started. The language, the middos, were often really disgusting. Our mission isn't just to build a unicorn, it's to be an ohr lagoyim. Our core values are that Hashem is the Boss, and that we always have to do the right thing."
Nachshon believes his mission is to make a kiddush Hashem with his workers and clients. Two of his top engineers aren't Jewish, and he sets an example of clean language and a refusal to compromise on his principles, all the while making sure to be pleasant and "normal."
"You can build a company like Uber without becoming Uber," he says.
For their Jewish workers, Nachshon and Moshe began a Lunch and Learn program at the office, taught by Rabbi Mordechai Kalatsky of Minneapolis's Kenesseth Israel.
The Fertels try to impart their values to the entire SudShare community, and so far it seems to be working. Sudsters have been known to return cash they've found in laundry piles, neatly packaged in Ziploc bags, and one Sudster found a diamond ring in the laundry and returned it in a bag tied with pink ribbon. While the company doesn't give cash awards for such praiseworthy acts, Moshe can award the Sudster with bonus points and shower them with positive feedback, and clients may offer generous tips.
Mort shares that SudShare has provided him with a bonus gift as well: the continued connection to his children as they grow older and more independent. "Usually kids grow up, start doing their own thing, move away," he says. "But SudShare for me is a natural platform that allows me to continue being a father, teaching them and helping them mature. Most kids learn career wisdom from other people, but this gives me the time and opportunity to continue sharing my experience and inculcating my values."
"I speak to my dad many times a day," Nachshon agrees. "When I told that to one of my friends he was astounded — he calls his father once a week at most."
In the long term, Nachshon envisions himself continuing to learn half a day while continuing to grow the business, which he hopes to launch internationally within two years. He just hired three new engineers and is aggressively recruiting more for his tech team. SudShare is currently in the process of raising a $5,000,000 seed round to fuel further expansion, and plans a larger Series A fundraising round in 18 months.
Sounds like they'll all be pretty busy. And we all know what that means. Nachshon and his family don't plan to lose even a minute doing their own laundry. Maybe not ever…
(Originally featured in Mishpacha, Issue 896)
Oops! We could not locate your form.
>