| Recipes |
Loaded Fries
| August 3, 2021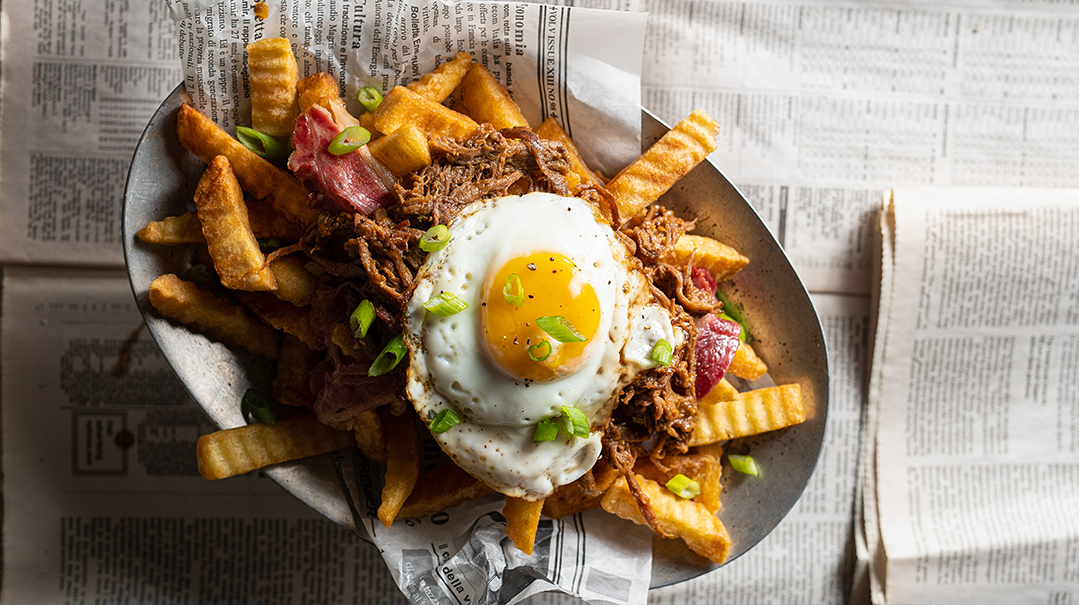 Food and prop styling by Renee Muller
Photography by Hudi Greenberger
When I say loaded fries, I mean loaded fries! Loaded with calories, loaded with carbs, loaded with protein, and, of course, loaded with flavor. This is probably the number-one item on our menu in Snaps Kosher. Just look at the photo and decide for yourself. The pulled brisket also goes great over a burger, with nachos, on pizza dough, and in taco shells.
BRISKET SERVES 8–10
Pulled Brisket
4–5-lb (2–2½-kg) second-cut brisket (use first-cut if you like leaner cuts of meat)
2 Tbsp each salt, pepper, and sugar
water, to cover the brisket
1 onion, diced
1 carrot, diced
6 cloves garlic, minced
2 stalks celery, diced
1 8-oz (225-ml) bottle barbecue sauce
4 cups water
2 Tbsp old-fashioned mustard (or mustard seeds)
3 Tbsp salt
1 Tbsp black pepper
1 Tbsp garlic powder
1 Tbsp sugar
For Serving
1 bag crinkle-cut fries
garlic mayo, for serving (optional)
1 fried egg (sunny side up)
2–4 oz (55–110-g) smoked beef fry, diced small (or pastrami)
sliced scallions
sliced jalapeño (optional)
Combine salt, pepper, and sugar with water and add the brisket. Allow to brine for approximately 4 hours.
Remove brisket from the brine and place it in a slow cooker with the onion, garlic, carrot, celery, barbecue sauce, water, and seasonings. Give it a good stir, cover the pot, and say, "Seeya tomorrow" — it's that easy. Cook on high for 5–7 hours or on low for 8–12 hours.
When done, remove brisket from the slow cooker and shred with two forks. Blend the sauce and vegetables with an immersion blender. Return the pulled brisket to the pot and mix with blended gravy.
To make the fries: Preheat oven to 425°F (220°C).
Spread the fries out on a baking sheet and bake for 10–12 minutes. Raise the oven heat to 500°F (260°C) for another 4–5 minutes to get a nice crisp.
Once your fries are in your serving dish, the fun starts! Grab some pulled brisket and pile on top of the fries, making sure the sauce drips all over the place. Add the diced beef fry. Drizzle with garlic mayo, if desired, then add the fried egg. Garnish with scallions and jalapeño peppers, if desired.
(Originally featured in Family Table, Issue 754)
Oops! We could not locate your form.
>