| The Moment |
Living Higher: Issue 954
| March 21, 2023
Recently, the organization held a retirement celebration for Dr. Stuart Greenstein, an Orthodox Jewish surgeon specializing in kidney transplants at Montefiore Medical Center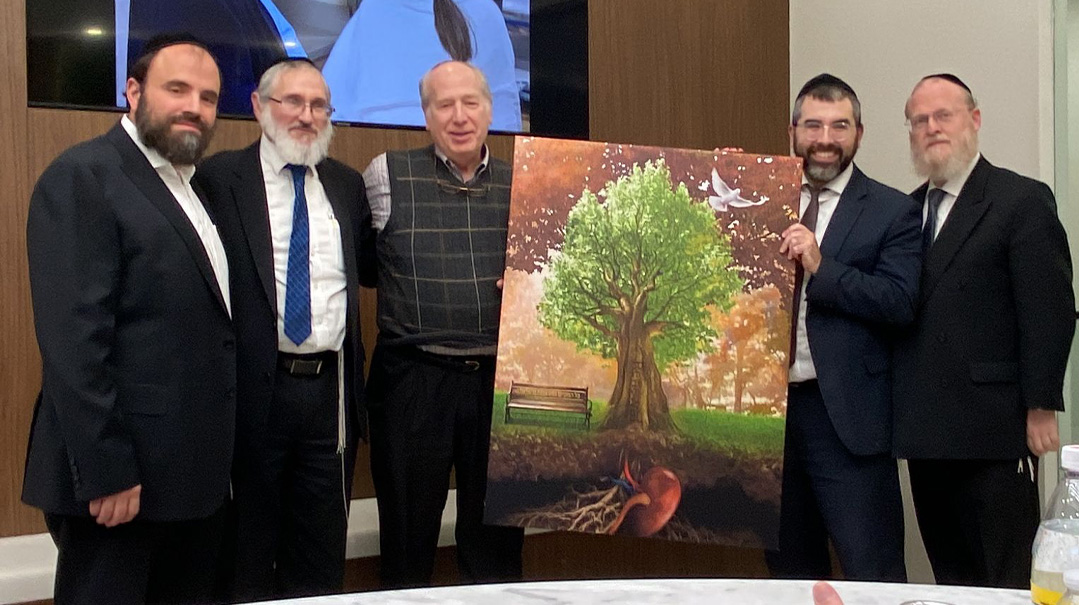 Rabbi Moshe Gewirtz is the director of Renewal, an organization dedicated to assisting kidney disease patients, with a focus on facilitating kidney transplants for those in need. Recently, the organization held a retirement celebration for Dr. Stuart Greenstein, an Orthodox Jewish surgeon specializing in kidney transplants at Montefiore Medical Center. The doctor performed over 120 transplants in conjunction with Renewal.
At the luncheon, Renewal staff thanked the doctor for going above and beyond the call of duty during his 17 years working with them. Rabbi Gewirtz shared his own memories, and then told the following story: He occasionally accompanies patients into the operating room, and recalled one particular surgery in which the donor's kidney was coming from a different hospital. In situations like these, the kidney is tracked via GPS signal as it makes its way to the recipient's hospital. Decked out in scrubs, Rabbi Gewirtz, Dr. Greenstein, and the rest of the medical team watched the screen tracking the kidney's route. Suddenly, it registered a delay and the kidney's ETA jumped by 15 minutes.
Dr. Greenstein turned to Rabbi Gewirtz. "Moshe," he said, "let's make the most out of these next 15 minutes." The doctor then took out a small Gemara, and opened up to Niddah daf chaf-beis — that day's daf yomi. As nurses, medics, and technicians scurried about, with bright surgical lights shining overhead, two Yidden clad in scrubs, gloves, and masks bent over a Gemara, drawing from the ultimate Source of healing.
(Originally featured in Mishpacha, Issue 954)
Oops! We could not locate your form.
>