| Recipes |
FT Limited Edition Mishloach Manos | February 12, 2020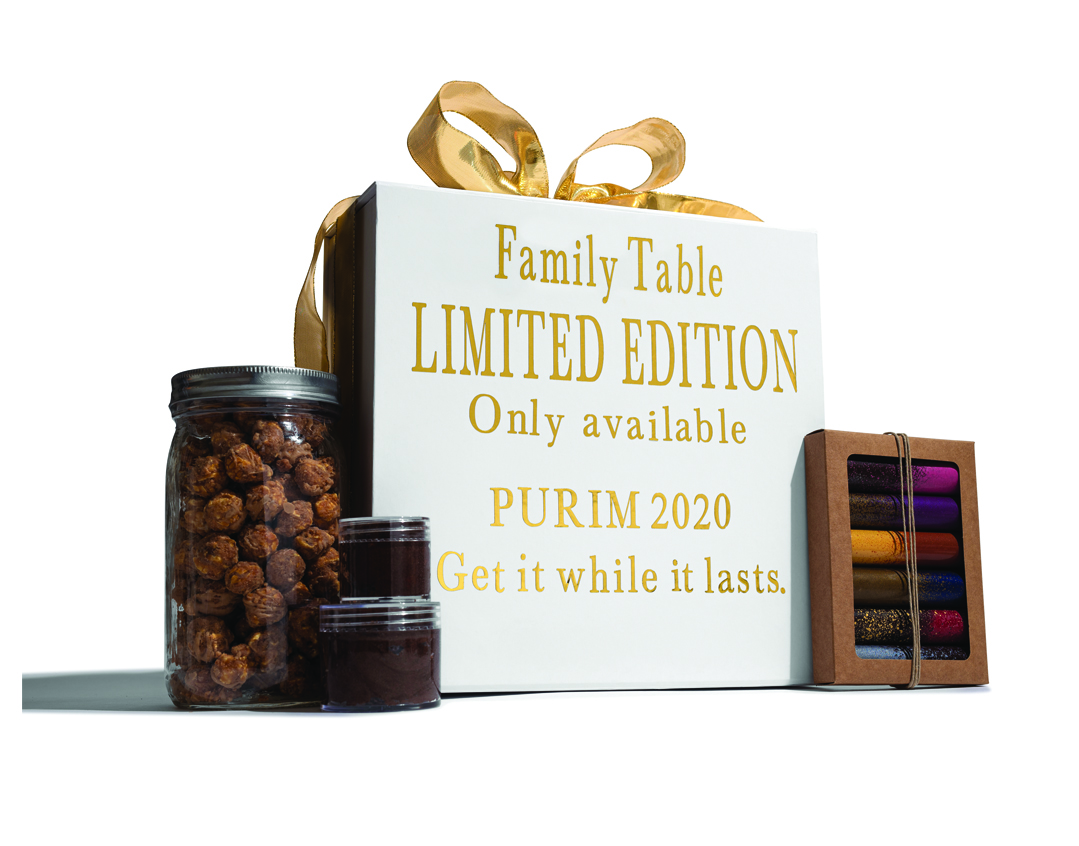 T
he sky's our limit, but some things will only be around for a short time! One day while I was shopping for a perfect birthday card, I found one that read, "Today is a Limited Edition; only good for 24 hours, get it while it lasts." I loved the line and was inspired to collaborate with some of the most popular brands of kosher treats to create Family Table limited edition flavors, available only for Purim 2020!
What are you putting in YOUR limited edition Purim box?
 YOU WILL NEED: 
packaging
jars
labels
ribbon of your choice
The Nuttery 
Above is an awesome sampler pack of the Nuttery's most popular mini chocolate logs.
Flavors include salted caramel, espresso, Lotus Butter, hazelnut, peanut butter, and peppermint, with a stunning and eye-catching presentation and packaging exclusive to the FT Limited Edition Purim project.
718.705.8822 • WWW.THENUTTERYNY.COM • INFO@THENUTTERYNY.COM •  MINI SCHNAPPS FOR DISPLAY ONLY 
PopInsanity®: The Gold Collection

The Gold Collection brings PopInsanity's amazing lineup of delicious flavors of popcorn to a new level, with three new flavors guaranteed to satisfy even the most sophisticated palate: Chocolate Brownie Popcorn, Cashew Truffle Popcorn, and Caramelized Cookie Popcorn. Get it only for this Limited Edition Purim season!
845.357.9000 • WWW. POPINSANITY.COM • INFO@POPINSANITY.COM 
IncreDOUGHble

In honor of this exclusive collaboration, IncreDOUGHble created a chocolate salted-caramel pretzel flavor for us.
Sweet and salty, chocolaty and caramel-y, with the crunch of bits of crushed pretzel, it's a party in your mouth! Unique to FT's Limited Edition Purim project.
OUR COOKIE DOUGH IS 100% SAFE TO EAT. MADE EGG-FREE AND WITH HEAT-TREATED FLOUR. 
646.883 .6844 • WWW.SHOPINCREDOUGHBLE.COM  • SHANA@SHOPINCREDOUGHBLE.COM  • SOLD BY THE DOZEN  • CHOCOLATE-COVERED PRETZELS FOR DISPLAY ONLY 
Siegelman's 

This iconic bakery has just launched a full line of miniatures with new and trending flavors. They're now offering a limited edition mason jar of the famous Siegelman cake, perfect for mishloach manos, simchahs, and gifts, in honor of our Limited Edition project!
718.644.7727 • WWW.SIEGELMANSCAKES.COM • CUSTOMERSERVICE@SIEGELMANSCAKE.COM • AVAILABLE IN BROOKLYN, LAKEWOOD, MONSEY, AND FIVE TOWNS. SOLD IN MASON JARS, BY THE DOZEN. A VARIETY OF PREPACKAGED PERSONALIZED MISHLOACH MANOS ARE ALSO AVAILABLE. MINI SCHNAPPS FOR DISPLAY ONLY
Limited Edition Labels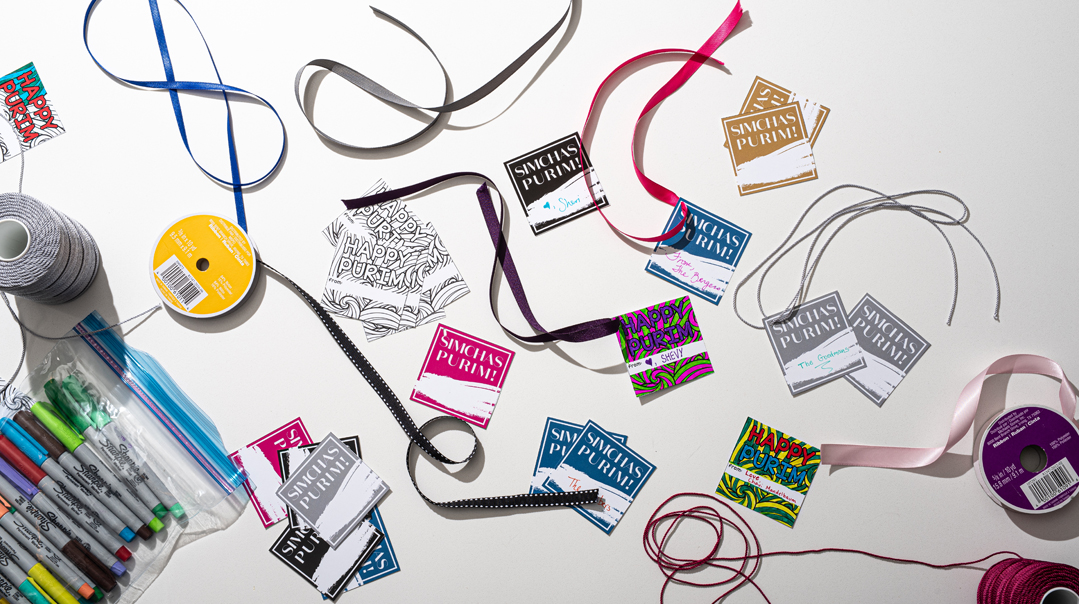 Our supremely talented Purim label designer for the past decade is Leah Borenstein of OMG Design. She designed the Limited Edition labels, available for download HERE and HERE, in a variety of colors to match your mishloach manos. She also created adorable coloring labels that your kids will love!
For custom orders, e-mail omgdesign@aol.com. 
Oops! We could not locate your form.
>