| Light Years Away |
Light Years Away: Chapter 65 | May 3, 2022
Shua points to a piece of jewelry. "This one here… is this suitable for a very chareidi woman?" he asks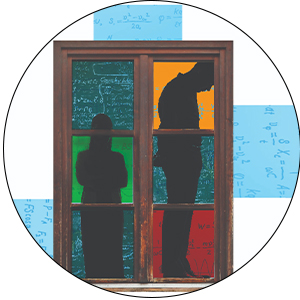 "After Tovi spoke with you, she took off her hearing aid. She handed it to me and told me to put it in the garbage.
You should have seen her eyes, Shifra. She was so happy."
"In the garbage? Wow." Seven thousand miles separate Gedalya from Shifra, and the words come through after a delay of a few seconds.
"Yes." Gedalya combs his beard with his fingers.
Dudi gets up and moves away so his brother will have some space and privacy in this communal waiting room. There are signs in English on the walls. Everything is clean and neat. It's a nice waiting room, complete with an aquarium.
"She said she wouldn't be needing it anymore."
"And you really threw it away?"
"I did — for her sake. I didn't want to show any hesitation at all. I made a whole show of it, all dramatic, you know? That made her happy. Now I'm standing by the garbage can, wondering if I should pull it out."
Gedalya hears a hubbub of voices in the background. "Who's there with you?" he asks.
"Your sisters — Nechami and Chaya both came to help me with bedtime," Shifra says. "And your mother, too, and my sister and my sister-in-law. After the kids are settled, we're going to sit down and say Tehillim Mechulak together."
"Are you resting?"
"I can't rest, Gedalya. You can't imagine what kind of torture this is for me, to lie here in bed while my daughter's in surgery on the other side of the world."
He assures her that everything will be fine.
But Shifra's afraid. "What if they don't manage to open the hearing canal? Maybe you really should take the hearing aid back. Don't let Tovi know. It costs thousands of dollars, and Kupat Cholim won't give us a new one if she ends up needing it after all."
"No reason to think it will come to that," Gedalya says, as he reaches in between a cola bottle and some crumpled papers. He pulls out the hearing aid. He holds it in his palm and rubs his thumb gently over the silvery metal, the little transmitter, the pull-out battery slot.
"I got it back," he tells Shifra.
"Did it get dirty? You'd better disinfect it."
"I'm doing that."
There are disinfectant wipes in every corner. A lemony scent wafts to Gedalya's nose as he takes one from the nearest dispenser. This private clinic gives good service for the money they charge.
"Before Tovi went in, they had me sign a paper about understanding the risks."
"Did you understand what it said?" Shifra's concerned.
"No. The hundred words I know in English don't include all the 'complications' they mentioned there. Dudi read it to me and translated. I'm guessing he skipped some parts so I wouldn't be too nervous."
Shifra laughs. "That was nice of him. Did you tell him you realized what he was doing?"
"No, I let him skip. To tell you the truth, I'd rather skip those parts, too."
"So you signed it?"
"Yes."
"Gedalya, talk to me," Shifra begs him.
"I've been talking to you this whole time."
"Talk to me about emunah and bitachon," she says. "I can't continue like this."
There's a flurry of activity out in the kitchen and living room. Her sister and sisters-in-law are pampering the little ones. A cell phone rings — it's Chaim'ke calling from yeshivah to hear if there's any news. Someone's whisking eggs, then pouring them into a hot frying pan.
Gedalya can shut his eyes and picture his apartment in Beit Shemesh, picture his wife's anxious face. He sits down and begins to review the principles of emunah and bitachon with Shifra.
***
Dudi's phone is making noise. Gedalya already recognizes the foreign song that means his brother's wife is calling, as opposed to the Jewish hit tune that signals a call from someone else. And he knows he can dismiss the whole cacophony of beeps and chimes that keep Dudi updated on everything happening in the world.
Dudi rejects the call.
"That's your rebbetzin calling," Gedalya tells him, in case he's forgotten.
"I don't have any rebbetzins, and I don't need any," Dudi snaps. "You mean Yaffa'le."
"Yes."
"Okay." Dudi puts the phone back in his pocket.
"You're not answering?"
"No. And don't interfere." The look in his eyes is hard, distant.
Gedalya knows that look. He retreats.
A series of chimes rings out. Dudi takes out the phone, jabs at the screen aggressively. The chimes cease.
"Do you want to tell me what's the matter?"
"No."
"All right," Gedalya says carefully.
A pause. Then Dudi speaks up. "You want to know the truth? I'm mad at Yaffa'le. Really mad. And I'm in no mood for your preaching."
More chimes. Dudi takes the phone out again.
"Is it her again?" Gedalya asks cautiously.
"No. It's… a friend of mine. He lives here in L.A. We were thinking of maybe getting together and going somewhere this morning."
"Those must-see places in L.A.?" Gedalya guesses.
"Exactly. You're finally getting the hang of it."
"I don't want to get the hang of it. So you're going out, then?"
"No."
"I can stay here on my own, Dudi, really," Gedalaya says. "There's not going to be any chiddush for the next four hours. They won't have anything to tell us until noontime at least, and I'd appreciate having you here then to translate. In the meantime I can sit here, or in Tovi's room, and learn."
"I'm not going anywhere," Dudi says obstinately.
"Why? Is it somehow connected to… whatever it is that happened with your rebbetzin?"
"That, too."
Dudi goes to the window, silently complimenting the architect who planned this waiting room so well, with a view of the vast, quiet ocean spread out before all the restless people waiting within. He can't share his problem with Gedalya. All he'll get in the end is a volley of preaching.
Really, he's furious with Moriah. She was supposed to be the mature one there, keeping things reasonable. How could she let Yaffa'le get carried away like that? He's upset with his friend Michoel, who heard from his sister what was happening in Dahab and passed the word on to Dudi.
Maybe it's time to rethink everything. Maybe he needs to set some firm new boundaries with Yaffa'le.
"Hey, Dudi." That's the friend in L.A. "What's up? You want to go out? The weather is perfect!"
"No. I, um, I have to be here at the hospital, with my brother," Dudi says. "Yeah, I thought we could go out. But there's been a little change of plans. Thanks anyway, bro."
In a cold operating room, Dr. Barclay works with a team of nurses, an anesthesiologist, and a neurologist. Delicately, they hew a narrow passage toward Tovi's eardrum. They reach it, expose it, and with infinite care, they build a canal from it toward the spot where her artificial outer ear will later be attached. For a moment, they're filled with awe, feeling they are partners in an act of Creation.
"Most babies are born with an auditory canal and an outer ear," a nurse muses. "They grow up taking it for granted. They don't even realize that they've been spared a procedure like this."
She thinks of all the people walking around with no idea what a wondrous mechanism they have on both sides of their face, given to them painlessly and free of charge.
***
In Jerusalem, Shua is cheerfully putting the little ones to bed. Yossi's pajama pants don't look like they quite match the top, but Shua assumes the toddler will fall asleep just the same. He puts Beri in charge of them and hurries out to a special tour of Machon Hamikdash that was booked for his night kollel. The rosh kollel said to be there at eight. Shua strides quickly along Rechov Yaffo, preferring to skip a crowded ride on the number 1 bus. He passes Safra Square. The Old City walls are looming, and once again he's thrilled by the beauty of the city he's so fortunate to live in, ancient, preserved, and illuminated.
Nechami phones him. "Did you manage to get out in time for your tour?" she asks.
"Yes, I'm even a bit early. I'll be in the Rova in a minute or two."
Once inside the institute, he and his friends study the reproduced klei haMikdash and argue about  whether or not the mizbeiach on display meets all the halachic standards. They survey the vessels for collecting the blood and the ashes. The tour takes two hours, and when it's finished they visit the souvenir shop. The avreichim skim pages of halachah seforim, eye pictures of the Priestly Garments. Some of them choose a pen, a keychain, or a book for their children. Goldenreich picks up a set of little jars in a row, containing samples of the ingredients for Ketores, and holds it up to the light.
"What about you, Bernfeld? Don't you want a picture to hang in your living room?" Stern asks jocularly.
The colors in the pictures are too bold for Shua's taste. He can't imagine any of them hanging in his home. But he does want to buy something. He goes to a counter along the other wall and looks at little chains embellished with colored stones and what look like diamonds. He can't tell what's real and what's fake. He doesn't know what's a necklace and what's a bracelet.
A friendly salesman in a crocheted kippah comes over. "Can I help you?" he inquires.
Shua points to a piece of jewelry. "This one here… is this suitable for a very chareidi woman?" he asks. The shape of Jerusalem's walls is hammered out of thin gold and set with tiny stones.
"Definitely." Clearly this salesman knows his trade. "You zeroed right in on the perfect piece. Just this morning we had a group of seminary girls here with their teachers — nu, what's the name of that really frum place where your girls go — and this is just the sort of thing they bought." Let's say.
"Can you show it to me?" Shua is ashamed to admit he doesn't know what it's called. But the salesman is already reaching for it.
"How much is it?" Shua asks.
"A hundred forty-nine," the salesman says smoothly, bringing it close to Shua's gaze. "This would make a wonderful gift."
He piles on a few more words while Shua reaches for his wallet and pays. Shua asks him to giftwrap it and yes, please, add the little bow. He puts the little package in the inner pocket of his rekel and hurries after his friends. Their next stop is the Kosel.
He and Nechami have celebrated two bar mitzvahs already, for Bentzi and Chanoch. He didn't buy her anything for those occasions. He didn't see any need. Next week, Beri will take on the yoke of mitzvos. And this time he wants to give her something.
At the Kosel, Shua mentions Tovi's name in his tefillah. And then, suddenly, his father-in-law calls. His father-in-law, so sparing with speech, tells him in measured tones that the first part of the procedure, the opening of the ear canal, has been successfully completed. It's too soon to be sure of anything, but the surgeon is very pleased, and if all goes well, Tovi will be able to hear normally with that ear. Now they're preparing for the next part of the surgery, the implant of the manmade ear.
to be continued…
(Originally featured in Mishpacha, Issue 909)
Oops! We could not locate your form.
>