| Recipes |
Lemon Blueberry Bars | September 11, 2019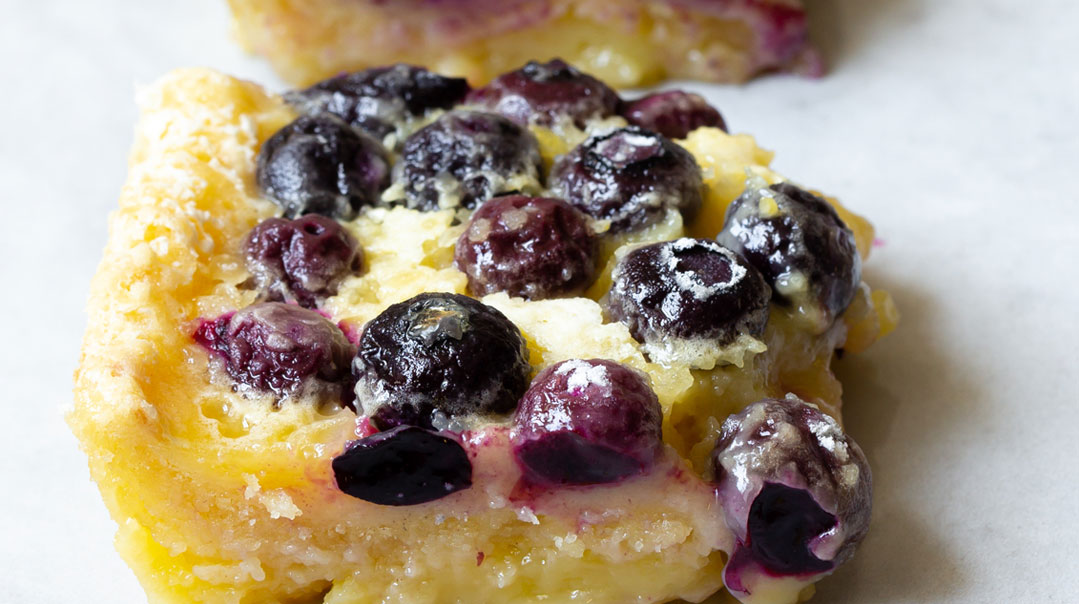 Food And Prop Styling By  Renee Muller Photography By Moshe Wulliger
Lemon Blueberry Bars 
My favorite flavor by far is lemon anything with lemon and I'm an instant fan. These bars have the perfect combination of tart and sweet. 
YIELDS 36 SQUARES CRUST
1 cup (2 sticks) butter or margarine,room temperature
2 cups flour
½ cup confectioners' sugar
½ tsp baking powder
¼ tsp salt
zest of 1 lemon
LEMON FILLING
7 large eggs
2 cups sugar
½ cup plus 2 Tbsp fresh lemon juice
½ tsp lemon extract
½ tsp citric acid (or a bit less)
¾ tsp baking powder
5 tsp flour
1 cup fresh blueberries or frozenblueberries, dried well with a papertowel
Preheat oven to 350°F (175°C). Spray a 10x14-inch (26x36-cm) baking pan or a 9-inch (20-cm) round springform pan with cooking spray. For the crust, place all the ingredients in a medium bowl and stir; or mix in the bowl of an electric mixer until the dough just comes together. Press dough evenly into prepared pan, making sure that the dough is spread all the way to all the walls within the pan, and a bit up the sides. Refrigerate for 10 minutes (if you don't have time, you can skip this step). Bake crust for 15 minutes and allow to cool in the baking pan. Meanwhile, make the lemon filling. In a large bowl, place all ingredients except blueberries and whisk until well blended. Place the pan on a metal baking sheet. Pour the blueberries over the baked crust. Pour in the lemon mixture and move the blueberries around so that they are evenly distributed. Bake for 20–25 minutes. Lower the oven temperature to 325°F (160°C) and bake for another 20 minutes or until the topping is set. Do not overbake; the topping can wiggle gently when it's in the oven. Cut into squares after fully cooled and refrigerated.
Sour Power I recently read that citric acid or sour salt will increase the flavor of some savory and sweet recipes. It's natural and it's available in drugstores and in most large kosher supermarkets. I used it here in the Lemon Blueberry Bars — you can leave it out, but I suggest you try it.
(Originally featured in FamilyTable, Issue 659)
Oops! We could not locate your form.
>