| This Way That Way |
Leeks
| August 24, 2021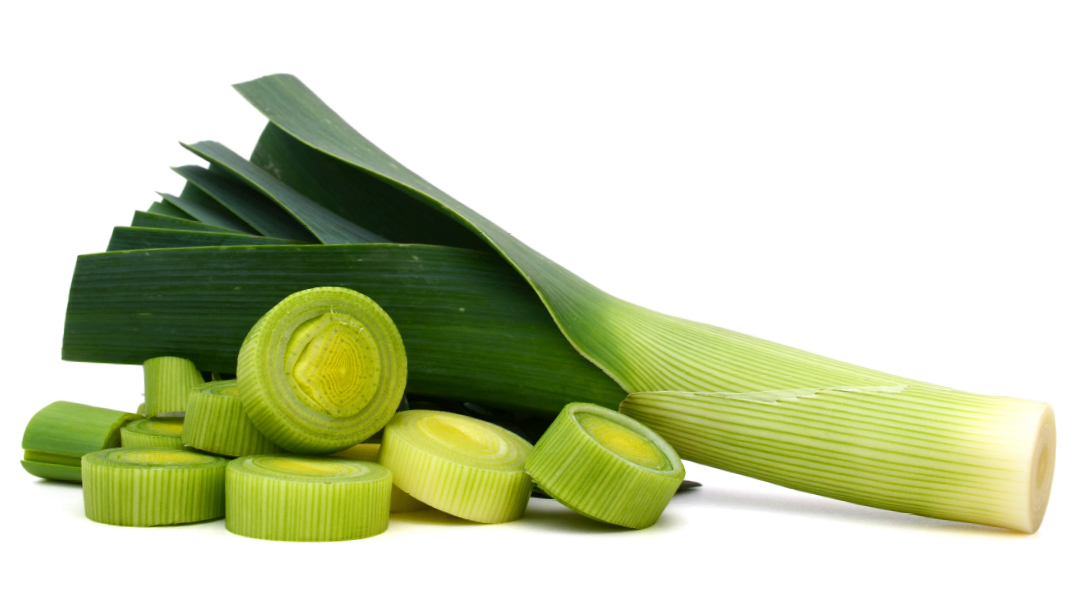 Leek, a root vegetable similar to an onion, has a mild, sweet, onion-like flavor with a long and rich history. With their sweet yet allium-family taste, leeks are a wonderful accompaniment to heavier vegetables, like potatoes, and they shine on their own in a multitude of preparations. Here we showcase some of the best ways we've come to enjoy them!
SPRING A LEEK
History
Dried specimens from archaeological sites in ancient Egypt indicate that leeks were part of the Egyptian diet from at least the second millennium BCE.
What's in a Name?
The name leek derives from the Old English word leac.
Emblematic
The leek became the national emblem of Wales after an ancient victory by an army of Welshmen who wore leeks as a distinguishing sign.
Mushroom-Leek Dip
Recipe by Rorie Weisberg
This dip was created by accident. I had just made my creamy dressing, and I had sautéed leeks and mushrooms for a vegetable kugel. I looked at the two and decided to put them together. My family loves my other dips, but this one has become everyone's favorite.
SERVES 8–12
2 leeks, tops removed, sliced
2 Tbsp oil, divided
14 oz (400 g) mushrooms (any variety), diced
½ tsp sea salt
¼ tsp coarse black pepper
3–4 Tbsp Rorie's Creamy Dressing (see note)
Sauté leek in 1 Tbsp oil. Add the additional 1 Tbsp of oil, followed by the mushrooms, and sauté for about 10 minutes until browned. Allow veggies to cool.
Place veggies in a food processor fitted with an S blade. Add 3 Tbsp of Creamy Dressing and pulse a few times to chop the veggies and combine ingredients. Add an additional 1–2 Tbsp of dressing to reach the desired texture.
Note: You can sub with 3–4 Tbsp mayo plus 1 tsp white wine vinegar and additional salt and pepper.
Potato-Leek Knish
Recipe by Esther Ottensoser
Adding leeks to this recipe, which comes from my aunt, Mrs. Yehudis Newman, gives them a little extra flavor.
SERVES 20
Dough
¼ cup margarine + ¼ cup oil, or ½ cup oil
1 cup warm water
1 medium potato, cooked and mashed well
1 tsp salt
3½–4 cups flour
Filling
½ bunch leek, chopped
2 Spanish onions, chopped
oil, for sautéing
4 lbs (1.8 kg) red potatoes, cooked
salt and pepper, to taste
1 egg, beaten, for glaze
Place all dough ingredients in the bowl of your mixer and knead until smooth. Remove from the mixer bowl and set aside.
In a medium saucepan, sauté leek and onions in oil till golden. Peel the potatoes while they're still warm. Place warm potatoes, sautéed leek and onions, salt, and pepper in the bowl of your mixer. Mix on high for about two minutes until smooth.
Preheat oven to 375°F (190°C). Remove an eighth of the dough and set aside. Divide remaining dough in half. Roll one half into a 1/4-inch (1/2-cm) thick rectangle. Spread half the filling lengthwise on the center of the dough. Fold dough over and place seam-side down on a lined baking sheet. Repeat with remaining dough, except for the piece you set aside.
Roll out the piece of dough you set aside. Cut into 12 strips, 6 strips for each log. Drape strips over log to form a crisscross pattern. Tuck ends under. Brush logs with beaten egg. Bake uncovered for 45 minutes to an hour, until golden brown.
Roasted Leeks
Recipe by Michal Frischman
A longtime family favorite in our house, these roasted leeks are seriously addictive.
SERVES 2–3
1 bunch leeks
1 Tbsp olive oil (I use garlic-infused)
salt, pepper, garlic powder, paprika, hot paprika, and mustard powder, for sprinkling
honey, for drizzling
Preheat oven to 425°F (220°C).
Cut the stems and a few inches off the top of the leeks and remove the outermost leaves. Slice in half and clean well under running water. Cut each side in half again in the width. Lay on a baking sheet and drizzle with olive oil. Sprinkle with salt, pepper, garlic powder, paprika, hot paprika, and mustard powder. Drizzle with honey, then roast for 20 minutes per side until nice and browned.
Need Ideas? We want to hear from you. What ingredient do you have in your fridge or pantry that you're wondering what to do with and need an idea and/or recipe for? We've got you covered. Email us your choice ingredient at recipes@mishpacha.com and we'll print three recipes for it!
(Originally featured in Family Table, Issue 757)
Oops! We could not locate your form.
>