| Side-by-Side |
Leavening Agents
| May 30, 2023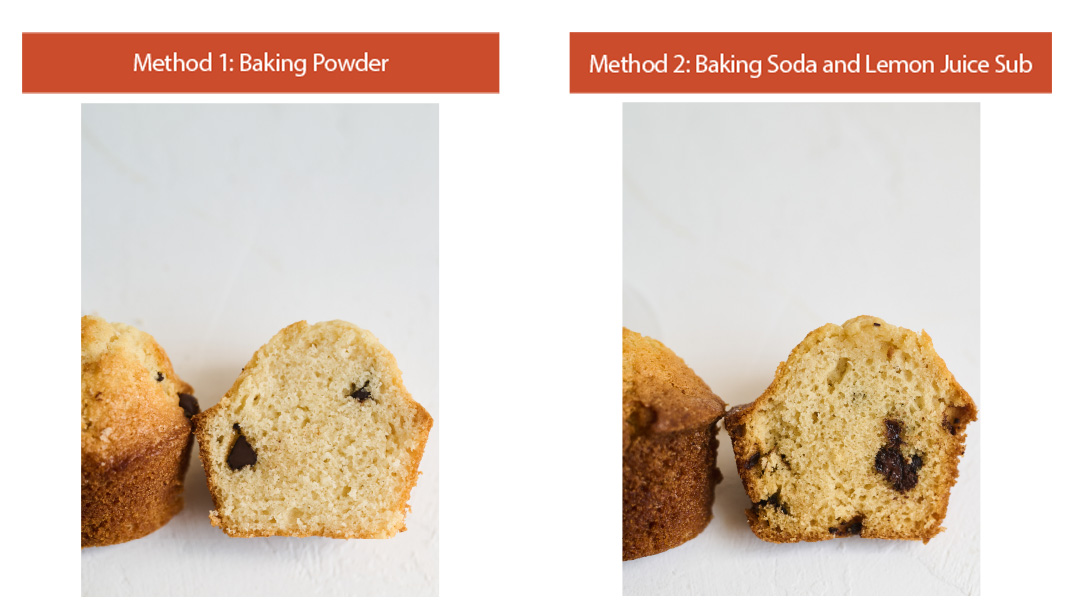 Photo Credit: Sina Mizrahi
Have you ever found yourself stuck mid-baking without baking powder? Don't panic, it happens to the best of us.
Baking is a bit more science than art, but I would assume a sprinkling of baking soda would make an appropriate substitute. Does it? After all, baking powder is a combination of baking soda and cream of tartar. Baking soda is three times more powerful than baking powder, so reducing the amount by a third and adding a splash of something acidic I assumed would get us where we need to go.
But it's not that simple, as we will see. I experimented on a batch of simple (and delicious) chocolate chips muffins, and the results were definitive.
Chocolate Chip Muffins
YIELDS 8 MUFFINS
1½ cups all-purpose flour
¾ cup sugar, plus more for sprinkling
¼ tsp salt
2 tsp baking powder, or ⅔ tsp baking soda plus ½ tsp lemon juice
⅓ cup oil
⅓ cup milk (any kind)
1 egg
1 tsp vanilla extract
½ cup chocolate chips
Preheat oven to 400°F (200°C) and grease or line a muffin pan.
In a large bowl, combine dry ingredients and stir well. Make a well in the center and add the wet ingredients. Beat the egg with the oil mixture before incorporating into the dry ingredients. Mix until no streaks of flour remain. Stir in chocolate chips.
Using an ice cream scoop, fill the muffin cups three-quarters of the way. Sprinkle tops with sugar and bake for 20 minutes. Cool before unmolding.
Method 1
Use baking powder, as indicated in the recipe.
Method 2
Use the baking soda and lemon juice sub.
My Verdict
Stick to what the recipe calls for. When I removed the batch made with baking soda from the oven, I was impressed at their height. But then I had a taste, and let's just say I couldn't even take a second bite. There was a pronounced metallic flavor that was wholly unpleasant. The muffins also browned considerably more.
When baking, it's best to follow the recipe as closely as possible because most of the time swapping ingredients is not a simple feat!
(Originally featured in Family Table, Issue 845)
Oops! We could not locate your form.
>