| Side-by-Side |
Kneading Ground Beef
| August 16, 2022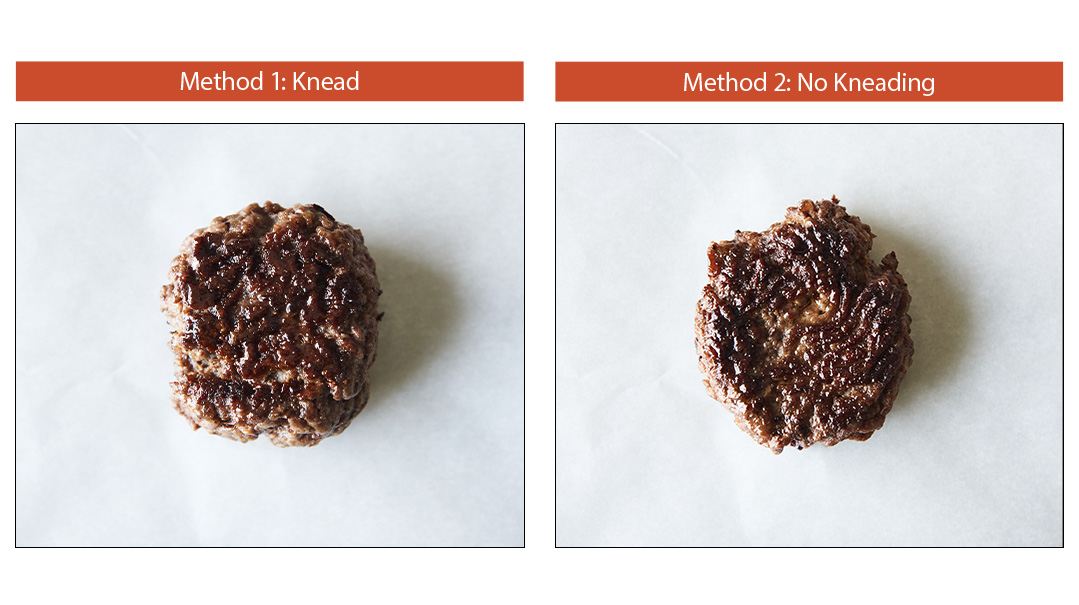 Photo Credit: Sina Mizrahi
It's summer! And that means grilling all kinds of meats. In my house, burgers make a constant appearance and they need to be juicy and flavorful.
There are many ways to get great burgers: Use beef that's 80% lean, as the 20% fat contributes lots of flavor and moisture. Season generously with salt and pepper. Make a dimple in the middle so the meat doesn't dome. Cook until just done (use an instant-read thermometer). Don't flip too much and resist the urge to press down with a spatula, because that releases all the juices.
But what about kneading the meat? The refrain I constantly hear and read about implores us not to knead, but I wonder if that's valid. After all, I love nicely shaped, uniform patties. Let's experiment!
Method 1: Knead
Lightly knead salt and pepper into the meat before dividing into portions and shaping into patties.
Method 2: No Kneading
Handle meat only enough to roughly shape into patties. Don't obsess over the shape. Sprinkle salt and pepper over the meat.
Classic Burgers
1½ lb (¾ kg) ground beef, 80% lean
1 Tbsp kosher salt
ground black pepper, to taste
1 tsp vegetable oil
Season meat according to the methods above. Divide into four portions. Shape each patty into a disk and press in the middle to create a shallow dimple.
Heat a griddle or grill pan over medium heat and add oil. When you see the first wisp of smoke, place patties into the hot pan — they should sizzle on contact. Cook for 3–5 minutes, undisturbed. Flip and cook for another 3–5 minutes or until they reach desired doneness.
Place into burger buns and have fun with your favorite toppings.
My Verdict
Burger purists, please don't send me hate mail, but I can't say there was a marked difference. Kneading too much definitely compresses the meat and overworks the protein, and I don't suggest you do that. But handling the meat with a light touch, just enough to incorporate seasoning, doesn't doom your burger. Both versions were juicy and flavorful.
Kitchen Quandary? I'd love to solve your cooking conundrums in this column. Feel free to email me suggestions and questions at recipes@mishpacha.com.
(Originally featured in Family Table, Issue 806)
Oops! We could not locate your form.
>