| Jr.s Unite to Fight Coronavirus |
Jr.s Unite to Fight Coronavirus
| June 10, 2020
Send us your experiences, kabbalos, and activity ideas during the coronavirus lockdown, and watch this space!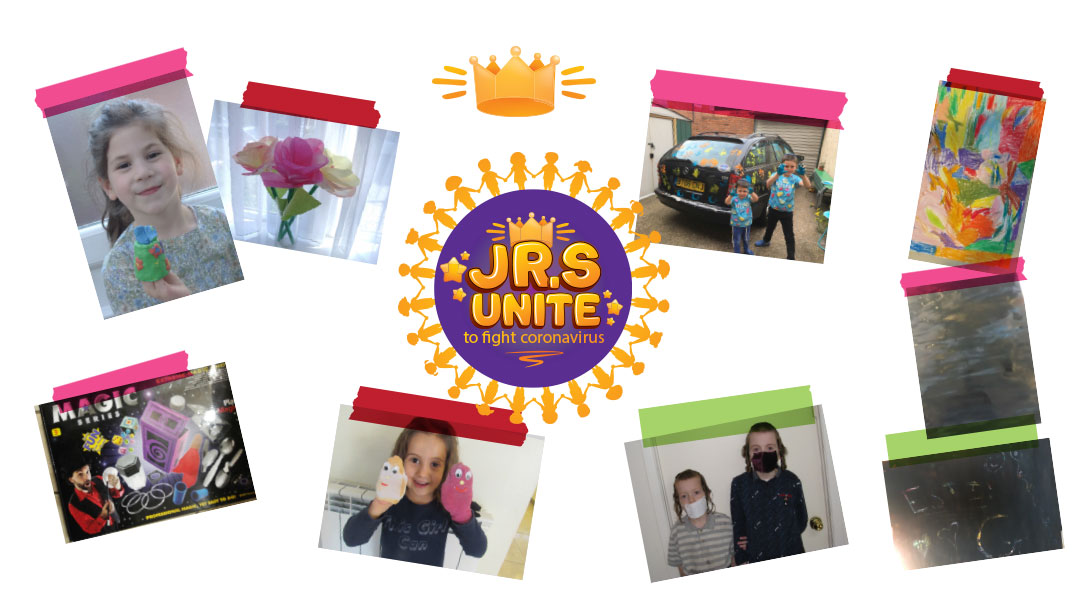 Look at Family Dresdner's (coronavirus) Shavuos crafts! Aren't they magnificent?
Batsheva Dresdner, 9, and Michal Dresdner, 5, Gateshead, England
We did this great DIY scratch art:
Instructions:
Color a white paper with pastels. Press hard and make sure no white is showing through.
Mix black paint with some dishwashing liquid.
Paint on top of the pastels using the soap-paint mixture.
After it dries use a wood stick, penny, or plastic utensil to create scratch art. Enjoy!
Esti Grossman, 3, Monsey, New York
I made a magic show for my siblings.
Miriam Hildeshaim, 10 Jackson, New Jersey
We took old socks without pairs and made puppets and then we had a puppet show!
Rachel Engelberg, 5, Givat Zeev, Israel
We had to clean the car after as part of our hand-painting activity.
Moishy and Sruli Mannes
We made homemade masks.
Motty & Shauly Feldbrand, 11 & 7, Quebec, Canada
Who Would Have Believed
Who would have believed that corona would come till here,
And that some people wouldn't even have time to sit down on a chair,
And need to be quarantined for something that happened over there (China)?
Who would have believed that school would be on the phone instead of in a classroom,
And some stores would need to be closed like a store that sells perfume?
Who would have believed that hospitals wouldn't have enough doctors because of all their patients,
And people can't go to Florida for vacation,
And instead need to be in isolation?
Who would have believed that shuls would need to be closed and everyone will need to daven on the street,
And people would need to stand away from each other, six feet?
Who would have believed that people would walk on the streets wearing masks,
And people would only be on the streets for important tasks?
Who would have believed that 13th Avenue would be quiet all day,
And people wouldn't have the money to pay?
Who would have believed that people wouldn't be able to travel from place to place,
And you wouldn't be able to stand next to someone, face to face?
We see now that Hashem can make something happen in a blink of an eye,
For Hash em it's as easy as a pie.
Im yirtzeh Hashem, the Geulah will come very soon,
Before the end of June.
Etty Miller, 11
All published entries will be entered into a raffle. Winner will be sent a prize when logistics allow.
(Originally featured in Mishpacha Jr., Issue 814)
Oops! We could not locate your form.
>